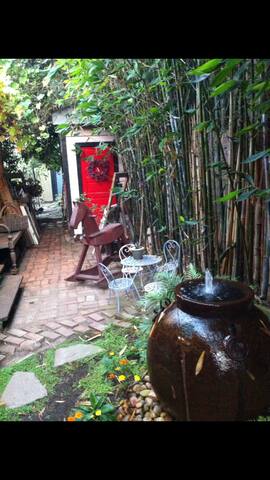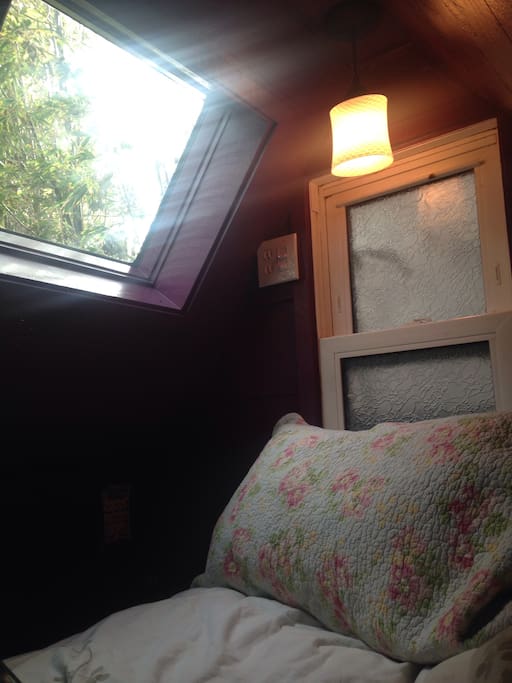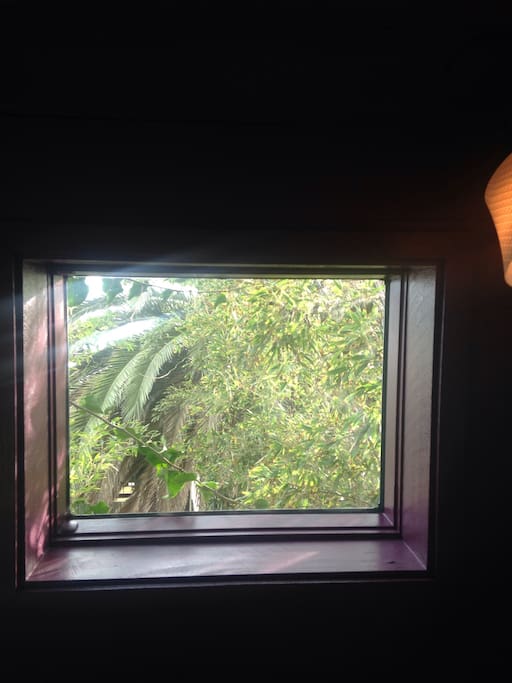 Welcome ... to the tiny enchanted world of fairies & magic. The castle is an experience. Not a room. Bring you inner child.
No adults allowed. ;)
Believe
Affectionately & playfully ...
Tracy&Ava ;) ... & all the light beings ;)
NOTE: we have other rooms. Bigger...
Please look...
Angel
Loft UPinTheClouds
StarryNight
TreeHouse
Nest
FairyGarden
GoddessTemple
The space
FIRST THING TO KNOW
THIS IS A
VERY TINY IRREGULAR ROOM
please read the details below ...
We offer an inexpensive opportunity for travels to afford the delight of staying in Venice :)
Many many happy couples stay in the Castle.
Most LOVE the playfulness of the irregular space :)
But do know it is NOT a regular size bed.
There is a cushion that is there to 'extend' the bed so when u sleep diagonal you can stretch out :)
Also consider closing the hatch for security of not rolling out of the bed (although that's never happened)
It's a small space no matter what. Thus the name
Teeny tiny castle ...
Please continue if interested :)
There is a removal screen available under the stairs, as well as a heater or fan... if needed.
This space is ideal for backpackers due to the smallness. However ALL guests are welcomed.
Another award ...
Again :)
TreeHouseVenice has been selected two years in a row
This year again for the
2016 Best of Venice Awards
for Vacation Rental
and now qualifies for
the Venice Business Hall of Fame.
June 2015 & 2016
Tracy&Ava
who ARE ...
The TreeHouseVenice
were awarded
The BEST OF VENICE 2015 & 2016
To honor & recognize the exemplary achievements & positive contributions in Venice.
We are thrilled to share our
Creation & home with you.
Thank you!
Warmly. Tracy&Ava AND Andrew

The Castle is totally adorable & childlike enchanting...
know how enchanted feels ;)
It's magic. It's peace. It's ...
In the (URL HIDDEN) the (URL HIDDEN) the little animals. Remember.
remember the magic of being happy.
Not just a place to sleep...
A place to wake up
Hello. Please make sure to understand. The 'castle' is affectionately called so. But in no means large. Couples have enjoyed being there. However. It is really tiny. We do not desire to mislead anyone. Adventurous is really true. Therefore the inexpensive price.
Enter at own risk ;)
(Also. When sleeping. Lay from corner to corner for best length... a cushion extension is there for that purpose).
Affectionately & playfully....
Tracy&Ava
the castle is a unique sleeping space for the adventurous at heart. a separate standing structure in the garden. it has a desk downstairs and sleeping space above.
Climb the little stairway to ...
The bed is really comfortable ... Cloaked in a Feather duvet comforter & wonderful cotton sheets! the bed is small. Very small... not the regular length or width, (please be informed!) but when the hatch is closed one can make it very comfy... as we said, adventurous :)...
Think of a nest curled atop the trees. Get ready to get cozy.
This is the castle bed measurements.
actual mattress
4' wide x 5.5' long
With hatch down
6.5 wide area
Diagonally 8'
to stretch out.
As told. For the Adventurous only.
Backpackers delight :)
Please notice we have other rooms & a house available as well.
The starry night. Full queen bed. Most comfortable in all the world. :D
The loft up in the clouds. Full queen bed. Totally comfortable. Sleeping loft only. No standing room. Walk in Closet below for things & changing.
The angel room.
Single bed
The TreeHouse.
Full house.
2 bedrooms. & fold down couch.
Queen beds.
Can sleep 5-6
Reg $345 (+cleaning $125)
the seating area is outside and it's just steps away to the house for bathroom and kitchen use. listen to waterfalls, bamboo sweeping on the building and an occasional critter scuttle across the roof as you are swept away into magical slumber.
the main house is a great artistic 100 yr old venice craftsman.
frenchdoor entrance through amazing garden.
shared house space,
full kitchen. Tea available.
2 bathrooms. vaulted ceilings. hardwood floors. delightful pets.
lots of light.
high speed internet

The enchanted garden holds many quiet secrets & nooks and crannies to escape to; a trickling waterfall, kitties, bunnies and a garden daybed perfect for quiet afternoon daydreaming.
a short walk to the Pacific Ocean.
located just two blocks from gourmet restaurants, trendy shops, galleries & night spots.... on fabulous Abbot Kinney Blvd. (GQ magazine has tagged Abbot Kinney blvd as the hottest street in america) hmmmm
moments from LAX (a 425-30 taxi ride), santa monica, malibu, beverly hills & downtown.
(email hidden)
(phone number hidden) you are booked please review the house manual. it is short. just to know some details. thx
Welcome Home
Moments on the rooftops of Paris
On the verandas of Tennessee Williams
Through the alleyways of New York
And the crashing waves of Venice
From house to house without too much fight
Our love passes
With spice and song and laughter
We create within ourselves this art called life
And drink together after
For years we watch, we trade, we cry
We hang out at Billy's
While their world passes by
Our romance intense
The story a steamy one
All on the breeze of a palm tree
Sinking in the ocean with the sun
Should you come to one of our parties
Be you lucky enough to attend
Our special neighborhood
With subtle obscenities
That blend
Secretly with the smell of dinner and music
Then you may end up staying
A long while, i may add
And soon it will become difficult to leave this place
For long
Has your heart
Desired
Such an excuse
To be
Alive

parking on the street
free
safe
ample
Other rooms available in our house and on the property are:
The Starry Night room
A queensize bed. Biggest room.
The loft up in the clouds.
Full queen bed. Totally comfortable. Sleeping loft only. No standing room. Walk in Closet below for things & changing.
The angel room
Single bed
The Nest
Private apt with private bathroom
$123 (+$20 cleaning)
The TreeHouse.
Full house.
2 bedrooms. & fold down couch.
Queen beds.
Can sleep 5-6
Reg $345 (+cleaning $125)
we will send entry details by email and airbnb as soon as you are booked.
PLEASE make sure to have that with you when you arrive.
it is your 'treasure map' to get in :-)
& phone & email contact is highly appreciated
ThkU
Guest access
Entry information is sent upon booking.
PLEASE PRINT for arriving in order to get in.
VERY IMPORTANT.
Entrance is in the back alley...
There are a few steps into the house. To use the bathroom.
As well as the ladder up into the sleeping loft.
parking on the street
free
safe
ample
Please read street signs for street cleaning days.
Wednesday one side 9-11am
Thursday one side 9-11am
Internet is TreeHouse
Password Is our phone #
Laundry mat
2 blocks from house
on Venice Blvd.
Toward Lincoln Blvd
Here's our Arrival note ..
Thanks for connecting ... here is some info about arriving ...
TreeHouseVenice
704 palms Blvd
Venice 90291
You may Arrive any time.
& if early ...
You are welcome to leave your bags on our patio right near the Nest ... behind the chairs ...
take an immediate Right after entering the gate from the alley. Thru the trellis ...
(Same as when you check out at 11am)...
OR
the space may be ready early...
... for the TreeHouse if not booked the night before, otherwise 3pm,
The other spaces (the Nest or your room in the fronthouse)... sometimes around 12-1...
Come on over either way!
Hang out in the garden. Take a walk ... Etc.
PLEASE Make sure to have your entry info with you to get in.
Very important.
Entrance is thru the Backgate
in the alley.
Happy travels.
Warmly. Tracy&Andrew
Also.
If possible please EMAIL us directly at
With your name room & dates.
To provide direct contact of phone & email (Airbnb does not share your email with us) for faster connection, if you haven't already.
Thx.
See you soon
Interaction with guests
We will send detailed entry information once you are booked.
Please make sure to have that with you when you arrive. It is your 'treasure map' to get in. ;)
Also notice that the entry is from the backgate behind the house in the alley.
It's all very easy once you are here & follow the guidance. ;)
See you soon.
We would like to request your direct email so communication is faster & easier once you are booked.
Finally. If you are international but use an iPhone ... Both myself & our assistant Cassandra do as well. So let us know. Then we can iMessage or FaceTime for free if needed. Just a small convenience.
Thank you.
Happy travels! Tracy&Andrew
Other things to note
we will send entry details on AirBnB as soon as you are booked.
PLEASE make sure to have that with you when you arrive.
it is your 'treasure map' to get in :-)
Also. If you would be so kind to connect with us on email. With your name. Room & dates. That would be so great. You'll get ours when you book.
ThkU
When you arrive at our house you will need to go around back to the alley.
Go left on shell ave & left into the alley.
(Rialto court)
There is the green gate, that is the entrance.
704 & 1/2
The door has a keypad lock.
The code will be given to you once you are booked.
Once inside the gate ...
Walk straight down the walk way to the swinging metal gates ...
The TreeHouse door is just before the gate on your right.
You are welcome to go Into The garden & sit in the daybed.
The Nest is an immediate right after entering the property. Under the trellis ...
... The other rooms are past the swirly gate. Into the middle garden.
The Angel room is on the right corner of the main house.
Along the side of the house past the Angel room, are the entrances to
the Castle on the left
& on the right up the few steps,
the Loft, StarryNight, FairyGarden room & GoddessTemple
PLEASE make sure to always keep the gate & doors closed. ThkU. We don't want our 2 kitties or little yorkie to wander out...
If you need to drop your bags early or leave them after check out... You are welcome to leave them on our bench past the daybed against our main fronthouse. Across from the Castle. ;)
it is important to start cleaning the TreeHouse & other spaces by 11am so it can be ready & shiny for the next guests ;)
For the TreeHouse... Although this is not a party house
Guests do have quiet gatherings & we request a
Party gathering security deposit of
$200
refunded after walk thru
Confirming respectful use of our home & quiet requests.
No noise after 11pm
Thank you for understanding.
ALSO please note...
If needed.
There are other rooms available in our main house.
Here's our list of all spaces:
The TreeHouse
The StarryNight
The Angel room
The Castle
The Loft up in the Clouds
The FairyGarden room
The GoddessTemple room
And our small private apt The Nest
Please take a look ....
---
Bathrooms: 1.5 (Shared bathroom)
Check In: Anytime after 3PM
Pet Owner: Dog(s), cat(s), and other pet(s)
---
---
Always communicate through Airbnb
To protect your payment, never transfer money or communicate outside of the Airbnb website or app.
Learn more
---
Check in is anytime after 3PM
• Check-in time is officially 3PM.
However. Rooms are often ready earlier.., therefore you are welcome to arrive any time.

we will send entry details by email and airbnb as soon as you are booked.
PLEASE make sure to have that with you when you arrive.
it is your 'treasure map' to get in :-)
ThkU
parking on the street
free
safe
ample
Except wed&thurs 9-11am street cleaning. One side each day.
once you are booked please review the HouseCode of Honor.
it is short. just to know some details. thx
no extra guests without prior agreement
& arrangement. $30 for extras.
firewood, when available, is $10 a bundle :-)
for garden firepit
please keep bathroom dry
please squeegee the shower after use
Finally.
Please note that we are a no shoes house. Thank you for taking your shoes off at the door. It's much appreciated in helping to keep our home clean.
ALSO. VERY IMPORTANT TO NOTE.
this is not a 'party house'. It is a quiet neighborhood. We are not saying no gathering... Dinner gathering. Lightweight stuff. ;)
We are just saying. It's not the house for a gang of buddies to get wild in. ThkU for understanding. Warmly. Mom&Daughter team Tracy&Ava
No Smoking on the property please ... we have a lovely neighborhood to walk around.
We are also ok with the rooftop because it does not float down into the garden.
Thank you so much for that.
---
Strict
Cancel up to 7 days before your trip and get a 50% refund. Cancel within 7 days of your trip and the reservation is non-refundable.
---
---
Tracy's place was quite the experience! It felt like a wonderland or a vision quest of sorts ;) it made me feel as if I was in a magical garden (and it is) and Tracy and her mates are so friendly and magical themselves :) I would love to come back and stay for a longer amount of time jut because it is so epic and the teeny tiny castle was teeny tiny (ha) but if was perfectly fine for my partner and I as we were jut there to sleep ;) please stay with these fabulous people! You wouldn't regret it!!! Xx
---
Though Tracy writes in her Announcement that the room tiny castle is obviously tiny, but I would prefer to specify it's not possible to be used by humans that are 1,75m in size or taller. This made the sleeping itself a kind of a unpleasant experience. The smell in the room had a strange and intense peppermint style. It was dusty and pretty dark, too.There were some spiders and mosquitos in the room. The shared bathroom was ok. The location is perfect, in walking distance of the Venice Beach in LA. I didn't meet Tracy during the stay. In total I probably wouldn't come back to Tracys Tiny castle because of the dark,dusty, minty, small place and therefor the pretty average(high) price.
---
The tiny tree house was so cute and comfortable! It got a little hot at night but we had a small fan provided to help! It was a lovely house with lots of other travellers there which was nice! They didn't have a microwave which was a bit of a problem for us when we needed a microwave but other than that it was a great experience! Tracy was very helpful when my sister by mistake broke the kettle and was understanding! However I do suggest a glass kettle is never a good idea as the reason my sister dropped the kettle was because it burnt her which caused it to smash! However Tracy was lovely about it so all in all a great experience
---
This was an affordable option for two people traveling who spent minimal time at the house, just needed for freshening up and a quick nights sleep. I would not recommend it for a much longer stay as the space is small (which is clearly pointed out when booking). It was a unique experience staying in the space with other guests, but enjoyed it! Easy to walk to everything in a nice quiet neighborhood!
---
From the moment you arrive you can feel the magic of this place. There is so much greenery and space to just relax in the gardens. They even have daybeds all around for guests. The castle is in fact tiny, but it is completely worth the experience. For those of us that are taller you will just have to sleep diagonally and everything will be fine. Me and my wife both fit with room to spare. It will bring out the inner child in anyone, the whole property is an adventure to explore.
---
My husband and I stayed in the Teeny Tiny Castle for one night - and it was the perfect mini getaway we needed! The Castle feels like tiny lofted cabin. It smells wonderful (thanks to the cedar-lined ceilings) and was clean with all the amenities we could want. Tracy clearly takes a lot of pride in her unique and beautiful home - her backyard feels like a private oasis with ample seating, day beds, and eclectic art and decor. The home is in a classic Venice neighborhood, and it's walking distance from some hipster restaurants, bars, shops - and a fantastic ice cream shop. We would definitely come back!
---
Thanks for taking a look at my listing,
i am an artist
i am a creator
i love my life
Languages:
English, Français
Response rate:
99%
Response time:
within an hour
Exact location information is provided after a booking is confirmed.
Explore other options in and around Venice
More places to stay in Venice: