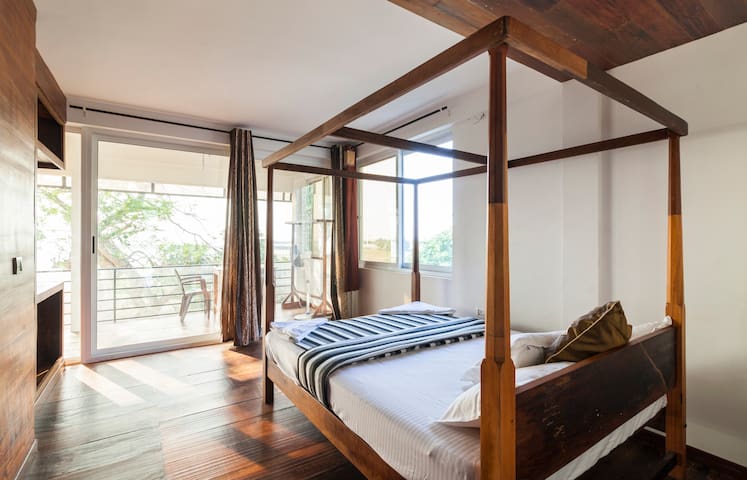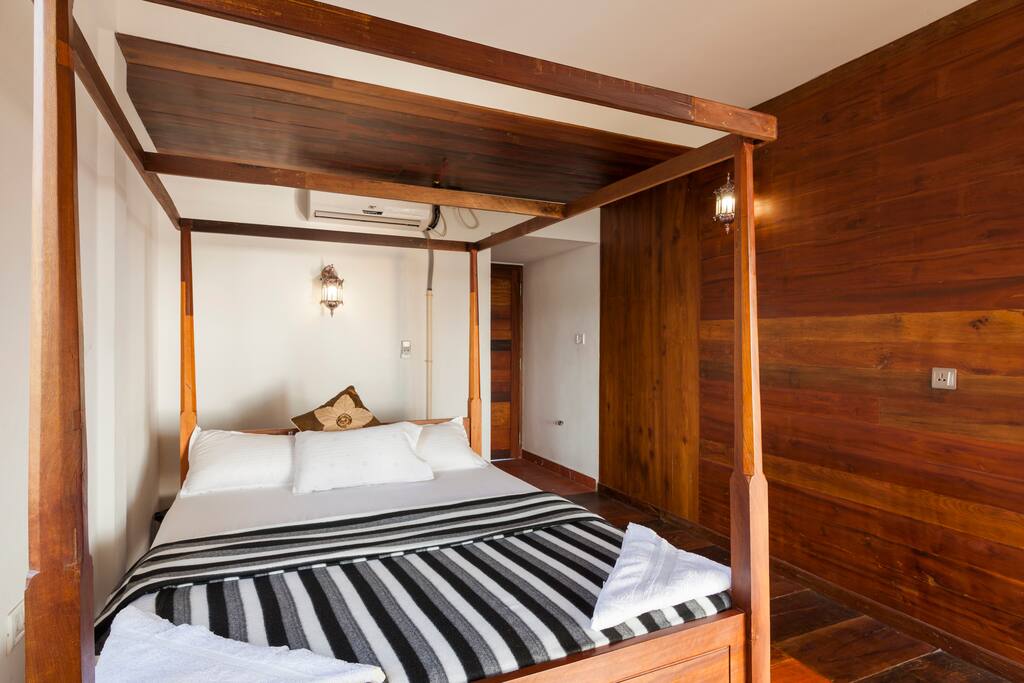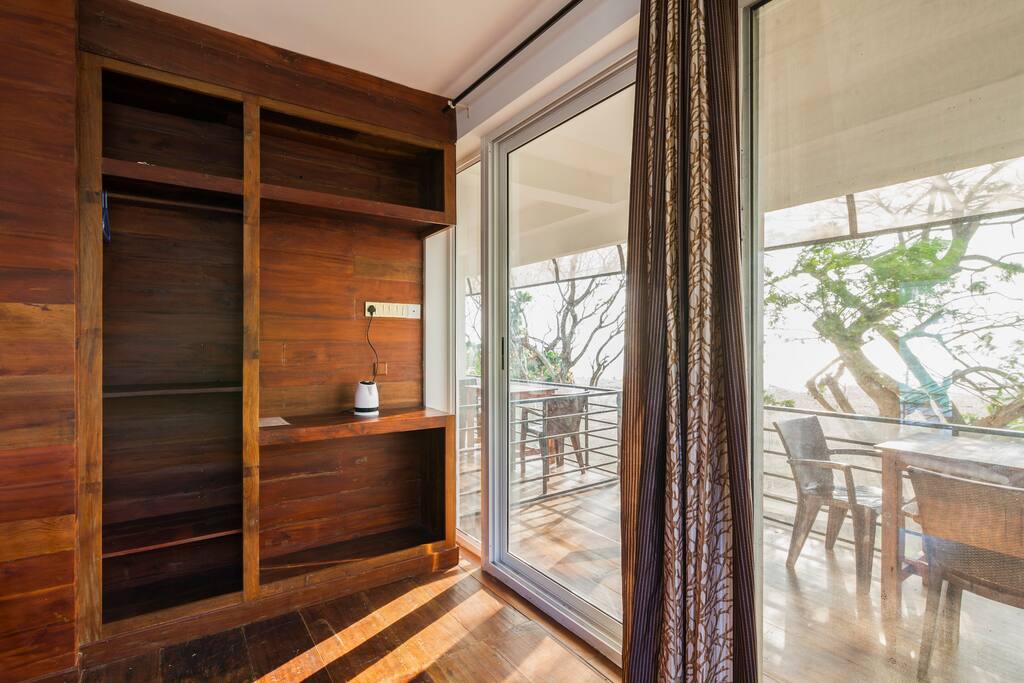 Samudra Munambam is a beautiful Beach House which is located on the beach were the River Periyar joins the Great Arabian Sea. In the house we provide a calm and quiet stay to our guests. In the evenings enjoy the sunset from your rooms, through the beautiful Chinese nets. Get a sound sleep on the spring mattresses and the cosy pillows in your rooms and wake up in the morning by the sound of the waves & the chirping birds.
Bedroom 1
1 queen bed, 1 floor mattress
Parties and events are allowed
Check-in is anytime after 12PM (noon) and check out by 11AM
it was a wonderfull stay at your place, we loved it! Breakfast was delicious and the hostes were always very helpfull and kind! We definitly recommend this place! Ps: you can see dolphins from the balcony ;)
The beach is not suitable for swimming or playing. There is a danger signboard on the beach. Please be careful. We were told that we can swim in the beach, but this was not true. The waves were rough. This is a new property and has to improve a lot. Cannot be categorised as a hom…
Response from Deepa Rajith:
Hello All, The guest "showered" complaints after he checked in and after he had a conversation with us about the booking amount he paid to AirBNB. He said that he was not aware that AirBNB would charge "so much" amount as their service tax and booking charges, so I have to refund that amount to him. When I told him that I do not have responsibility on the amount charged by AirBNB.....now please start reading the story... ***) The very moment of the check in he had started off his complaining saying that we are not providing him the AC remote controls. According to the information and the amount we received, the guest had booked non AC rooms. Why should we provide AC remote controls to a person who booked for non AC rooms and paid for it???!!. I would've provided him AC if he was ready to pay for it, but he wanted AC rooms for non AC price. His argument was that he has stayed in AC rooms for less that INR.1500. May be true, but not in Cherai. I bet my property is sold for the least expensive rates in Cherai. 1) The beach is not suitable for swimming or playing: Absolutely wrong. Even para gliding is conducted some days on this beach. Local kids play football on this beach in a permanent football ground here. About swimming; the management has no control over the tides as it is a natural phenomenon. Sometimes there will be high tides, some times normal. The danger board kept here points to the other side of the beach not at the Samudra End. Without seeing where the board point towards, he decided that the whole beach is dangerous. If he wanted clarification he would've consulted the life guards present at the beach or the house management. 2) In AirBNB site, we have specifically said that we do not have a kitchen. It is under construction and will be completed in January, but we have a small pantry where items like sandwich, noodles, tea coffee etc can be prepared which was utilised by the above guest. Looks like before booking the house, he didn't read out the facilities properly. He would've booked the house after comparing with the cost of other rooms and after finding out that this is the least expensive one. 3) We do room service to get packed food for our guests, but this guest chose themselves to go out and have food. The reason they said was that they are more than 10 people and if packed food is not sufficient, then they will have to order again. 4) We did not charge any thing extra apart from the agreed amount for 4 non AC rooms. The booking charges and the tax he paid to AirBNB while booking the house is the main reason for his complaints. I sent him the screen shot of the amount I received from AirBNB, but he threatened through an email saying that he will write a bad review if I don't pay him the extra charges he paid to AirBNB. 5) There is no shower outside at present, but there is a tap, bucket and mug outside which was used by the family members, but he complains that there is nothing to clean up before entering the rooms. However the same person who said that he had to enter the rooms with dirty feet had not dirtied the rooms with sand, but with a lot of orange peels though a dust bins are kept inside the rooms. Also a food waste packet which was beautifully packed was kept under the cot. 6)His next complaint was that a tap inside one of the bathrooms was not working. Yes, I agree, we cleared a leaf which was blocking easy flow of water, but at the same time a person who wanted shower outside the house ignored two showers (over head and hand) inside the bathroom. Outside he wants shower and inside he wants tap?? Strange logic! 7)Another complaint he made just before his check out at 4:00AM was that we didn't provide him with the Wifi password. We have optic fibre high speed internet facility available and the Wifi password is written behind each and every doors of the rooms. If he was unable to read it he would've asked us instead of complaining at the time of his check out. 8) Another complaint was about the fans. As he has mentioned, we do not have table fans in the rooms, but we have provided high speed pedestal fans. The huge glass windows of all rooms open to the sea and they are all properly ventilated and have mosquito nets also. He would've closed all the windows, but still I wonder why he used all the fleece blankets at the same time when he complained that the fans were not sufficient?? (usually one fan for one room, isn't it??) and it was hot inside the rooms. 9) No TV in the rooms - We have not mentioned anywhere that we have provided TVs inside the rooms. We never will provide also; sorry, this house is not for TV watchers. (Travelling to a tourist spot to watch TV??? :-O ) (I myself do not waste my time watching TV. There are lot other natural things to watch outside) 10) Curtains - Our rooms have rainbow glasses through which a person standing outside cannot see the rooms inside. The curtain in one of the rooms was 7 feet long instead of 8 feet. (The mistake by the vendor when we ordered it through online shopping)Through that 1 feet gap no one from outside, except his family members(the house was fully booked by his family, so no outsiders inside) would've seen inside unless they really would've peeped inside through that gap. 11) He also had other complaints like the porch is small so that he couldn't park his bus. Even if the porch is big enough, I don't think I will let anyone park a huge bus in front of the house; it is actually meant of small vehicles, but we provide safe and free parking at the next plot. Thanks a lot of reading guys. If anybody would like to check if the above complaints are true or wrong kingly let me know. I will provide you rooms with a more discounted rates ;-) Thanks and regards, Divya and Krish
Languages:

English, Hindi
Response time:

within an hour
Always communicate through Airbnb
To protect your payment, never transfer money or communicate outside of the Airbnb website or app.
Things to do near this home
Explore other options in and around Kuzhuppilly
More places to stay in Kuzhuppilly: