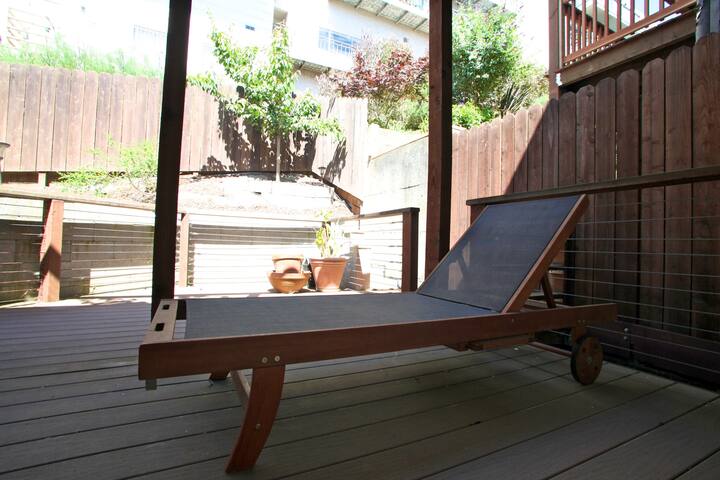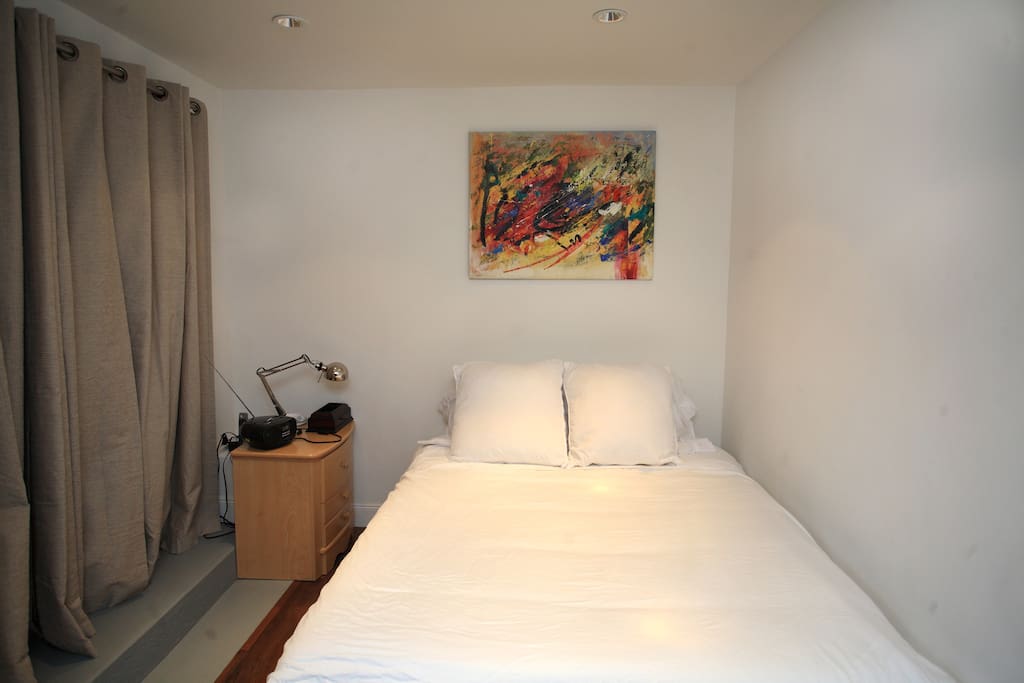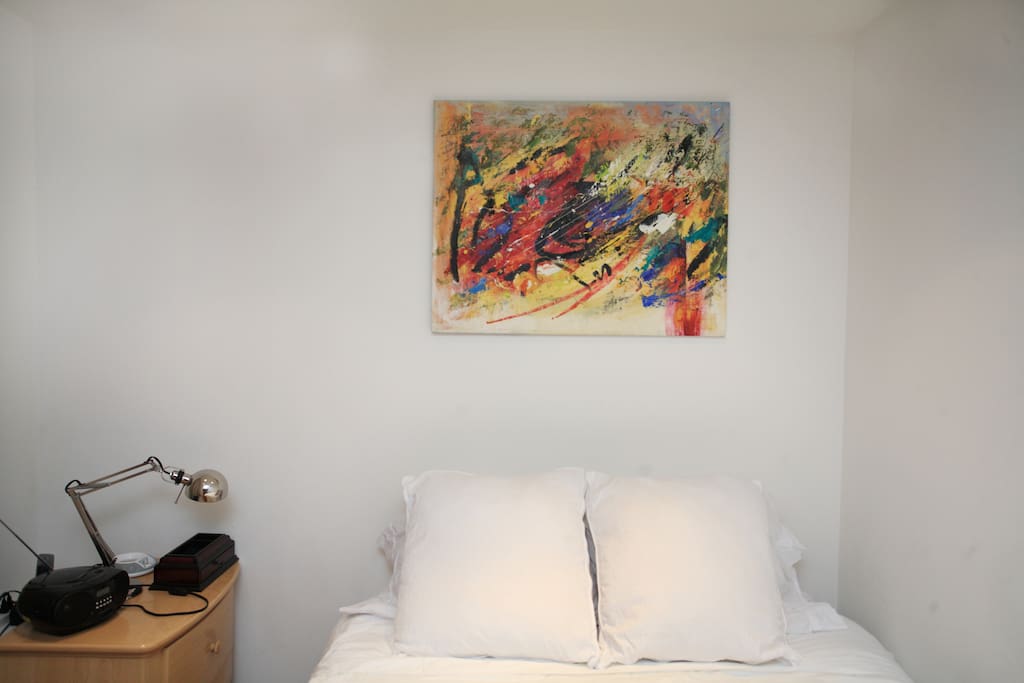 Entire home/apt
2 Guests
1 Bedroom
2 Beds
About this listing
This is the ground floor in-law unit that can be booked separately or in conjunction with the two bedroom unit upstairs. This unit has private access to its own bedroom, full bath, kitchenette and garage parking for 1 vehicle. It also has direct access to the shared upstairs backyard.
---
Accommodates: 2
Bathrooms: 1
Bedrooms: 1
Beds: 2
Check In: Anytime after 3PM
Check Out: 11AM
Room type: Entire home/apt
Self check-in: Lockbox
The space
The perfect place for a single person or couple to enjoy San Francisco. Enjoy the Brazilian Hardwood floors, recessed lights with dimmers, large empty closet for all your belongings, luxury bathroom with Carrera marble, double head shower with Kohler fixtures, Japanese Toto washlet toilet, and Philippe Stark sink. Free HD Cable with DVR and HBO. Free wifi with laptop provided. Huge sunny patio with lounge chaises, dining table and zen rock garden. Free garage parking for 1 available makes your stay all the more convenient.
Make this modern Twin Peaks studio your private sanctuary during your trip to San Francisco.
It's a safe, modern and serene, 400-square-foot apartment equipped with top-notch amenities throughout:
--46" flat-screen HDTV with cable, DVR, HBO, DVD player
--central heating, stainless steel electric fireplace
--brazilian walnut hard-wood floors
--8-foot ceilings with recessed lights, touch dimmers
--large marble and frameless glass bathroom with dual head Kohler spa shower, 2 large medicine cabinets, Phillipe Stark sink, Toto washlet toilet, wall mounted hairdryer
--kitchen with granite counters, stainless-steel appliances, filtered cold water dispenser, microwave, toaster, coffee maker
--large closet with mirrored doors
--hypo allergenic dust mite covers on all mattresses and pillows
--leather couch
-- sliding glass doors lead upstairs to a large shared 900+sf sunny upper patio with zen rock garden, cherry blossom tree, lounge chaise, hammock, dining table with chairs, a perfect place to surf wifi internet on your laptop with a drink
--owners do a great job of maintaining the building
--in building laundry
--meticulous maid
--1 car garage parking directly accessible
This ground floor studio apartment is centrally located on Portola Drive in lower Twin Peaks. It has central heat, contains a new, 10" queen-sized memory-foam mattress and comes with plenty of cotton linens and towels, a night table with drawers, an in closet dresser, leather couch, full kitchen, large flat-screen television, wireless Internet, free phone service, shared access up a small flight of stairs to a huge outdoor patio with hammock and sun lounger. Take a jog around the block and enjoy the breathtaking panoramic city views.
--15min walk to Muni streetcar
--Bus stop across the street
--Diamond Heights Shopping Center with best dim sum, free parking, bank with drive thru ATM, Walgreens pharmacy, post office, tennis court, dry cleaners, and Safeway grocery with Starbucks kiosk only 0.3mi / 3min
--Twin Peaks Gas station (Top 5 cheapest gas in SF)-- 0.4mi / 1min
--Mollie Stones Tower Market, Starbucks-- 0.5mi / 3min
--Twin Peaks vista point-- 1.5mi / 4min
--Noe Valley Whole Foods Market-- 1.1mi / 5min
--West Portal street shops, restaurants, movie theaters-- 1.7mi / 5min
--Castro street shops and restaurants, 24 hour Walgreens pharmacy, Zipcar station-- 1.8mi / 5min
--Dolores Park, Delfina Restaurant, Tartine Bakery, Samovar Tea House, Buy Rite Creamery-- 2.1mi / 7min
--Mitchell's Ice Cream-- 1.6mi / 7min
--Haight street shops and restaurants-- 2.5mi / 9min
--Stonestown Galleria, Trader Joe's Market, movie theaters-- 2.2mi / 9min
--24 hour Safeway on Market St, Jamba Juice, Starbucks kiosk-- 2.8mi / 10min
--Downtown San Francisco-- 2.9mi / 10min
--Cinemark Century 20 theaters, In n'Out, Krispy Kreme-- 5.6mi / 10min
--Golden Gate Bridge-- 7.2mi / 16min
--UCSF Medical Center-- 2.4mi / 7min
--Glen Park Bart Station-- 2.1mi / 5min
--Major freeways 2.1mi / 5min
--SFO Airport-- 9.5mi / 21min
Guest access
Guest will have shared access to the sunny patio with the upstairs.
The neighborhood
If you are interested in exploring the neighborhood around the Vista Point, it's a short 10 minute walk down the hill to the many shops and restaurants located along 24th Street in the heart of Noe Valley all the way to the hip and trendy Mission district.
Just up the hill, Twin Peaks is a breath-taking neighborhood that rises above the rest (literally!). Occupying two of San Francisco's highest summits, Twin Peaks offers quiet seclusion from the city below. The neighborhood's high altitude location may remove it from hurried urban activity, but the steep descent from its hilltops is made worth it by Twin Peaks' sweeping San Francisco vistas.
Getting around
Regarding public transportation, there are 3 buses that stop directly across the street, each of which can take you in 5 minutes to the nearest BART subway or MUNI streetcar station. From there it's easy to get to downtown Union Square or anywhere else you want to go in 15 minutes. Golden Gate Park is also easily reached via public transportation. I leave detailed transit maps in the condo for all my guests.
Rideshare
Another fine San Francisco innovation: private cars at your service, no cash required. Download the rideshare app of your choice (see below) and request a car when you need a pickup anywhere in San Francisco.
Lyft. For Lyft you can use the following code: MARK1121 to get a free ride up to $10.
Uber is another app you can download and use the code: 3mnld to get a free ride up to $20.
Taxi
SF taxis can be requested citywide via the Flywheel app.
Cab companies with citywide dispatch services include: Yellow Cab and Citywide.
SF Public Transit (MUNI)
MUNI buses, trams and (oh yes) cable cars are true San Francisco experiences (but can be slow going, especially on weekends). Tickets cost $2.25 for buses and trams, $6 for cable cars; pay cash on board (no change provided).
Top MUNI options to/from Twin Peaks Studio:
37 Corbett bus to/from Portola & Corbett/Burnett; connect to Castro and Market, Muni Streetcar, Upper Haight
52 Excelsior bus to/from Diamond Height Blvd & Duncan St; connect to Glen Park BART Station
48 Quintara/24th St bus to/from Clipper St and Portola Dr; connect to West Portal, Noe Valley, 24th St BART Station, Caltrain
BART
Bay Area Rapid Transit connects SF downtown with SFO, the Mission and Glen Park, plus Oakland, Berkeley and other East Bay destinations.
May not be safe or suitable for children (0-12 years)
Basic Rules:
Check out time is 11 am.
You will be charged $20 for each half-hour that the housekeeper is delayed entry to the unit for housekeeping.
Please replace any item which you completely used up.
Remove all perishables from the refrigerator and cabinets. Non perishable items may be left for the next tenants.
Wash and return all dishes to their proper places.
Strip all the beds used during your stay of all basic linens (leave mattress covers and duvet cover) and place all dirty linens and towels inside the white laundry bin stored on top of the bookcase and leave on top of the bed. Two loads of laundry are included with the cleaning fee. Extra loads are charged at $10 each.
Return all furniture to its original location. There will be a $25 charge if furnishings have been rearranged.
Close all windows and close the drapes and lower and shut blinds.
Turn off all lights and electric appliances (except for wireless router).
Put all garbage and recyclables in garbage bins in the garage.
HOUSE RULES
Guests are responsible for leaving the premise clean.
HOUSE RULES
To protect your comfort and privacy, and that of Master Tenant and/or other occupants, Master Tenant has adopted the following rules and regulations concerning your conduct while a Tenant of the Premises. Master Tenant reserves the right to post changes or additional rules and regulations related to the health, safety and well being of the Tenants and the property.
NOISE
1.Tenant shall not make or permit any noise which will disturb Master Tenant or other Tenants
2.Radios, televisions, or any other sound equipment should NEVER be operated to the disturbance of others. Special care should be exercised before 8:00 AM and after 11:00 PM. Tenant must comply with the directions of Master Tenant and Master Tenant's determination shall be final.
3.Tenant is responsible for insuring that disturbing noises are not caused by Tenant's guests.
BUILDING APPEARANCE
(website hidden) foil, signs, advertisements, posters or similar displays, shall be affixed to any door, window or exterior wall without Master Tenant's prior written approval
5.Garbage cans, brooms, mops, cardboard boxes and similar articles are to be kept in assigned areas. Care shall be exercised that such articles are not stored in such a way as to create a fire or safety hazard.
INSURANCE
6.Tenant is advised to carry sufficient personal insurance on his /her personal property and to protect him/her for liability to avoid loss due to fire. flood. theft. personal injury or injury to others, or other casualty. Master Tenant will not be financially responsible for replacement of any items or for of any items or for Tenant's liability unless as a direct and proximate result of Master Tenant's negligence.
KITCHEN USE; UTENSILS
7.Tenant may use utensils and kitchen items of Master Tenant, provided Tenant washes them immediately after usage and places them in their proper storage area: _
8.Tenant shall replace any items Tenant loses or damages.
REFUSE
(website hidden) order to preserve the appearance and cleanliness of the premises, Tenant shall take care to prevent waste from dropping or spilling on carpeting, concrete and walkways when disposing of refuse.
10.Refuse is to be placed inside designated containers and lids put in place.
11.Tenant is responsible for the general cleanliness and sanitation of the premises along with Master Tenant and other Tenants. Please keep that in mind at all times Cardboard boxes and other large refuse should be broken down or folded before being placed in the designated containers
DELIVERIES
12.Master Tenant is not responsible for the delivery or acceptance of, damage to or loss of messages, packages, mail or other material left at entrances to the building or elsewhere on the premises.
BUILDING CARE
13.Before washing or cleaning walls, drapery or carpet, consult Master Tenant for the appropriate method or for recommended vendors to perform such work
14.Tenant shall be responsible for any damage caused by the employment of any improper method or vendor and for the cost of redoing the work or restoring damaged articles or property if the method applied or the vendor employed was unsatisfactory.
FURNITURE
15. This is a furnished unit. Tenant may not bring furniture or store furniture on premise.
CONDUCT
(website hidden) smoking is permitted in the Premises or in the building or on the grounds in which they are located by either Tenant or Tenant's guests or invitees.
16.Possession and/or use of illegal drugs is NOT permitted by Tenant or any guests or invitees of Tenant. Excessive use of alcohol, drunkenness, is NOT permitted by Tenant or any guests or invitees of Tenant.
(website hidden) painting of any kind is permitted without Master Tenant's prior written consent. Any time such permission is given, it is expected that the original paint colors will be restored prior to vacancy. Tenant shall be responsible for any costs involved in such repainting.
18.Any accessories such as towel bars, coat hooks or built-in closet shelves may not be added without Master Tenant's prior written consent. Once installed, they may not be removed even upon vacancy of the premises.
19.Garbage disposals and other plumbing facilities must be used only for the purpose for which they were designed and constructed.
WALL HANGINGS
20.Adhesive picture hangers of any kind are prohibited. Tenant is responsible for the cost of any repairs or painting required as a result of the hanging of pictures or other objects.
LAUNDRY FACILITIES
21.Heavy articles are not allowed in the laundry machine or dryer.
22.Please remove contents from machine promptly when cycle is complete
(URL HIDDEN) It is understood that the Premises is to be used exclusively as a place of residence. Retail or commercial use is prohibited except that limited home office use will be allowed provided that Tenant complies with all applicable laws regulating such use. Tenant's guests shall NOT be considered original Tenants of the unit. Violation of the provisions of this section shall be deemed a breach of this Agreement and is agreed to be a just cause for eviction.
2.PETS: NO pets, dogs, cats, birds or other animals are allowed on or about the Premises, even temporarily or with a visiting guest, without Master Tenant's prior written consent, excepting guide, service or signal dogs pursuant to California Civil Code Sections 54.1 and 54.2. Strays shall not be kept or fed in or around the building. Strays can be dangerous and Master Tenant must be notified immediately of any strays in or around the building. If a pet has been in a Tenant's apartment or allowed into the building, even temporarily (with or without Master Tenant's permission) Tenant may be charged for cleaning, de-fleaing, deodorizing or shampooing any portion of the building or Premises at the discretion of Master Tenant.
3.WATERBEDS: Waterbeds and/or liquid filled furniture are PROHIBITED in accordance with Civil Code Section 1940.5.
4.ROOF: Use of the roof for any purpose by Tenants and/or guests is NOT permitted.
ASSIGNMENT AND SUBLETTING: TENANT MAY NOT ASSIGN THIS AGREEMENT NOR SUBLET THE WHOLE OR ANY PORTION OF THE PREMISES. THIS IS A BLANKET PROHIBITION WHICH MEANS THAT TENANT MAY NOT HAVE ANY OTHER PERSON RESIDE AT THE PREMISES. SAID PROHIBITION ON ASSIGNMENT AND SUBLETTING SHALL APPLY EQUALLY TO ANY PARKING SPACE, GARAGE, STORAGE AREA OR OTHER RENTED SPACE MADE AVAILABLE TO TENANT. TENANT AGREES TO BE HELD FULLY RESPONSIBLE FOR ANY FINANCIAL PENALTIES BROUGHT UPON BY AUTHORITIES FOR PROHIBITED SUBLETTING AT THE PREMISES.
5.UTILITIES Tenant agrees to comply with any energy or water conservation programs implemented by Master Tenant. No Telephone service is provided to Tenant. Tenant may use existing telephone line for an emergency only. Tenant may NOT add additional telephone lines and jacks to the premises, and said installation shall not cause cosmetic or physical damage to the Premises or any other part of the building. Utilities to be included in the rent paid are electricity, heat, water, garbage, wireless Internet, basic cable TV, and access to off-street parking.
6.MAINTENANCE AND REPAIRS: Tenant shall, at Tenant's expense, at all times maintain the Premises, furnishings and appliances, if any, in a clean and good condition and shall surrender the same upon termination of tenancy in the same condition as received (excepting normal wear and tear). Tenant understands that Tenant is responsible for the cost of repair of ALL damages in and/or about the Premises whether caused by Tenant, Tenant's guests or invitees. Master Tenant believes the Premises is in a safe and habitable condition until written notice to the contrary is received by Master Tenant.
7.ALTERATIONS: Tenant shall NOT redecorate, paint, refinish floors, or otherwise alter the Premises or room occupied by Tenant in any way. Tenant shall not apply adhesive paper to any cabinets, walls, or doors; nor shall Tenant hang any plants, planters or lighting fixtures from ceilings or walls; nor shall Tenant tack, nail or glue any coverings to floors or walls without prior written consent of Master Tenant. Tenant shall not install nor operate any additional washing machines, clothes dryers, portable dishwashers, deep-freeze units (or other such appliances), pianos, organs, or outside antennae on the Premises without Master Tenant's prior written consent. No plants, planters or plant boxes may be placed directly on floors or on carpets, on window ledges or on fire escapes.
8.Tenant may not install a Satellite Dish.
9 Tennant may not bring any furniture into premise or surrounding area.
9.ADDITIONAL FURNITURE: Tenant may not move in or store furniture in the apartment without prior written approval.
10.LOCKS: Tenant shall NOT change any lock or place additional locking devices upon any door or window of the Premises. Keys to the Premises are the exclusive property of Master Tenant. Tenant shall not consign keys to the Premises to any other person without Master Tenant's written consent. In the event that any keys to the Premises are lost, Tenant shall be liable for the entire cost of all key and lock replacement, at the discretion of Master Tenant, as required for the security of the Premises, the building and its occupants. All keys must be returned to Master Tenant when Tenant vacates, and such return shall designate the actual date and time of termination of tenancy. Tenant shall be charged for the cost of new locks and keys if all keys are not returned.
11.DAMAGES TO PREMISES: If the Premises are so damaged by fire, flood or from any other cause so as to render them uninhabitable, then either party shall have the right to terminate this lease as of the date on which such damage occurs, through written notice to the other party, to be given within fifteen days of occurrence of such damage; except that should such damage or destruction occur as a result of the conduct or negligence of Tenant, or Tenant's guests, then Master Tenant only shall have the right to termination. Should this right be exercised by either party then rent for the current period shall be pro-rated between the parties as of the date of occurrence of the damage an any prepaid rent shall be refunded, along with the Security Deposit, to Tenant.
12.ENTRY AND INSPECTION: Master Tenant shall have the right to enter Tenant's room, subject to Tenant's reasonable privacy right.
13.INTERRUPTION OF SERVICES: Master Tenant shall not be liable to Tenant or to any other person in damages or otherwise, nor shall Master Tenant be in default under this Agreement for any interruption or reduction of utilities or services caused by someone other than Master Tenant, or by Master Tenant due to circumstances beyond Master Tenant's reasonable control.
14.TERMINATION: Master Tenant or Tenant may terminate the tenancy, in accordance with applicable law, by giving at least 30 days prior, written notice to the other party. Upon termination Tenant shall completely vacate the Premises and any parking or storage areas; give written notice of Tenant's forwarding address; and deliver all keys, furnishings, if any, and Premises to Master Tenant in the same condition as received excepting normal wear and tear.
TENANT RENTAL AGREEMENT / EVICTION WITHOUT JUST CAUSE: NOTWITHSTANDING ANY OTHER PROVISION OF THIS RENTAL AGREEMENT, THE PARTIES AGREE THAT THE TENANCY CREATED HEREBY IS FOR TENANT TO RESIDE IN THE MASTER TENANT'S RENTAL UNIT WITH THE MASTER TENANT, AND THAT THE MASTER TENANT MAY EVICT THE TENANT PURSUANT TO LAW AND WITHOUT JUST CAUSE, PURSUANT TO SECTION 37.9(b) OF THE SAN FRANCISCO RENT STABILIZATION AND ARBITRATION ORDINANCE.
15.HOLDING OVER: Tenant agrees to vacate the Premises by noon on the termination date of this tenancy. Should Tenant fail to vacate by said time the hold-over shall be presumed to be willful and deliberate and Master Tenant shall be entitled to damages for the hold-over period, plus such other expenses incurred due to breach of this condition of the Agreement.
16.NUISANCE: Tenant shall not commit, nor permit to be committed, any waste or nuisance upon or about the Premises. Tenant shall not disturb other Tenants in the building containing the Premises or others in adjoining properties. Three complaints in any three month period shall constitute a substantial interference with other Tenants' comfort, safety and enjoyment and shall be deemed a just cause for eviction. Tenant shall also be liable for the actions of his/her guests and/or invitees.
17. HOLD HARMLESS: Master Tenant shall not be liable for any damages or injury to Tenant, or any other person, or to any property, occurring on the Premises. Tenant shall indemnify, defend and hold Master Tenant and its Agents harmless from all claims of loss or damage to property and of injury to or death of any person or persons caused by the intentional acts or negligence of Tenant, his/her guests, licensees, or invitees occurring on or about the Premises. Tenant hereby expressly releases Master Tenant and/or Agent from any and all liability for loss or damage to Tenant's property or effects whether in the Premises, garage, storerooms or any other location in or around the building, arising out of any cause whatsoever, including but not limited to rain, plumbing leakage, fire or theft, except in the case that such damage has been adjudged to be the result of the gross negligence of Master Tenant or Agent.
18.INSURANCE: Master Tenant's insurance does NOT provide for coverage of Tenant's personal belongings or personal liability. Master Tenant strongly urges and recommends that Tenant secure sufficient insurance to protect against losses such as fire, flood, theft, vandalism, personal injury or other casualty. Master Tenant will NOT accept liability or responsibility for any losses not caused by its own proximate negligence.
19.LEAD DISCLOSURE: Many homes and apartments built before 1978 have paint that contains lead (called lead-based paint). Lead from paint chips and dust can pose serious health hazards if not taken care of properly. The law requires that Tenants and lessees receive certain information before renting pre-1978 housing. By signing this Agreement, Tenant represents and agrees that Master Tenant has provided Tenant with such information, including, but not limited to, the EPA booklet entitled "Protect Your Family From Lead In Your Home," the "San Francisco Lead Hazard Notice for pre-1978 Dwellings," and the "Disclosure of Information on Lead-Based Paint and Lead-Based Paint Hazards." Any known lead-based paint or lead hazards at the Premises, if any, are hereby disclosed as follows: No personal knowledge.
20.GENERAL: The invalidity or partial invalidity of any provision of this Agreement shall not render the remainder of the Agreement invalid or unenforceable. Violation by Tenant of any applicable ordinance or statute shall be deemed sufficient cause for termination of tenancy. No oral agreements have been entered into. This Agreement shall not be modified unless reduced to writing. Time is of the essence of this Agreement.
21.MEGAN'S LAW: The California Department of Justice, sheriffs departments, police departments serving jurisdictions of 200,000 or more and many other local law enforcement authorities maintain for public access a data base of the locations of persons required to register pursuant to Paragraph (1) of subdivision (a) of Section 290.4 of the Penal Code. Notice: Pursuant to Section 290.46 of the Penal Code, information about specified registered sex offenders is made available to the public via an Internet website maintained by the Department of (email hidden). Depending on an offender's criminal history, this information will include either the address at which the offender resides or the community of residence and ZIP Code in which he or she resides.
(URL HIDDEN) Tenant agrees to maintain the Premises in a manner that prevents the occurrence of, and infestation of mold or mildew in the Premises by taking care to properly ventilate the Premises, use fans, and not to allow water intrusion, dampness, and other conditions that may create mold and mildew.
(website hidden) WAIVER: No failure of Master Tenant to enforce any term of this Agreement will be deemed a waiver of that term or of any other term of the Agreement. The waiver by Master Tenant of any term of this Agreement will not be deemed to be a waiver of any subsequent breach of the same or any other term of this Agreement, nor will any custom or practice which may develop between the parties be construed to waive or to lessen the right of Master Tenant to insist upon performance by Tenant of all the provisions of this Agreement. The subsequent acceptance of rent by Master Tenant will not be deemed to be a waiver of any preceding breach by Tenant of any term of this Agreement regardless of Master Tenant's knowledge of such preceding breach at the time of acceptance of such rent. Master Tenant's acceptance of a partial payment of rent will not constitute a waiver of Master Tenant's right to the full amount due nor will Master Tenant's acceptance of rent paid late ever constitute a waiver of Master Tenant's right to evict Tenant for habitual late payment of rent.
(website hidden) RULES: Tenant agrees to abide by any and all House rules, whether made known before or after the date of this Agreement, including, but not limited to, rules with respect to noise, odors, disposal of refuse and use of common areas. Tenant has read, understands and agrees to be bound by the existing House Rules attached to and made part of this Agreement.
San Francisco, California, United States
·
Joined in June 2011
I am an avid traveler and have visited more than 30 international cities and countries in the States, Europe, North, Central and South America, and Asia. This enjoyment has served as an inspiration for me to design places with every amenity and convenience to other frequent travelers like myself.
Response rate:

100%(past 30 days)
Response time:
within an hour
Explore other options in and around San Francisco
More places to stay in San Francisco: