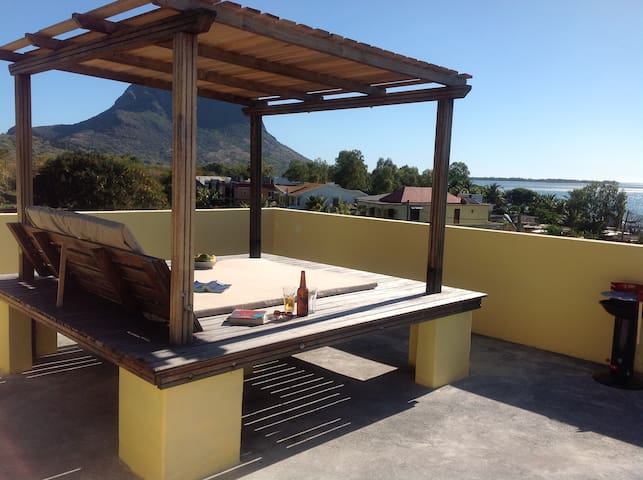 Entire home/apt
2 Guests
1 Bed
About this listing
Overlooking the lagoon of Isle aux Benetiers & surrounded by the hills of World Heritage site Le Morne Brabant these lovely spacious self catering studios are the perfect getaway for Adventurers & lovers Private dining terrace Kitchen WIFI Maid
---
Bed type: Real Bed
Accommodates: 2
Beds: 1
Check In: 2:00 PM
Check Out: 11:00 AM
---
---
---
Description
The Space
Breathtaking views in every direction, this two storey villa completed in 2011, has been designed to take full advantage of the Indian Ocean breezes. Each spacious studio has a private outside dining terrace, ensuite shower room and kitchen. Fan Air con ( £2 per day surcharge) Free WIFI Relax & take it easy with our maid service (3 x weekly) There is a stunning shared roof terrace with 360 degree panoramic sea & mountain views with a BBQ giant sunbeds Cool off shower & dining area
Contemporary styling throughout.....with a touch of luxury. Located close to the best natural highlights this beautiful island has to offer such as the 5 mile stretch of stunning beaches at Le Morne & the pristine forests & waterfalls of Chamarel. Beautique studios is also close to all amenities and a minutes walk from the best restaurant in the area 'Sugar by Siroken'
A 10 minute drive to the world famous kite boarding & wind surfing Le Morne Brabant. For those less adventurous who prefer to slumber under a tree with a good book Le Morne also has the added benefit of more sheltered swimming and sunning beaches.
Found in the authentically Mauritian hamlet of Cotteau Raffin, La Gaulette, 3 kilometres to the pristine beaches of Le Morne, a UNESCO World heritage site of outstanding natural beauty....share the same stunning stretch of sand as the 5 & 6 star hotels at a fraction of the cost! Close to all the amenities and activities required for a perfect holiday experience , this location is hard to beat !
Each studio sleeps 2 has a 5 night minimum. All prices are displayed in GB pounds sterling
Studio have en suite bathroom and kitchen and maid 3 days a week. Iron and ironing board on request. Guests can do laundry on Sundays. Every studio has Air con, Wifi, IPod dock, CD Player. Room Safe. Wardrobe-10 hangers. Dining Table 2 Chairs. Alarm clock. Beach towel per client
Security lights on exterior of Villa with 24 hour CCTV recording (Ideal for outside storage of oversized sports equipment.)
BEDROOM Super King Sized Bed ( with 100% cotton bedding changed 1 x per week & 4 hollow fibre pillows)
Guest Access
This studio has a private dining terrace with sea views to UNESCO world heritage Le Morne Brabant. Near by is a mature glue tree that is frequented with a flock of chattering birds.
Interaction with Guests
We love to interact with our guests as much as they like to in interact with us and appreciate sometimes you may want to socialise and sometimes have solitude.
The Neighborhood
This neighbourhood is still very authentically Mauritian it a perfect location for exploring and sports and returning to peace and quiet. This neighbourhood is still very authentically Mauritian , a perfect location for exploring and sports and returning to peace and quiet. there is a chilled out night life in this area with a few good restaurants and a bar. We recommend this location to those looking for daytime action
Getting Around
Car rental is essential for this location. We collaborate with small local Mauritian businesses and work closely with Victor who can rent a small engine car for 1200 Mauritian rupees per day which includes free airport pick up & drop off (70 minutes each direction!) for a minimum 7 day rental. You can of course rent a car from him for less days, subject to availability. Car rental will be arranged directly with him
Other Things to Note
We would love to introduce you to a list of quality services & excursions including recommendations from our guests!
Kayaking safari. Explore the lagoon close by and paddle out to the island 1500rs for a double kayak for the day or 750rs for single kayak.
Madagascar Massage 1200rs per hour Trish can book an appointment for you)
A fantastic pampering after a long flight. Mixing her own massage essential oils Nicole, who comes from Madagascar will come to your studio. Having a long family tradition of massage handed down, this is like no massage I have ever had, and is certainly as good as any I have ever had ! She also specialises in pregnancy and baby massage and can help with sciatic nerves. This very popular massage should be booked in advance.Definitely treat yourself !
Indian Ocean Safari swimming with wild dolphins and BBQ Seafood lunch at Isle aux Benetiers. A pod of wild bottle nosed & spinner dolphins are resident close by ! This wonderful day excursion includes a delicious seafood BBQ lunch ( fish, salad, chicken, bread. Vegetarian by request ) served on Isle aux Benitiers. Leaves at around 7.30am.
All drinks ( including beer and local rum, soft drinks & water) all snorkel equipment is provided @ 3000 per person booked in advance Bring towels camera and sunscreen.
This is the experience of a lifetime and we recommend highly! All of our guests have said this has been the highlight of their entire trip. Contact Trish
Indian Ocean snorkel & swim with wild dolphins.
If you want to have the experience of swimming amongst the dolphins & snorkelling in the lagoon of Benetiers Island this trip is about 1/2 a day with soft drinks and water ( no lunch, no alcohol). 1,800rs contact Trisha
Yoga or Reiki with Vincent Piat Kelly
Personal Yoga Classes are available upon request; these classes are tailored to your needs and level of proficiency and cater for advanced practitioners as well as those just starting out. All age groups are (website hidden). 2,000 per class .
'The Five Tibetans' or 'Fountain of Youth' Intensive. This one hour class covers in detail a simple exercise program used by Tibetan monks to live long, vibrant and healthy lives. When practiced for ten minutes on a regular basis, these exercises increase flexibility, general fitness and have many other long term benefits. Illustrated descriptions of the movements are given to each participant to allow them incorporate well being and youthfulness into their daily (website hidden). 2,000 per class
Reiki Treatments are also available; this gentle hands-on healing can prove to be a powerful experience and involves the channeling of universal healing energy to deal with issues of concern to the participant. Reiki works on many levels including the physical, by addressing the root cause of dis-ease and is a deeply relaxing experience, promoting self healing and the restoration of (website hidden). 2,000 per 1hr session
Reiki Initiations level I and level II are also available. This training takes place over the course of a day in which participants receive a grounding on the theory and practice of Reiki. Following the atunements, participants will be able engage in the healing of the self and others by channelling this universal healing energy into their daily lives.
Minimum of two people, cost of course inc lunch and coffee breaks Rs 6,500 per person.
Certificates will be handed out following completion.
Vincent has studied yoga, meditation and hands on healing for over 20 years. Originally from Dublin, Ireland, Vincent trained for many years with a Hatha Yoga master on the island of Mauritius, later moving to Kashi Ashram in Florida, where he trained in advanced spiritual studies and qualified as a 'Kali Natha Yoga' instructor. This form of yoga, as taught by Ma Jaya Sati Bhagavati, strengthens and develops the body, but also incorporates other aspects of yoga, including pranayama and meditation, which develop within the practitioner a growing sense of awareness and well being. It is a form of Kundalini yoga which holds within its asanas keys which allow us to better process what life can throw at us.
As a practicing Yoga Instructor and Reiki Master, Vincent has worked in the US, Ireland, Malta and Mauritius and continues to work with his students here on the island.
Unesco World Heritage Le Morne Brabant and beaches.
We have the good fortune to be so close to this stunning 5 mile stretch of coral sand. Perfect for sun worshippers and snorkelers along the Northern end , at the southern tip is also a ledgendary kite & windsurfers mecca. For other historical information about Le Morne Brabant and its rich history
B9 road 6.9 km about 8 minutes.
Rhumerie de Chamarel. Gorgeous colonial buildings set in the hills of the National forest is this famous Mauritian rum distillery.
Open from 9.30 a.m. to 5.30 p.m. Monday to Saturday also on public holidays.
Guided Tour and Rum Tasting - (30/40mn)
L'Alchimiste "A la Carte" Restaurant - Opening days: from Monday to Saturday for lunch - Open for exclusive dinners on reservation
Black River Gorges National Park
This is a protected endemic forest, and is also in the hills of Chamarel this destination could easily be included in the same day excursion. There is plenty of wild life, waterfalls, and hiking trails. The views are panoramic across the lagoon to Le Morne peninsula and inside the Gorges.
An idea of how Mauritius would have been before people!
Grand Bassin or Ganga Talao
A sacred lake, which is about 1800 feet above sea level and is situated 2 km to the east of Le Pétrin. The crater lake is one of the most important hindu pilgrimage sites outside of India. During the week there is an idyllic and calm atmosphere at Grand Bassin, whereas between the end of febuary and the beginning of march crowds of pilgrims are heading to the lake: when Maha-Shivaratree is celebrated, more than 400.000 believers make the pilgrimage to Ganga Talao to make sacrifices to their gods.
Divali & Cavadee . Two enormously important religious festivals on the Mauritian calendar. If you happen to be visiting during either , there are amazing and interesting sacred rituals and devotees to witness. A fascinating insight into the huge Tamil and Hindu population in Mauritius.
La Route du The ( tea route
An enjoyable sensory experience. Discover the making of teas, rum, vanilla, essential oils - and as you stroll the exotic gardens of the Bois Cheri tea plantation. A guide will walk you around during your visit and teach you on the history, stories and tales of all the sites. It is a trip that will take you back in time to the first days of Mauritius with its rich colonial history and you will get a chance to learn the importance of tea production in Mauritius.
Bois Cheri, Plaine Champagne Road via B103 35 min 30.6 km
You can also visit the "Domaine des Aubineaux" and its gardens. Domaine des Aubineaux is a colonial house built in 1872, which has been converted into a museum dedicated to the history of Mauritian Tea. Call for opening times and info about guided tours.
The Sir Seewoosagur Ramgoolam Botanical Garden ( JARDIN Pamplemousses)
Close to Port Louis . Initially opened as a private garden by the French Governor 'Pierre Poivre' in the 17th century, it has now become the National Botanical Garden of Mauritius. The garden stretches over endless acres and contains more than 650 varieties of plants including 85 varieties of palm trees brought from different corners of the world. This stunning botanical garden also has a colonial sugar cane factory ( until recent times the main economic support for Mauritius)
La Vanille Reserve des Mascareignes, 34 mins 38.6kms via B9 and A9 Crocodile & Giant Tortoises Park which is home to various species of animals, reptiles and plants is set in a beautiful rain forested valley with natural freshwater springs, full of prawns and fish.
As part of your visit to the Crocodile & Giant Tortoises Park, the park's guides will guide you through some unforgettable walks, and you will stroll through luxuriant greenery where banana trees, palm trees and giant bamboos provide shade for the crocodiles and the giant tortoises.
During your visit to the park you can experience a first hand unique encounter with the giant tortoises, and get a rare chance to feed & pet them
Thousands of Nile crocodiles are found in the park and you can observe them in complete safety
A must see is the rare collection of butterflies and other brightly coloured insects (around 23000 species), which is one of the most fascinating in the world.
7 Water Falls-Sept Cascades,via B103 - Plaine Champagne Road via B103 43 min 35.6 km
Tamarind Falls also commonly known as the 7 cascades can be found near the small village of Henrietta, in the South West of Mauritius. It originates from the Rivière Tamarin and has at least seven simultaneous waterfalls. The Tamarind Falls has a total height of 293 meter/961 feet and is therefore the highest waterfall in Mauritius. You can find a variety of exotic plants and birds in this calm and enchanted venue. Furthermore a part of the water is being used for generating hydro electric power and it has a reservoir. HOW TO GET THERE The Tamarind Falls are difficult to reach. You can either rent a car or go with the bus. The fastest way to go by car is first to get to Curepipe and then follow the signs for Henrietta. From there you can walk to the Tamarind Falls. Coming from the Vacoas side you can already see the falls in its serene surroundings.
HIKING, TREKKING
OR CANYONING
There are a lot of activities you can do at Tamarind Falls. You can choose to go hiking or spend a full or a half day to go canyoning. There are several companies which provide these activities with experienced guides. When you go hiking on your
own, you will find local guides at the bus stop in Henrietta. It's recommended to get a guide who will help you during the hike in exchange for a small fee. Don't go on your own if you have never visited the Tamarind Falls before, there are not many clear trails to follow. At some points the hike may be quite challenging, but it will be worth the efforts. Bird watchers and nature lovers will enjoy the hike to these waterfalls, though it may be a bit stressful for youngsters or less fit older folks.
Those who don't want to do a hike can still view the falls from a distance
Casela park. Walk with lions.
Ostrich and zebra roam free in this huge park...and there is a unique opportunity to walk with lions and several activities on offer at the park. Some for the fit and adventurous, others who may want to roam through the calm and stunning bamboo gardens overlooking a waterfall of coy carp ponds. There is also a good restaurant in a beautiful setting open for lunch. The park can get busy , but there are some really tranquil corners.
The local supermarket is handy for cupboard essentials and has some fruit and vegetables, there are also the roadside fruit and veg stalls on the road to La Gaulette. However if you want a really excellent fruit and vegetable market ( also selling eggs , meat and fish at the best prices we have seen!) we highly recommend QUATRE BORNES. Every day Monday to Saturday, about a 30 minute drive.
There are many shopping malls with pretty good places to eat in Mauritius for those wanting some retail therapy such as CASCAVELLE on the main road going north BAGATELLE, PHEONIX,
and a couple of shopping centers on the main road towards Tamarin.
There are a couple of fisherman who sell from stalls by the roadside in Le Morne Village. Instead of turning left to go to the beach stay on the main road go straight over the hill, about a 10 minute drive. Daily.
A baker delivers fresh baggettes at the studios at around 6.30am each morning (8rupees)
+ More
---
Check in time is after 2pm. Check out time is 11am. No exceptions during busy periods.
Please inform us on arrival of check out times before 11am.
Absolutely no smoking in studios.
Water is heated by solar panels for 4 studios when there is no sun there will be no hot water. Consider the other guests don't waste hot water.
Please wash sand from your feet at tap provided at the gate.
Occasionally there will be power cuts especially during cyclones power is usually restored by dinner time but please make sure you have candles.
Keep the gate closed at all times.
A damage deposit of £100 GB or equivalent in any currency is due on arrival. It will not be used as rent and should be fully refundable on departure provided the following provisions are met:
No damage is done to property or contents of property including plumbing, beyond normal wear and tear.
No charges are incurred due to illegal activity.
All keys are handed back to the manager.
All charges accrued during stay have been fully paid prior to departure.
No linens are lost or damaged
The renter is not evicted by the owner or local law enforcement.
No pets allowed.
Housekeeping is every other day except Sundays and public holidays. Sheets are fresh on arrival and changed 1 x per week thereafter. Extra sheet changes on request @ 200rs
Guests are required to wash their own dishes and buy toilet roll. We have provided bathroom towels, please bring your own beach towels.
Laundry service is available @ 200rs per bag. Please let us know in advance as we will inform housekeeping. If you do hand washing you are welcome to use the lines in the back garden.
If you do take out rubbish make sure you place it in the bins provided.
Inform us immediately if anything is broken or doesn't work properly.
We are committed to being Eco friendly with a septic tank and leaching field to manage waste. Do not place sanitary products or nappies in the toilet. Any blockage caused will mean the loss of damage deposit to pay for repairs.
Do not waste water or electricity.
Please be advised there is no telephone landline or Television.
Bring your own hair dryer.
Only 2 adult persons per studio.
There is a £2 GB charge per day for air conditioning. Turn off AIR CON when you go out.
We want everyone at Beautique studios to enjoy their time with us, please respect other guests right to privacy and peacefulness.
Do not remove chairs from the shared roof terrace.
Nudity on the terraces will offend locals.
The location of our studios is described accurately, all contents are clearly described and all images on our websites are accurate. We do not except any last minute cancellations & No refunds will be issued.
There is off street parking provided make sure you leave room for others to park.
Our studios are monitored 24 hours by CCTV and security lights.
There are mattresses provided in each studio for the sun beds on the roof. Please return them to your room when you are not using them.
If you are happy with the housekeeping we encourage you to leave some rupees for the Maids. This is greatly appreciated!
+ More
---
None
Smoke Detector
Carbon Monoxide Detector
First Aid Kit
Safety Card
Fire Extinguisher
---
Trish und Kev waren fantastische Gastgeber- extrem humorvoll, hilfsbereit, immer gut drauf. Wir hatten eine wundervolle Woche in einem super ausgestatteten Studio mit herrlichem Weitblick von der Dachterrasse. Sollten wir wieder nach Mauritius reisen, werden wird uns dort wieder einquartieren. Lieben lieben Dank an Euch und viel Erfolg bei Euren weiteren Zukunftsplänen. Doreen und Catha
+ More
Nous avons passé un très bon séjour chez Trisha, l'appartement est bien situé entre le village et le spot de kitesurf, avec une magnifique vue depuis la terrasse. Et surtout l'accueil de Trisha est très agréable, idéal pour apprécier notre premier séjour à Maurice !
+ More
Trisha ci ha accolti calorosamente ed è stata molto disponibile durante tutto il periodo del nostro soggiorno. Lo studio era esattamente come descritto, molto ben tenuto e pulito. Posizione molto tranquilla e comoda per andare sia alle bellissime spiagge di Le Morne sia alla cittadina di La Gaulette, raggiungibili in 5 minuti di auto. L'auto è comunque assolutamente indispensabile. Il terrazzo superiore è davvero moto bello, gode di una bellissima vista, putroppo non abbiamo potuto utilizzarlo molto a causa della pioggia. La gita organizzata da Trisha sulla barca di Justice per nuotare con i delfini è stata la cosa più bella della nostra vacanza alle Mauritius! Grazie Trisha e un grazie anche a Justice :) Consigliato!!!
+ More
Trisha's place is perfect for discovering the South West of Mauritius. The studio is very spacious with a huge and very comfortable bed, well equipped kitchen, big bathroom with a good shower and balcony with a view over the Morne and the sea. A great welcome from Trisha, full of life, she gave us lots of good tips and arranged the dolphin trip for us. The rooftop terrace is perfect for watching the sunset with a cold beer. would definitely recommend this place to my friends.
+ More
My girlfriend and me spent 3 wonderful weeks at Trishas and Kevins Beautique Studios. The apartment was clean and quite spacious for 2 people. balcony and roof top offered a great view to the gorgeous surroundings and Le Morne mountain. Local cuisine restaurant "chez meilee" and a well equipped supermarket are located close by. we followed our hosts recommendation to rent a car which turned out to be a good decision. We went hiking at Black River national park (10mins) and spent time at the beach just infront of Le Morne mountain (5mins). We highly recommend the Dolphin trip which is arranged by the hosts, it was an amazing experience to swim with dolphins in the open sea.
Trisha and Kevin were always very friendly and helpful, we immediately felt home and comfortable.
In summary it has been an excellent choice and we would love to come back some day.
+ More
What a beautyful place to stay, Trisha and Kevin are wanderful host and i had a great time in that clean studio with nice see view. The room was cleaned up every day and Victor was helping us in every matters.
Dont rent a car from the airport, ask Trisha so she will fix that with Victor, the car was perfect and considerably more favourable then anywhere else. The same with the transfer from the airport to the studio, Victor will pick u up to and you pay almost the have instade of a taxi.
If you wane have a really special and unforgetanble time, go on the dolphin trip. That trip is just breathtaking and u ll have a time u never had befor. Swimming with wild dolphines, have a marvelousness BBQ on the island outside of il Maurice. The stuff will take much care for you and they are warmly and attentive every second. U ll never forget that day.
Thank you Trisha, Kevin and Victor for that awesome time in your little paradise. Sacha and Eri
+ More
About the Host, Trish & Kev
We built this place. We have always dreamed of creating a beautiful place we would enjoy staying in ourselves...Kev is a native born Mauritian and myself (Trisha) am English. We frequently travel, we love hotels and wanted to create a hotel feel. We are a romantic couple and wanted to create potential for romance in the outside and inside spaces. We poured our love for this beautiful environment into every nook and cranny and want to express love through this building to our guests.
We now live in Mauritius. Formerly a personal trainer in London I am also a practitioner of A Course in Miracles ( spiritual psychology ) Kev and I created much of the fixtures and designed our properties and we work together.
We believe that Love is the most important driver of our business, and hope to benefit the local community that is the face of our place and that our guests feel loved by this property and its environment.
+ More
Mauritius
Member since June 2013
Response rate:
100%
(past 30 days)
Response time: within an hour
---
Explore other options in and around Black River