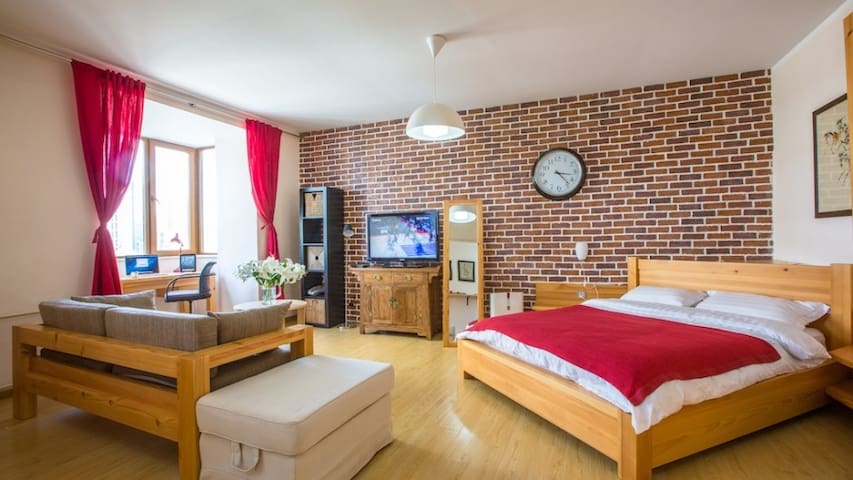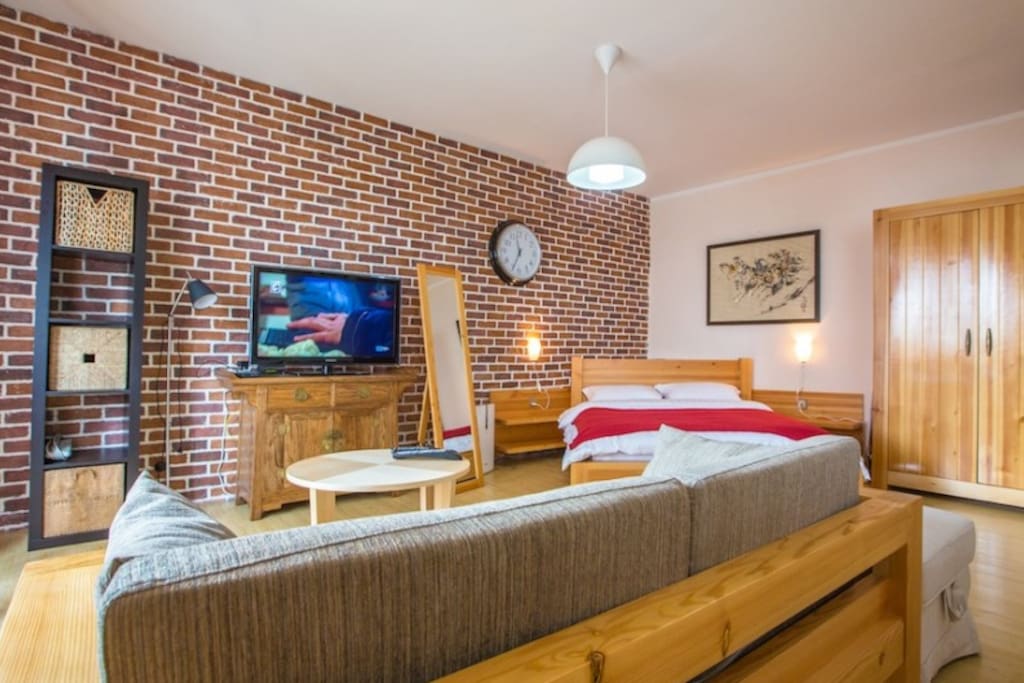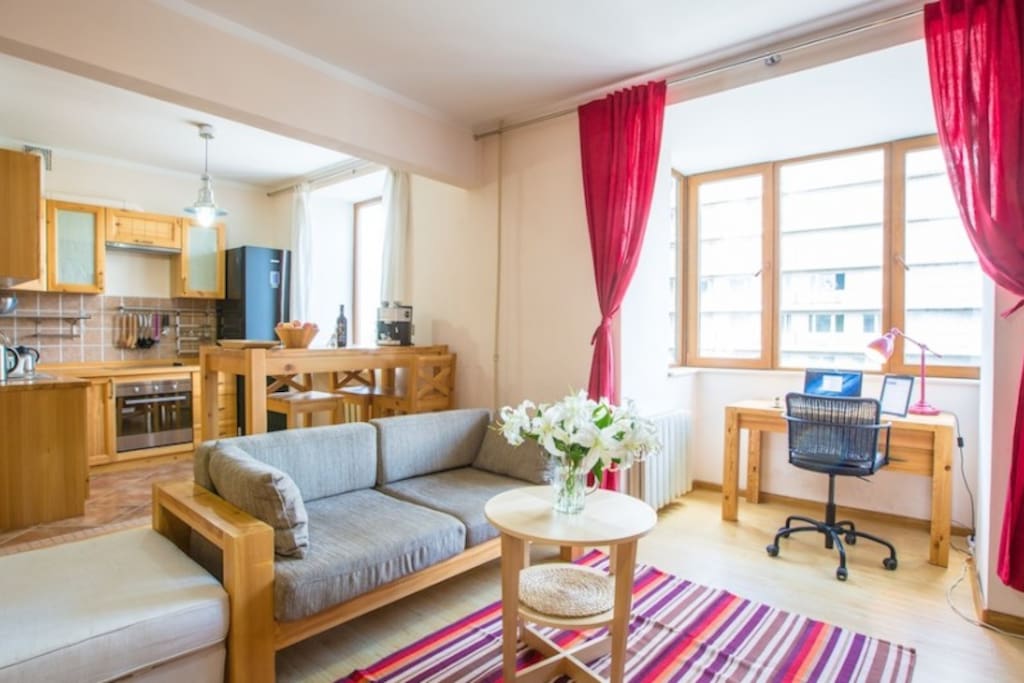 About this listing
A wonderful, light studio located in the very heart of Ulaanbaatar. Extremely well furnished and equipped, this apartment is perfect for a bachelor or young couple seeking something more affordable and cozy than an international chain hotel.
---
Check In: Anytime after 12AM (midnight)
Room type: Entire home/apt
---
---
---
A wonderful, light studio located in the very heart of Ulaanbaatar. Extremely well furnished and equipped, this apartment is perfect for a bachelor or young couple seeking something more affordable and cozy than an international chain hotel.
The apartment is very cosy and light, well equipped and fitted with new furniture and electronical appliances, perfect for the long winters. With high ceilings, great views and wonderful furnishings in addition to the usual mod-cons such as high speed internet, Cable TV and an espresso machine.
A cleaning service is available for an additional weekly fee (please enquire directly with us if interested).
While the building itself is a residential block with no common amenities, the property is located in the very core of Ulaanbaatar and you will thus have a very easy foot access to a wide variety of gym's, restaurants, bars, shops, markets, cinemas and all that Ulaanbaatar has to offer.
The Central Business District of Ulaanbaatar is about 10 minutes away on foot. Most restaurants and other conveniences are within 15 minutes on foot from the property.
We would be more than happy to help throughout your visit. Whether it's showing you a few great places to eat or watch a movie or even if you need mail to be delivered - we are here to make your life easy and hopefully have fun along the way! Also, to make things easy, on arrival you should have a small Welcome Pack in the apartment with a few essentials and a little information about your new home.
In addition to our personal touch we have a full team of people that can help you if there is a power cut or something breaks in the apartment or even with small tasks like booking tickets or recommending restaurants. We are only ever an email or phone call away and will work our hardest to make sure all is good.
Our office opening hours are: . Nevertheless, if you have a problem just give us a call and we will be with you asap.
M.A.D. Office (Mon-Fri ): (+
Finally, if you need something delivered during your stay, we have a shipping/mailing address. Just ask and we will provide!
The city centre of Ulaanbaatar is a thriving, moving, exciting place. Divided in a number of areas, it is a geographically small but very compact area. As would be expected, apartments in the city centre are older and smaller but still cozy and comfortable. They are generally speaking of a good quality of construction as most of the apartment park in the city was built in 1960's to the 1990's by the Russians who built well. Due to the lack of build-able land within the city centre today, there are few new residential constructions within the city centre limits with most of the construction taking place in the suburban areas of Ulaanbaatar.
The city centre is home to the vast majority of bars, markets, restaurants, shops and all other amenities. It is also the place where the vast majority of offices and commercial space are located. As the city centre is geographically quite small, getting about on foot is easy and convenient. Meeting friends at the French bakery, going for lunch at the Indian restaurant or having a few drinks at the Dublin Irish pub is always easy to arrange and to get to.
The majority of short term tenants live in this area as it is by far the most convenient. All of M.A.D.'s short term rental apartments are located next to the State Department Store, the epicentre of life in the city centre. Everything is nearby, including the Central Business District (10 min on foot). The area is also home to the Circus, the Mercury Market (the largest indoor food market in Ulaanbaatar) and the Extra Supermarket (a German supermarket with high quality imported dry goods). Nearly all of the city's main hotels are located either within the area of within a short walking distance. As mentioned earlier, the majority of apartment buildings were built in the 1960's, the apartments have themselves been renovated to a high standard but the staircases have often been left untouched since their construction. This can lead to a form of culture shock to new tenants as they discover world class apartments but third-world staircases.
In terms of restaurants and cafes right around the corner, for instance:
These restaurants are less than 5 minutes away - Sakura Bakery (Japanese), Rosewood (Italian/ American) Miko Dining (Japanese), Oriental Treasure (Taiwanese), Te Amo (Korean Coffee Shop), Cafe Bene (Korean Coffee Shop), Deli Darbar (Indian), Tendo (Italian) and Uri Shigdan (Korean). These aren't all of the places as you will see on arrival!
Please just send us a message to get restaurant recommendations or directions anywhere in the city!
In terms of public transport, in UB it is still very much under-developed and it is rare for foreigners to take the buses. Never the less the main artery of the city is peace avenue so taking a bus is very easy.
Having said this, I would recommend walking as you will be within a 10 to 15 minute walk of nearly everything worth seeing in Ulaanbaatar. And if that doesn't work you can just hop in a cab - all of which should be reasonably priced (with real emphasis on "should"!).
For convenience here is the phone number of an English speaking taxi company called "Help Taxi": (+.
The apartment has the following additional features:
+ Fitted according to EU fire safety standards with a fire extinguisher in every room, smoke detectors and fire blankets in the kitchen.
+ High speed wireless internet (5Mb).
+ Cable TV (Sky Media) with over 250 international channels
+ Welcome Basket which includes toilet paper, soap & water
+ All bedsheets and towels provided
We will do literally everything to make your stay comfortable with us - sometimes though UB throws us a curveball like a power cut in the middle of the day or stopping the supply of hot water to an apartment. We will aim to keep you as up to date as possible with what is happening and will try to sort it out. However, there are times when this sort of this is out of our hand in which case we will have to ride out the storm or as has often been the case help you find another of our lovely spaces to occupy in the mean time!
---
Mi casa es su casa (or mini ger, chini ger as we like to say), is the phrase of the day! However, we do request you look after all of the furniture as if it really were your home as we go to great lengths to make our spaces feel special.
In addition, please aim not to bring strangers into your temporary home. This is a safe city, but it is always better to be safe than sorry.
Just as a quick side note, most of our apartments have a safe. Please feel free to enquire about how they work. The likelihood of needing one is low but its their just in case.
---
We are M.A.D. and we love Mongolia! We are a mad mixture of Mongolians and expats (some of which have lived here for more than a decade) that are here to help provide you with the best experience during your stay in Ulaanbaatar. Having worked with everyone from travellers and business people coming through UB for a few days to individuals looking for a place to call home during their time here.

We have created beautiful, comfortable, well-managed accommodation in some of Ulaanbaatar's most desirable locations, at a discount on equivalent hotel rates. We like to think of our apartments as 'part home, part hotel' with the benefits of both. They are an ideal alternative to the high-priced, small-sized rooms offered by many Ulaanbaatar hotels.

The M.A.D. apartments are well-designed with kitchens, modern bathrooms and a full range of amenities to suit the most demanding of travellers like wifi internet and cable TV (real essentials). All of our apartments are purpose-built and renovated by our own team of so that they all meet the same high standards and quality as well as offer the same level of amenities.

During your stay with us we are really happy to help you whether its advising on the best places to eat, buying tickets to the ballet to a postal address to the bigger problems we all face from time to time. Just let us know what you need and we will always do our best to help you!
Response rate:
100%
Response time:
within an hour
Exact location information is provided after a booking is confirmed.
Explore other options in and around Ulaanbaatar
More places to stay in Ulaanbaatar: