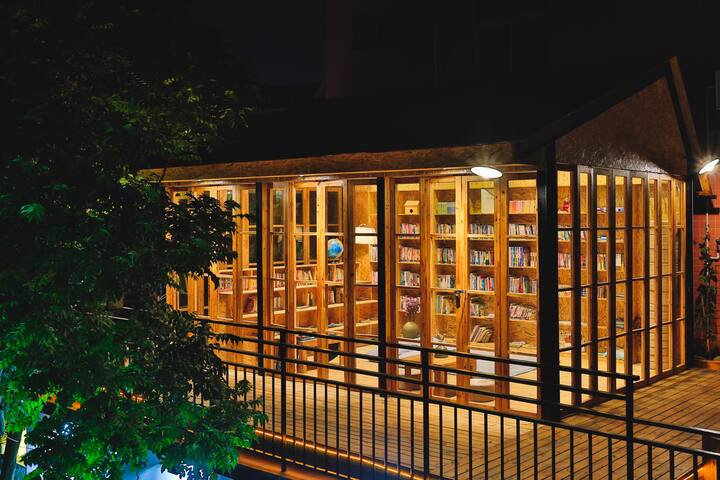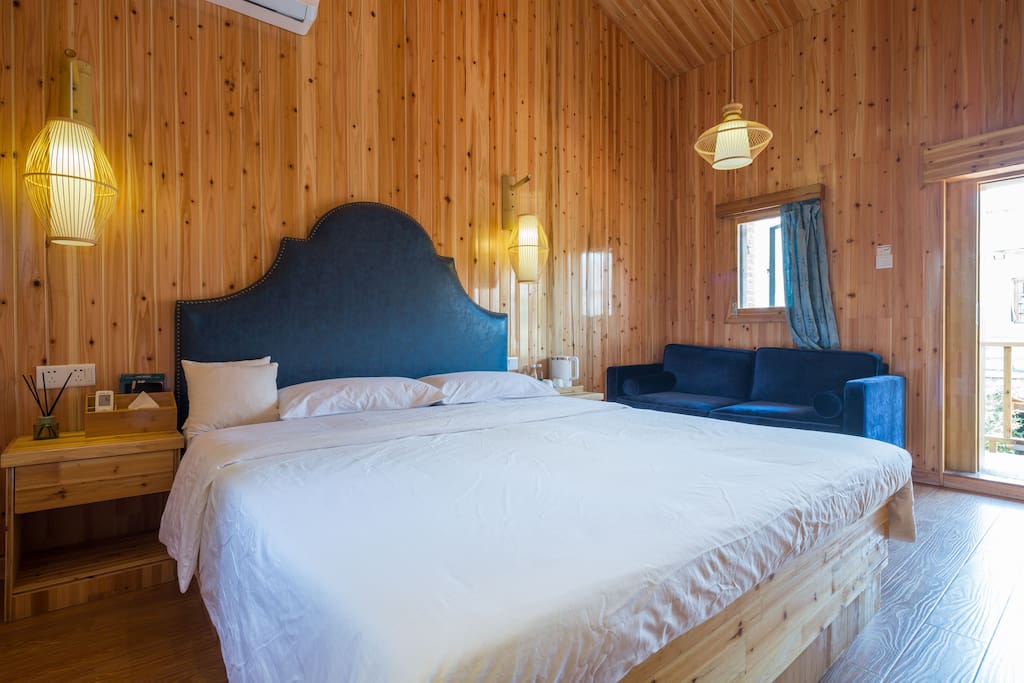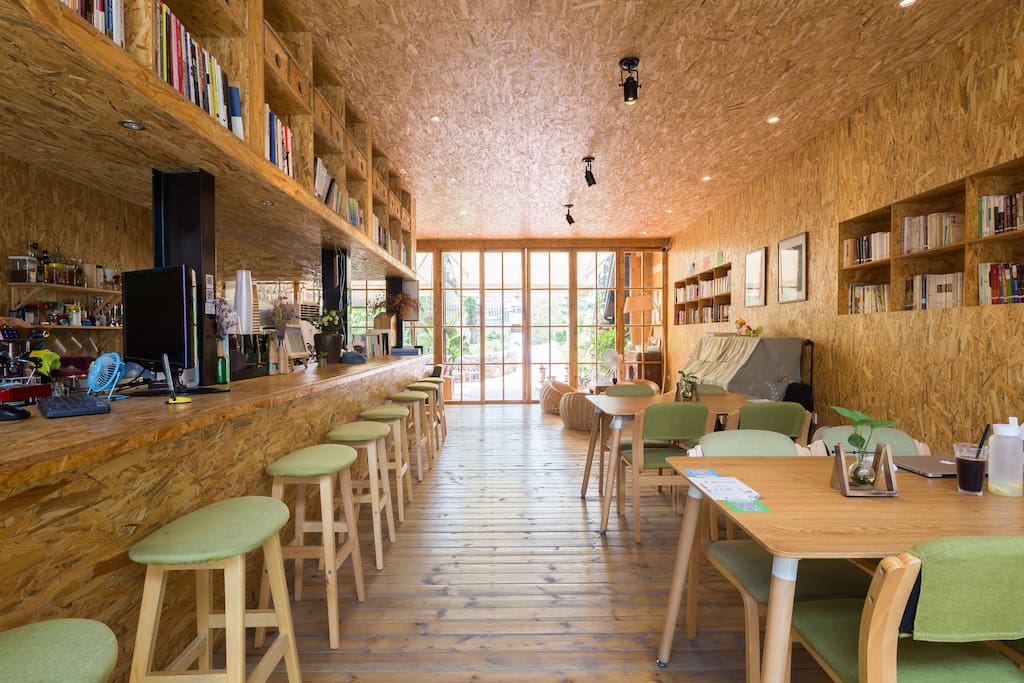 I built a lotus at the home of the public library and the first school. There are a lot of touching stories here, let your heart warm child, if your heart is tired, the ideal lost, if your love is nowhere to place, there is a full love here
我在家里建了鸟语花香的公益图书馆和初心院。这里有很多感人的故事,有让你的心温暖的孩子,如果你的心累了,理想丢了,如果你的爱无处安放,这里有满满的爱
The space
Ten years of professional work experience, gave me the ability to interpret different life. An old garage, with half a year, through public interest to be transformed into the most beautiful public library in Xiamen. It is also a quiet and natural garden villa, the beginning of the art of the cafe. Romantic master, authentic Xiamen people and stories, all concentrated here. Here is a small village in the Jimei area, if you are tired of the noisy tourist attractions, the so-called surrounding configuration is not overly concerned about, but also eager to get to know interesting people in Xiamen and the story, here is that you should not hesitate the first choice The I am a native of Xiamen, art, kind, creative full of romantic marshal. I know Xiamen bit by bit, any you want to know, came to us here, do not have to do Xiamen Raiders. In order to improve the quality of the village children and villagers, I through the public welfare, the establishment of the most beautiful public library in Xiamen - Hong Kong public library, at the same time at their own expense to build a cafe, so that the village has a closer life of the literary atmosphere. This library has been reported numerous times by the media, there are many volunteers to participate, there are a lot of public welfare teaching activities ... The library in our yard, we gave up the garage, changed to the public library for children to read free of charge, many migrant children's cultivation and learning are improved. I developed a strict library management regulations, making it become elegant, and we also slowly know how to know the book. Cafes and your accommodation costs (in the red house, and we live together) part of the income will be fed back to the public library, your arrival itself is the support of public welfare. Our books are donations from everyone, and the children of the villages often donate books to the library to share. We also welcome you to share the book to the library, while free to borrow books from the library. Our home from Xiamen North Station 8 minutes (11 yuan), the airport 20 minutes (40 yuan) by car, it is recommended to drop the taxi into the "Hong Kong public library" to reach (URL HIDDEN) We belong to Jimei District, (Xiamen University founder), there are Jimei University City, hot springs, sea, lake and circus, Park Garden and other attractions, there is no traditional scenic lively and commercial atmosphere, if you like to walk pedestrian street, here is not for you The But if you like the depth of travel, like the humanities and the original ecological life, here is very suitable for you. You can go to the lake with the sun, you can go to the lake picnic, you can do one day public library owner, you can learn in the coffee shop hand coffee, baking, tea ceremony, you can quiet look at the book, thinking life ... as long as (URL HIDDEN) the original life of the library can be so good, look forward to meet (URL HIDDEN) library public number is: shed shed a better life, you can pass Public number for more information
十年法警的工作经历,给了我对不同人生的解读能力。一个旧车库 , 用半年时间,通过公益众筹被改造成厦门最美的公益图书馆。这里同时是安静自然的花园别墅 , 文艺初心的咖啡厅。浪漫认真的主人 , 地道的厦门人和故事 , 全部都浓缩这这里。这里是集美区内的小村落,如果你厌倦了嘈杂的游客景点,对所谓的周边配置并不过度在意 , 也渴望在厦门结识有趣的人和故事的话 , 这里是你不应该犹豫的第一选择。 我是土生土长的厦门人,文艺、善良、创造力十足的浪漫法警。我了解厦门的点点滴滴,任何你想知道的,来到我们这里,就不用再做厦门的攻略。
为了村庄的孩子和村民素质的提高,我通过公益众筹,建立了厦门最美公益图书馆--港头公益图书馆,同时自费建了初心咖啡馆,让村庄有了更贴近生活的文艺气息。这个图书馆已经无数次被媒体报道,有许多的志愿者参与,有很多的公益教学活动…
图书馆就在我们家院子里,我们舍弃了车库,改为了公益图书馆供孩子们免费阅读,许多务工子女的修养和学习都提高了。我制定了严格的图书馆管理规定,使得它变得典雅,而大家也慢慢懂得知书达理。咖啡馆和你们的住宿费用(就在红色房子里,和我们住在一起)收入的一部分会反哺到公益图书馆,你们的到来本身就是对公益的支持。
我们的书都是来自大家的捐赠,村庄的孩子们也经常把书捐到图书馆分享。我们也欢迎你们能把书分享到图书馆,同时来免费借阅图书馆的书籍。
我们家离厦门北站8分钟(11元)、机场20分钟(40元)车程,建议滴滴打车输入"港头公益图书馆"即可到达(URL HIDDEN)我们属于集美区,有最美嘉庚(厦大创始人)建筑群,有集美大学城、温泉、海、湖及马戏团、园博园等景点,这里没有传统的景区的热闹与商业气息,如果你喜欢逛步行街,这里并不适合你。但是如果你喜欢深度游、喜欢人文和原生态生活,这里很适合你。可以和我们家人一起喝茶晒太阳,可以去湖边野餐,可以做一天公益图书馆主人,可以在咖啡馆学习手冲咖啡、烘培、茶道等,可以安静的看一天书,思考人生…只要你来了,一定会感到,会更了解自己,并好好思考人生的意(URL HIDDEN)原来生活可以这么美好,期待遇见(URL HIDDEN)图书馆的公众号是:棚棚的美好生活,可以通过公众号了解更多信息
Guest access
Cafeteria with free Wi-Fi, while offering a wide range of delicious drinks and refreshments. If you have spare time, you can learn coffee and baking with my wife; there are more than 3,000 books in the library for you to borrow.
自助的大厨房、开放式咖啡吧台、还有院子可以洗晒衣服;咖啡厅有免费 Wi-Fi 提供使用 , 同时提供丰富美味的饮品和点心。如果有空余的时间,你可以和我妻子一起学习咖啡和烘焙;还有图书馆里 3000 余本书籍供你借阅。
Interaction with guests
This is our home, our four generations are here. Every day I and my family and you live under one roof, as long as you are interested, you can understand our story, the story of other tenants, as well as the most local Xiamen life.
这是我们的家 , 我们四代人都在这里。每天我和我的家人都和你住在一个屋檐下 , 只要你有兴趣 , 就可以了解我们的故事 , 其他房客的故事,还有最 local 的厦门生活。
Other things to note
We offer a free breakfast, if you want to have lunch or dinner at home can be informed in advance. If you prefer the bustling places like the city center, the business district and so on, the quiet night and the stars may not be very suitable for you.
我们提供免费早餐,如果想在家里吃午餐或晚餐可以提前告知。如果你更偏爱如市中心、商业区等地的繁华,那这里安静的夜晚和星空或许并不是很适合你。
Check-in time is 8AM - 11PM
Explore other options in and around 厦门
More places to stay in 厦门: