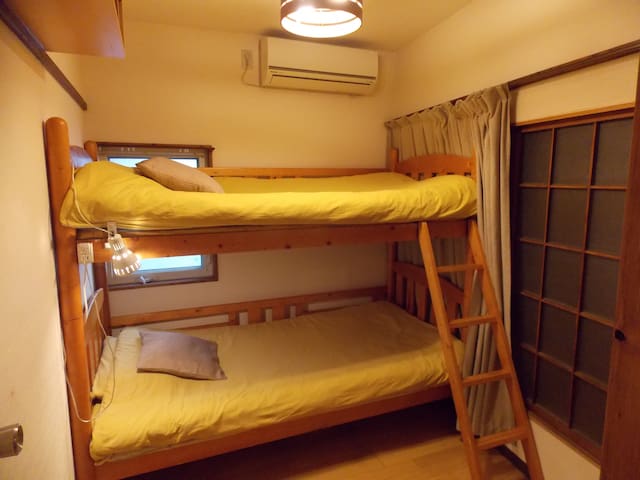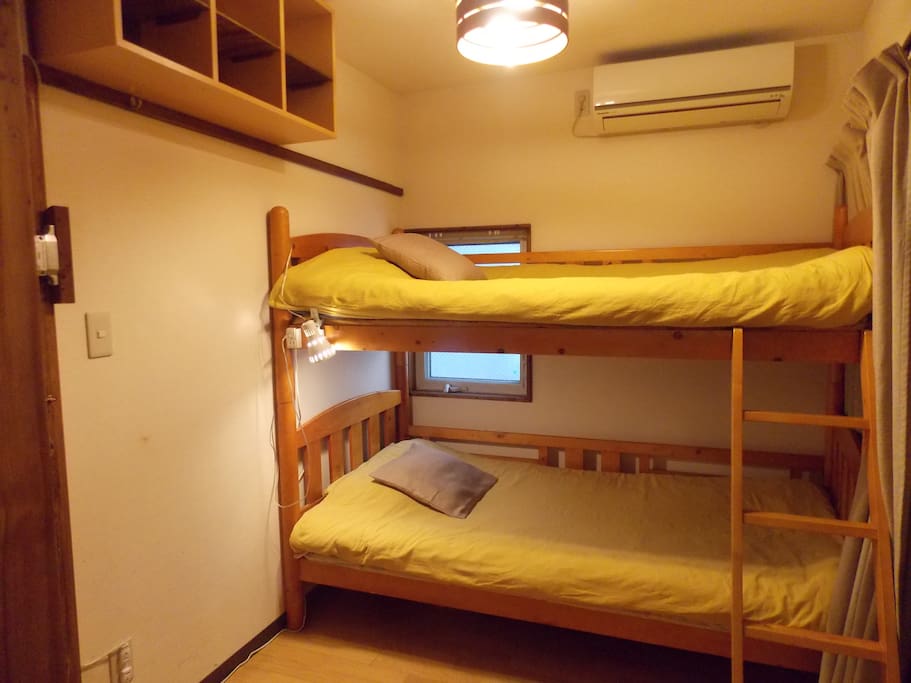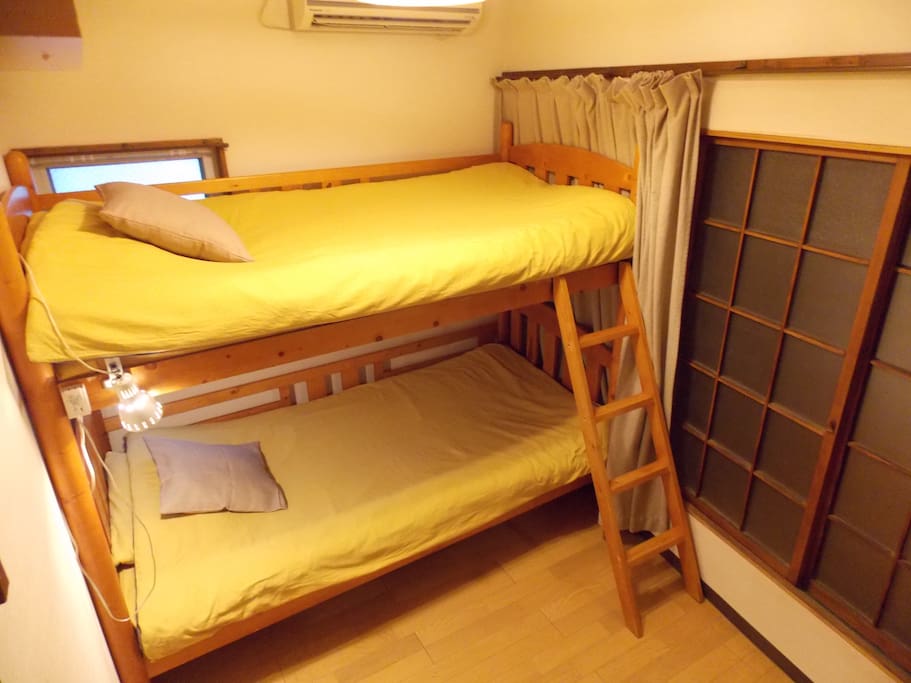 2 mins JR sta. Koenji Guest house Twin bed #1
The space
Twin #1
The Koenji Place is at a very convenient location -
Only 1 minute walk away from the JR Koenji station, 7 minutes from Shinjuku by JR Chuo/Sobu line and 15 minutes from Shibuya.
A 24hours supermarket, convenient store, and McDonald's are all within 1 mins from the place.
Koenji town is one very unique place, it's where the old and new blends well, and the town offers so many restaurants and Bars, Izakayas, Ramen shops, Live music clubs that are fueled by the young generation with lots of Genki energy.
The room is equipped with bed and bedding, free WIFI, air conditioner, desk, chair, hanger, shelf, lamp, and window to serve your comfortable stay.
There are 2 shower rooms, 2 toilets and a functional kitchen, which are to be shared with other guests.
Smoking is allowed on the outdoor wood deck on the top floor, no smoking in other public spaces and rooms please.
The Modern Japanese Design creates a calm and chilled out atmosphere, enabling you to have a relaxing stay.
We have our company regulation that we do not accept children under 10 years old.
because have very steep and skinny stairs 1F-2F and 2F to 3rd floor.
It has risk that small children might fall down and risk of injury from this point of view.
and for your safe and smiley trip in Japan.
also we had some complained before that children cried at night time to bothered some other guests sleeping.
Note:
Our guest house do not supply bath towel and Face towel, so bring yours or we have 100yen store in Koenji.
They sell a small bath towel by 200yen.
They also sell OK quality of Shampoo, conditioner,Body Soap.
Body wash towel whatever by 100yen.

**We provide pocket Wi-Fi 380 yen~/day~(3,000 yen deposit).
Please ask us!
Other things to note
★ In case of alter your reservation, please complete it until 2 weeks prior to your check in date. We do not accept change of schedule if it's less than 2 weeks to check in date.

★ Our cancellation policy is strictly applied for any cancellation from any reasons ( natural disaster, change in social conditions) after booking completed.
Late check in fee:
-from 9 PM to 11 PM : 1,000 yen
-from 11 PM to 1 AM : 2,000 yen
Check in: 1PM
Check out: 11AM
---
---
Not safe or suitable for children (0-12 years)
Check in is anytime after 1PM
【House Rule】
★ No visitors from outside allowed on our property for security reasons.
House is only for booked guests, so no visitor inside the house please.
★ Our check out time is strictly before 11AM for next guests after you.
*It may cause a trouble next guests after you.
★This is not a hotel, so we only accept someone who can manage garbage, clean up kitchen, shower & toilet if it's mess after use.
★No Smoking in the property
★Please separate garbage right way and dump them on right day/time pls follow Tokyo waste management office.
★ Strictly Please Turn off lights, AC when you go out.
★ Your guest or friend can not stay unless the person book a room via Airbnb.
★ In case of lost key, we request 2,000yen/key as replacement fee,
2 keys = 3,000yen
Aside we need to charge delivery fee 2,000yen( 11:00 ~ 21:00 during regular hour)
4,000yen ( 21:00 ~ 01:00 late night fee)
Otherwise you need to wait until business hour.
★ We had a bedbug problem last year(2015) brought by travelers. ( Don't worry no bedbug now). In case you get bitten or see it in the room, please report us ASAP. We'll do pest control by heart treatment. Thank you for your cooperation in order to prevent spreading bedbug damage.
【Terms and Conditions】
★ Please be sure to check our cancellation policy before you make reservation.
Our cancellation policy is strictly applied for any cancellation from any reasons after booking completed.
★ Host has no responsibility for the accidents and loss at guest houses & apartments correspond to any of the following.
1. The accidents and interpersonal problems caused by your own negligence.
2. Theft or loss caused by your own management shortage or carelessness.
3. Illness or injury caused by your own negligence or carelessness
4. Damage suffered by natural disasters such as earthquake, flood, tsunami
★Please do understand that we will take a picture of photo page of your passport for security reasons when you are " check-in." same time with our " check in form " with your emergency contact just like a Hotel.
★Please take a good care of your belongings.
We have no responsibility for things left in property after check out.
★We do not accept any claim or complains to reduce the room fee that we can not control it from the nature such as insects like Fly , Ants, Bees, cockroach ,Butterfly ,Mosquito, spyders etc etc. are not always relate with sanitation which are also bleeding and moving in the city.
★ Even Tokyo isn't a Sterile room that we have also everything that we see them often .plus they are moving and bleed , We can come for an extermination when we get some report from our guests and we do our Best .
also some tips from our government says , many species also from overseas are increasing in Japan lately and they this its related from Globalization and global warming .
★★★ Caution ★★★
In case you want to dispose of oversize trash such as suitcase/backpack, please contact us first.
It's not free to dispose them!
We have to contact local authority to arrange a special pick up service for a fee.
We dispose it with actual cost ( 300 yen~1,000 yen) + handling fee 2,000 yen.
If you just leave it behind room and check out, we'll claim it to AirBnB and charge actual costs ( 300 yen~1,000 yen) + handling fee 5,000 yen charge on you through AirBnB.
★Management team★
---
Wow love the place I stay...I love the fact that the city was alive at night...you can hear people singing all night...there's many stores around every conner and is very cheap compare to other cities...the people are very friendly..finally the host are very cool thank you so much for letting me stay are you place, hope to come next year again and stay at this location.
---
Yet another trip to Tokyo, yet another trip to Koenji. This is my second time staying in Koenji with a friend and yet again I had an amazing experience. For location, you cannot beat Koenji. It is very close to many of the bigger districts one may want to visit while exploring Tokyo (i.e. Ikebukuro, Shinjuku, Shibuya, Harajuku, Yoyogi, etc.), and is a simple 1-2 minute walk to the Koenji train station. Toshi and friends' place here is amazing and provides you with all of the amenities you may need! My friend and I both spent most of our days skateboarding through Tokyo so having a perfectly working A/C unit to come back to was a deal MAKER. There is a central kitchen with all of the appliances you need, and it has two bathrooms and two showers! I recommend the shower on the roof!! Concerning space, this room is plenty for two people! We both traveled for skateboarding and the tokyo art book fair so among are clothes we had skateboards, spare boards, art supplies, art zines and shirts we were selling, and a bunch of camera equipment.. and we still were never tight on space! And finally, Toshi and crew are all great people and are always make them self available if you have any questions or just want to talk! All in all, do not hesitate on choosing this spot for your Tokyo adventure. By far the best deal in Tokyo (especially if you enjoy night life). Just don't go when I am visiting next! I don't know what I would do if I did not have this room to stay in! Thanks so much Toshi, Hide, and Henry!
---
Toshi was welcoming, helpful, and responsible. His directions to find the "hidden" Koenji house didn't give me any problems. All of the amenities of the house were working, accessible, and thoroughly explained. He came by every day or almost every day to make sure everything was running in the house. The location and the house. It was nice to be able to cross one street and be home after spending an entire day hours away elsewhere in Japan. The location was also convenient for eating (restaurants, grocery store). The house is a mini version of a house but it has everything you need, has a cute quality, and doesn't feel cramped. Staying in the twin bedroom #1 can be a bit noisy as warned but if you are truly traveling, are out being active all day, and come back just to sleep, it's easy to sleep through the noise from the train station and the bars. The neighborhood is great! It's a mini version of other busier hubs in Tokyo. It's like a city within a city. There are tall buildings with lighted signs, major chain restaurants/convenience stores and alleys with mom and pop bars and restaurants. There was a lot to explore there and it had a lot of charm. Overall, I really enjoyed staying here. Everything was fine and the pricing was fair. I liked that the house was well-maintained.
---
Toshi was a great host. He was very helpful with transit to the house in Koenji and even offered to meet us at the train station. He was also very knowledgeable about the area and recommended a great restaurant. The house was in a great location (~2 min walk from train station) and was very clean and had all the amenities we needed. Would recommend Toshi to any visitors to Tokyo!
---
The room is exactly what the pictures show. You share a bathroom, there's a communal kitchen, there's a 200Y laundry machine upstairs. The bathroom and showers are a bit small, but nothing to complain about. However, it must be noted about how ABSOLUTELY amazing the location is. One minute from the JR station, the place is in the entrance of the wonderful neighborhood of Koenji. In the daytime you'll see grandmas and grandpas shopping as well as vintage shops. But in the nighttime, the izakayas and bars are open. youngsters are out, and musicians are playing. It isn't as touristy as other areas like Shinjuku or Harajuku and not as crowded as Shibuya. It is a bit loud at night due to the girl's club, KTV place, local musicians and night-roamers nearby, but I slept fine. Also, if you arrive late (after 9PM) or check out late, there is an extra free (10-20 USD) so keep that in mind when you're booking train/plane tickets.
---
Toshi was an amazing host! He met us outside the train station and walked us to his place. He was very friendly and happy to answer any of our questions in person or through text/email. The room was clean and had private locks on the door. I accidentally left my glasses in the bed and he was kind enough to email me to let me know and hold onto them until I returned to Tokyo! Would definitely stay here again or recommend it to a friend :) thanks for the hospitality, Toshi!
---
Hello Everyone ! we are the Room provide service of private rooms until Private apartment. 31 listings at this moment. many are from room owners who can not write English or they are older person who can not operate Internet thing. So we support them and their rooms for you…
Response rate:
100%
Response time:
within an hour
Explore other options in and around Suginami-ku
More places to stay in Suginami-ku :