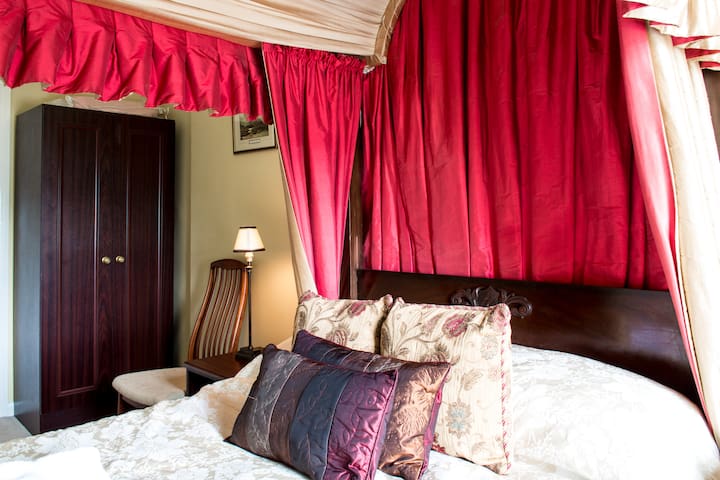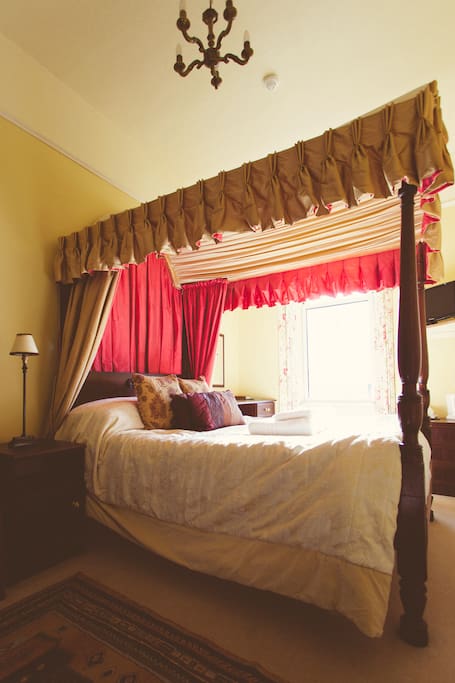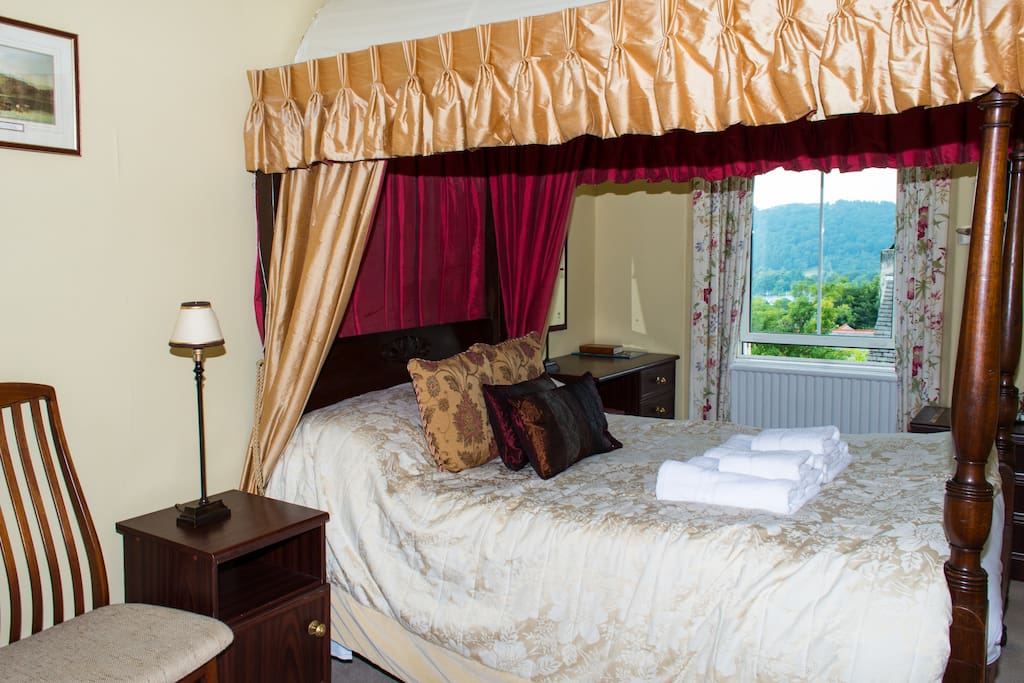 About this listing
Be romantic! Cosy up in a William IV 4-Poster & marvel at gorgeous Lake & fell views out the window. Silk drapes & a pleated silk canopy frame the handmade bed with comfy bespoke mattress.
---
---
---
Always communicate through Airbnb
To protect your payment, never transfer money or communicate outside of the Airbnb website or app.
Learn more
---
The space
Given below is some SPECIFIC DESCRIPTION of The Coniston, one of 11 bedrooms at Blenheim Lodge Bed and Breakfast, Bowness-on-Windermere, and also a GENERAL DESCRIPTION of our family home.

UNIQUE POINTS ABOUT OUR BED AND BREAKFAST:
Blenheim Lodge is unique for the following reasons:
* our secluded B&B is one of maybe 10 serviced accommodation places in Bowness AND Windermere with excellent views of Lake Windermere and the fells
* we are tucked away peacefully off the main roads, yet are no more than a short 5-minute walk to Bowness village centre and Lake Windermere
* our B&B nestles into a fell-side, Brantfell, with The Dales Way Walk, acres of fell land and viewpoints to explore at the back of our guest house
* all our rooms are individual in character and we try to decorate and furnish them in keeping with the age of our 1868 Victorian home, including the use of antiques.
More information about our guest house is given below. One of us also speaks a little Mandarin, Cantonese, and Hokkien, and understands a little Toisan and Teowchew.
If you wish to arrive earlier or later than our usual 4 pm check in time, please do ask.

SPECIFIC ROOM DESCRIPTION:
The Coniston – Antique 4-poster in a cosy room with lovely Lake views
For a 4-poster room with that cosy feel, do choose The Coniston. This bedroom is decorated with lovely warm Laura Ashley colours and furnishings, an appropriate setting for the antique William IV 4-poster bed hung with handmade raw silk drapes and pleated arched roof detail. A bespoke mattress commissioned to fit the unusual curves of the bed was handmade by Cocketts, a third generation British family mattress maker. In the morning, wake up to enjoy the stunning views of Lake Windermere and the Claife Heights mountains as you gaze out of the window from your warm and comfy bed. There is a small shower en-suite. (Please note that there is 1-1.5 feet between the foot end of the bed and the far wall.)
** PLEASE NOTE THAT WE ARE UNABLE TO ACCOMMODATE CHILDREN OF 13 YEARS OR UNDER IN THE CONISTON ROOM. **
** PLEASE NOTE THAT PRICES FOR THE CONISTON RANGE FROM £109-£127 PER NIGHT FOR BED AND BREAKFAST. WE DO RUN SPECIAL OFFERS, SO PLEASE DO ENQUIRE WHEN BOOKING. WE ALSO OFFER REDUCED WEEKLY RATES FOR B&B STAYS OF 7 OR MORE NIGHTS. **
** PLEASE ALSO NOTE THAT WE USUALLY REQUIRE A MINIMUM STAY OF 2 NIGHTS OR MORE DURING WEEKENDS AND SUMMER SCHOOL HOLIDAYS. PLEASE ASK. **

GENERAL BED AND BREAKFAST DESCRIPTION
Peaceful, homely, non-smoking Blenheim Lodge is situated in the heart of the Lake District National Park and boasts stunning Lake and fell views. Our friendly guesthouse in Bowness-on-Windermere is ideal for singles on retreats, couples on romantic breaks, and families on holidays. The Lake District is a well-known for its beauty and provides a wonderful part of the world for getting away from it all. Some of the most popular activities here include fell walking, cycling, mountain biking, fishing, golfing, sightseeing and other activities.
•Quietly situated on one of the Lake District's fells, Brantfell, Blenheim Lodge nestles against acres of lovely National Trust fields and woodlands, making our secluded B&B a relaxing and tranquil retreat.
•Our back garden adjoins National Trust acres, and The Dales Way is a literal minute's stroll from our door. Amble country paths onBrantfell behind our house to viewpoints with exceptional 360-degree views.
•Built as a gentleman's residence in 1868, our Bowness Bed and Breakfast is hidden at the end of a cul-de-sac, and distanced from noisy main road traffic, crowds and late night revellers. One guest said, 'Only five minutes walk to town; but up here, it's a million miles away!'
•Enjoy the best of both worlds: combine your stay in pretty B&B rooms with stunning Lake and fell views with the convenience of a 5-minute walk to Bowness town centre amenities, attractions, and Lake Windermere.
•Our fully refurbished guesthouse retains much of its quirky Victorian character and period charm. Rooms are decorated with Laura Ashley colours and soft furnishing and most are furnished with antique pieces in keeping with their historic past. Comfortable handmade mattresses and fluffy Norwegian duvets promote a restful night's sleep.
•For breakfast, we serve local Lakeland produce: hearty butcher-made sausage and bacon cooked to order. A local dairy delivers fresh eggs and milk daily. Vegetarian options are available, including oven-fresh croissants and delectable muffins.
•Blenheim Lodge is environmentally friendly. We buy local and use local trades where possible. We also recycle and use ecologically sound products and environmentally friendly and efficient central heating and electrical systems where possible.
•We offer FREE: onsite car park, WIFI, and 2 bookable local fishing permits. There is a nice guest lounge with Lake views.
•We are always happy to help our guests get the most out of their stay. If you would like help with arranging guided walking trips, please do ask. We also work with local fishermen and can arrange tuition and guides for anglers coming to stay with us.
•Blenheim Lodge is ideally situated for exploring the Lake District. Windermere Railway is 5 minutes south. Local main roads, buses and ferries provide easy links to other parts of the Lake District. We can arrange minibus and private tours that will pick up and drop off guests at Blenheim Lodge.
So, come stay with us. Listen to the sound of silence and fall under its spell. Slumber soundly on handmade mattresses, whilst tucked under fluffy Norwegian duvets. Then, awaken in the morning to the beauty of birdsong and the glory of our Lakeland views.
** THERE WILL BE SOME TIMES IN THE YEAR THAT WE WOULD REQUIRE A MINIMUM STAY OF 2-4 NIGHTS. PLEASE ASK ALSO ABOUT ANY SPECIAL OFFERS WE MIGHT HAVE. **
** EACH CHILD IS COUNTED AS ONE PERSON. PLEASE LET US KNOW THE AGES OF ANY CHILDREN YOU MAY WISH US TO ACCOMMODATE. **
Guest access
Blenheim Lodge is a home for us and, we hope, will also be a home from home to our guests when they are staying with us. Our guests have use of the following facilities:
•We have a lovely comfortable guest lounge which is bright and airy and has some truly wonderful views of Lake Windermere and the Lakeland fells over Old Bowness.
•There is a TV in the guest lounge with Freeview TV channels and DAB radio.
•We have a private on-site car park for guests' vehicles, bikes, and motorbikes.
•Enjoy a leisurely breakfast in our pretty dining room with restful Laura Ashley decoration, soft furnishings, and lighting that is open to guests during breakfast time (this area is closed to guests outside breakfast time).
•On the front porch to the front of our B&B, there are a couple of chairs where guests can sit and take advantage of the magnificent views that can be seen from our guest house.
•There are 2 outside taps for washing muddy boots after walking or for cleaning fish that guests might have caught whilst out fishing (we offer 2 free local fishing permits on a first come first served basis which are bookable).

Interaction with guests
•Blenheim Lodge is our home and we have a separate apartment within this former gentleman's Victorian residence. We always like to welcome our guests into our B&B with hot drinks and biscuits, engaging with them to see how we can help to make their stay special, and showing them their room on their arrival.
•We enjoy meeting and getting to know our guests if they have the time and inclination to spend time with us. Some of our guests have been coming to stay with us for as long as we have been here, which is really lovely.
•So, yes, we enjoy interacting with our guests, and are always available to help them make the most of their breaks at Blenheim Lodge; but are sensitive enough to respect their preference for no or little interaction if that is their preference.
The neighborhood
•Situated in the heart of the Lake District National Park, Blenheim Lodge is located at the end of a cul de sac on a quiet small hillside lane and nestles into a fell. As our short road ends is also a no-through road, we do not get vehicles coming up towards our neck of the woods unless they have a reason to be here.
•The front and side of our semi-detached guest house overloook Old Bowness to Lake Windermere and the mountains beyond - hence the marvellous views that we and our guests can enjoy from our guest and public rooms.
•The back of Blenheim Lodge B&B boarders the tranquil woodlands and fields of National Trust acres. My favourite room, The Dalesway, has a romantic charm and overlooks those same fields and countryside, and makes me feel like I have escaped to some special fairy place far away!
•As there is no road at the back of our guest house, Blenheim Lodge does not have any neighbours to the back of the house. In fact, an ancient mossy stone wall covered with hedge growth and a low wire fence form the boundary between our house and National Trust acres.
•Access from our B&B to National Park walks and viewpoints, picturesque dells and peaks, is through a little wooden farm gate at the end of the small road that leads up to it from our guest house. One of these walks is romantically named the Poet's Walk. The highest viewpoint is Brantfell, which is also the name of the fell or hill that our home is located upon.
•The Dales Way Walk is a long distance footpath, which route traverses part of Brant Fell. Blenheim Lodge is the first guest house off The Dales Way Walk in Bowness-on-Windermere, thereby making our B&B a convenient stop for tired walkers looking for friendly and comfortable accommodation after days of walking from Ilkley, The Dales Way Walk's starting point in Yorkshire.
•Indeed, one of our guest rooms, The Dalesway, is named after The Dales Way Walk because, whilst the countryside is not in full flower, one can see the Footpath from this bedroom.
•I wish I could sketch here the loveliness of our B&B's location. Being up on a hill, guests may enjoy the peace and quiet of a relaxing getaway.
•The countryside surrounding our Bed and Breakfast brings with it unpolluted Lakeland air, which one of our long time guests has remarked upon as being one of the reasons why she keeps returning to our guest house: her doctor had told her that the clearness of the air helps to alleviate the symptoms of her chronic asthma. Of course, our guest hastened to add, she has also continued to come here after 12 years because she enjoys our hospitality. Now, it is like welcoming an old friend to our home: as she has often said, it is her home from home.
•Thus, for guests who enjoy walks and peaceful retreats, with the added bonus of stunning Lake and mountain views from their rooms, Blenheim Lodge is an ideal place to stay.
•However, Blenheim Lodge also occupies a very convenient location with respect to accessing local amenities and attractions. It is a 2-minute walk downhill to the centre of Bowness town where guests will find numerous cafes, restaurants, pubs, shops, a couple of newsagents, beauty salons, a bank, a Post Office, an antiques shop, a bakery, a delicatessen, etc.
•Lake Windermere and the leisure facilities and attractions that it offers is about 5-7 minutes walk from our guest house. There, guests can ride the ferries, enjoy rowing or puttering on the Lake in a little row boat, canoe, kayak or motor boat, and we can even arrange dinner or lunch cruises aboard a yacht - great for a little treat!
•Also by the Lake is a recreation area with crazy golf, an 18-hole golf course (please don't get your hopes up that this is a big course - there is a proper golf club and course a mile from our B&B that welcomes visitors), tennis, and badminton. Guests can rent leisure equipment at the recreation area and golf club as required.
•In the summer, Bowness welcomes a fair or two and sometimes even the Red Arrows. There are often other events held at The Glebe, Bowness Bay, which is right by the Lake and only 7 minutes walk from the front door of our guest house.
•Going down into Bowness town might take all of 2 minutes, but walking back up from the centre of town will take 5 minutes since it is all uphill. Having said that, there are two ways to make tracks to our guest house from the centre of Bowness: one is a steep route and the other is a slightly more windy but much gentler route which cuts out 2/3rds of the hill! Either way, it will take 5 minutes to walk uphill from the town centre and back to us.

Getting around
•Blenheim Lodge has its own on-site private car park that is set aside for guests' use only. Car parking is at a premium in Bowness on Windermere and many guests tend to leave their cars in our car park because it can be expensive to park in town.
•Our location makes it easy to get around to many places without private transport, thus it makes sense for guests to leave their vehicles in our car park.
•Blenheim Lodge is very well served by public transport. For instance, a 2 to 7 minute walk into Bowness town or Bowness Bay will take guests to bus stops from which they may hop onto buses which will take them as far as the northern part of the Lake District (about 45 minutes' ride).
•This route from the South Central Lakes to Keswick in the North Lakes is a popular one and makes for a picturesque ride, as it takes in a number of lakes, woodlands, fields and Lakeland villages and towns overlooked by soaring mountains.
•Guests can hop on and off the buses to stop off at intervening towns such as Ambleside (5 miles from our house) and Grasmere (10 miles from our B&B). Walks abound along the route and walkers will enjoy discovering footpaths and beautiful scenery just off the road that lead to amazing views.
•For travellers who visit us at Blenheim Lodge by train, Windermere Train Station is the place to get off. The station is only a mile from our guest house or a 5-minute taxi ride.
•Guests can, of course, take a bus to our B&B from the train station, but would then have to walk another 5 minutes to our house with their luggage - and the price of a taxi will probably not be a lot more than taking the bus.
•Windermere Station is also the depot for Stagecoach buses that come into our nick of the woods; and I would again advise guests to take a taxi from the station to our guest house.
•Also at Windermere Station, guests can hop onto local buses and trains to other parts of the Lake District National Park and Cumbria. Thus, guests can take a bus from Bowness to Windermere or walk the mile to the train station, and then take one of the buses that traverse the Kirkstone Pass to Ullswater, for example, thereby experiencing the highest mountain pass open to motor traffic in England. Again, there will be fantastic scenic sights to behold along the way.
•However, one of the joys of staying at Blenheim Lodge, in Bowness-on-Windermere, is the ease of getting around. Bowness is the main hub for travel on Lake Windermere, being the only town located midpoint along the Lake shore.

•For instance, guests can walk the 5 minutes from our B&B to Lake Windermere and buy a day ticket for the ferries that ply the Lake, giving anyone the opportunity to take advantage of various stopping points so as to enjoy the attractions of local towns and villages.
•Guests can also combine their ferry tickets with mini-bus pickups on the opposite side of the Lake that will drive them up to Hawkshead and Near Sawrey, where sit a gallery displaying Beatrix Potter's artwork and her former cottage, Hilltop, respectively. There are also connecting buses to Coniston and other towns, villages, and attractions along the way, one of the latter being Tarn Hows, one of Lakeland's most beautiful bodies of water.
•Guests may also buy combined ferry and bus tickets to include entry to attractions situated along the Lake or further inland.
•By Bowness Bay as well as from the Train Station in Windermere, guests can hire bicycles to get around. These can be hired for a day or over a period of time.
•For those who want to cycle around the Lake District - or who want to gad about on two wheels - there is a regular car ferry that takes wheeled vehicles and foot passengers between Bowness and Ferry House, just opposite, thereby saving a 14-mile journey around the Lake shore. The car ferry is located 0.75 mile from Blenheim Lodge.
•We are always eager to help our guests to get the most out of their stay. As such we can help guests to book sightseeing tours that will pick up and drop off at our guest house. These tours can be private or follow a fixed itinerary.
•For instance, we can arrange return half-day tours for £50 or full-day tours for £100 with a local Cumbrian, born and bred, who knows the National Park inside out. His car sits up to 4 passengers.
•With a private tour, guests can decide with the Blue Badge driver what they would like to see and invite him to make suggestions too. A number of our guests have found this option really great as it saves them from driving and getting lost, thereby wasting time and getting stressed from having to follow a map and not simply sitting back to take in the incredible scenery.
•Using a local guide also means that our guests get to explore areas that they might not have known about, perhaps to find that hidden lake or not widely known cafe.
•Sightseeing tours are also offered by local tour agencies. These follow a fixed itinerary and provide pick up and drop off at our guest house. Like the private tour, we can book these for our guests. These tours are fantastic for an overview of what the Lake District has to offer and we have many guests who have enjoyed days out with these tour operators.
•Other guests prefer Shanks pony, and at Blenheim Lodge, we can arrange walking tours that start and end at our guest house. These are usually private walking tours although we can also advise on group tours, some of which are conducted by the Lake District National Park. If joining a group tour, guests will need to make their own way to the meeting place.
•Lastly, a prompt on writing up about getting around has asked about getting from an airport to Bowness-on-Windermere.
•The closest large international airport is Manchester Airport.
•From Manchester Airport, guests can take a train to Windermere Railway Station; and thence a cab to Blenheim Lodge in Bowness-on-Windermere.
Other things to note
WIFI is offered but not guaranteed as it depends ultimately on the provider for consistency. Some rooms may not get WIFI if there is a weak signal, in which case you can use our public areas, lounge, hall and porch, to get a better signal.

---
May not be safe or suitable for children (0-12 years)
Check in time is 4PM - 9PM
•Smoking indoors in a Bed and Breakfast is illegal in the UK; therefore we do not allow anyone to smoke indoors, even if that person was to smoke at a window, with his/her head poking out of the window. However, we have a porch where people can smoke.
•No candles or tea lights and incense may be burned in our house or bedrooms.
•No hot takeaway food may be consumed in our guest house or bedrooms.
•Guests who stain, damage or break any items must either pay for the cleaning or repairs to make good, or pay for the replacements where the items cannot be repaired.
•Towels and bathmats must not be used to remove make-up or suntanning products, or used to clean tea, coffee or other drinks spillage that will stain them. Please tell us right away if you have sustained any damage or spillage, and we will try to sort it out. In particular, if you have stained towels, linen, furniture or carpets, please tell us immediately so that we can try our best to clean up the spillages and reduce the damage.
•Our guest house is not suitable for rowdy or drunken parties, as people come to stay with us because we offer peace and quiet, so please do not choose our guest house to stay in if you prefer party-type accommodation.
•Guests may not book a room and expect more than the number of people booked into that room to occupy it. For example, please do not book a double room for two adults, but arrive with a child, baby, or another adult to share it.
•We do not have cots or highchairs, so guests will require their own.
•Guests may not book a room and then swop the occupancy of that room with undeclared guests. For example, if someone books a room for two nights, we would expect that same person to stay for both nights. We would not expect that person to stay a night, and then leave the next day only to have a different person stay the next night.
•Please respect our home as you would your own. For example, if you have muddy boots when you come into the house, please either ask for a plastic bag from us to put your boots in or leave them in the vestibule instead of traipsing about the house in those muddy boots.
•We have a private car park that is only for the use of our guests only for the duration of their stay with us. If you are going to meet up with family or friends while you are in the Lake District, please do not expect that your family or friends will be able to park in our car park whilst visiting with you. The same goes for our guest lounge. The guest lounge is only for the use of guests staying with us. It is not for the use of guests of guests.
---
Strict
Cancel up to 7 days before your trip and get a 50% refund plus service fees back.
---
---
The minimum night stay for this listing varies.
Bowness-on-Windermere, United Kingdom

·

Joined in April 2013
We are a couple with grown up children. My husband is Scottish and I am Singaporean. We enjoy the countryside, and love the peace and quiet here at Blenheim Lodge where we live with our rescued Pyrenean Mountain Dog.

You can see some photos of our current home, Blenheim Lodge, which we enjoy sharing with our B&B guests, on our Profile page. These are photos of our main public rooms, our outside areas, and some of the amazing views that can be seen from them. More photos of the bedrooms themselves can be seen on our Space or Bedrooms listings.

One of us can speak a little Mandarin, a little Cantonese, a little Hokkien, a little Teochew and a little Toisan.
Response rate:
100%
Response time:
within a few hours
Exact location information is provided after a booking is confirmed.
Explore other options in and around Bowness-on-Windermere
More places to stay in Bowness-on-Windermere: