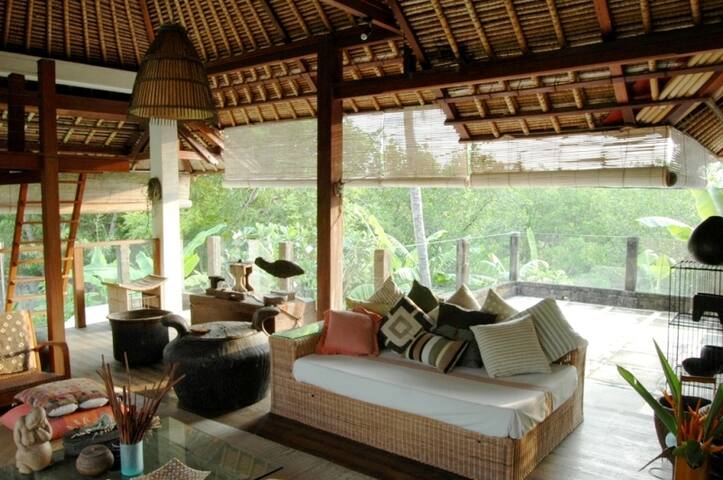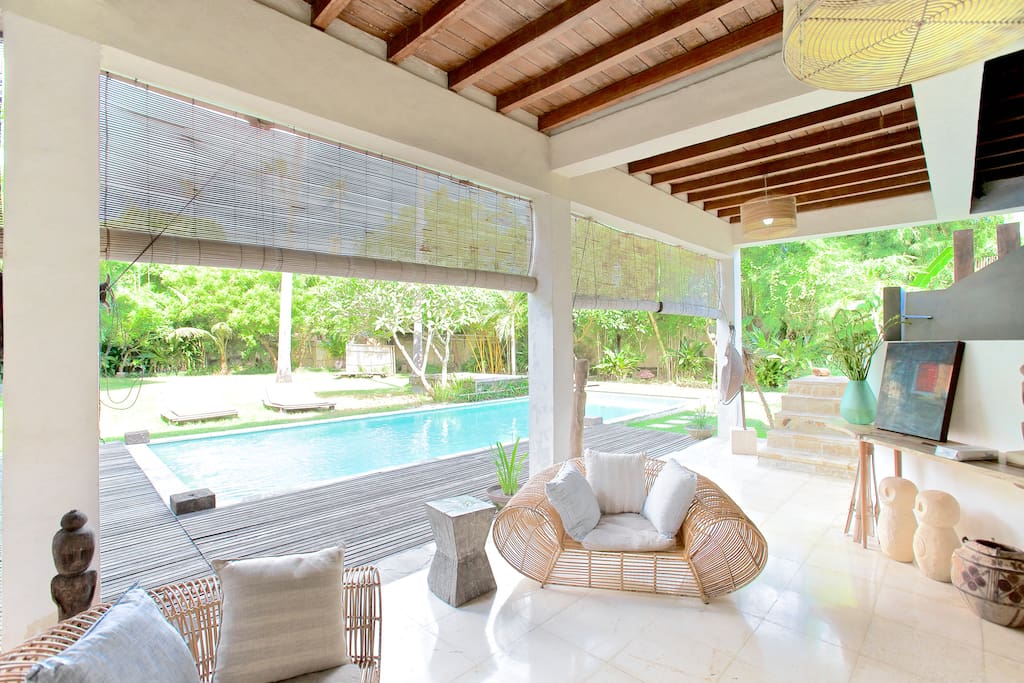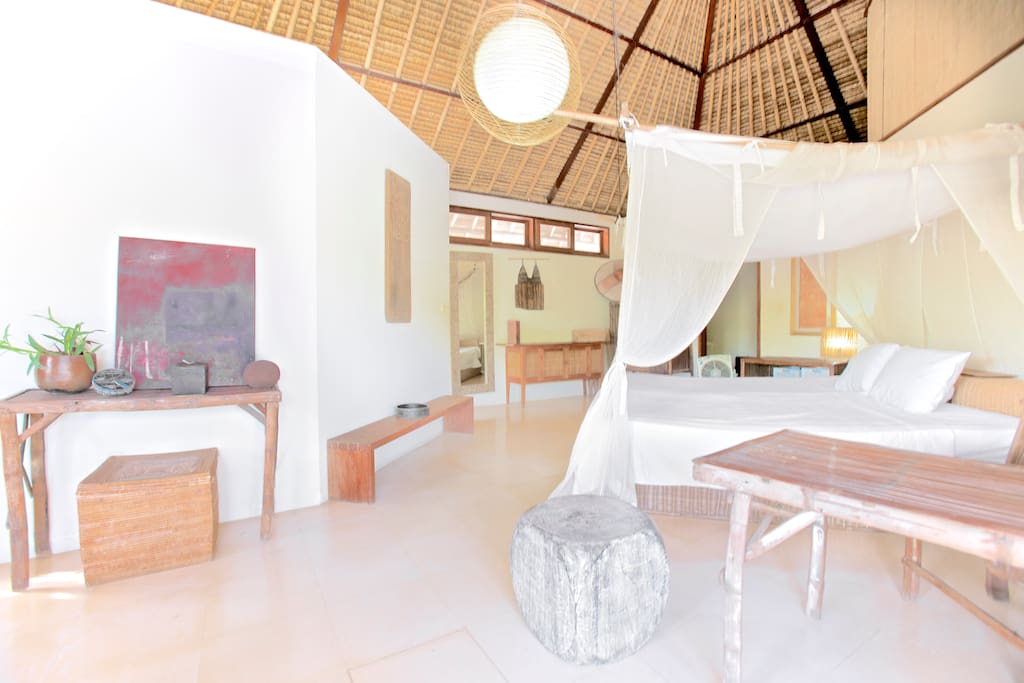 Entire home/apt
10 Guests
3 Bedrooms
6 Beds
About this listing
very spacious villa w child pool fence very large yard . sanur very mellow compared to kuta n seminyak yet has many restaurants 5 mins away . sanur's reef has calm water good for kids. we r between seminyak and ubud so great for day trips.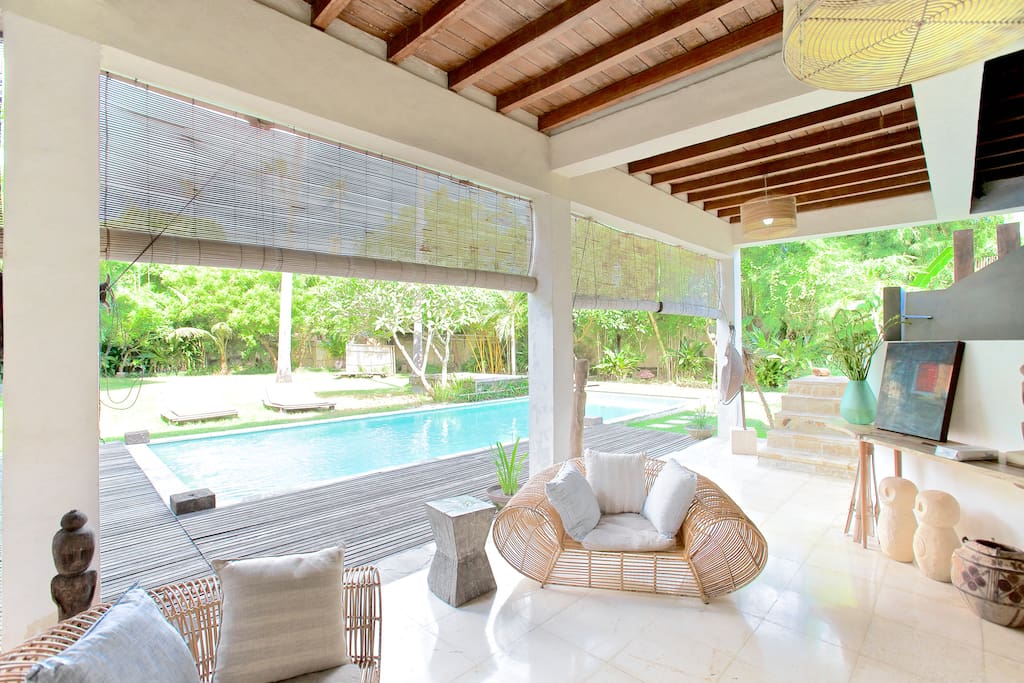 this is the downstairs living room, next to the kitchen for easy access to snacks and drinks near the pool .
---
Check In:
1:00 PM - 5:00 PM
Room type:
Entire home/apt
---
Kitchen
Space where guests can cook their own meals
Essentials
Towels, bed sheets, soap, and toilet paper
+ More
---
Extra people:
$10 / night after 6 guests
---
The Space
WE JOINED NOT TOO LONG AGO YET HAVE HAD MULTIPLE HAPPY GUESTS ALREADY. WE ARE CLOSE TO SANUR RESTAURANTS N SHOPS BUT SLIGHTLY OUT OF THE NOISE IN A WELL KNOWN EXPAT NEIGHBORHOOD OF VILLAS AND CONSULATES WHICH MOST GUESTS SEEM TO LIKE MORE THAN BEING IN THE NOISY AREAS. WE HAVE PLENTY OF CONVENIENCE STORES , SUPERMARKETS AND RESTAURANTS AVAIL WITHIN 5 AND 10 MINUTES WALK FROM THE HOUSE .
WE HAVE A KIDS SAFE POOL , NO DEEP END, AND WE HAVE AN ECO BAMBOO FENCE FOR KEEP TODDLERS AWAY FROM THE POOL .
THE MASTER IS UPSTAIRS AND UPSTAIRS THERE IS ALSO A VERY LARGE LIVING ROOM, BALCONY FOR SUNBATHING AND A LOFT BED PLATFORM OR MEDITATION AREA. WE ARE HAPPY TO ACCOMMODATE COUPLES FOR A ROMANTIC TRIP EVEN THOUGH THE HOUSE IS VERY LARGE AND GOOD FOR EVEN 2 FAMILIES WHERE ALL CAN HAVE THEIR PRIVATE SPACE.
THE FACT THAT THE HOUSE COMES WITH HELPERS IS A BIG PLUS TOWARDS RELAXING INSTEAD OF CLEANING, AND AS OUR HOUSE RUNS ON ECO FRIENDLY PRINCIPALS, IT IS A HEALTHY HOUSE WITH SOME OF THE FRESHEST AIR ON THE ISLAND AND NO CHEMICALS ON SITE.
WE HAVE THE OCCASIONAL LEAVES BLOWING THRU THE HOUSE BUT OUR HOUSEKEEPING STAFF IS TRAINED VERY WELL AND THE HOUSE IS VERY NATURALLY SANITARY , ALTHOUGH OPEN TO THE NATURE AS WELL, WHICH IS A MUST FOR LIVING IN BALI IN A FUN WAY!
ALL BEDROOMS AND TV ROOM ARE INSIDE AND HAVE AIR CONDITIONING OF COURSE.
THERE ARE A NUMBER OF NEIGHBORHOODS IN BALI NOW BUT SANUR IS CONSIDERED THE NICEST ON THE SOUTHERN COAST FOR ITS INSIDE THE REEF SWIMMING, OFF THE MAIN ROAD SMALL TOWN AND MULTIPLE RESTAURANTS. WE ARE IN THE VERY BEST PART OF THE EXPAT/EMBASSY FAR WEST SIDE OF SANUR . IF ANY REVIEW SAYS WE ARE TOO FAR, WE ARE 3 MINUTES FROM THE CONVENIENT BEACH BOARDWALK THAT GOES THRU THE WHOLE OF SANUR, AND WE ARE IN THE CHOSEN NEIGHBORHOOD OF A NUMBER OF CONSULATES AND VERY NICE PRIVATE HOMES, AWAY FROM THE BULK OF THE SMALLER HOTELS AND BACKBACKERS, BUT VERY CLOSE TO THE BEAUTIFUL FAIRMONT FOR A NICE POOLSIDE MEAL 10 MINS WALK AWAY , 5 MINUTE DRIVE, YOGA STUDIO ON THE BEACH OR AT MANIK ORGANIK, AND LOTS OF BEACH FRONT CAFES.
THE 1400 SQM SIZE OF THE PROPERTY, MOST PART OF IT ALL SHORT CUT GRASS, BEING 100 M FROM THE OCEAN, 300 METERS FROM START OF SANUR'S CALM INNER REEF WHITE SAND BEACH THAT STRETCHES A COUPLE KILOMETERS , 100 M TO SANUR'S OCEAN FRONT BOARDWALK, AND OUR SPECIFIC STREET BEING THE ONLY STREET IN SANUR FACING SUNSET, MAKE THIS PROPERTY SHINE ABOVE MANY OTHERS.
IT IS A PRIVATE HOME , NOT A VILLA GROUP RUN FOR BUSINESS, AND DONE IN NICE LOCAL STYLE MATERIALS SO SUCH A NICE EXPERIENCE COMPARED TO MANY TYPICALLY STANDARD DECORATED PLACES NOW WHERE YOU WOULDN'T EVEN NECESSARILY KNOW YOU WERE IN BALI .
KITE-SURFERS HAVEN 150 METERS FROM THE HOUSE . WHITE SAND BEACH 8 MINUTE WALK AWAY , AND OTHER WATER SPORTS AND DIVING CLUBS, OFFER PLENTY OF FUN AND EXERCISE IF WOULD LIKE MORE THAN LOUNGING ON THE BEACH OR AT THE POOL.
THE VIBE OF THIS HOUSE HAS BEEN LOVED BY ALL THAT HAVE STAYED . GREAT FOR COUPLES OR FOR FAMILIES WITH 100 % PRIVATE POOL , NOT A SHARED COMPOUND .
SANUR IS THE CURRENT HOT SPOT FOR NO-TRAFFIC, ON THE BEACH, SMALL TOWN CHARM , WITH THE BUZZ OF KUTA OR SEMINYAK ONLY 15-20 MINUTES AWAY . SANUR IS FULL OF NEW RESTAURANTS AND HOTEL HANGOUTS HOSTING A VARIETY OF CUISINES AND LIVE MUSIC BUT IN A QUITE TOWN ATMOSPHERE .
VILLA IS WELL DECORATED IN CONTEMPORARY BUT LOCAL STYLE TO GIVE YOU A FEEL OF BALI , BUT CASUAL/COMFY AS WELL .
IT IS A 2 STORY , 3 BEDROOM, 2 LIVING ROOM, 2 LARGE BATHROOMS( BOTH WITH LARGE BATH BUT ONE HAS 2 SHOWERS) ONE LOFT BED OR MEDITATION SPACE ( TEENAGERS LOVE IT) , AND 2 DINING AREAS.
THIS IS A PRIVATE HOME AND WE USE NO CHEMICALS ON SITE, THUS THE WOODEN DECKS MAY BE GREY, NOT VARNISHED SHINY AND THE WALLS PETINA'D WITH TROPICAL GREEN , BUT THIS IS ALL INTENTIONAL TO CREATE ARTISTIC ATMOSPHERE AND TO USE EARTH FRIENDLY PRINCIPALS.
THIS IS THE ONLY WEST FACING ACCOMMODATION IN SANUR WITH GREAT SUNSET VIEWS FROM THE UPPER DECK, LIVING ROOM , FAR END OF GARDEN AND MASTER BEDROOM .

WE HAVE RECENTLY HAD A COMPLAINT ABOUT MOSQUITOS BUT IN 25 YEARS NO FAMILY MEMBER GUEST OR EMPLOYEE HAS EVER GOTTEN DENGUE. WE HAVE PLANTED NEEM TREES AND SPRAY WITH A 100 % NATURAL SPRAY AND WE BURN 100 % NATURAL MOSQUITO INCENSE EVERY DAY. AS IN ALL COUNTRIES IN ASIA , MOSQUITOS DO COME OUT MORE AROUND DUSK BUT WE HAVE NEVER HAD ANY PROBLEMS AND WE HAVE THE SAME AMOUNT OF MOSQUITOS AT THAT TIME THEN ALL 5 STAR HOTELS . MANY PEOPLE IN SANUR , SEMINYAK AND UBUD, DO USE THE EXTREMELY UNHEALTHY MOSQUITO SPRAYS, AND SOME HAVE GOTTEN DENGUE BUT WE HAVE NEVER. IT IS BELIEVED THAT THE CHEMICAL SPRAY ACTUALLY MAY BE CAUSING THE PROBLEM TO SPREAD. ALL ROOMS ARE ENCLOSED AND NETTED AND WITH AIR CON.
IF MOSQUITOES WERE PARTICULARLY A PROBLEM , IT WOULD NOT BE A VERY WELL KNOWN NEIGHBORHOOD FOR EXPATS AND SOME CONSULATES. OF COURSE, DO USE BUG SPRAY , ALTHOUGH I HAVE NEVER AND HAVE NEVER GOTTEN DENGUE.
CAN SLEEP 6 TO 9 PEOPLE IF SOME DOUBLE UP . CAN HANDLE 3 COUPLES IF ONE COUPLE WISHES TO SLEEP IN ROOM WITH 2 VERY WIDE SINGLES OR IN SAME WIDE SINGLE BED WHICH MANY DO . CAN SLEEP MORE IF SOMEONE WISHES TO SLEEP IN OPEN AIR LOFT BED IN ON "3RD" FLOOR BED LOFT WITH MOSQUITO NET . PLENTY OF SPACE FOR ADDING FUTONS IN THE BEDROOMS. EACH ROOM /BED WITH AIR CONDITIONING AND FANS AND MOSQUITO NETS.
2 SEPARATE FAMILIES CAN EASILY LIVE SEPARATELY YET COMFORTABLY IN THIS SPACE, SHARING JUST THE POOL AND THE KITCHEN IF THEY WISH , AS EACH FLOOR HAS, BESIDES THE BEDROOM, A LIVING AREA , OUTDOOR AREA , OWN FULL BATHROOM AND TUB, DECK AREA, AND WIFI .
SANUR IS BY FAR THE BEST BEACH WITH COMPLETE TOWN , IN BALI, AVOIDING ALL THE TRAFFIC AND NOISE OF KUTA , LEGIAN ,AND SEMINYAK, YET WITH AN ARRAY OF SPAS, RESTAURANTS , WESTERN SUPERMARKETS, SHOPS, AND A NUMBER OF LOUNGE LIVE MUSIC PLACES POPPING UP. . MANY OF THE EXPATS LIVE IN SANUR AND SANUR HOUSES MANY OF THE CONSULATES IN BALI.
HOUSE HAS PRIVATE CHILD FRIENDLY IONIC SWIMMING POOL WITH NO DEEP END. STAFF CAN BE ASKED TO LEAVE IF COUPLES WANT PRIVACY . THERE IS ALSO A USB CONNECTION INTO WIDE SCREEN TO USE VIDEOS FROM COMPUTER .
THERE IS ALSO A HUGE BUT ELEGANT POOL ONE CAN USE FOR A FEE AT THE NEW REGENT HOTEL 10 MINUTES AWAY ON THE BEACH WITH GREAT DINING AT POOL SIDE .
THERE ARE 3 GYMS AVAIL NEARBY FOR A DAILY OR MONTHLY FEE FOR THOSE OF YOU THAT NEED TO KEEP UP YOUR GYM WORKOUTS .
WE HAVE TWO MASSAGE TABLES IN HOUSE, SIT-UP BENCH, HAND WEIGHTS , AND YOGA MATS.
THERE ARE 2 FULL BATHROOMS BUT THE DOWNSTAIRS BATHROOM HAS DIRECT DOORS TO TWO BEDROOMS AND THE LIVING ROOM WITH FULL LOCKING SYSTEM SO THAT EACH ROOM HAS DIRECT ACCESS TO THE BATHROOM WITHOUT HAVING TO EXIT BEDROOM /ENABLES COMPLETE PRIVACY .
UPSTAIRS BATHROOM IS IN THE MASTER BEDROOM. THIS BEDROOM OPENS UP TO THE 2ND FLOOR DECK AND UPSTAIRS LIVING AREA.
FLAT SCREEN TV FOR DVD WATCHING W COLLECTION OF DVDS FROM ALL GUESTS IS AVAILABLE. THERE IS NO CABLE TV.
MAID , POOL ATTENDANT , UTILITIES INCLUDED. THERE IS NO INTERNATIONAL OR INTER ISLAND PHONE SERVICE AVAILABLE BUT PHONE IS AVAILABLE FOR EMERGENCY CALLS OR ORDERING OF FOOD OR LOCAL SERVICES.
LAUNDRY SERVICE IS AVAILABLE AT VERY LOW COSTS PER PIECE OR KILO IF NOT IRONED AT NEAR BY LAUNDRY SERVICE.
$300 REFUNDABLE DEPOSIT FOR PHONE AND REPAIR DAMAGE REQUIRED .
LARGE FRIDGE AND 5 BURNER OVEN . NO FINE CHINA BUT ALL THAT IS NECESSARY FOR COOKING AND SERVING FULL MEALS IS ON SITE.
I DINING TABLE OUTDOORS ON EACH FLOOR
HOUSE IS ON LARGE LOT WITH BIG FLAT GRASS YARD, ONLY 100 M WALK FROM THE OCEAN AND SANUR BOARDWALK WHICH RUNS FOR KILOMETERS FOR WALKING, JOGGING, BIKING OR RESTAURANTS . ( PLEASE NOTE THE AIRBNB MAP IS INCORRECT IN THAT IT DOES NOT SHOW WE HAVE A BOARDWALK THAT RUNS ALONG THE WHOLE BEACH OF SANUR STARTING AT THIS HOUSE.
BEING ADJACENT TO OCEAN AND VEGETATION WE HAVE SOME OF THE BEST AIR AVAILABLE IN BALI.
ON SITE ORGANIC VEGGIE PATCH , COMPOST AND RECYCLING IN PLACE , ALTHOUGH I HAVE NOT BEEN AT HOME SO I DO NOT IMAGINE THAT IT WILL SUFFICE AS A FULL VEGGIE SOURCE AS THE STAFF , TO SPEAK HONESTLY, DOES NOT HAVE A GREEN THUMB. KIDS CAN PLAY THOUGH AND PLANT SOME SEEDS AND LEAVE THEIR NAME AND I WILL THANK THEM AND DONATE SOME MONEY TO THE ORANGUTAN FOUNDATION IF THEY HAVE SUCCEEDED IN CREATING SOME FOOD.
HOUSE IS ADJACENT TO A SMALL BOUTIQUE HOTEL WITH SMALL RESTAURANT AND SPA WHICH ONE CAN USE. OTHERWISE THE WHOLE TOWN OF SANUR WITH MULTIPLE POPULAR WESTERN AND LOCAL CUISINE RESTAURANTS IS 5-10 MINUTES DRIVE AWAY , OR SOME BEACH CAFES ONLY 5, 10 AND 15 MINUTE WALKS FROM HOUSE .
HOUSE HAS AN OPEN PLAN , WITH POOL IN CLEAR SITE FROM AROUND THE HOUSE, AND A RELAXED ATMOSPHERE, SUFFICIENTLY EQUIPPED , STYLISH ISLAND STYLE, NOT FANCY BUT RATHER CHILD FRIENDLY , COZY AND CHILL. NICE ATMOSPHERE FOR ENTERTAINING AS WELL BUT AGAIN, NOT FINE DINING SET.
THE KITCHEN IS MEDIUM SIZE , FULLY EQUIPPED WITH 6 BURNERS AND OVEN AND LARGE FRIDGE, AND THERE IS A DIRECT VIEW OF THE POOL TO WATCH CHILDREN . CONDIMENTS ARE OFTEN LEFT IN FRIDGE AS GUESTS HAVE ASKED US TO LEAVE THEM BUT IF YOU PREFER TO THROW THEM OUT YOU MAY .
THE PLACE IS EQUALLY ROMANTIC AND POOL IS 100 % PRIVATE FOR COUPLES. I AM OPEN TO SOME DISCOUNT FOR JUST TWO PEOPLE. STAYING. YOU CAN ASK THE STAFF TO LEAVE AND THEY WILL UNDERSTAND. YOU CAN ALSO SUNBATH ON THE UPSTAIRS BALCONY IN "NUDE" IF YOU WISH AND CAN ASK THE STAFF TO LEAVE UPSTAIRS PRIVATE UNTIL YOU CALL THEM, OR IF GIRLS ONLY YOU CAN ASK THEM OF COURSE TO BRING WATER OR DRINKS ETC. UPSTAIRS .
2 CAR CARPORT. CHEAP TAXIS AVAIL IN 5 MINUTES WITH A CALL, JUST USD2 COST TO THE CENTER OF TOWN AND VERY SUFFICIENT WESTERN SUPERMARKETS, BALI DELI, A BIT MORE DELI ORIENTED, AND HARDIES, MORE MAINSTREAM, BUT WHICH ALSO HAS A MINI DEPARTMENT STORE ON SECOND FLOOR WHICH HAS PLENTY OF SARONGS AND POOL TOYS AND HANDICRAFT GIFT.
THIS IS A PRIVATE HOME, NOT RUN LIKE A HOTEL , SO NO 24 SERVICE BUT THERE ARE ALL THE BENEFITS OF HAVING A COMFORTABLE HOME FEEL AND THERE IS A MAID , SOMETIMES TWO , FOR BASIC HELP AND CLEANING, AND AS MENTIONED TAXI'S CAN BE CALLED AT ANY TIME . WE ALSO HAVE A MAINTENANCE /GARDENER WHO CAN HELP WITH LUGGAGE ETC.
WE ARE CHILDREN FRIENDLY AND MANY FAMILIES HAVE SO LOVED THEIR STAY WITH US, BUT WE DO WISH TO LET ALL KNOW THAT IF HAND MADE TERRASSO TILE FLOORS GET WET, THEY CAN BE SLIPPERY , JUST IKE ALL TILES, SO PLEASE TAKE CARE WHEN FLOORS ARE WET FROM RAIN OR POOL WATER OR THINGS SPILLING. .
POOL IS NOT FENCED IN BUT WE DID MAKE SOME BASES FOR ROPING THE POOL IF NECESSARY AND POOL IS ALL ONE LEVEL SO VERY EASY FOR THE KIDS TO JUMP OFF BOTTOM IF NECESSARY .
NEXT DOOR THERE IS A SMALL BOUTIQUE HOTEL WITH RESTAURANT SO FOOD CAN BE REQUESTED FROM AND WE HAVE A LIST OF TAKE AWAY PLACES WHO WILL DELIVER.
MINIMUM OF FOUR NIGHTS IS PREFERABLY REQUIRED UNLESS GUEST INTENDS TO STAY TWO DIFFERENT TIMES CLOSE TO EACH OTHER WITHIN ONE WEEK. I.E. 2 DAYS IN AND GO TOURING TWO DAYS , THEN BACK FOR 3 DAYS FOR EXAMPLE. WE CAN STORE YOUR GOODS BUT CANNOT TAKE FULL RESPONSIBILITY FOR ANY VALUABLES. A SPECIAL PRICE CAN BE ARRANGED FOR SUCH A TRIP .
ALSO, LOWER RATES CAN BE DISCUSSED FOR LOW SEASON TIMES, AND RATES ARE NEGOTIABLE IF YOUR REQUEST TIME HAPPENS TO BE IN BETWEEN TWO OTHER BOOKINGS AND FILLS IN A SLOT PERFECTLY.
HOUSE IS USUALLY RENTED IN FULL BUT IF YOU WISH TO ONLY RENT A ROOM DURING A PERIOD, WE CAN OFFER THIS AS WELL .
-master bedr with en-suite w large living room w huge balcony w dining table and kitchen usually to yourself or shared on different floor if one other room rented but not often will we rent two rooms at same time.
-another room with 2 large singles at pool edge
living room, dining area, kitchen that could be shared but not likely.

HAVE LIVED IN BALI FOR 25 YEARS SO GUESTS CAN FEEL FREE TO ASK ME ANY QUESTIONS THAT ONLY A LONG STANDING EXPAT CAN ANSWER HONESTLY AND WELL.
WISHING YOU A GREAT HOLIDAY
Guest Access
ALL SPACES/ JUST OFFICE SHELVES HAVE PERSONAL HABERDASHERY BEHIND CURTAINS .
Interaction with Guests
we interact in length with guests as have lived in bali for 30 years. we welcome all inquiries.
The Neighborhood
neighborhood is very well known for hosting some of the consulates and many expats therefore much safer than many other neighborhoods. close aCcess to sanur boardwalk and the water and beach . 8 minutes from the new toll road to the airport which is super speedy.
Getting Around
inexpensive cabs with free call from the house, 2 bikes, boardwalk to everything if like walking.
Other Things to Note
child safe pool fence from bamboo.
WE ARE FLEXIBLE WITH CHECK-IN AND CHECK -OUT SO PLEASE MENTION TO US ANY ODD FLIGHT DETAILS AND PLEASE BE FLEXIBLE WITH US AS WELL. WE HAVE A POLICY TO NOTE BOOK BACK TO BACK , BUT SOMEHOW THERE ARE ALWAYS PEOPLE NEEDING DATES WHICH CREATE BACK TO BACK BOOKINGS. WE ASK THAT ALL GUESTS LEAVING LATER THAN 10 AM MOVE ALL LUGGAGE DOWNSTAIRS TO THE POOL ROOM SO THEY CAN CONTINUE TO ENJOY POOL AND KITCHEN AND SHOWERS AND DOWNSTAIRS LIVIGN AREA, WHILE THE STAFF STARTS TO CLEAN ONE FLOOR . WE ALSO WILL BE CLEANING AND CHANGING FLOWERS ETC. PERHAPS THE DAY BEFORE GUESTS HAVE A REQUEST OF LATE DEPARTURE SO WE CAN KEEP COSTS AND RENTAL PRICES DOWN BY NOT HAVING TRIPLE STAFF RUN IN FOR QUICK TURNOVERS. WE LIVE TO CLEAN WELL. : )
+ More
---
Check-in time is 1PM - 5PM.
1. FIRE SAFETY . PLEASE NO SMOKING IN HOUSE AS WE HAVE ORGANIC COTTON MOSQUITO NETS, ORGANIC COTTON MATTRESSES AND A THATCH ROOF IN PLACE AND WHEN WIND BLOWS THE NETS ONTO ASHTRAYS PEOPLE LEAVE AT BEDSIDE, THIS CAN CAUSE FIRES, OR IF ASHES FLY ONTO THATCH . THERE IS A SMALL SEATING AREA OUTSIDE THE YARD BUT ON THE PREMISES WHERE WE PREFER PEOPLE TO SMOKE AND ALL HAVE BEEN FINE WITH THAT.
2. PLEASE HAND YOUR PASSPORTS TO THE GIRLS AND YOUR ARRIVAL CARDS AS IT IS LAW . THEY WILL PROMPTLY PHOTOCOPY NEXT DOOR IN OUR OFFICE AND RETURN THE PASSPORTS IMMEDIATELY AND GO TO POLICE WITH COPIES, NOT YOUR ORIGINALS . WE PAY SO NO NEED TO GIVE GIRLS THE FEES UNLESS YOU ARE OVER 6 PEOPLE . PLEASE DO NOT FORGET TO HAVE THE GIRLS REPORT YOU IF GUESTS ARRIVE A FEW DAYS LATER.
3. PLEASE TURN OFF AIR CONS WHEN NOT STAYING IN ROOM AS ENERGY WASTE IS NOT GOOD AND AIR CONS IN BALI ALREADY HAVE A LOT OF STRESS WITH WEATHER AND HUMIDITY AND SALT WATER, SO RESTING THEM HELPS THE NIGHT TIME EFFICIENCY. OUR BILL IS 100'S OF DOLLARS PER GUEST STAY SO PLEASE HELP US AND THE PLANET WITH THIS.
4. WE DO NOT USE HORRIBLE CHEMICALS FOR MOSQUITO FOGGING WHICH DOESNT WORK ANYWAY, SO PLEASE USE MOSQUITO REPELLENT , ALTHOUGH WE HAVE PLENTY OF ANTI MOSQUITO NEEM TREES ON SITE AND WE HAVE VERY FEW MOSQUITOS COMPARED TO MOST PLACES, AND WE BURN ORGANIC ANTI MOSQUITO INCENSE EVERY DAY . IF ANY ONE SAYS WE HAVE MANY MOSQUITOS, IT IS BECAUSE THEY ARE NOT USED TO THE TROPICS. WE HAVE NEGLIGIBLE MOSQUITOS COMPARED TO OTHER PLACES, INCLUDING 5 STAR HOTELS, AND NO GUEST, FAMILY MEMBER OR STAFF N 30 YEARS HAS EVER GOTTEN DENGUE OR MALARIA AT OUR PLACE.
5. PLEASE TRY TO RINSE OFF WITH LADLES AT POOL SIDE BEFORE GOING IN POOL AS NON CHEMICAL IONIC POOL SYSTEM WORKS BEST WITHOUT HEAVY CREAMS AND OILS AND SAND IN POOL .
6. PHONES ARE ACTIVE FOR EMERGENCY USE ONLY OR LOCAL CALLS FOR FOOD ORDERING. NO OVERSEAS PHONE CALLS BUT OF COURSE INTERNET AVAILABLE FOR (SENSITIVE CONTENTS HIDDEN) ETC. THE DEPOSIT AIR BNB TAKES WILL BE DEDUCTED FROM IF INTERNATIONAL CALLS ARE MADE. THANK YOU .
7. ALTHOUGH BALI IS A WONDERFUL PLACE, IT IS WELL KNOW FOR UNFORTUNATE SMALL INCIDENTS LIKE PETTY THEFT . PLEASE ALWAYS BE CAREFUL AS A TOURIST IN ANY FOREIGN COUNTRY AND REMEMBER TO CHECK TWICE AT MONEY CHANGERS, ALWAYS KEEP AN EYE ON YOUR HANDBAG AND BELONGINGS, AND LOCK UP YOUR VALUABLES IN YOUR SUITCASE OR IN OUR SAFE FOR WHICH A PAD LOCK IS SUPPLIED WITH ALL THE KEYS.
ALTHOUGH THE HELP IN THE HOUSE HAS BEEN WITH US FOR YEARS, THERE ARE FOOD DELIVERY OR TOUR PICK UP STAFF OR MAINTENANCE PEOPLE THAT MAY HAVE TO ENTER THE HOUSE SO THE BEST MEASURE IS PREVENTATIVE. BEST TO ASK PEOPLE YOU ARE DEALING WITH TO WAIT OUTSIDE THE HOUSE FOR YOU TO MEET THEM FOR BUS OR DELIVERY AND OUR STAFF WILL RECEIVE FOOD ORDERED FROM OUTSIDE. . WATCHING VALUABLES WHEN OUT IN CARS EVEN IF DRIVERS AND STAFF AROUND SEEM TO BE NICE IS NECESSARY.
8. BIMC AND SOS MEDICAL CLINIC NUMBERS ARE POSTED ON THE FRIDGE AND IN THE HOUSE AND ARE BOTH LOCATED ONLY 10-15 MINUTES AWAY , SO PLEASE LOCATE THESE NUMBERS IN THE HOUSE FOR PREPARATION IN CASE OF ANY EVEN LITTLE MISHAPS IN BALI , AND CARRY THE NUMBERS WITH YOU FOR A SAFE, INCIDENT FREE EVENT.
9. WE DO HAVE OPEN LIVING AREAS SO ROUGH STONE FLOORING IS NOT POSSIBLE. WE HAVE HAND MADE TERRASSO TILES SO , LIKE REGULAR TILES, THEY ARE SLIPPERY WHEN WET. PLEASE WATCH YOUR STEP AT ALL TIMES WHEN FLOOR IS WET FROM RAIN OR POOL WATER.
THANK YOU
+ More
---
---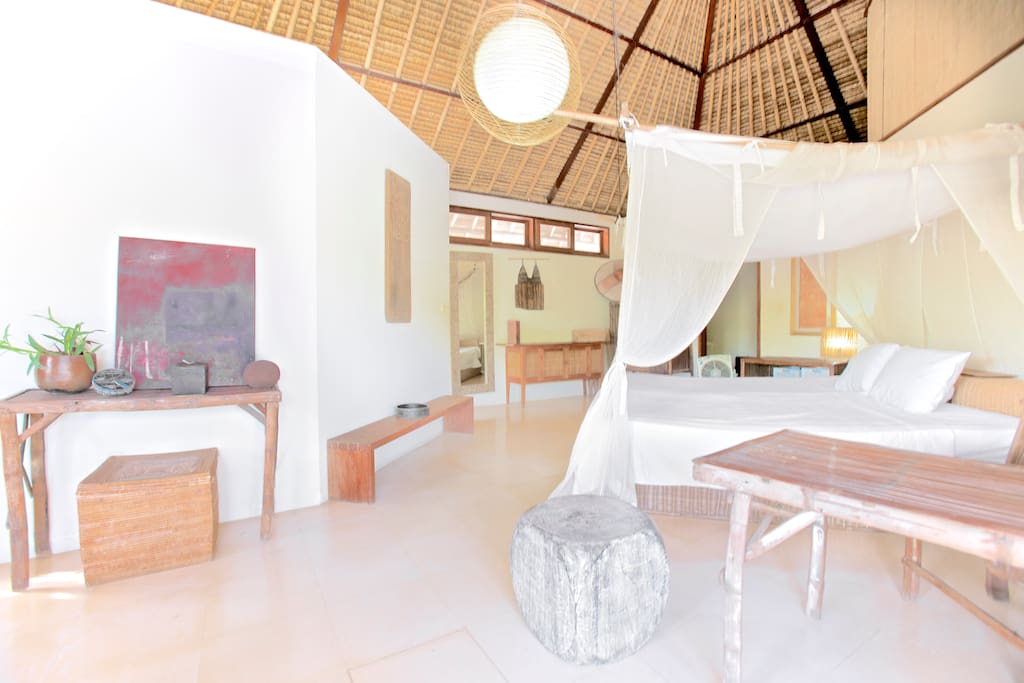 entry to the master bedroom. all furniture is eco friendly and all nets are organic cotton. beautiful high thatch ceilings.
Your Host
---
Tokyo, Japan
·
Member since June 2013
FOR BALI HOUSE - i live outside bali right now but have lived there for more than 20 years so guests can feel welcome to contact me for some very helpful tips that only long standing residents really know . i have decorated 5 star hotels and spas but this private home is laid out as a very child friendly, easy going , kick back kind of experience , yet with all you need available.



+ More
Response rate:
100%
(
last 10 contacts
)
Response time:
within a day
Explore other options in and around Denpasar