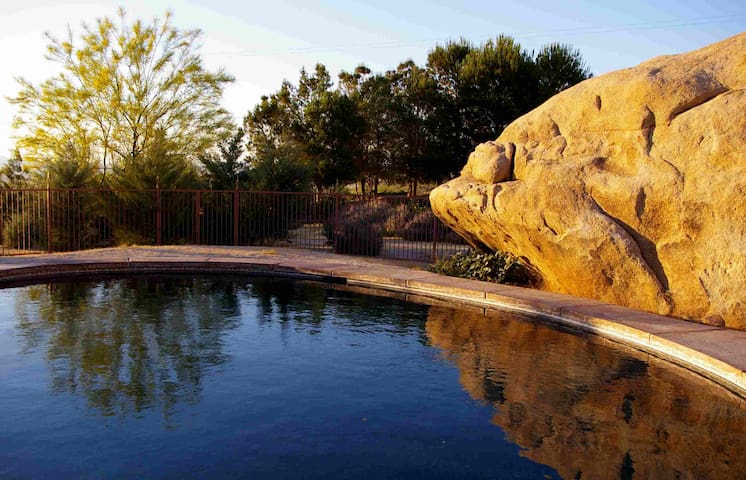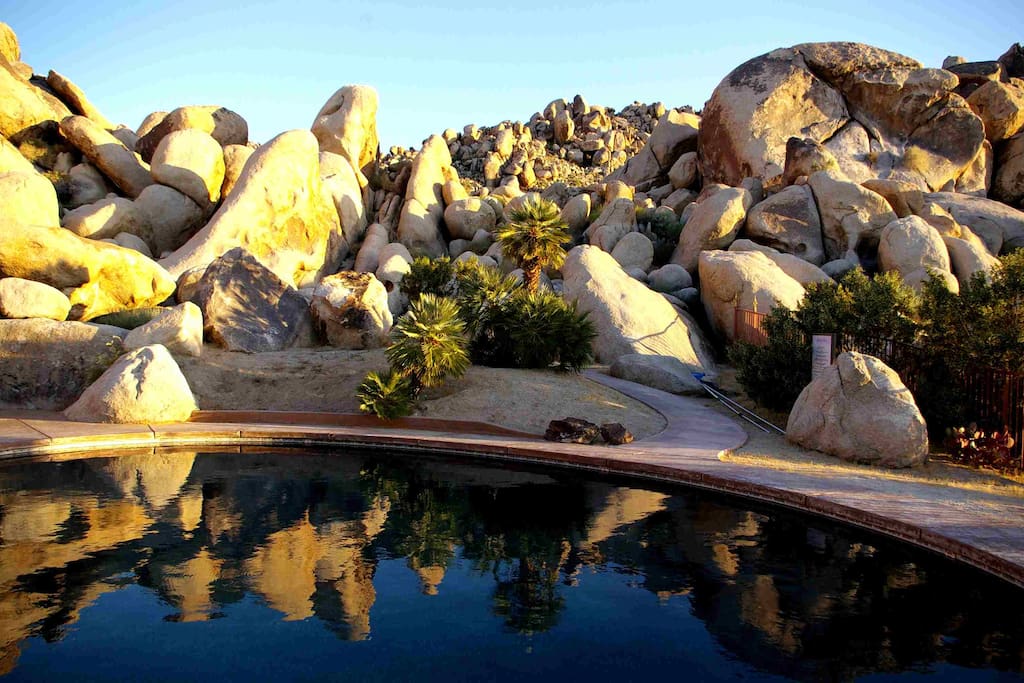 You'll love my place because of Villa dei Fiori has one acre of garden and 36 foot pool set in boulders with rose garden and cave with fire pit. 13 French doors open to 5 terraces with climbing roses, jasmine and wisteria. Jacuzzi spa for six is in the boulders by bedroom. Night lighting on the boulders is spectacular. You can hike directly into 3 canyons where Bighorn sheep and bobcats roam. $495 including 7% tax. 3 day holidays, Thanksgiving, Christmas, New Years, and spring break = $595.
The space
Besides having the advantage of being immediately on the Joshua Tree National Park, you are essentially renting an exceptional garden created over twenty five years by a Hollywood production designer who was one of the designers of the pirate ship and caves on "The Goonies," and sets for the original 3 hour pilot of "Battlestar Galatica." The house features original paintings and drawings by a Parisian artist, Michele Quence. There is an elaborate library of books on every possible subject from art, architecture, sculpture, film, to automobiles, couture, history, gardening and literature. Just be certain to replace books in their proper place, very important for a library.
Guest access
All areas of the property are available to the guests. During the orientation tour I explain heating, cooling, trash pickup, cooking ware, sleeper sofa, extra bedding and pillows, location of spare propane and best hikes into the park from the house. Nothing is missed, and you may ask as many questions as you like.
Interaction with guests
I meet guests upon arrival with a key and a short tour, including the cave near the pool. I offer a mini concierge service, recommending places to go and restaurants and other destinations. I am on my nature preserve one mile distant and am available by phone if you can't find something or need help.
Other things to note
During spring, summer and fall, when walking in the park or in the garden, one watches the ground to avoid snakes. It is quite rare to see one, and most are harmless but beautiful to behold. One should not go barefoot outside the house because of thorns in the ground. Children should not remove stones that are placed around the property which protect the irrigation bubblers. If a stone is removed, it is easy to trip over one and break it so that when the irrigation comes on automatically all the water escapes at that one point, and no other plants receive any water, not a good idea in the desert where it hardly ever rains. The sculpted sand berms should not be walked as they have to be carefully raked to preserve their beauty, especially the sand berm at the pool. A brush is located near the recycling/trash which can be used to brush out dog or children tracks. You are essentially renting a magnificent garden which should be respected and appreciated for its beauty throughout the changing seasons.
Major holidays have a 3 day minimum. Thanksgiving, Christmas and New Year require 5 to 7 day minimum rental. Contact me for rate and possible shorter rental period.
All guests must sign a rental agreement and safety waiver before or upon arrival. This will be emailed to you beforehand.
No life guard is provided at the vacation rental home. All persons using the pool do so at their own risk. I will not hold Villa dei Fiori responsible for accidents or injuries due to carelessness.
Children under the age of 16 are forbidden to use the pool unless supervised by adults. Never swim alone. Absolutely no diving allowed. The pool depths are marked on pool perimeter: 3 ½ feet, 4 ½ feet, and 6 feet.
Emergency services are 3 miles West, on highway 62 at Hi-Desert hospital. Turn left at Whitefeather Road 1/4 mile. Hi-Desert Hospital (PHONE NUMBER HIDDEN). For emergencies call 911. Artificial respiration is graphically detailed on safety regulation sign at pool. A life hook, life ring and first aid kit are provided at pool side.
Absolutely no running or rough play allowed. Deck may be slippery when wet. Children must be supervised at all times by adults. Children must wear shoes, because of cactus, thorns and harmful debris found in the desert sand.
Pool and spa is for private use for contracted guests only. Pool is not heated, but when daytime temperatures rise into the 80s and nighttime temperatures rise into the 60s, for an extra fee, the pool may be heated to a higher temperature. Inquire with owner. Mid April to late September are the months ideal for swimming. Others only with the permission of management by written contract. Guests will lock the pool at night and upon departure to insure that children do not have access. Do not use pool while under the influence of alcohol or drugs. By county regulation, dogs are not allowed in pool area. The heated spa is not to be used by someone expecting a child.
Sudden gusts of wind are common in the desert. If you leave glass doors swinging free, a gust of wind can shatter them against the house and you will have no way to close up the house. Replacing a door will take 10 days to order and replace, thus depriving the following guests of their vacation rental. Always cover the spa after use and strap down the black belt to the eye bolt.
The owner will meet you upon arrival with a key and a short tour, including showing how two people are to remove and return the spa cover. Only those two persons will be responsible for the spa. No others can remove or replace to top. Children are forbidden to operate the spa under any conditions, especially since they can be injured due to gusts of wind. If not not handled according to owner's instructions, the wind can carry the foam cover into the rocks and destroy it, thus incurring a $650 charge to replace. Please cover the spa promptly after using for it preserves energy and keeps leaves and debris from contaminating the water. You are responsible for keeping the water clean. Shower before using the Jacuzzi spa (especially when returning from hiking.). Using any kind of sun tan oil or body lotion gums up the Jacuzzi filter and renders the filter unworkable. A charge of $150 will be levied if the spa has to be drained, the filter cleaned and the water refilled. Please be thoughtful of the guest coming after you.
Be certain to turn Malibu lights off after use. Light switch is to the right of the French doors in the master bedroom.
The barbecue will be brushed and cleaned after each use. Before departure, dishes and cookware must be washed and returned to their proper place as designated by the photos provided on each cabinet.
Only the number of guests agreed upon in advance will be allowed to stay at the villa or use the Jacuzzi or pool. If you are planning to invite others for a social occasion, permission and fees for larger social events must be secured in writing from the owner. After 8 pm. no music or loud voices will be allowed in the pool or the West terrace. Sound in the quiet desert can reach neighbors one quarter to one half mile away. In the evening, you are to use the Southeast bedroom terrace with the stone fire pit, where the house blocks sound traveling to distant houses.
You are coming to a wilderness area, immediately on the National Park. For your own comfort, you will need to keep the doors closed after twilight, because nocturnal desert animals and reptiles can enter the house. After dark, the desert is teeming with tiny kangaroo rats. We are not responsible for rodents, reptiles and scorpions if you neglect to close the house up at night. By signing our waiver, you acknowledge being informed that you are responsible for keeping the house doors closed at night. You are informed that there are bees in the rose garden and occasionally at the swimming pool. There are rodents, spiders, ants, scorpions, kangaroo rats, reptiles, rattlesnakes and a bobcat in the area and you must take necessary precautions. No rental money will be refunded for encounters and problems with wildlife. There is no refund due to weather, cancellation, late arrival or early departure. I, the hereby agree to observe the conditions above for house and pool at Villa dei Fiori. (to be signed and dated.)
I am a writer working on a novel, Celine on Fire, set in Paris, 1955 to 1962, a love story between an Italian-American jazz trumpet player and two sisters, one a professor of philosophy and history at the Sorbonne University and the other, a dancer. The many characters in Celin…
Languages:
Français
Response rate:
100%
Response time:
within an hour
Explore other options in and around Joshua Tree
More places to stay in Joshua Tree: