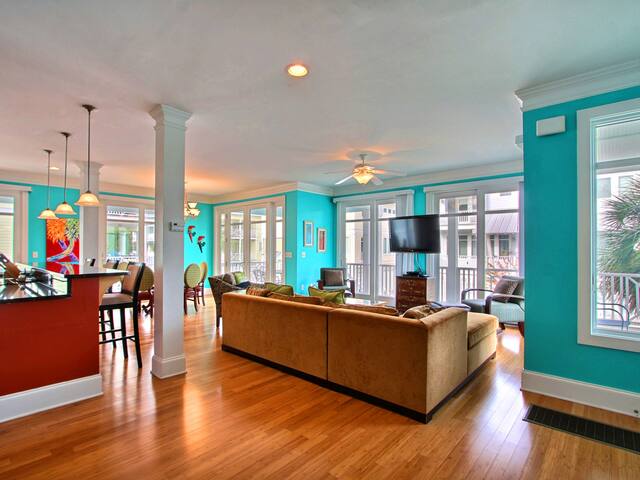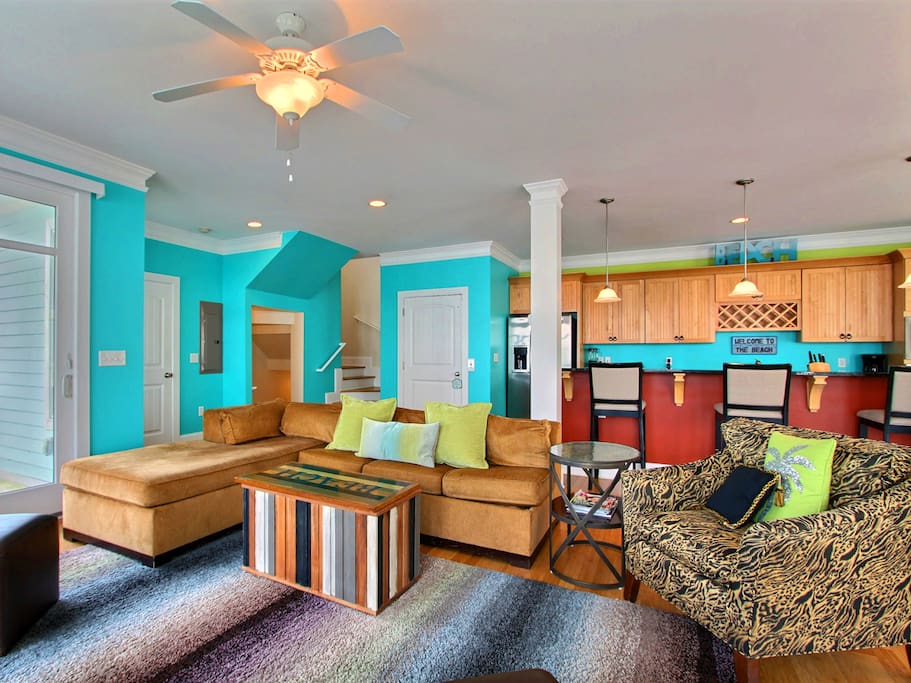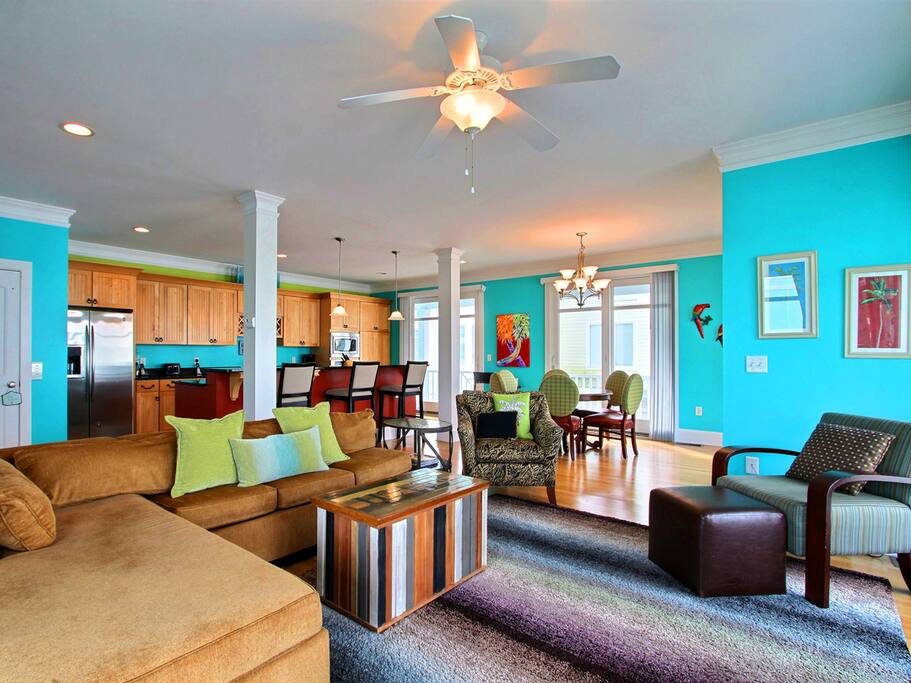 Tybee Island, GA, United States
Southern Belle Vacation Rentals manages this listing, if you have any questions call our office.
Elegant 3.5 Bedroom 2.5 Bath Close to Beach on Tybee!!
The space
Tybee Island, GA, United States
Find a super spacious living and sitting area with an adjacent kitchen that features a bar counter for four. Nearby is a four-top dining room table for easy space for six total. The open gourmet kitchen is full of luxury details, such as granite countertops, stainless steel appliances, smooth cook top, big refrigerator, microwave and nearly every other convenient appliance you can think of. You will feel like you`re at home in this kitchen. Outside the kitchen and living area is a grand deck with patio furniture and more amazing views.

The three bedrooms are large and well-appointed, including plenty of windows. The master has a separate Jacuzzi tub and shower. The house is detailed throughout with refreshing shades of blue and green, as well as nautical decor, giving you the impression of what else, but Ocean Air. There are also HD TVs in all rooms so you can easily stay in and relax while catching your favorite show or a movie.
Guest access
Full kitchen
3.5 Bedrooms
2.5 Bathrooms
Pull out couch
Elevator
washer/dryer
Large garage
outdoor seating
minutes from the beach
Interaction with guests
Limited to Check-In and Check-Out only. We will not be there during your stay at any point unless you request we come over to fix something or it is necessary that we be there. You will have the run of the house!
Other things to note
We DO NOT take Friday to Friday or Saturday to Saturday bookings. If you attempt to book one it will be canceled.

Southern Belle Vacation Rentals is a full service property management company dedicated to providing clients with great places to stay and friendly service. We're here to help and give advice on just about anything. Our philosophy is to provide great service, desirable homes, and an overall "can do" attitude to guests and homeowners. To continue having a strong reputation for listening to our customers and exceeding their expectations, again and again. To ease stress by making trips as perfect as possible. Just bring a suitcase, a smile, and let us do the rest!
Extra people $5 / night after 3 guests
Always communicate through Airbnb
To protect your payment, never transfer money or communicate outside of the Airbnb website or app.
Check-in is anytime after 4PM
As guest, I understand that I facilitated this reservation through Airbnb, any change or cancelation to this reservation must be done through Airbnb.

Guest acknowledges and understands he/she is a temporary guest of the property and not a tenant. The Guest booking & staying at the property is responsible for the conduct of all invitees and must be 25 years of age or older. People under 25 attempting to book a property will be declined and we reserve the right to cancel any booking for any person found to be under 25 that has already booked one of our properties.
As the Guest, I understand:
• The person that signed the rental agreement is the only person that any Southern Belle representative will talk to if any issues should arise.
• Check-in time is no earlier than 4pm unless I have added the Early Bird Package to my reservation. I agree and understand my credit card will be charged and I will be billed at a rate of $100.00 per hour for early check-in unless I have purchased and arranged the Early Bird Package.
• Check-out time is no later than 10am unless a Forget the Worm Package has been added to my reservation. I agree and understand my credit card will be charged at a rate of $100.00 per hour unless I have purchased and arranged the Forget The Worm Package.
• As the undersigned Guest, I am responsible for all actions of my group including late and early check-in, even if I am not present. As the group leader I agree and understand it is my responsibility to inform all members of my group about the rules and regulations of the property I am renting.
• I am responsible for keys to the property and a lost key will result in my credit card being charged $35 per key, unless I have added Lost Key Protection or the Guest Services Package to my reservation.
• Being locked out of the property after hours will result in my credit card being charged a $100 fee, unless I have added 24hr Lock Out Services or the Guest Services Package to my reservation.
• No pets and no smoking are allowed in any Southern Belle property.
Complimentary Wi-Fi and Cable Television
Guest understands that Southern Belle Vacation Rentals accepts no responsibility for the dependability of Comcast, Dish Network, AT&T, DirectTV, or
any other service provider's service. We do our best to keep all routers and cable working properly. We guarantee that the service is paid for and that
is all. Should Internet go down at any home we will attempt to ix the problem by scheduling an appointment with Comcast. Due to the nature of these
calls it may take a couple of days to get the situation resolved as we are subject to their scheduling.
Southern Belle Vacation Rentals Operating Hours and Emergencies
We are open 7 days a week, Mon-Fri 9a.m. – 7 p.m. and Sat-Sun 10a.m.-7p.m. We have families just like our guests and enjoy spending quality
time with our family and friends. We understand that you are on vacation, should you need something (non-emergency related) please feel free to call
us during our normal operating hours. Emergencies are things like no heat, no air-conditioning, no hot water, no electricity, house is on ire, house is
flooding, there are many examples, please use your best judgment.

Non-emergencies are things such as Internet is not working (see above policy), a TV does not work, remote controls, DVD players, washing machine stopped working, dishwashers aren't working, light bulbs went out. Please use your best judgment, you will know an emergency when you see one, and please respect our office hours so we may better serve you. Should you have an emergency after hours call (PHONE NUMBER HIDDEN) and you will ind our emergency number on the outgoing voicemail greeting.
Maximum Occupancy, Parties, Gatherings, & Events
Guest understands and agrees the maximum number of occupancy as stated on their Confirmation Letter must
not be exceeded and in the event the maximum occupancy is exceeded, SBVR and the Fire Marshall will evict immediately without notice any number of guests in excess of the maximum occupancy number or the entire party with no refunding of rental fee. This rule and requirement is made a part of this agreement for insurance regulation requirements, ire code and city ordinance requirements, and most importantly for the safety of Guests. Southern Belle Vacation Rentals has the right to inspect the property during your stay to guarantee this stipulation has not been violated. Guest understands no gatherings or events of any kind shall be held
at any Southern Belle Vacation Rentals property or in the courtyard or open areas. The definition of an event
is any gathering of people at the property which exceeds the number of people sleeping at the property as
stated in the Confirmation Letter. Occupancy and use of the home, suite(s), courtyard, and common area of the
property by Guest, or other visiting invitees of Guest, shall not be such as to disturb or offend neighbors, nearby residents or other Guests of the property. Loud stereos, TVs, or parties will result in immediate eviction withno refund. If the noise disturbs other guests on the property, guest is subject to financial penalties. Southern Belle Vacation Rentals reserves the right to terminate this Rental Agreement. Southern Belle Vacation rentals reserves the right to ask disruptive guests to vacate the premises in the event of complaints or at the discretion of the owner and manager with no refund of rental fee.
Damage to Homes and Lost or Damaged Items
Do not attempt to ix any items you have broken. Please be responsible and call to report the damage sothat we may ix it to avoid a negative experience for future guests or the homeowner. Guest shall be solely responsible for any and all damage to the property, furnishings, personal property, and missing or stolen merchandise from the property. In the event there is any damage, repairs will be billed at a minimum of $90 an hour commensurate with the trade required to ix said damage. If you notice any property damage upon your arrival, please bring it to our attention immediately by cal(PHONE NUMBER HIDDEN) Southern Belle Vacation Rentals reserves the right and Guest authorizes Southern Belle Vacation Rentals to charge Guest bank account for any and all such damages, loss, or costs associated with repairing or replacing any items which were damaged in excess of $1. The total amount of the value or repair of an item(s) will be charged to the bank account on ile. Keys must be either be brought back to ofice or put back in lock box (depending on check out procedure). Failure to do so will result in a $35 charge per key. Garage Door openers not left at the property will result in
a $150 charge, Missing TV remotes will be charged at a rate of $100.00, and Ceiling Fan Remotes will be charged at a rate of $100.00.
Furnishings
Guest understands the property is furnished and decorated to each homeowner's tastes. Guest has viewed
pictures of the property on (URL HIDDEN) and is satisfied with room decor, size,
and location of the property. Guest promises to exercise care in the treatment of the accommodations and furnishings. Any rearranged furniture must be put back the way it was when you arrived. We simply ask that you treat the property of our homeowner's with the same care and respect you would expect of someone staying in your own home.
Liability
Guest acknowledges Southern Belle Vacation Rentals is not responsible for any loss of money, jewelry, or other personal items of Guests or any invitees of Guest. Any items left at a home will be shipped back to Guest at their request for a cost of $35 to cover labor expenses associated with making trips to properties and to the post ofice, plus the cost of shipping, and will be charged to Guest credit card.
Guest hereby agrees to indemnify and hold harmless Southern Belle Vacation Rentals from any and all claims including those of third parties for damage to person or property, arising out of or in any way related to Guest or invitees of Guest use of premises resulting from the building or any part of it or any equipment becoming out of repair, or resulting from any accident in or about the building, or resulting directly or indirectly from any act or neglect by any Guest of the property, invitees of Guest or by any other person. Guest assumes the risk of injury and any related pain and suffering or medical expenses or other losses relating to the use of Southern Belle Vacation Rentals property and/or recreational activities on the premises or in the city where property is located and will hold Southern Belle Vacation Rentals harmless with respect thereto.
When Things Break
Attention guests traveling from abroad: If you are traveling from outside the United States, please make sure that you have means to make phone calls within the United States. For problems and issues concerning the property please CALL, DO NOT EMAIL so that issues may be addressed in a timely manner.
Southern Belle Vacation Rentals prides itself on maintaining our homes to the very best of our abilities.We understand that you are on vacation and expect to have a great time but it is important you also have reasonable expectations. You have rented a home and just like any home things will break and problems can occur. We ind that the more we disclose to our customers the less likely they are to be dissatisfied with the level of service we can provide on short notice. Southern Belle Vacation Rentals does everything in our power to make these homes as pristine as we can but sometimes things go wrong and there is no immediate solution, for example parts may need to be ordered and maintenance may need to be scheduled. Unlike a hotel room, which is usually simplistic in design, so that problems rarely arise, a vacation rental home is very complicated and has a lot more features and (EMAIL HIDDEN)pensation will not be given for any of the listed items or any other items at the property that malfunction which are out of our control: Clogged sinks and bathtubs, light bulbs, refrigerators, toasters, washer/dryers, televisions, Internet routers, DVD players, grills, ovens, microwaves, pool filters, blenders, dishwashers, wine fridges, griddles, stereos or stereo equipment, hair dryers, straighteners, remote controls, DVRs, fireplaces, ceiling fans, and coffee pots.
We will attempt to replace, ix, or schedule maintenance to repair these items as soon as possible. Some items may take longer than others. It is important to ix things when they break, our homeowners are billed for the time it takes to repair items on the property, therefore if maintenance is turned away for any reason the Guest will be held responsible and billed for this time.
Heating and Air Units
Southern belle vacation rentals takes the heating and air conditioning of a house seriously and we do consider this an emergency, please call us 24/7 the moment you suspect there is a problem. Do not email Southern Belle on this matter, please call. Southern Belle puts the heating and air of a property at the top of its priorities. Be aware it can take anywhere from 3 to 10 hours to repair a unit, and in rare situations parts may need to be ordered, which would result in the guest being moved to another property
Care of Our Homes
Guest shall leave Southern Belle Vacation Rentals property, premises, and furnishings in clean and undamaged condition. Guest understands Southern Belle Vacation Rentals reserves the right, and Guest authorizes Southern Belle Vacation Rentals to charge Guest for any necessary repairs, or for any unusual degree of cleaning which may be necessary. Guest shall not bring, keep, or have either inside or outside the premises
of Southern Belle Vacation Rentals property any article or thing of a hazardous nature, including fireworks, explosives, flammable items, firearms, gasoline, or any other item which either might be or could be hazardous or considered hazardous by any insurance company. Guest acknowledges and agrees no refunds will be made for the failure of any of the property equipment, televisions, or appliances, heating or air conditioning, and Internet. In the event of any such failure or difficulty with any appliances Guest is requested to contact Southern Belle Vacation Rentals and every effort will be made to make prompt repairs. Southern Belle bills out at $90/ hr to facilitate any necessary repairs (1hrMin)
I, the Guest, understand and am more than happy to pay a $500 excessive mess cleaning fee if I leave the property in a disorderly fashion. When leaving the property, it should be just as I found it minus dirty linens and trash which needs to be taken out. Southern Belle does not intend, nor do we want to charge this fee to anyone, but with Savannah being a wedding destination, we have problems time to time with large groups or wedding groups and will not tolerate abuse of our lovely homes. No Parties!
Swimming Pool
All of our properties with swimming pools are set up on a weekly service (usually on Thursdays). That service day remains the same all year round regardless of what day guests are checking in. With the frequent thunderstorms that Savannah and Tybee Island experience, debris in the pool is to be expected, even if the pool was cleaned that morning. Additional pool service will be at the guests expense.
Linens
Some properties have pull out sofas, while these are all large enough beds to sleep two people in comfort we do not provide linens. Therefore, the guest must bring their own linens for these beds. It is stated on our website which properties have pull out sofas.
After-hour Emergencies, Changes To Reservation, Lost and Found items & Payment Methods
Any approved changes to your reservation will result in a $50 charge.Southern Belle Vacation Rentals does not accept responsibility for any item(s) left behind by guests.Any request to have left items shipped back, will be shipped back at the cost of $35 to cover labor and expenses, plus the cost of shipping the lost item(s).Southern Belle requires the guest to use one payment method for both deposit and remaining balance. If you pay the deposit with credit card, the remaining balance must be paid by the same credit card. The name on the card must match the signor of the rental agreement.For after-hour emergencies, call (PHONE NUMBER HIDDEN). Please only call this number if the issue involves danger to your health or safety, harm to the premises, or air conditioning.Note that non-emergency after hour calls to this number will result in a $100 charge.
Refunds
If, due to unforeseen circumstances, Southern Belle Vacation Rentals' property becomes unavailable for rental to Guest, Southern Belle Vacation Rentals' liability shall be limited to the refund of any deposits or other rental amounts previously paid. Reservations, once booked & confirmed can't be shortened for a refund of the shortened stay. If a reservation is canceled, it can't be rescheduled.
Cancellation PolicySuper Strict 60 Days: 50% refund up until 60 days prior to arrival, except fees
• Note: The Super Strict cancellation policy applies to special circumstances and is by invitation only.
• Cleaning fees are always refunded if the guest did not check in.
• The Airbnb service fee is non-refundable.
• Accommodation fees (the total nightly rate you`re charged) are refundable in certain circumstances as outlined below.
• If there is a complaint from either party, notice must be given to Airbnb within 24 hours of check-in.
• Airbnb will mediate when necessary, and has the final say in all disputes.
• A reservation is officially canceled when the guest clicks the cancellation button on the cancellation confirmation page, which they can find in Dashboard > Your Trips > Change or Cancel.
• Cancellation policies may be superseded by the Guest Refund Policy, extenuating circumstances, or cancellations by Airbnb for any other reason permitted under the Terms of Service. Please review these exceptions.
• Applicable taxes will be retained and remitted
Southern Belle Rentals has developed a strong reputation for listening to our customers and exceeding their expectations again and again. If you're traveling on business or pleasure and have a special request, feel free to ask. We will do our best to make it happen for you. Traveling can be stressful and tiring. The goal of Southern Belle Rentals is to make your trip as perfect as possible.
Languages:
English
Response rate:
100%
Response time:
within an hour
Explore other options in and around Bluffton
More places to stay in Bluffton: