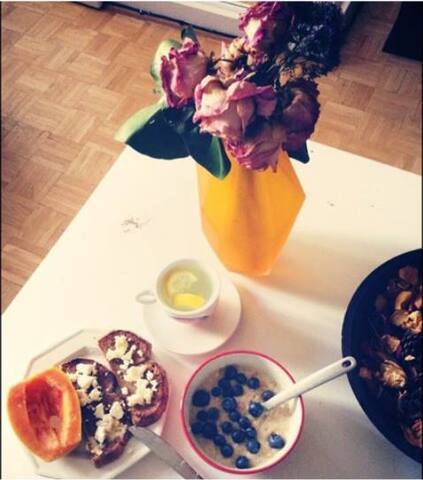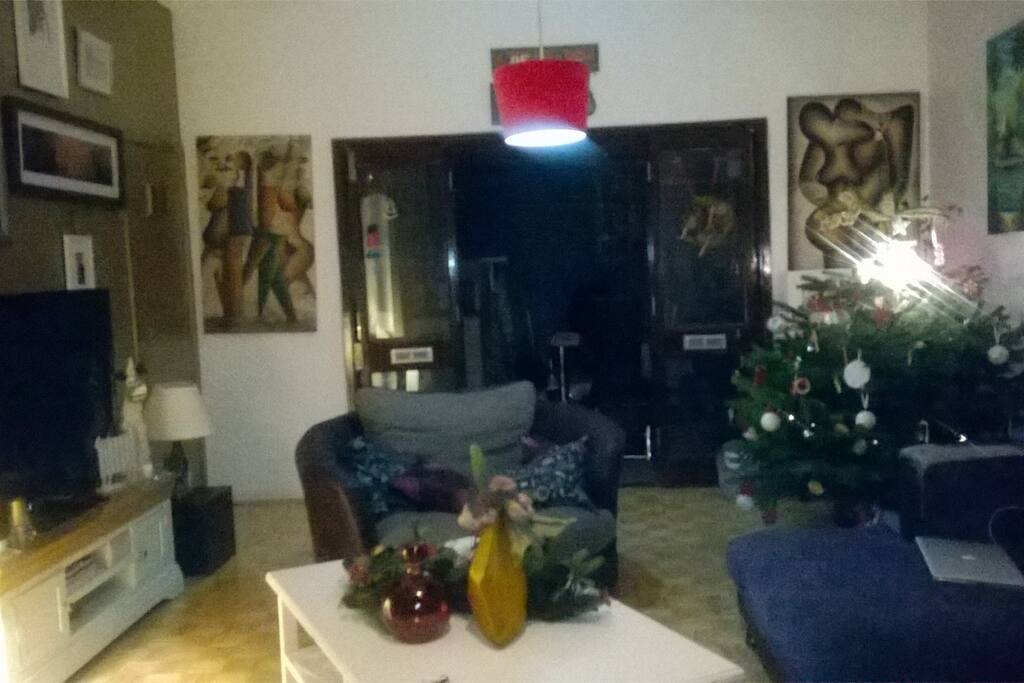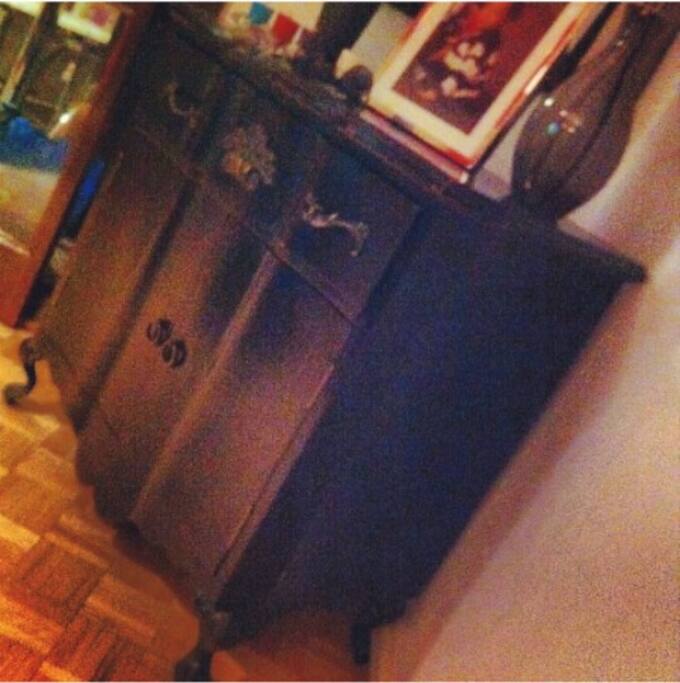 Spacious, sunny family home
Spacious, sunny family home
Quiet surroundings, sunny, spacious family house, handy and close by amenities. 7 minute walk to Underground St. with a 15m ride to Oxford Circus and central tourist attractions. Walking distance trendy local coffee shops restaurants and parks.
Laptop friendly workspace
Not suitable for infants (under 2 years)
Check-in time is 8AM - 10PM
Hypocritical communication with the host. Was nice with words, but completely unaffected in actions. Premade tips for tourists when I said I was here on business, never told me beforehand about the internet missing and when I said I was bothered or expected a small refund, comple…
Response from Jerusa:
Hi, I'm moving to London for work, but the flat I'll be renting won't be available before the 22nd and I'm starting my job on the 18th so I need a temporary place to crash at and your place is very close to oxford circus so it'll be very convenient for me. I'll be available to check in from around noon (landing at Heathrow at 11) but I'll have an appointment in Twickenham at 2pm so it will have to be before or after this appointment. Please let me know how you want to procede. As you can imagine, I don't plan on having parties or even anything fancy since I just want to be able to cook my dinner, have a shower and have a good rest while waiting for my new flat. I'll have to check out early (have to be at Heathrow for 6:30am) though if you don't mind. I know that most hosts have a "drop my key in the mailbox" solution but I'm always very careful to warn people who welcome me nicely about my plans. If you need to know anything else from me, feel free to ask. Thank you! 13 Jul 2016 +++++++++++++++++++++++++++++++++++++ Good morning Nyan, Welcome! Thank very much for choosing to stay at my home! In regards to check in...don't worry about it too much just let me know what works for you, I will be there to welcome you anytime! Keys are not a problem you can just leave them on top of the coffee table in the living room It'll fine. Do let me know if you need anything before you check in. Thank you I will see you on Friday! Jerusa De Vasconcelos 13 Jul 2016 +++++++++++++++++++++++++++++++++++++ Hi Jerusa, Right now I feel like I want to check in before my appointment to avoid carrying the suitcase around, but to be honest I don't think I'll be on time if I have to wait to clear the customs and I don't want to make you wait pointlessly so I'm wondering if I can manage to meet with you before 1pm or if I should go for the safe route and meet with you after 4pm. Will you be waiting at home so I can just text you after I land or should I set a precise timeframe? I really don't want to be a bother. 13 Jul 2016 +++++++++++++++++++++++++++++++++++++ Hey Nyan, Please its fine you are not a bother! Just let me know what time you're coming! Its up to you...if you can check in before 1pm fine if not hey its ok...just do the best you can! I would be home anyway! Don't worry do your best! JDV 13 Jul 2016 ++++++++++++++++++++++++++++++++++++ Amazing, thank you so much. I'll text you when I'll be clear of the airport to tell you if I can make it before 1pm. Best regards 13 Jul 2016 +++++++++++++++++++++++++++++++++++++ Ok cool that'll work! Thank you 13 Jul 2016 +++++++++++++++++++++++++++++++++++++ Hi Nyan, How are you? Hope you are having a good rest and enjoying your stay! Please do let me know if you need anything! Thank you JV 15 Jul 2016 +++++++++++++++++++++++++++++++++++++ Hi, thank you for caring. Apart from the internet missing which makes my work harder to manage, all is fine at the house. 20 Jul 2016 ++++++++++++++++++++++++++++++++++++ Hi, I am really sorry about that...i know it is a headache...managing without proper internet connection....I am trying to get someone to come in and sort it out soon! Thank you for being so patient! JV 20 Jul 2016 +++++++++++++++++++++++++++++++++++++ Don't worry, I know those things happens and you have no control over it. Last time the hot water of my host broke and I managed, she gave me a discount by refunding me part of the rent and that was it. No reason to be angry at least. 20 Jul 2016 +++++++++++++++++++++++++++++++++++ Hi Nyan, I hope you have enjoyed your stay! I look forward to welcoming you again soon! Once more thank you for choosing to stay at my home. Please leave the keys on top of the coffee table it will be fine! Have a safe trip back ! Thank you Regards JV Last Friday at 23:45 ++++++++++++++++++++++++++++++++++++ Hi, Hope you found the house in the tidy status you were expecting. My (Hidden by Airbnb) account reference is as follows : (EMAIL HIDDEN) You can refund the amount you find fair for the internet issue considering that I couldn't work as it was and that was the purpose of my booking. Best regards, LM Last Monday at 17:00 +++++++++++++++++++++++++++++++++++++ Hi Nyan, Thank you very much for the review! I am sorry for the delayed response in regards to the Internet! I did everything I could at the time when you were here and that is why I bought you a SIM card with Internet for you to use! I paid £20 for the SIM card which would give you peace of mind when you needed the wifi. It was free internet for a month with unlimited data...300 free minutes to call and free 3000 text. I am sorry it was not ideal but I tried to accommodate you the best I could. I did communicate with you a few times but had no response from your side. I am a very busy person with kids and many things going on in my life, but I still do care for my guests that is what I do in life caring for people. I am sorry if you didn't feel very welcome! I pay for my broadband £20 monthly and that is what I gave you exactly what I would of paid whilst you were here! Thank you for the review! In regards to the noise...there is nothing I can do about it...and this is a family orientated area as advised...,and very safe...which is quite rare in London boroughs , and yes my previous guest who was there just 2 days before you arrived did burn the carpet and broke the toaster and many other things I had to sort out before you came! I am not the kind of person who would lie to my guests nor am I a bad host as you say...I state clearly that please let me know if there is anything I can do I am here to help and make you feel cared for. The details for the account for he refund...which I will not give...was obscured by the Airbnb team...I could not see the details. Indeed it is all about money of course...otherwise I wouldn't rent my house where I live with my children. But I do care for the guests and want them to feel as welcome as I can possible make them. Thank you JDV Today at 10:51 ++++++++++++++++++++++++++++++++++++ "Protect your payments. Never pay for a reservation outside the Airbnb website. " That's Airbnb regulations! Not that I did not want to pay. I will not be making a refund as I paid £20 so you could at least have Internet. I am sorry if I am not personal enough ....this is my way of dealing with people when I don't know them on a personal level. Thank you JDV Today at 10:54 ++++++++++++++++++++++++++++++++++++ It is a shame what some people do...when they don't want to pay for what they have to...they bully people and make other people seem like monsters...! I did honestly thought she was indeed a lovely guest...hence my review of her...turns out she is a crook...! Trying to get money back.
Always communicate through Airbnb
To protect your payment, never transfer money or communicate outside of the Airbnb website or app.
Things to do near this home
Explore other options in and around London
More places to stay in London: