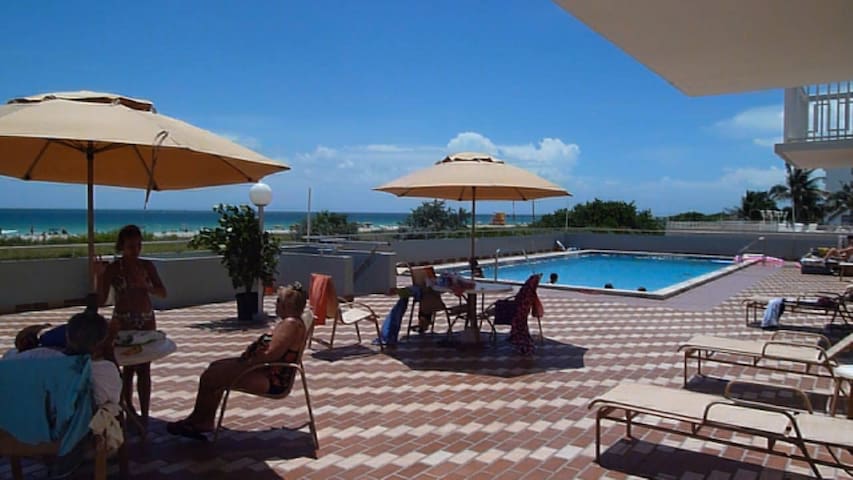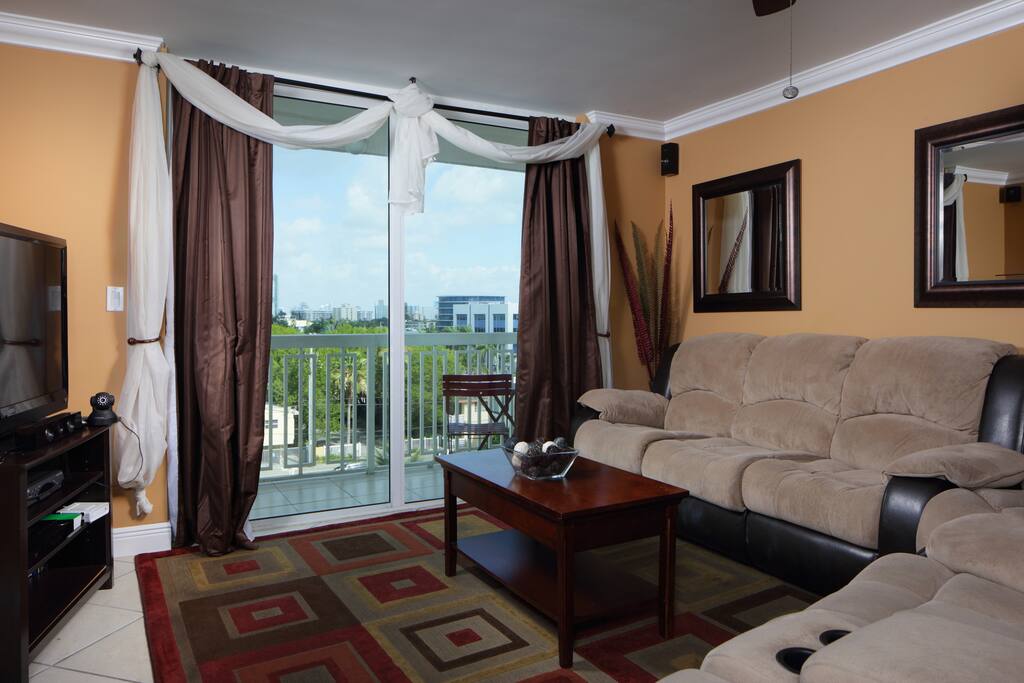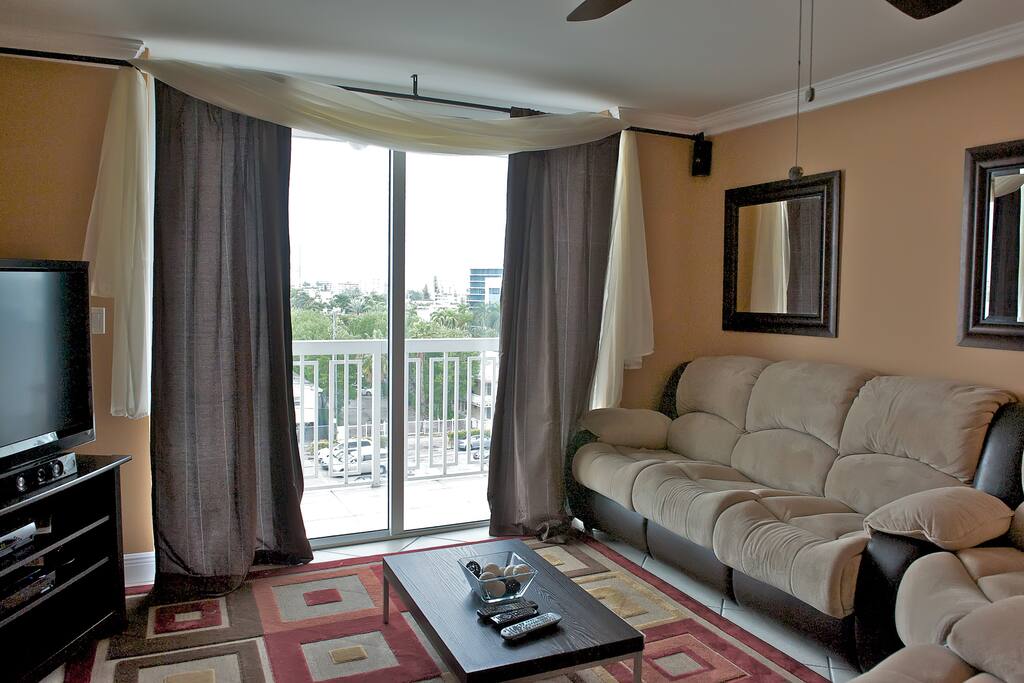 2BR OCEAN DR ON THE BEACH W/POOL
The space
PARADISE RE-BORN. THE RIVIERA OF NORTH AMERICA IN SOUTH BEACH AWAITS YOU!

IT DOESN'T GET ANY BETTER THAN THIS! SOUTH OF FIFTH (SoFi) ON THE BEACH WITH A POOL. ENJOY THE MOST AMAZING SUNSETS FROM YOUR VERY OWN DOUBLE-SIZED BALCONY OR WHILE TAKING A DIP IN THE HEATED SWIMMING POOL OVERLOOKING THE BEACH.

THIS FULLY FURNISHED 2 BEDROOM COMES COMPLETE WITH A LARGE KITCHEN, DINING AREA AND ALL THE UTILITIES INCLUDED (PLUS ALL THE AIR CONDITIONING YOU NEED).

FORGET THE PHOTOS... WATCH OUR EXCLUSIVE MUSIC VIDEO / VIRTUAL TOUR ON YOUTUBE. SEARCH FOR TEAMWYSKATZ AND South of Fifth / South Beach Oceanfront Short Term Vacation Rental (URL HIDDEN)

THIS ONE-OF-A-KIND CONDO COMES COMPLETE WITH 3 47 INCH LARGE FLAT SCREEN HDTVS 1 IN THE MASTER BEDROOM 1 IN THE 2ND BEDROOM, AND 1 IN THE LIVINGROOM, BLU-RAY PLAYERS IN EACH ROOM, SURROUND SOUND IN THE LIVINGROOM, HIGH SPEED CABLE INTERNET(WIRELESS) AND PREMIUM CABLE TELEVISION. PRIVATE PARKING IS AVALAIBLE UPON REQUEST FOR AN ADDITIONAL FEE.

LOCATED ON 4TH STREET + OCEAN DRIVE... ONLY A FEW BLOCKS AWAY FROM ALL THE ACTION, FINE DINING, PUBLIC BEACHES, DECO BIKE STOPS, EXPRESS BUS TO AIRPORT, SHOPPING, AND MORE!

RESERVE YOUR PLACE THIS SUMMER IN THE RIVIERA OF SOUTH BEACH (IN SOUTH OF FIFTH) - BEFORE IT'S GONE!!

CALL (PHONE NUMBER HIDDEN) FOR RATES + AVAILABILITY.
---
Room type: Entire home/apt
---
---
Extra people $30 / night after 4 guests
Always communicate through Airbnb
To protect your payment, never transfer money or communicate outside of the Airbnb website or app.
Learn more
---
This Rental Agreement and Contract (the "Agreement") is a legally binding agreement made and entered into as of the Reservation Date written below by and between the undersigned person(s) or company (the "Guest") and the undersigned owner, manager or agent ("Rental Agent"), pursuant to which the Guest has agreed to rent the residence described below (the "Property"), for the duration of the Rental Term for the Total Rental Fee and other good and valuable consideration as described herein.
OCCUPANCY
Guest agrees that no more than # of persons per the rental agreement shall be permitted on the Property at any time during the Rental Term, all of whom shall comply with the conditions and restrictions imposed upon Guest under this Agreement.
CONDITION AND USE OF PROPERTY
The Property is provided in "as is" condition. Rental Agent shall use its best efforts to ensure the operation of all amenities in the Property, such as internet access, satellite or cable TV access or hot tubs, fireplaces as applicable. Rental Agent shall not be held responsible for such items failure to work, but will make very effort to correct any issues as reported as quickly as possible. Guest acknowledges that use of amenities such as hot tubs, pools, spas, fireplaces, decks, and the like may be potentially dangerous and involve potential risks if improperly used, particularly with regard to children and such use is at the Guest's own risk.
Guest shall use the Property for residential purposes only and in a careful manner to prevent any damage or loss to the Property and keep the Property in clean and sanitary condition at all times. Guest and any additional permitted guests shall refrain from loud noise and shall not disturb, annoy, endanger, or inconvenience neighbors, nor shall Guest use the Property for any immoral, offensive or unlawful purposes, nor violate any law, association rules or ordinance, nor commit waste or nuisance on or about the Property.
DEFAULT
If Guest should fail to comply with the conditions and obligations of this Agreement, Guest shall surrender the Property, remove all Guest's property and belongings and leave the Property in good order and free of damage. No refund of any portion of the Total Rental Fee shall be made and if any legal action is necessary, the prevailing party shall be entitled to reimbursement from the other party for all costs incurred.
ASSIGNMENT OR SUBLEASE
Guest shall not assign or sublease the Property or permit the use of any portion of the Property by other persons who are not family members or guests of the Guest and included within the number of and as permitted occupants under this Agreement.
RISK OF LOSS AND INDEMNIFICATION
Guest agrees that all personal property, furnishings, personal affects and other items brought into the Property by Guest or their permitted guests and visitors shall be at the sole risk of Guest with regard to any theft, damage, destruction or other loss and Rental Agent shall not be responsible or liable for any reason whatsoever.
Guest hereby covenants and agrees to indemnify and hold harmless Rental Agent and their agents, owners, successors, employees and contractors from and against any costs, damages, liabilities, claims, legal fees and other actions for any damages, costs, attorneys fees incurred by Guest, permitted guests, visitors or agents, representatives or successors of Guest due to any claims relating to destruction of property or injury to persons or loss of life sustained by Guest or family and visitors of Guest in or about the Property and Guest expressly agrees to save and hold Rental Agent harmless in all such cases.
RELEASE
Guest hereby waives and releases any claims against Rental Agent, the Property owner and their successors, assigns, employees or representatives, officially or otherwise, for any injuries or death that may be sustained by Guest on or near or adjacent to the Property, including any common facilities, activities or amenities.
Guest agrees to use any such facilities or amenities entirely at the Guest's own initiative, risk and responsibility.
ENTRY AND INSPECTION
Rental Agent reserves the right to enter the Property at reasonable times and with reasonable advance notice for the purposes of inspecting the Property or showing the Property to prospective purchasers, renters or other authorized persons. If Rental Agent has a reasonable belief that there is imminent danger to any person or property, Rental Agent may enter the Property without advance notice.
UNAVAILABILITY OF PROPERTY
In the event the Property is not available for use during the Rental Term due to reasons, events or circumstances beyond the control of Rental Agent, Rental Agent will apply due diligence and good faith efforts to locate a replacement property that equals or exceeds the Property with respect to occupancy capacity, location and value that meets the reasonable satisfaction of the Guest. If such replacement property cannot be found and made available, Rental Agent shall immediately return all payments made by the Guest, whereupon this Agreement shall be terminated and Guest and Rental Agent shall have no further obligations or liabilities in any manner pertaining to this Agreement.
ADDITIONAL TERMS TO THE RENAL AGREEMENT
In addition to the standard terms included herein, Guest acknowledges and agrees that the following additional terms and conditions apply to the Guest's rental of the Property:
To complete the reservation I'll need:
A 4 digit PIN for you to use to open and lock the front door.
a copy of your IDs, so we know who is there
a copy of the front and back of your credit card, to cover any damages that may occur
your arrival time, (Check in is 3pm or after) so I can have someone meet you with the keys
departure time (Check out is11am and earlier) so I can have someone meet you and check you out of the unit.
Finally remember this is my home, please be respectful of the condo, the building and my neighbors. If any asks who you are just say you are visiting me or friends using the condo. I do not like my neighbors knowing I rent my unit out.
That being said the building (NOT me) can have you removed from the building if you are rowdy, load, rude etc to anyone in the building. As part of this agreement, you agree to ONLY have the # of people stated in the reservation, that you do NOT host parties in the unit (take it outside, south beach has plenty of places to have fun) and to be respectful to the unit, the building and everyone in it. Also If you should need ANYTHING I will provide you a contact in Miami that can address any issues you may have, DO NOT contact the office in the building, they only address building issues. This is NOT a hotel and the office does not want to be bothered by visitors.
You will be provided electronic keys to enter the building, If these Keys are lost there is a replacement fee of $500 (cost to me from the building to order new electronic key) for each key.
By accepting this rental agreement you agree to all the terms stated within it, also that all occupants will be 25 years old or older or have their legal guardian with them, and will abide by all the house rules as well as all laws, and you do not hold the unit owner/me liable for any of your actions while renting the condo. You also authorize the charges on you credit card for any damages/lost keys/fines incurred as a result of your stay
If you do not follow these rules the building management may ask you to leave the unit and you would forfeit any deposits or monies.
So please be safe, have fun, but be smart about it.
Thanks and I hope you enjoy your stay in Miami.
GENERAL PROVISIONS
This Agreement contains the entire agreement between the parties with regard to the rental of the Property, and any changes, amendments or modifications hereof shall be void unless the same are in writing and signed by both the Guest and the Rental Agent. This Agreement shall be governed by the laws of the Commonwealth of Massachusetts. The words "Rental Agent" and "Guest" shall include their respective heirs, successors, representatives. The waiver or failure to enforce any breach or provision of this Agreement shall not be considered a waiver of that or any other provision in any subsequent breach thereof. If any provision herein is held invalid, the remainder of the Agreement shall not be affected. Any notice required to be given under this Agreement shall be in writing and sent to the contact information included herein. This Agreement may be signed in one or more counterparts, each of which is an original, but taken together constitute one in the same instrument. Execution of a digital signature shall be deemed a valid signature.
---
---
---
---
This condo provided my family and I a perfectly wonderful experience in South Miami Beach, Florida. The location is perfect. Located on the beach. Easy walking distance to all the Ocean Drive action but without the late night noise. Citi bike rentals has 3 stations with 1-3 blocks away. CVS and Walgreens just a few blocks away. Condo is very clean and has lots of space and many amenities. Laundry is very convenient.
---
House was very well kept. Had most kitchen utensils necessary to cook and the all appliances worked fine. Slight issue with the security desk but that was easily resolved.. Great location, great pool. Had issues with tv sound and wifi, but other than that great place! We'd definitely stay again.
---
This was a great vacation spot. Looked exactly as advertised. Right on the beach, and a perfect balcony with a view of the city. Private bedrooms were just what we needed. Walking distance to everything. Beach chairs were a nice touch. There were plenty of towels available for use throughout the weekend, which is more than I can say for other Airbnb places I've stayed. The hosts were very responsive, and check in/check out was a breeze. There was an issue with the automatic door lock, but again the hosts solved that easily with a back up key. All in all, it was a great spot, and would definitely stay there again.
---
The unit is superbly located on ocean drive close to the action but enough distance away to be quiet during the night. The condo building appears dated (likely from 70's) with old hospital like white hallways, but Mike apartment itself has been renovated. Elevators are old but work fine. There is parking available in the condo building for an extra $ 100 for the week though we did not use it. The building is well secured and you can enter the building and elevators only with security keys. This unit is not ocean facing - faces the ocean drive. There is a balcony with chairs that you sit out and watch the road below. There are 2 bedrooms in the unit - they are on the smaller side but the single queen beds in each room are comfortable. There is a small living area with a sofa bed and a TV. Wifi is free and worked fine. Kitchen again is small but has all the appliances in working order along with the utensils/Pots and pans that we needed for our stay. There in one small bathroom in decent shape - the shower knob has some minor issues but we did not have any problems with getting the hot water. Their is a coin laundry on each floor. There is an outdoor pool in the building on the second floor facing the beach, though we did not use it - we rather went to the beach and swam in the ocean. The morning walks on the beach and afternoon dips in ocean were wonderful. From the back of the building you can come out directly to the quiet part of the South beach - this is very convenient. There are grocery stores within walking distance. After booking this on the Airbnb site, we had seamless communication with Mike via email and texts regarding our arrival. This was the spring break for our 2 kids and the four of us arrived late in the evening. We were met by Pat on the gate - she was very helpful and explained all the details of the apartment (incidentally my in laws joined us for 2 days out of 7 at the last minute - Mike was gracious enough not to charge them for their stay). One of the dining chairs broke down and Mike was quick to send a repairman. Overall we had a Fantastic stay during the spring break. The location is the best part of this unit and it appears Mike keeps a close eye on the things.
---
Easy going person, and that's how I live
Explore other options in and around Miami Beach
More places to stay in Miami Beach: