Entire home/apt
3 Guests
0 Bedrooms
2 Beds
About this listing
Arrive 7/3/16, leave 7/10/16 for the discounted amount of $999. That's a $282 discount for the week. That's 2 + days free. Partial wks are reserved as minimum 3 days for July 3/4/5 and 4 days for end of week July 6/7/8/9. You may extend those days.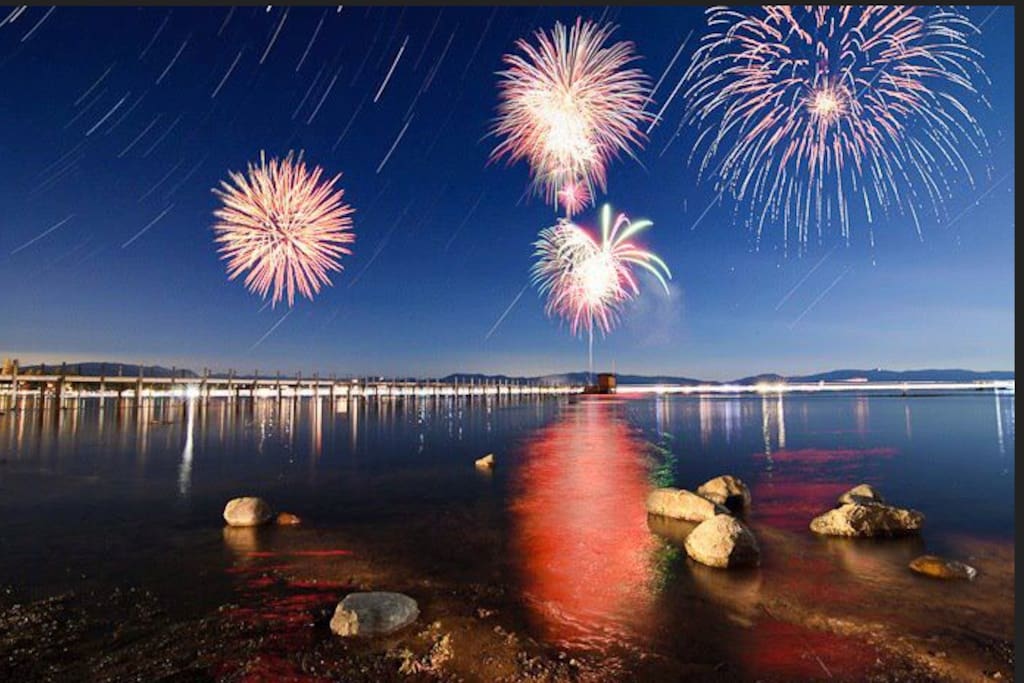 Best Fireworks display for Miles. Put on by Harrahs/Harveys Casinos. The barges are over the water directly off our beach. Other than boat, you can't get any closer
---
Room type:
Entire home/apt
---
Kitchen
Space where guests can cook their own meals
Essentials
Towels, bed sheets, soap, and toilet paper
+ More
---
---
The Space
CAN'T GET ANY CLOSER TO THE HARRAH'S/HARVEY'S FIREWORKS EXTRAGANZA THAN WITH PRIVATE BEACH ACCESS THAT IS INCLUDED WITH OUR RESORT (Unless you are in a boat)
YES..IT IS STILL AVAILABLE FOR 2016.
UPDATE: JAN 11, 2015 (This was from last year but need to save this)……
ONCE AGAIN, FRIENDS HAVE DECIDED TO BOOK OUR UNIT HERE. SO AS IT HAS HAPPENED EVERY YEAR FOR THE LAST 9 YEARS, IT WILL NOT BE OFFERED ON AIRBNB. TRY AGAIN NEXT YEAR. FIRST COME, FIRST SERVE.
_______________________________________
For the last 9 years we have offered this unit to rent, but then different friends tell us that they want it so I again have no bookings through airbnb. This is the reason for no reviews yet. Never had a vacancy or unhappy guest.
The dates of  7/3 leaving 7/10 FOR UNBELIEVABLE DEAL OF $999 Airbnb's service fee which appears to be $96 and that's it. No resort fees, taxes or cleaning fees.
MOST POPULAR WEEK OF THE YEAR. YOU CANT GET ANY CLOSER TO THE SOUTH LAKE TAHOE FIREWORKS THAN OUR BEACH. ONLY THOSE WITH BEACH PASS CAN ENTER AND THIS UNIT COMES WITH BEACH PASS. In 17 years we have owned there, the show has never been cancelled. Although it came close to canceling due to fires a couple times but the show did go on.
Although small, we have it ALL! Best location on Airbnb for South Lake Tahoe. NOTICE no cleaning fee or resort fee tacked onto your bill as many of the resorts are doing these days. I just looked up to stay here through the resort itself for this week and the cheapest room was $1498 to $1652. Looks like airbnb charges $96 for this listing. You will see the fee prior to completing reservation. So you pay only $1095 total. HUGE SAVINGS!
3 person minimum (or 4 with 2 small children)
BARGAIN!!!!
In the heart of TAHOE. Available 7/3 to 7/10. Get this whole week for $999 (plus Airbnb fee of $96) and THAT'S IT. Most everything comes with the timeshare. Wifi, DVD's, bikes, continental breakfast daily, 2 pools, 2 jacuzzi spas outdoors, MANY activities, family friendly and way more that you would normally have to pay for elsewhere. Arrive 7/3 and depart 7/10 . You get basically Tuesday, Wednesday and some of Thursday free with the 7 day rental.
For less than 7 day reservation, must book as July 3,4,5 or July 6,7,8,9. You can add additional days, if available. Just ask.
SEE WHY THIS SMALL RESORT IS A TOP CHOICE....
This is at the Stardust Timeshare Resort. If you have been to timeshares, you know they are a nice place to stay. I have normally let our friends rent this out for the July 4th week for the last 8 years but one just bought their own at the Stardust Timeshare Resort an will join us this year in their own place. We are located right in the Heart of South Lake Tahoe across from the Heavenly Gondola and just steps away from Stateline Casinos.
There is a great video on yelp. But don't pay attention to the actual rooms because they are from before the renovations that have been taking place in the last 4 years. It is narrated by Lorena, the property manager, who is so sweet and wonderful. Go to Yelp on line and type in Stardust Lodge at South lake tahoe and watch the video.
We are also steps away from Movie Theaters and pee wee golf, Raley's Grocery Store, Food choices like Fire & Ice, Coldstone, Starbucks, Subway, too many to list.
We love that fact that we can park our car and choose never to drive it if we desire. Total relaxing vacation. We also have a beach that is privately owned that we belong to. With your beach pass, you have access to it at the end of Stateline Blvd. We usually walk to it. Maybe half mile or less. There are free: bikes, some fishing gear, laundry facilities, popcorn, activities, morning donuts and coffee, etc. There are 2 pools and 2 jacuzzis and work out room. Check out Stardust Tahoe in a search. Airbnb won't let me put the website on here. They block those. I love hanging out in the Jacuzzi and just people watching on the Blvd all day long. We are directly across the street from the Marriott Timeshare Resort with the Heavenly Gondola that you can go on for fantastic views and hiking in the summertime (skiing in the winter).
We have owned here for 17 years now and go every year. It is such a friendly family atmosphere that you won't find at the big resorts. Everyone gets to know each other and we feel like we are at a family reunion every year with those that go every year like we do and meeting new friends (lots). We will be there too in our 2 bdrm.
July 4th week is the most popular week in South Lake Tahoe and difficult to find great accommodations at a reasonable price.
This is for the Studio (called Satellite) which sleeps comfortably 2 in the queen Murphy Bed. They have another type of bed depending on which room you get which will accommodate a 3rd person but I would recommend a child, because The bed is small. I looked up the room on some of the hotel sites and Stardust and during 4th of July week, this room goes for between $1498 to $1652 with all fees. The beginning of the week rents out higher than the first part due to the holiday. Check it out. I am renting it out for $999 (plus airbnb's fee of $96) for the full week whether you use the full 7 days or not. After you have been here a week, I bet you will fall in love with this place too as everyone has that I have brought here has. The Marriott across the street rent out in upwards of $400 a night. Fancier, if you like that. We enjoy the comradery and talking with neighbors from all over the world in a family atmosphere.
FREE WIFI. FREE PARKING for 1 vehicle. No elevator. If this is a concern, please inquire before booking and possibly I can get a bottom floor for you. Continental breakfast included on first come first serve basis.
Remember! I WILL BE THERE in my Own unit. There is a 3 person limit into this room. (Exception with small children)
Come, enjoy and have fun. Gerry & Phil
__________________________________
FOUND THIS INTERESTING TO READ.
HERE'S A REVIEW ON YELP
I must admit I had my reservations when my guy told me we would be staying at Stardust Lodge for my birthday weeked SLT trip. How great is feels now to be proved wrong!
When we drove up to Stardust, even he expressed his surprise with the exterior: "Are you serious?" Well, being that I am a woman and I take the time to analyze things, I had already researched the place and so I knew to expect an outdated exterior. We were told by the front desk staff (a nice young gentleman) that we had scored one of the renovated rooms, which had me light up with glee! But I did not expect to see what was inside.
Photos don't do the rooms justice at all! I opened the door to my new little studio for the weekend, and it was PERFECT! I grinned from ear to ear as I checked out the beautiful modern decor, the kitchenette (fully stocked!!), the bathroom sink/vanity area with plenty of counter space and wall mirrors, and, last but not least, the stone shower with dual shower heads. I looked at my guy and told him he did very, very well. :)
Staying at Stardust for the weekend was more like having my own little studio apartment for the weekend. I felt at home. I still got my healthy breakfast in the morning, worked out at the on-site gym, watched a movie during downtime from their extensive DVD library, etc. Yes, the studio is small, but it is perfect for 1-2 people and I could not have been happier! It should be noted that I am not the easiest to please, though I DO make the most of every situation. But I digress...
Oh! How could I forget the perfect LOCATION? We nearly walked everywhere, from the Heavenly Gondola across the street, to Harrah's and Harvey's, to shopping on the strip. It's also a short walk to the beach area. As far as I'm concerned, Stardust Lodge has it all. I was one very happy customer! We will be back in May!! END
+ More
---
Actually a studio, not a 1 bedroom but airbnb does not have a studio as a choice.
There is one queen size Murphy bed with real mattress. The small one person bed could be a couch that makes into a makeshift bed or a fold up type bed for one.

Follow all timeshare resort rules. Ask for it in the office.
+ More
---
---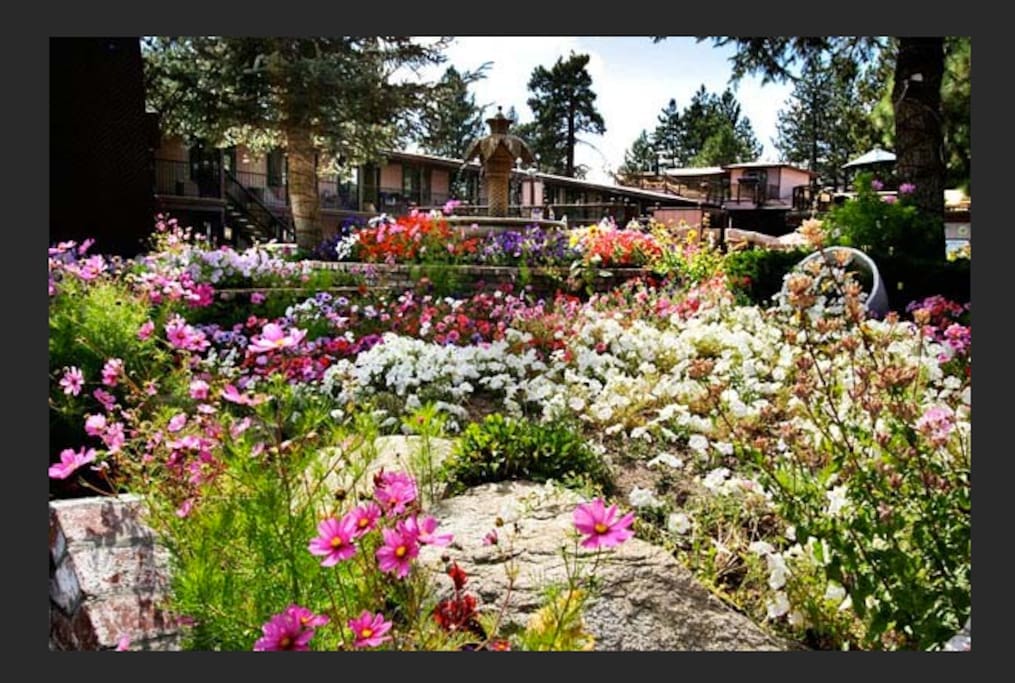 award winning floral displays amongst the tall tahoe pines. A must see. Thousands of Kodak moments have been taken here including our wedding photos. We were married on our beach here.
Explore other options in and around South Lake Tahoe