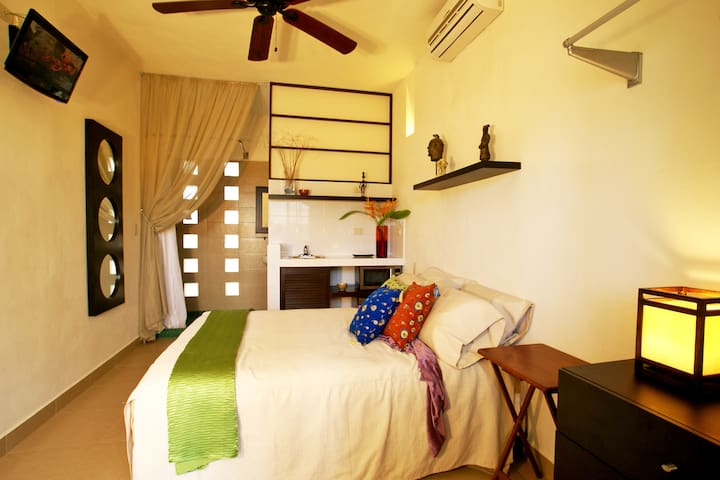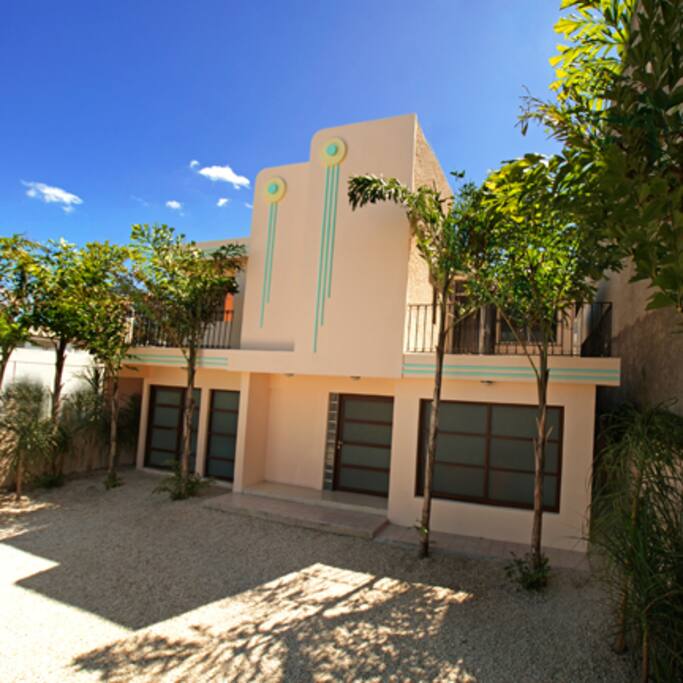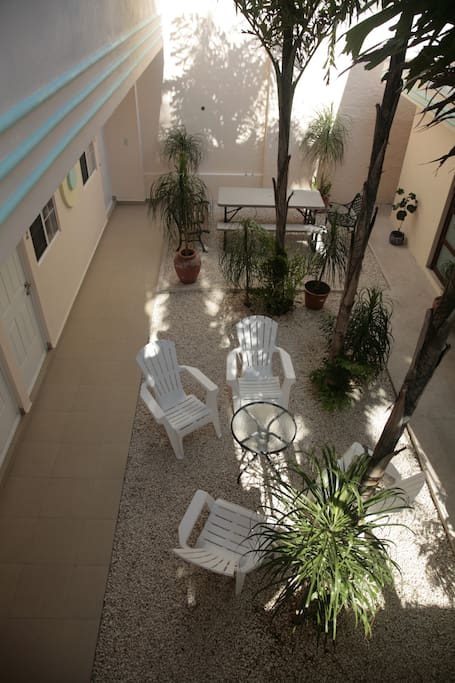 Art Deco Suites offers the ardent Traveler affordable short to long term apartments in the vibrant heart of Historic Downtown Cancún, Mexico. We are a locally owned, family run establishment and provide a safe, peaceful, and clean environment.
The space
Beautiful clean studio in Art Deco Suites, Cancun! Staying more than 1 week, but less than 1 month? I'll make you a special price - just ask! Light and airy studio in the best location downtown - Fully furnished and equipped. A/C, ceiling fan, microwave, fridge, flat screen TV. Free internet, Cable, and Long Distance Calling to U.S. and Canada. Very safe and quiet, 3 minutes from central bus station and walking distance to everything. Short term/ long term. A damage deposit equal to $465 USD is required (100% refundable), as is entering in to a Rental Agreement. All utilities except electricity are included. Studio can be rented for 1 week minimum with no maximum. WE LOVE CLEAN! ALL SHEETS, BLANKETS, PILLOWS, MATTRESS PROTECTORS, FURNITURE, WALLS, FLOORS, BATHROOM TILES meticulously washed in between each guest. Good luck getting that in a Mexican 5-Star Hotel!
Art Deco Suites Cancun offers the ardent Traveler affordable short to long term apartments in the vibrant heart of Downtown Cancun. This unique establishment has recently been extensively remodeled in Art Deco Style to provide modern, fully equipped, stylistic studio apartments. We have made every effort to provide you with all the modern comforts within a pleasing aesthetic environment. We welcome you to experience all we have to offer in our carefully created ambiance of curves, lines and harmonious pastels palette.
Art Deco Suites Cancun is very centrally located in the Historic Downtown area of Cancun, and offer secure fully-gated lodging with parking space if required. We are comprised of a main building with seven unique studio apartments, and in the rear of the property are an additional eight studios, and a beautifully landscaped private courtyard. Each internet enabled studio apartment is available for short or long term. The courtyard enjoys secluded sunlight and provides a communal area for guests to relax and socialize, it includes a dining area and a lounging area, with a large BBQ for those who wish to 'cook-out'. Each suite is tastefully decorated with quality, contemporary furnishing and offers single, twin or queen beds, small kitchenette including mini-fridge, microwave and coffee machine. The main building houses a fully equipped communal kitchen and laundry room, and all linens and towels are provided. Check out our Rooms and Facilities for more information. Step out of the front gate and you enter the bustling world of Downtown Cancun. Take a short stroll to the shade of the local park at the end of the street, sit on a bench and relax and observe a little of local life. You can hear the salsa music on a Sunday evening as locals gather to dance together as the sun goes down. They even welcome you to join in, and you will find yourself shaking your hips along to the seductive rhythm of Latino sounds! A short walk from the park brings you to a large outdoor theatre area, where more regular entertainment is conducted. From the seating area you can watch children happily at play and local traders tout their wares – everything from corn and tacos to ice-cream and Mayan crafts. You can sample some Mexican food al fresco style or maybe let the local shoeshine man shine your boots for a few pesos.
At the other end of the street you have your local grocery store and pharmacy, and step out onto Avenue Yaxchilan and you have an array of bars, restaurants and craft stores to occupy your curiosity about life in Cancun. Dining out is cheap in downtown Cancun, far cheaper than the prices charged just a few miles away in the Hotel Zone.
However, for those wishing to while away lazy days on the beautiful white sands, a short bus ride takes you directly to the 'Zona Hotelera' for a bargain $7.50 pesos (60 cents). Staying with us means you have the best of everything and can stay in Cancun without it having to be expensive. Tourists staying in the Hotel Zone usually venture to Downtown to explore the 'real Cancun' and benefit from purchasing wares at more realistic prices. Market 28 is a short walk from us and is the center for purchasing your gifts and Mexican trinkets to return home with. Be prepared to be haggled!! Market 23 is the local food and produce market off Avenue Tulum where you can buy all sorts of exotic fruits and local fish and meats amongst the locals.
If you like to have the familiarity of home you will find that this is all here in Cancun too. Many large corporate chains have established themselves here for the travelling American and Canadian, and you can expect to find Burger King, McDonalds, Applebee's and even Walmart.
Art Deco Suites Cancun caters more to the independent traveler and offer the most competitive monthly rates in Downtown Cancun. Yet we also wish to welcome those who wish to sample the Yucatan and Maya Riviera for a short or passing stay. We can even offer office facilities, full secretarial services, unlimited long distance to the U.S and Canada, high-speed internet and translation services if required, meaning you can combine pleasure and business with a stay at Art Deco Suites. We have extensive knowledge of the surrounding area and its tourist attractions – those well known and those kept quite a local secret!! We are required to have a copy of every guests passport and an emergency contact number for each guest before arrival as well as a virtual signature of our Rental Agreement.
See my other great listings!
https://www.airbnb.com/rooms/450942 Junior
https://www.airbnb.com/rooms/438780 Deluxe
https://www.airbnb.com/rooms/420744 Zen
https://www.airbnb.com/rooms/888261 Beach
Guest access
Kitchen, Laundry, Common Areas, BBQ, Phone
Interaction with guests
I am there if needed but try to stay out of the way
---
---
Extra people $5 / night after the first guest
Always communicate through Airbnb
To protect your payment, never transfer money or communicate outside of the Airbnb website or app.
Learn more
---
Check in is anytime after 11AM
HOUSE RULES:
These rules are designed to ensure the Art Deco Suites experience is an enjoyable and safe one for all of our Residents. Rules are important as without them there is anarchy. They boil down to common sense, and basic courtesy and respect for your fellow Residents and Landlord. If you don't agree with them, we won't take it personally, and nor should you when we suggest Art Deco Suites might not be for you.
__One visitor per guest unless previously authorized by Landlord. You are responsible for your guest.
__Tenant shall maintain Suite in a clean and sanitary condition.
__Cleaning up after using the communal kitchen or BBQ grill is mandatory, so that the next person has a clean area and does not have to clean your mess. You MUST clean up after using the kitchen/BBQ facilities. Failure to clean up will result in your kitchen/BBQ privileges being revoked.
__Only microwave cooking allowed in Suites. No hot plates. (there is no venting system to remove cooking smoke). Violation of this rule will result in forfeiting Security Deposit.
__No overnight Guests without prior approval of Landlord.
__No smoking inside Suite or in courtyard (smoke can enter open windows). Please smoke only in driveway area within 6 feet of the gate and dispose of butts in receptacle provided, not on floor or sidewalk. Violation of this rule will result in forfeiting Security Deposit. Dispose of your butt's in the can next to mailbox, not on the sidewalk or floor.
¬__No illegal drug use. This contract will terminate immediately if you are found to be using illegal drugs. You will be asked to vacate immediately and you will forfeit your security deposit.
__No loud, drunk and disorderly conduct. No party's. No domestic disturbances. If a complaint is received regarding violation of this rule by Tenant, $100 USD will be deducted from Security Deposit for each of the first 3 violations. Three strikes you're out. This means this contract will terminate if there is a 3rd violation, and you will be asked to vacate immediately.
__Quiet shall be maintained in common areas from 8 P.M. to 8 A.M. so that other tenants are not disturbed. If a complaint is received regarding violation of this rule by Tenant, $100 USD will be deducted from Security Deposit for each of the first 3 violations. Three strikes you're out. This means this contract will terminate if there is a 3rd violation, and you will be asked to vacate immediately.
__Hanging clothes or towels on balconies or anywhere in common areas is prohibited. Any towels or clothing found hanging in common areas will be collected and stored for 24 hours subject to a storage fee of $10 USD. If items are not redeemed in 24 hours, they will be disposed of as trash. Kitchen towels in the kitchen are the exception.
__Music/TV shall be at a volume that cannot be heard outside of Suite so as not to disturb other tenants.
__No behavior allowed that disturbs other tenants.

SECURITY DEPOSIT.
Upon execution of this Agreement, Tenant deposits with Landlord $465 USD as security for the performance by Tenant of the terms of this Agreement. SECURITY DEPOSIT IS 100% REFUNDABLE AND WILL BE RETURNED TO TENANT AFTER THE FULL AND FAITHFUL PERFORMANCE BY TENANT OF THIS AGREEMENT. In the event of damage to the Suite or furnishings and contents caused by Tenant or Tenant's family, agents or visitors, Landlord may use funds from the deposit to repair or replace any damaged items, but is not limited to this fund and Tenant remains liable. Deposit may also be used to offset any unpaid electricity bill relating to the Suite. Tenant agrees to deliver Suite in same condition as it was received, including clean linens and towels, dry cleaned bed spread (not laundered), bed skirt, and pillow shams, clean refrigerator, coffee maker and microwave as well as all surfaces clean. If Suite is not clean, there will be an additional $30 USD cleaning charge and a $30 USD laundry charge if linens and towels are not cleaned. If the linens or towels are stained or damaged they are yours to keep, so unless you wish to buy them, please take care not to damage them. Eating, drinking, or applying fingernail polish or cosmetics in bed is not a good idea, as this is how they usually become stained: towels of any size are $15 USD, bed linens are $70 USD, comforter and mattress protector are $80 USD each, and pillows each are $50 USD. Remote controls are $50 USD each (take care not to drop them). Electronic Candle, and ceramic decorative accents each cost $50 USD, and bed footer the same. If Tenant breaks the term, or terms, of the lease, then Deposit shall be forfeit. Security deposit shall be returned after deducting damages, if any, and after electricity bill for Suite is paid in full by Tenant in cash to Landlord (this is done on checkout day). If Tenant checks out before 7:30 a.m., which is before business hours, Deposit will be refunded via (SENSITIVE CONTENTS HIDDEN) within 72 hours.
UTILITIES.
Rent does not include electric utilities. Tenant is responsible for electric bill of their Suite. A reading of Suites electric meter will be made upon move in and usage calculated therefrom. Usage will be calculated at a rate of $3.00 MXN per KW/h and paid in cash to Landlord at the same time as rent. In addition to a KW/h charge, there is a base charge of $15 USD per month or rental period, in addition to the KW/h consumption. Wireless Internet and US /Canada long distance calling are available at no charge should Tenant wish to avail themselves of them, however, the availability or constancy of phone and Internet connection, and their speed, has neither an expressed nor implied warranty and does not form any part of this agreement and Tenant may only make use of these at Tenant's sole risk and expense. Use of on-premise laundry, BBQ, and kitchen facilities is at Tenants sole risk and expense.
-Use common sense.
- enjoy your stay in Cancun!:-)
---
---
I had a great experience staying in Art Deco suits. It's perfectly located in the downtown Cancun. Bus stops are 3 minutes away walking and you can get to a hotel zone in 20 minutes or any other parts of downtown. The ADO station is also very close. Plenty of restaurants and great park Las Palapas where you can try street food. The room is very safe, it has a key. Neighbors were nice and quite. There was a laundry rom downstairs which is very convenient. I spend 3 great weeks living there and never experienced any problems. All taxi drivers know the place really well so it won't be hard to explain them. When I was leaving I got a taxi to the airport for around $150 pesos which is less than $10 USD. When I arrived there was a shuttle in the airport that costed $12 USD which is also pretty good. There's also a phone downstairs and you can call to the U.S. for free which is a plus. All in all it was a great experience :)
---
The area where Art Deco Suites is safe as long as you dont go wandering around sketchy neighborhoods by yourself at 4am but I think that pretty much goes for everywhere. I travelled alone and I thought it was fine. You will definitely meet the neighbors, probably in the kitchen since many of them cook their meals there. When I stayed it was mostly working travellers staying for an extended amount of time so some of the friendlier people will be more than happy to answer any questions for you about where to shop/eat/bank/laundry etc. I got along well with the neighbors and we would chat and hang out pretty regularly during my 3 week stay. I miss them! The standard room was totally big enough, although there's no closet and I brought a ridiculous amount of clothes and shoes (it only has a small 3 drawer dresser and a closet bar above it) so I can imagine that two people sharing the room would have to pack lighter than I did. Management was also helpful and seems to genuinely care about customer experience. Fyi the bathroom is lovely but there's no door!
You are very kind to take the effort in writing such a comprehensive review, thank you! We have a great many solo female travelers like yourself stay here and I know you found yourself in good company with our other international guests. As you note, the standard suite, which you were in, has a minimal closet with 5 drawers and a hanging rack, so don't bring a massive amount of clothes :-), but when you finish unpacking, you are able to stow all of your empty luggage beneath our custom made, extra tall bed. The bathroom lacks a physical door, instead has a fabric curtain (see pics on this listing) because I felt a door would have made the room feel significantly smaller; and since most guests are solo, the privacy part normally is not an issue. I hope you come back next year and stay a little longer this time !!
---
Art Deco Suites was a conveniently located place to stay. The rooms are very clean and comfortable. If you want to be close to all transportation but away from the expensive, touristy hotel zone it is perfect. The neighborhood is safe. There is a bit of a community feel among the other tenants which proved to be a relief since I was travelling alone. The management is responsive and clearly cares about the complex and the people staying with them.
Thank you for your kind review! The sense of community among or guests is one of the best things about staying at Art Deco Suites. Many of our guests are solo female travelers and having a safe and clean home base when exploring the Cancun and the Yucatan peninsula is important. I hope you visit us again soon :-)
---
I really enjoyed my stay in this clean, beautiful, spacious studio complete with a huge bed, a desk, and a gorgeous, modern bathroom. My room was very private, but I could visit with other guests in the kitchen and outdoor dining area. The shared kitchen is a bit outdated compared to the room, but certainly workable, and there's a super outdoor grill in the back. It's very easy to get around from here - only a few minutes walk to the bus station, lots of cabs drive by here, and there's plenty of stuff in walking distance. My host was so courteous and responsive that he called me from the US to check-in when I was having trouble connecting to the internet in my room for work - luckily the wifi in the outdoor dining area was working! He also sent his internet guy to check out the situation the next day. Things get a little loud around here at night - there are amazing restaurants only a 30 sec - yes, 30 sec - walk away. Great for food, great for music, but bring ear plugs if you're a light sleeper.
---
Art Deco Suites was exactly as listed. The room and complex could not have been cleaner! The host was patiently waiting for my late flight and gave assistance to the area upon arrival. The area has supermarkets, banks, restaurants and the ADO all within a few minutes. The apartment is less than a 5 minute jog to the start of the Hotel Zone pathway, perfect for runners. I felt safe and completely relaxed while at the apartment and would love to stay again.
---
I live here in paradise because I enjoy freediving, sailing, scuba diving, and just being anywhere near the ocean. Mexico is a wonderful country with so much to explore. A good starting place is definitely Cancun!
Languages:
English, Español, Français, Italiano, Português
Response rate:
100%
Response time:
within a few hours
Explore other options in and around Cancún
More places to stay in Cancún: