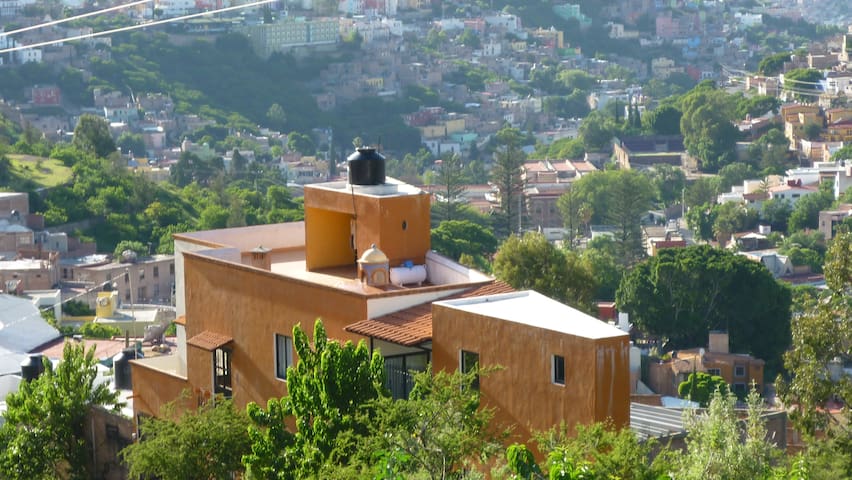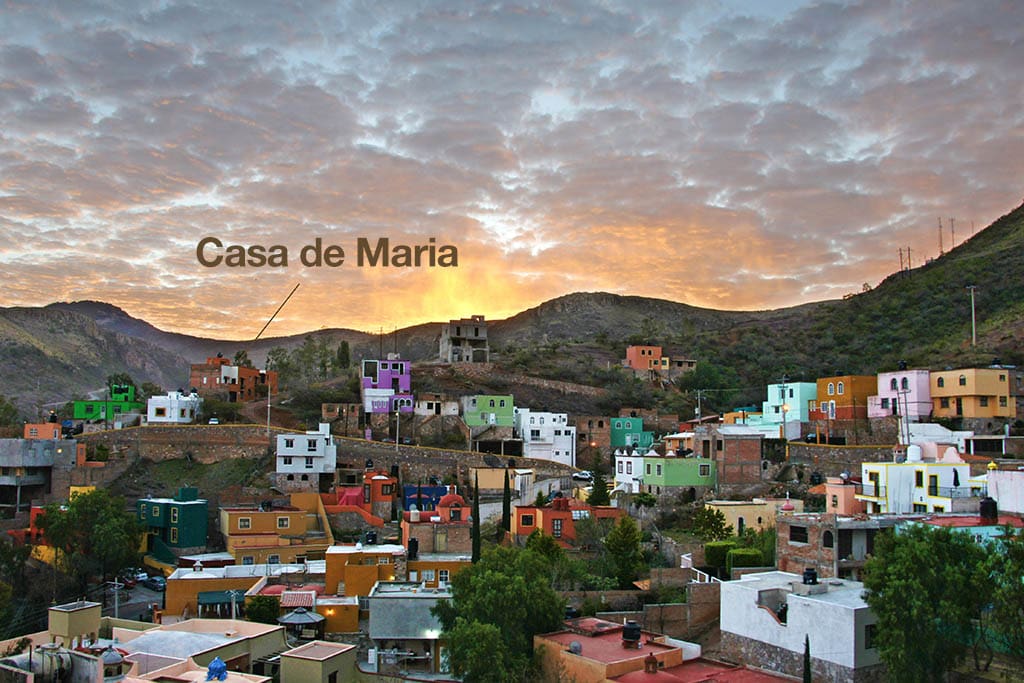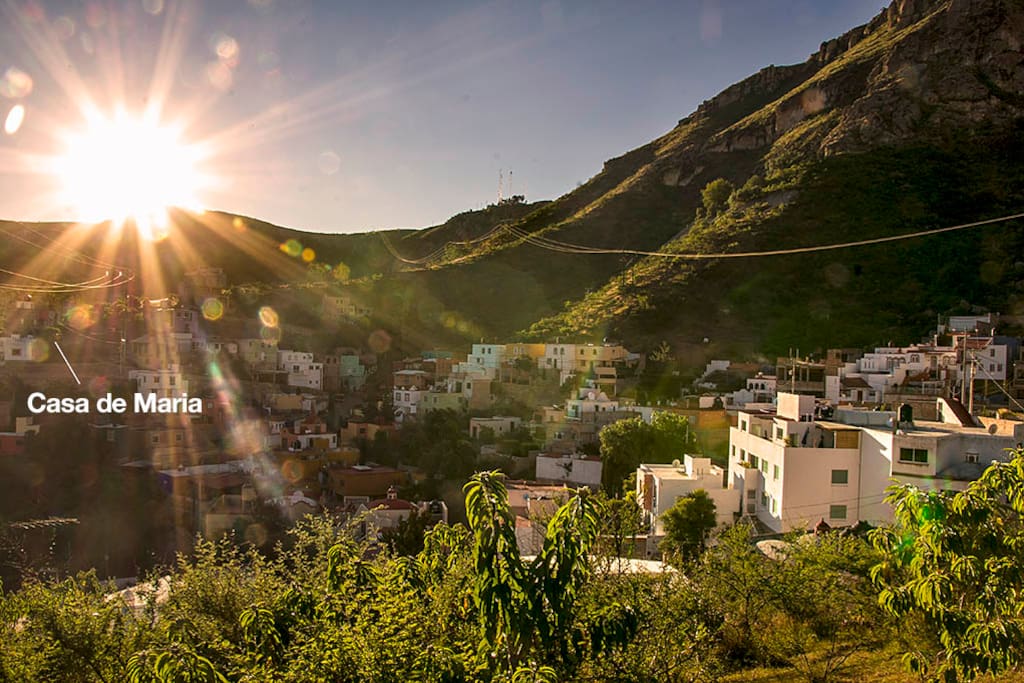 WE'VE UPGRADED for Summer. New amenities along with new furniture and lower rates as an incentive for everyone to experience this incredible city in bloom. It is truly one of the many wonders of the world. Seemingly isolated from the hustle and bustle of todays rat race. Many of our guests have said, " I feel like I'm living back in the " 50's" again. You will have see,hear, taste and feel the vibe of the city for yourself to believe it. Guanajuato is the Real Mexico........
The space
This brand new very cozy and clean hideaway, is nestled at the foot of the majestic Mount Bufa natural preserve. It has free parking, open access laundry facilities with its own secured private entrance. There are tile floors throughout, brightly colored contrasting walls, with your own private bathroom and individual shower. Our guests have access to things that make a vacation.........a vacation.. They have complete privacy, peace and quiet, a good nights sleep.. An atmosphere conducive for concentration, study reflection, and meditation. Easy access to all the necessary amenities, local groceries, places to eat, drink, and socialize. Easy access to transportation and helpful, attentive hosts who are ready to do whatever it takes to make yours a dream vacation.
It has Hidalgo talavera tile, with hot water of course. It is fully furnished with beautiful new artisan hand carved furniture direct from Guadalajua and a strong Fibre-Optic Wi-Fi signal 20 MB's Internet Speed.
. It has a very comfortable single bed, with chest of drawers and plenty of closet space, a small refrigerator, microwave an a place to study. We are located in what's considered the safest part of the city even thought the entire city itself is considered one of the three most safest in all of Mexico.

What makes this location so unique is it's peaceful, natural surroundings, especially when you can just walk right out your front door and hike up to the impressive rock formations of Mount Bufa . Plus you're surrounded by an incredible array of many great restaurants, out door markets, shops, museums and art galleries that are only minutes away;
So you can choose to be rejuvenated and refreshed by the ambiance of natural surroundings. Or you can take a 5-15 minute bus or taxi ride into the center of town. We also can arrange for extensive sight seeing tours, hot spring outings, hikes to local forested mountains, culinary, art or cultural tours. There are so many things to do here like most, you'll probably never want to leave, which is actually quite common...............
If you just enjoy the fresh air and sunshine, then simply stroll into town passing old streets, ancient plazas, callejons, and outdoor markets, that will literally transport you back to the colonial days of Old Mexico. Alfredo's Market is located only a few blocks away with the many nearby local street side vendors selling the freshest foods at the best prices
Guanajuato has so much to offer you won't want to leave til you've experienced it all . So be sure to book enough time to enjoy it all. You will just have to experience it for yourself to see what we mean. So come stay with us and experience the fascination of our beautiful city Guanajuato, the ( City of Enchantment) We are here to serve you.........Please, feel free to call with any questions in English ,Spanglish, Italian, or fluent body language.
Guest access
Our guests have access to things that make a vacation.........a vacation.. They have complete privacy,( private entrance, bathroom and shower) peace and quiet, a good nights sleep.. An atmosphere conducive for concentration, reflection, and meditation. Easy access to all the necessary amenities, local groceries, in house laundry, places to eat, places to drink, places to socialize. Easy access to transportation and helpful, attentive and cooperative hosts. Plus any thing else that would require going above and beyond the call of duty. You'll feel like part of the family.
Interaction with guests
We love people......And we love to interact with our guests. But we're careful not to smother our guests with too much attention. We treat each guest as individuals and look for opportunities to go out of our way to for example, spend some social time over dinner, margaritas or just causal conversation depending on availability and circumstances. So we look forward to getting to know each new guest on their own terms. Don't worry about the communication. We both speak almost perfect English and Spanish and we'll give you a crash course on the city and surrounding areas....Where to go, what to do, where to eat, and all the attractions you won't want to miss while you are here. Or if you wish to just unwind, relax and enjoy the peace, quiet and tranquility of the natural surroundings here at the foot of Mount Bufa Preserve, your welcome....There's no place like it on earth .....You'll love it here...
Other things to note
This place is so infectious that once you arrive the natural ambiance of peace and tranquility will be such anattraction you won't want to leave. The location of our villas are perched right on the edge of the city with a breathtaking view of the Mount Bufa Preserve on the left and a panoramic view of the most colorfully decorated city in all of Mexico on your right. The nearness of the parks, plazas, reservoirs, coffee shops, gyms, hiking trails, restaurants, museums, night clubs and Bistros are minutes away by foot or even less by Uber, bus or taxi... The city is literally frozen in time . The native people here welcome visitors and are treated with the greatest dignity and respect. You will have to pinch yourself at times and (URL HIDDEN) this a dream. Bring your camera with an extra chip, photo opp's are everywhere.
---
Check In: Anytime after 2PM
---
---
Always communicate through Airbnb
To protect your payment, never transfer money or communicate outside of the Airbnb website or app.
Learn more
---
Check in is anytime after 2PM
We treat our guests like family and will be there when you need us :) Please
Inform us of any difficulties you may have, and take care of the room as if it were your own . Our policy is to treat others as you would want to be treated. We will exert ourselves to pamper you, and do whatever it takes to make yours a dream vacation.
---
Strict
Cancel up to 7 days before your trip and get a 50% refund. Cancel within 7 days of your trip and the reservation is non-refundable.
---
---
So the breakdown, I stayed in the one person hideaway for about a month 24 days. You do not have a kitchen but don't really need one so do not let that scare you. The room was clean, my showers were always hot, and the room also had plenty of space for my clothes and everything I needed for the month. The location was great because it is quiet and about 1.7 miles from downtown. I am familiar with Guanajuato so I had no problems walking or figuring out the bus. Guanajuato is small and friendly Buzz also provides a map so anyone new to the area will familiarize themselves in no time. Walking takes anywhere from 25-40 minutes depending on your speed. The bus is a 5-10 minute walk away from the house it cost $5 pesos and stops around 8pm there are no set schedules for buses in GTO. There are lots of stairs on the walk downtown/to the bus stop. I didn't mind at all but it might be difficult for those with bad knees to bus back to the presa is taken from the tunnels under the city center. Uber picks up at the house and you can set a pin location to go back it's more or less 37-50 pesos but can be more depending on car availability and time of day. Taxis, taxis will find the house if you tell them you want to go to Colonial Universitario la panorámica de la presa once they get to the sign that says Colonial Universitario you can direct them from there, it's a green sign two streets before the blue house. A taxi should cost no more than $50 pesos unless it is very late or a holiday but I never paid any more than $60 pesos. Lastly Buzz and Maria, they were so awesome. Helpful, friendly, communicated well. Something that stood out in my mind was that I was sick for part of my stay, and Maria made me some soup and Tea. It was amazing of her to do that. I couldn't believe how hospitable the two were. You will without a doubt enjoy your stay with Buzz and Maria! I cannot wait to return. I hope all this is helpful to you and that you enjoy your stay as much as I did!!
---
I will definitely recommend this beautiful home to anyone who needs a place to stay while in Guanajuato! Maria is a perfect example of a great host. Very friendly and gracious. She made me feel at home; and went out of her way to make my experience at Guanajuato delightful and one to be remembered. Upon arrival, I was given a meal...Mexican style...how awesome is that; and Maria even took me for a quick drive so I can familiarize myself with the area. The house is located in a beautiful neighborhood surrounded by the La Bufa mountain; and is within walking distance to a number of eateries and the bus stop (only cost 5 pesos to get to town) or taxi (~40-50 pesos). If you want you can even walk downtown (i.e. takes about 15-20 mins). In addition, Maria even took me to see the opening of the Cervantino festival and admire the breathtaking view of the city from the Pipila at day and night! In addition, she also acted as my translator as I don't speak Spanish. I can go on and on with how amazing of a host she was :) My room was clean; bed was comfortable; and had everything that I needed for a solo traveler. Even more, it felt so heavenly waking up and heading outside to marvel at the beautiful view of the city from the house. FYI, there are 2 other bigger rooms which are spectacular if you want more space. Unfortunately, I didn't get to meet Buzz until my last day as he was currently away but when I did he was very helpful in helping out with my luggage and taxi when checking out. In short, I had a wonderful time at Guanajuato which was enhanced through my stay at Buzz and Maria's beautiful home.
---
Buzz and Maria were great hosts. They put a lot of effort into making sure I knew how to get around and had a great stay. Their place up in the hills above the city, but it's easy to get into town each day on the bus, and there's some nice places to eat in their neighbourhood as well. Guanajuato is a beautiful city. It's clean, safe and full of gorgeous historical architecture. Highly recommended.
---
I stayed 6 nights with Buzz and Maria in the hideaway. It was really nice to have a private and safe location. I was looking for more of a getaway than staying close to the city center, and that's what I got. It's definitely less bustling in this area, but there are food places (and good coffee) nearby. There are definitely neighborhood dogs and church bells and just...noises. So don't expect it to be dead silent like a more country setting might be. It's about a 4-mile roundtrip walk to city center and I preferred to walk. This is a location up a hill and in a high altitude town. It's what I wanted but might not be for everyone. Buzz gave me good food and coffee recommendations nearby, which was helpful to not feel like I had to go all the way to El Centro to have a good meal. This location is hard to find the first time, and my taxi got lost. Luckily I had Buzz's phone number. He had tried to send me a more specific map for the location, but I think AirBnB blocked it (and it blocked email addresses so we had no workaround). I would highly recommend getting that map before showing up if you are taking a taxi. Once you've been there once, it's not hard at all. Wifi was very fast in the room. There's a lot of storage for such a small place. I think it's laid out very smartly to use space as much as possible. I didn't realize that there was access to laundry here. I forgot to ask and didn't remember it from the listing until I just looked back. That would have been nice! Buzz and Maria both made sure I had a ride to the airport early in the morning. When time was getting down to the wire, Maria checked on me (super early!) and that made me feel very well covered to get home. A few downsides: The shower is a little hard to use and sprays kind of erratically. The water doesn't get fully hot (in my very cold person opinion). This might be a Mexico thing (or a me thing), and it was by no means unbearable. I also see that a kitchen is listed, but I didn't have access to the kitchen. I also prepared to make coffee one morning, but there was no coffee for the maker. Not a big deal, but little things.
Response from Buzz & Maria:
Thank You for your observations. We always appreciate objective reviews which help us to make a better experience for our next guest. We do include the free laundry service for each new guest who visits and that is listed along with amenities on our property listing. So Generally when they need to use the washer and dryer they let us know ahead of time and we provide the detergent and any instructions they may need to operate the machines. But your suggestion to give a reminder ahead of time is a good one, which we will include along with the map of our location. The shower feeds off of our roof based Tinaco, Which is the standard setup for all the homes here in the city. The water is pumped from the street to our tinaco or storage tank on the roof. When the showers are turned on it does take a period of time for the hot water to flow, from the tinaco to the water heater and finally to you. Hot water will definitely flow but it requires a bit of a wait. We will install an extra heater along with a new shower head with a more direct water flow to avoid any future problems. Thank You and we appreciate your suggestions.....
---
As a couple we love to combine our talents to make the perfect experience.
Buzz being a San Diego California born native understands the wants and needs of foreign vacationers and Maria a born native of Mexico who speaks perfect english, both enjoy pampering their guests and individualizing care for each one according to their needs. We love people and find it fascinating to get to know each one. We are both dedicated to making your experience one you'll always remember and want to repeat.
Languages:
English, Español, Italiano
Response rate:
100%
Response time:
within an hour
Exact location information is provided after a booking is confirmed.
Explore other options in and around Guanajuato
More places to stay in Guanajuato: