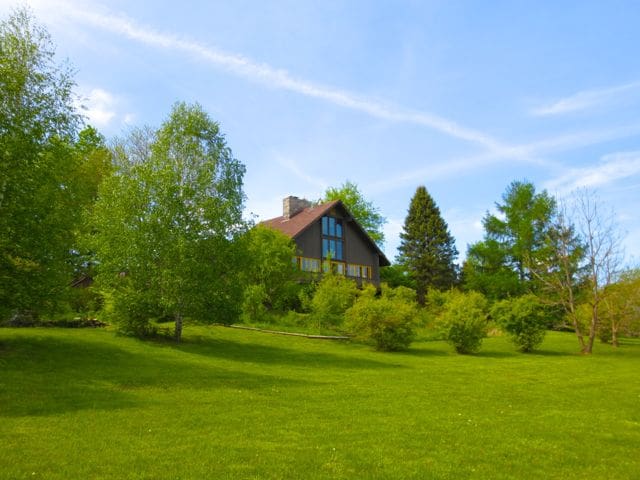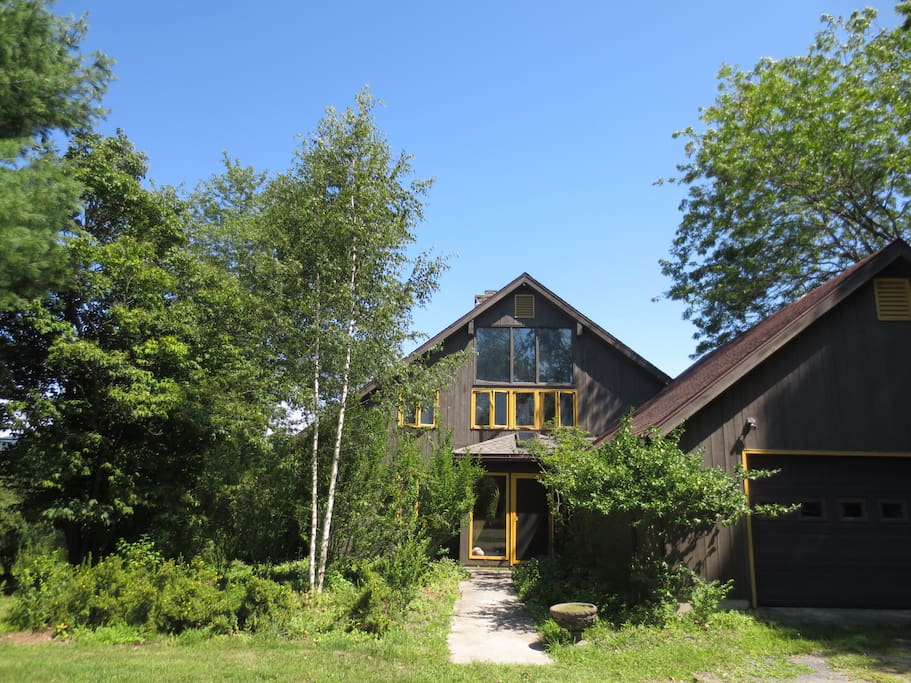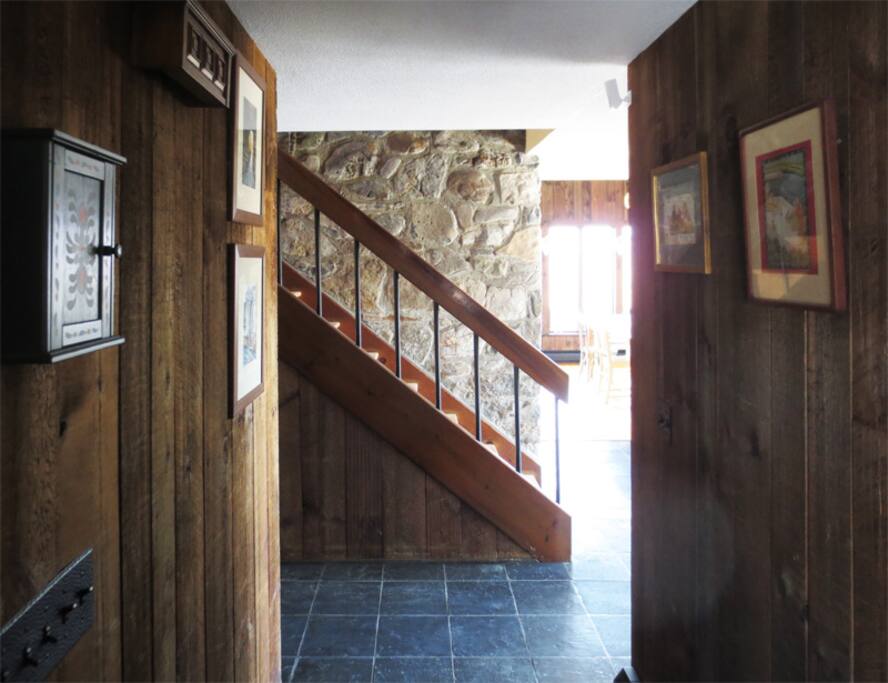 About this listing
Summer (a swimming pool), winter (a fireplace + skiing), fall (spectacular foliage), or spring, this charming family home on 22 acres of rustic seclusion will provide you and yours with the ideal escape. I'm Mark, and I look forward to hosting you.
---
---
Extra people: $75 / night after 4 guests
---
The space
Oakhill Lodge is a charming, rustic MidCentury home in Columbia County situated on 22 acres of pristine private property with an in-ground swimming pool. Complete privacy awaits -- there's no neighbor in sight -- with sweeping meadow views leading to the Berkshire Mountains.
Perfect for any season. The fall foliage and leaf-peeping opportunities are breathtaking and spectacular with a number of terrific hikes in the area - including one where it is claimed that Melville got inspiration for Moby Dick. In the winter, sports are plentiful with two great ski resorts (Catamount and Butternut) within 20 mins drive. The property's 22 acres also provide terrific cross-country skiing and snowshoe opportunities.
A 2hr drive from NYC up the lovely Taconic Parkway (or 2.5 hrs from Boston), the house features a cathedral ceiling in the living & dining area plus a full kitchen, 3 bedrooms, 2 full baths and 1 half bath, and wireless internet access. It is equidistant from Hudson NY and Great Barrington MA; both are home to great restaurants, boutiques, cafes and antiquing (plus a thriving music scene in Hudson, described in detail in Rolling Stone Magazine).
On the main floor you'll find the living and dining area, full kitchen, half bath, and a separate library with a queen bed. Wood stoves in both the living room and the area between the dining & kitchen areas. Upstairs is the master suite (king-size bed) and full bath; tucked off the bedroom, and only accessible through it, is a separate nook with an office space and a twin bed (this is a balcony area, so it may not be good for little people to sleep in). On the lower level (which is only accessible through the library sleeping area on the main floor) is a fourth sleeping area with a queen-size bed and another full bathroom plus laundry room. Both the main and lower levels lead to the great outdoors, and there are two separate decked areas off the main floor -- the back deck off the living room has spectacular views of the property and the Berkshires, and the side deck off the kitchen leads to an outdoor dining area with barbecue and the steps down to the pool area. Wildlife is everywhere--birds, turkeys, deer, possum, and the sounds of owls and coyotes under the incredible stars at night.
This is a fabulous year-round retreat. In the immediate vicinity are Copake Lake (waterskiing, etc) as well as plenty of marked hiking trails and Bash Bish Falls. Excellent birdwatching, not just in the area but also at the house. Good fishing nearby, too; particularly trout & bass. It's a great area for foodies, as well; there are plenty of excellent farm-to-table restaurants, as well as the opportunity to buy fresh produce & meat (in particular from Pigasso Farms, close by) to host your own dinner party making use of our funky 70's-style kitchen with a fantastic new chef's stove -- seat your friends around the big table!
Also close by are the Catamount and Butternut Ski Resorts. Take in a concert at Tanglewood or Bard Summerscape. If you enjoy dance, the Jacob's Pillow Dance Festival is about an hour's drive. You can also check out Walking The Dog Theater. Close by, too, are the wonderful Norman Rockwell Museum and also numerous Gilded Age mansions which are open to the public. It's near all activities (hiking, skiing, tennis, golf, lake swimming, antiques shopping), cultural destinations (restaurants, theaters, educational events), and noteworthy towns (Hudson, Great Barrington, Hillsdale, Millerton, Pine Plains, Berkshires).
Other things to note
In my view, this is unbeatable value. Where else can you rent a 3 bedroom house with 22 acres and a pool for under $500.00 per night?
---
Check in is anytime after 5PM
This house does accommodate 6 comfortably but please note that this is the maximum amount of guests allowed to stay -- you're of course welcome to have additional friends over for dinner, etc, but this is NOT the venue to host a big party!
Please enjoy the house. Bear in mind that we frequently use it ourselves and also rent it on Airbnb, so please leave the house in the condition in which you found it. We really hope you enjoy it as much as we do.
Everything is pretty self-explanatory... Please strip the beds upon leaving and make sure that everything is where you left it. Please be in touch ~48hrs before arrival for us to sort out arrival time, keys, etc.
Inside the house:
Internet:
Use the network "mark12790". The password is: "moody294"
If there is a problem, disconnect the power from the modem (white box called "SMARTRG100" to the right of the hard drive underneath the computer monitor (NOT the white cube that says "ismartalarm" on top)). Leave unplugged for 15 seconds. Plug back in. After 2-4 minutes, four green lights should be lit, some will be solid and some will flash. Now you should be good to go. DO NOT PRESS THE RESET BUTTON ON THE UNDERSIDE OF THE MODEM OR THE ROUTER.
GROUND FLOOR
Kitchen:
Everything should be self-explanatory.
I would just ask that if you have time, replace anything that you finish up in terms of condiments and the like, and if you don't have time, please just leave me a note saying that the item is finished. I hate to throw away food, so the vegetables etc., if any, that are in the fridge should be fine for you to use (obviously no need to replace them), and feel free to throw them away if they appear to you past their sell-by date.
Garbage:
The local dump is only open on Wednesday and Saturday. If you are staying a short time (3 or 4 nights) just leave garbage in the silver trash can in the garage (it's to the right of the sink as you go into the garage from the door on the deck). There are Columbia County trash bags (you must use these otherwise the dump will not accept your trash) on the shelf just above the silver trash can. Recycling is odd here (at least compared with New York City). Everything (glass, plastic, metal, and paper) gets put into the same recycling and the County sorts it later. Next to the silver trash can are two dark blue bins. These are for all recycling. If it overflows, please just leave the recycling in bags next to the trash cans.
If you are staying longer than a week, there is a dump in Greenport (just this side of Hudson) signposted off route 22 immediately before a cemetery, and a Polish club. They are open every day except Sunday, and it would be good if you could take your trash there; otherwise – particularly in the summer – lingering trash just gets too attractive to various critters.
Dishwasher:
The only thing to understand about the dishwasher is that it's enormously quiet, and so it's hard to tell when/if it's actually started. The key is that if it shows a time on the right of the display panel, you're good to go.
Living and Dining Room:
There is one thermometer that controls the heating on the ground floor. It is on the wall between the living room and the dining room beneath the sconce. I find that it rarely needs to be above 68/69 degrees. Although there are several thermometers on the ground floor, this is the ONLY one that works. There is only one thermometer per floor.
The stereo should be self-explanatory. Plug in your ipod or iphone to the white jack next to the CD and cassette player (put the amplifier on phono for ipod etc). There are hundreds of CDs and Cassettes in the cupboard to the left of the stereo. Feel free to listen to whatever you feel like. Please just replace things where you got them from.
The fire is also self-explanatory. The door should be kept closed if you are not sitting in front of it with an eye on jumping and burning embers. The flu (operated by the silver handle in the middle of the base of the stove) must be open (to the right) otherwise you will get smoked out!
Library:
As with any other books in the house, please feel free to read whatever you feel like. There's something for pretty much everyone's taste, and then some! Please just replace books from where they came before leaving.
There are loads of games in the left hand side of the library closet. Enjoy if rain keeps you stuck inside!
UPSTAIRS
The thermometer for upstairs is immediately on the right as you enter the bedroom.
The hot water tank is not massive so if more than 2 people want to have consecutive showers (or run the dishwasher, wash up, and do the laundry), then make sure the showers are pretty quick. Otherwise just stagger them. It's forgiving, just not endless. Sometimes, and sometimes frequently, when you turn on the hot water for the shower upstairs, there is a loud groaning sound. It's nothing to be concerned about.
In the bedroom nook, do not turn the surge protector on and off as the modem and router, as well as the alarm, are attached to this and you will lose your wifi.

BASEMENT
The thermometer for the basement is between the laundry room and the heating system room.
The heating system for the house is in the room between the bathroom and the laundry room. It is quite noisy (and the exhaust is beneath the side deck), so I advise closing the door at night for whoever is sleeping downstairs, but it tends to get very hot in the heating system room itself, so if you could leave the door open while not down there, that would be great.
GARAGE
The garage is currently a staging area/storage space. I leave it open so as guests can access the trash cans, pool light (see below), firewood, and the barbeque paraphernalia. Otherwise, it's not fit for use at the moment … The spaces are small, and there is much that might cause injury, so try to use it as little as possible.
Outside the house:
As a general matter, please know that during the summer, there are people that come to do some work at the house (the pool is cleaned once a week (tends to be early Thursday or Friday afternoon), and the grass is cut once a week (tends to be late Wednesday afternoon). I will try to advise you with a couple of hours notice of people's arrival, but in some instances this may not be possible.
THE DECK
Keeping the chairs under the eave in the rain (in the absence of serious wind) will keep them dry.
THE POOL
The pool is not heated. There is a light for the pool on the right of the door to the garage from the deck. Please make sure and switch it off when you go to bed.
The pool should run by itself, so please don't feel that you should turn the filter off at any point. If you notice any discoloration, please let me know immediately. There is a skimmer by the pool if there are leaves, insects, or other creatures (chipmunks, frogs, and/or salamanders) in the pool and you don't feel like sharing it with them.
Because the pool has a liner, no dogs are allowed in the pool!
PETS
Feel free to let your pets roam. Just be aware, depending on the animal, that upstate New York is Coyote country, and cats and small dogs are favorites. We've never heard of any problems locally, but there's no doubt they're around. Sometimes you can hear them howling in the hills at night.
LEAVING:
Before leaving, please ensure that all the lights inside and outside the house are turned off, the extractor fan (to the left of the stove) is turned off, the stereo is turned off, and that the thermostats and fans are off (in summer) and turned down to 50 in winter.
Please lock up when you leave (including replacing the wooden block on the siding door to the deck), and leave the key where you found it.
Finally, reviews are essential for airbnb ratings, so if you could leave a review after you've stayed, that would be very nice.
Local food and amenities
Be careful about all closing times (if it's after 7pm, you're mostly too late for stores).
The Copake General Store (now named the Copake Front Porch Market) has just reopened. They have a good selection of basics, including local meats and vegetables from good local purveyors. There is a gas station in Copake. It sells basics (very basics) and is usually open until 10 (there's also a Stewarts in Hillsdale which is usually open until 11pm). There is also a diner and a pizza place in Copake.
The nearest wine store is B&G in in Millerton (15 mins drive). The nearest large grocery store is the IGA (also in Hillsdale).
The best grocery store is in Great Barrington – Guidos (20-25 mins drive). There's also a very high end, and extremely good, though pricey, cheese (+) shop in Great Barrington called Rubiners (great sandwich store too); and a good wine store called Domaney's (Guidos also has a good selection).
There are lots of local restaurants. Crossroads in Hillsdale is good, as is John Andrews. My favorite at the moment is Alium in Great Barrington. Hudson (20-25 mins drive) is also full of them; Park Falafel has amazing hummus and falafel, and a fantastic slice of pizza called the buffalo falafel …
There's a cinema in Millerton (15-20 mins drive) and Great Barrington and a few in Hudson.
For more ideas of things to do while visiting Oakhill Lodge, please visit our friends over at Design Sponge!
- A Guide to Cities of the Hudson Valley (including Hudson, Kingston, Woodstock, Rhinebeck, Millerton, New Paltz, etc):

- A Guide to the Berkshires (including Great Barrington):

- A Guide to the Catskills:

---
Strict
Cancel up to 7 days before your trip and get a 50% refund plus service fees back.
---
---
Exact location information is provided after a booking is confirmed.
Great house in a great location, directly next to the Copake town center and 30 minutes from both Hudson NY and Great Barrington MA. The house is well-appointed and the 22 acres are more accessible than we anticipated. The pool is a welcome addition. We had three couples staying here, and there was more than enough room for us all to have our own space. A great home that we'll certainly be visiting again.
---
We absolutely loved our stay at Oakhill Lodge! It was the perfect fit for our family. We loved the relaxed and comfortable vibe of the house, enjoyed cooking in the kitchen, lounging by the pool, browsing through the fascinating and eclectic library (I'm a book person) and sitting on the veranda to take in the views (oh the views!! We couldn't get enough of them). It was everything that we hoped for and more. Mark left us a welcome note along with the House Rules handbook, that explained everything we needed to know. We hope to come to Oakhill Lodge again!
---
I don't even have words for how much we loved our stay at Mark's house. It was beyond perfect and beyond what we'd hoped for, even after seeing the pictures. The property is really the star of the show... it's expansive and gorgeous with a truly magical blend of its manicured and untamed nature. You can tell that years and years of love have gone into making this place what it is. It's an ideal escape and we rarely wanted to leave the grounds Mark was a perfect host from beginning to end. There really wasn't a moment when he wasn't available to us instantly by text and everything was very clearly laid out all along the way.
---
My wife, 4 year old daughter and I felt right at home at Oak Hill lodge. This was our first extended stay in Columbia county. Copake and the surrounding area are spectacular for its verdant early summer beauty, serenity, and plenty of local culture and activities. This rental hosted by Mark proved to be the perfect vantage point from where to take in views and strike a balance between a healthy dose of seclusion and exploring the county. Mark's photos and description of the house and its grounds are very accurate. This contributed to us feeling oriented and at home from the moment of arrival. Mark was always responsive from first contact to when we had questions during our stay. We fell in love with this part of Columbia County and will definitely want to return while staying at Oak Hill.
---
I'm a moody lawyer but I'm generally quite pleasant...
Response rate:
100%
Response time:
within a few hours