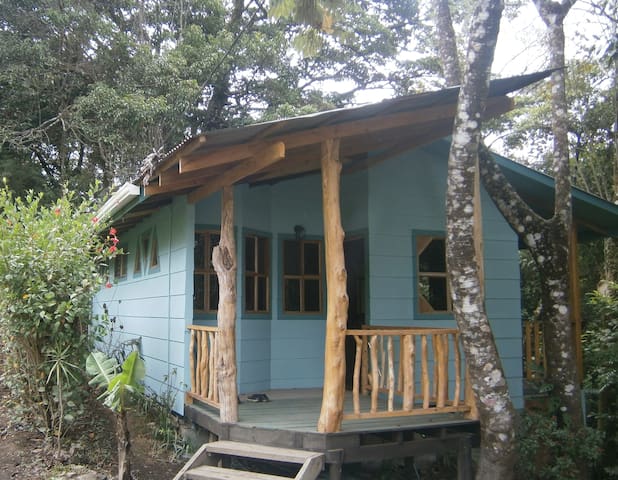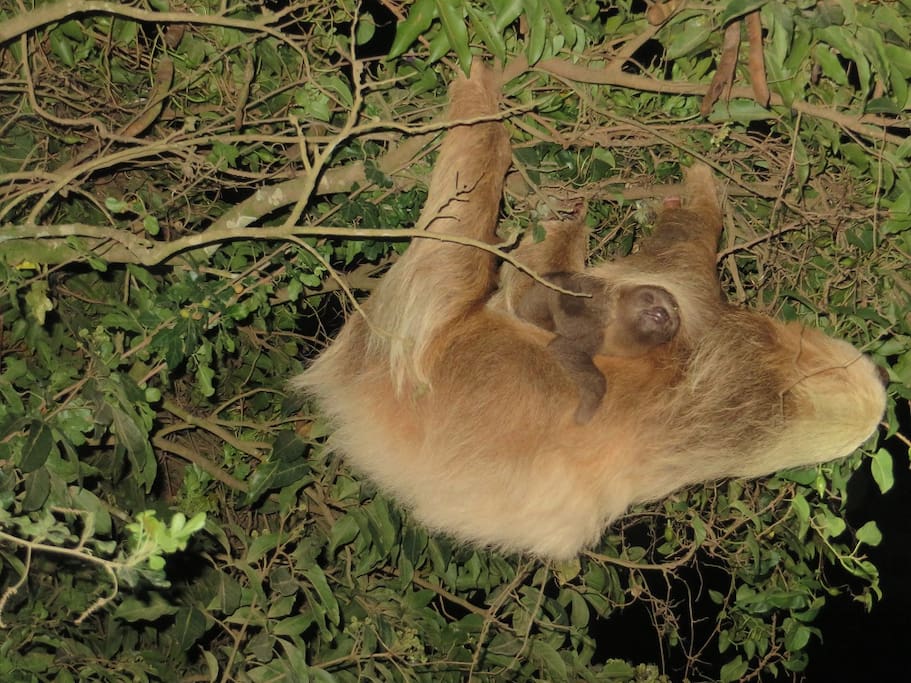 The space
If you are a nature lover who is also interested in a cultural experience, this is for you!
We offer our cabina and studio apartment, both hand-crafted with care and creativity, nestled against the forest above the creek. We hope that you enjoy the tranquility of our tiny neighborhood just outside of town and revel in its rich natural and cultural diversity. Your closest neighbors will include mostly the furred and feathered type, though we do have a family who live on the other side of the entry lane. Right from bed, you can be dazzled by the presence of frequent visitors at your window--our resident sloth, long-tailed manakin, squirrel cuckoo, blue-crowned motmot and more! If you forget your alarm clock, don't fret! Our neighbour's roosters will give you a wake-up call at the perfect moment for a birding walk in our back forest.
If you are interested in human interaction, you are welcome to visit with any or all of the members of the family across the yard. Our friends Olman, and Marcela, with their 5 year old son, Nicolas, will be caretaking our property starting June 2017. This will be a sabattical year for us while we go to accompany our daughter for her first year of college on Vancouver Island.
Like us, they are passionate about sharing their love for our community and the magic of our natural setting as well as making sure you feel at home in our home! Olman is a Costa Rican from the Sarapiqui area who was enticed to the zone by the magic of the cloud forest 15 years ago, and became an excellent naturalist guide. You can check out his website at (URL HIDDEN) He is fully bilingual, having lived in the U.S. in the past, and Marcela and Nicolas have learned a lot of English along with him. They are excited to practice as they talk to you! If you would like to know how our guests have felt about their way of being and hospitality, you can check the evaluations from December 2015 and January 2016 when they also took care of our property. I will remain in electronic contact with all of our guests while we are away.
Both homes are completely furnished with the major appliances, hot water, internet access and the extra bonus of artistic features like hand-painted tiles, hardwood floors, and local artwork. To rent the apartment or take advantage of a special price to rent both, see the listing Casa Libelula also under Monteverde Forest Hideaway as a 2 person accomodation.
Santa Elena/Monteverde includes a wide range of smaller communites that lie along the border between the provinces of Puntarenas and Guanacaste. We are situated on the top of a mountain in the Tilaran mountain range with views of Arenal Volcano from afar. It is about a 3 hour drive as you wind your way up from the international highway, with spectacular views of the San Luis valley below along the route. You can travel here through Las Juntas or Sardinal. Escape the heat of the lowlands as you climb into our green mountain home!
Monteverde is most famous for its cloud forest, left as a watershed by the original Costa Rican and Quaker residents. Visitors can enjoy a wide variety of attractions, including much for the ecologically minded tourist with options for both education and adventure. Enjoy a guided day or night tour of many trail systems with a local naturalist, visit the Butterfly Garden, Bat Museum, or Frog Pond, whiz through a zipline canopy tour, or search out local artists at their galleries. . Music lovers can choose from the weekly concerts of the Monteverde Music Festival that enhance the ambiance for a 2 month period starting in January with professional Costa Rican musicians, or the Saturday night square dance at the Friends school and latin dancing in Santa Elena which are year-round events. Monteverde is the perfect site both for nature lovers and those interested in rich cultural diversity.
Guest access
clothes line, forested property
Interaction with guests
We leave this up to our guests--some people like to weave themselves right into our family rhythms and others prefer more privacy and independence. We have thoroughly enjoyed getting to know everyone who has stayed with us, no matter their style of being.
Other things to note
To confirm, the cabina can fit up to 6 people, but for extra space and comfort, we recommend combining the apartment and the cabina for large groups! For a couple, check out our listing for the apartment alone--Monteverde Forest Hideaway--Casa Libelula.
---
---
Extra people $7 / night after 2 guests
Always communicate through Airbnb
To protect your payment, never transfer money or communicate outside of the Airbnb website or app.
Learn more
---
No smoking, no inside pets, no parties. We offer and appreciate a family atmosphere
---
---
What a fantastic place to CHILL! My son and I were in love with this place from the minute we arrived. We were greeted by Olman and his very charming son Nicolas who gave us a tour. The cabina was immaculate, smelling like Marecela's fresh baked banana bread, and rustic in the sense that it feels as if it was designed and built by an artisan who cares. The setting was perfect for us - you are living in nature in a wonderfully tranquil space, with all modern conveniences and close enough to town to get in and out easily. We did not have a car, but Olman arranged taxis for us or we simply caught a taxi very easily from the cab stand in town. We hired Olman as a guide for both a day and night hike and I would highly recommend his services. We saw several quetzals, agoutis, coatis, capuchin and spider monkeys, as well as an armadillo and pit vipers. You won't find these things on your own unless you are very experienced. We also had a chance to visit a sloth sleeping in a tree very near to the road. We spent about half of each day out, hiking, ziplining, eating in town, or just exploring. But we were always excited to get back to the cabina to just be.
---
Wow - what a truly magical experience! Beth's place was such a perfect choice for our family of four. It had two very comfortable bedrooms with windows overlooking the surrounding forest! We were able to see & hear the sights and sounds of the forest from our cozy beds! The living room, kitchen & dining room worked very well for our family - we felt so warm & cozy in Beth's cabin. When we arrived there was yummy homemade banana bread, fruits & fresh juice waiting for us. During our stay, we were able to cook breakfasts & dinners in the well stocked kitchen. The washing machine was a bonus (we were even able to use their clothes dryer for a small fee). Beth's place is located outside the town of Santa Elena, and since we did not have a car we made use of the taxi system of Monteverde to get around. Olman, Marcela & their son Nicolas were gracious & generous hosts - very helpful and treated us like family. Olman is an amazing guide - we learned so much from him on our night hike & nature hike of Monteverde Reserve. Olman has a talent of finding hard-to-find animals on our hikes by using his expert ears & animal sound whistles - a truly unique experience. One morning, Marcela & Nicolas walked us up to the a nearby coffee, chocolate & sugar cane tour through a forest path - very educational tour! Beth kept in touch with us from the time of our initial reservation throughout our trip - answering questions, giving recommendations & helping out with logistics. Her email communications were extremely helpful during our trip to Monteverde and made our time there a very positive experience! Highly recommended!
---
Thanks for a homely place to relax for a few days.
Teri---glad you enjoyed your stay. I will copy your private message here as well as there are good details for other guests! The place was a great getaway from the other resorts we stayed at on our trip. We love the town of Santa Elena. The wifi was a nice addition, not expected. The sloth was seen! The Montevere Ice Cream Shop was delicious, the Tree House Restaurat had REALLY good food. Bed in the bottom bedroom was about the hardest bed we've ever felt. You may want to inform guests that if they have an international plan on their phone they should get WAZE GPS App and type in Monteverde Forest Hideaway. It will take them to your front door. The GPS latitude and longitude you give needs to be transformed into decimal units and not degrees/minutes/seconds. We ended up an a VERY scary and sketchy 4 wheel drive only road with no way to turn around for about 2 Km. I'm glad we had 4 wheel drive!"
---
We just left Beth & Manolo's cabina in Monteverde and miss it already! All communication with Beth and Olman was seamless along the way. Upon our arrival we were warmly greeted by Olman, Marcela and Nicolas - and like others enjoyed the freshly baked banana bread, fruit juice and bowl of fruit! The cabina was perfect for our family of 4 (kids ages 3 and 9), plus 2 grandparents, providing enough separate space between the upstairs and downstairs, but also a cozy living space for all of us to congregate and share meals together. Our hosts were amazing! The first morning we woke up, Olman knocked on our door to show us the sloth that was napping in a tree just outside the property. What a great way to wake up! We also saw toucans, a coati and another sloth from the property during our stay. We took advantage of Olman being a naturist and joined him on tours to Monteverde Cloud Forest and the night hike. The night hike was amazing and a must do! We still can't believe how much wildlife Olman can spot in the dark! Olman also arranged all of our others tours for us. For families and couples alike, I would definitely recommend staying in this cabina. It's simple, but has all you need with character and most of all great hosts!
---
We are a bi-cultural family who is passionate about sharing the magic of the place we call home. We strive to live as naturally and locally based as possible. Nati and Beth love music and Amaro and Manolo live for soccer. We all love to eat, though we don't always agree on what should be on the menu.
Languages:
English, Español, Français
Response rate:
100%
Response time:
within an hour
Explore other options in and around Monteverde
More places to stay in Monteverde: