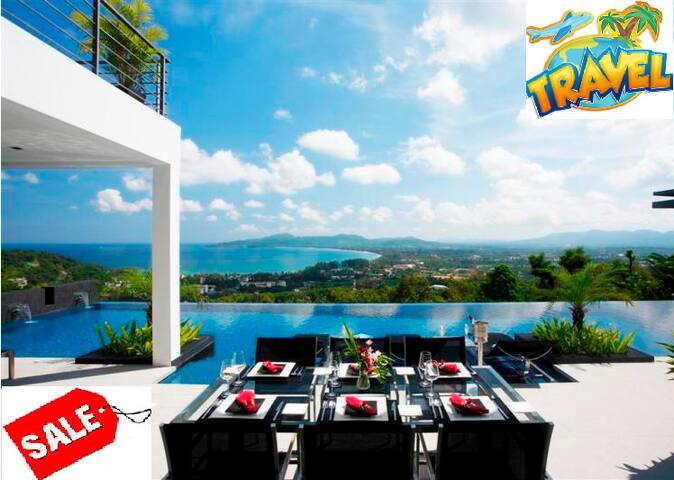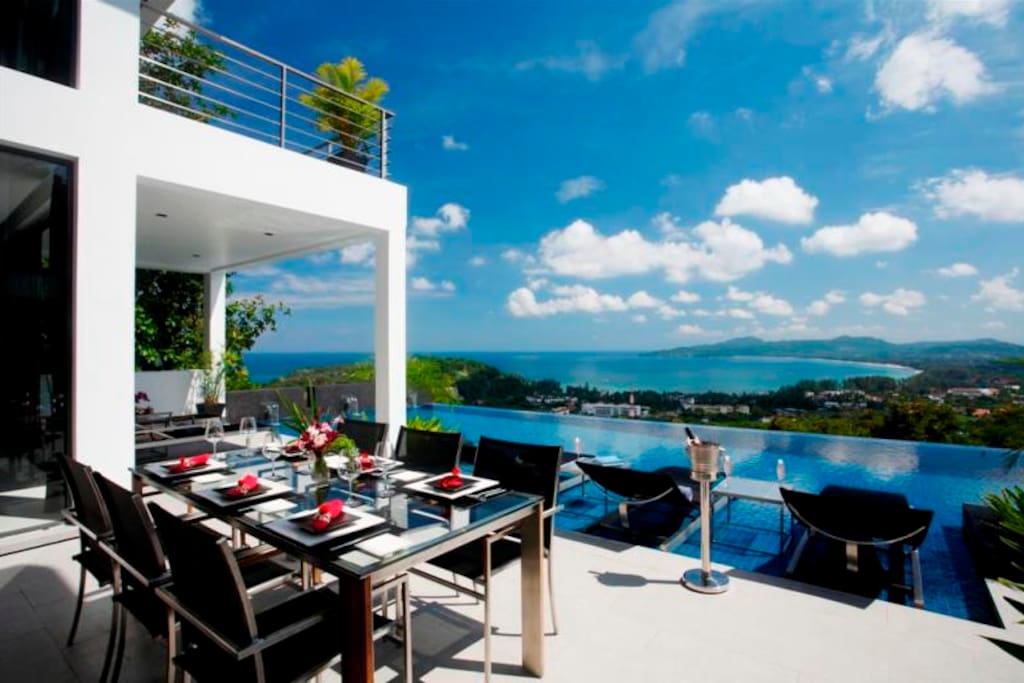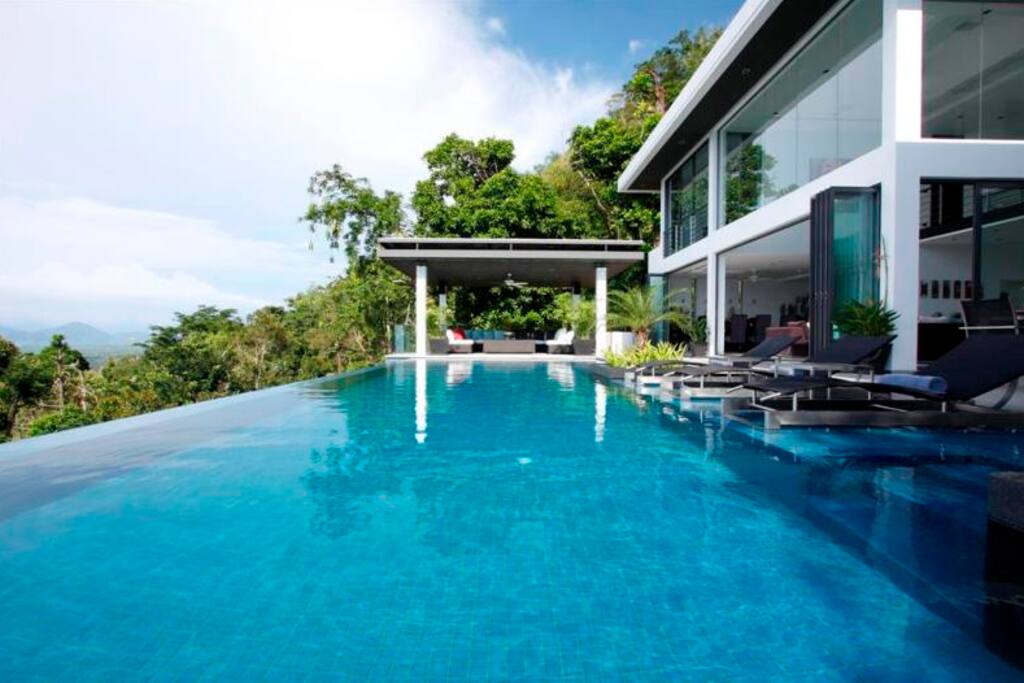 About this listing
A refined and sophisticated tropical lifestyle awaits you at the Villa, located high above Thailand's most exclusive beach area.
Perched privately in the mountains above Phuket's west coast Beach area.
---
Room type:
Entire home/apt
---
---
---
The space
The Space
Accommodates: 10
Bathrooms: 5
Bedrooms: 5
Beds: 5
Property type: Villa
Room type: Entire home/apt
The neighborhood
Two Heroines Monument (อนุสาวรีย์วีรสตรี), is a monument in Amphoe Thalang, a memorial statue of the heroines Thao Thep Kasattri (Kunying Jan) and Thao Sri Sunthon (Mook), who rallied islanders in 1785 to repel Burmese invaders. As the island's governor had just died, the organization of Phuket's defense against the Burmese invasion of 1785 was conducted by his widow, Thao Thep Kasattri. With her sister's help, they assembled what forces they had, then disguised local women as male soldiers, a ruse to swell the ranks of the defenders. After a month's siege, the Burmese invaders became exhausted and withdrew. King Rama I awarded Kunying Jan with the royal title of Thao Thep Kasattri.[23]
Thalang National Museum (พิพิธภัณฑสถานแห่งชาติ ถลาง) is near the Two Heroines Monument. In 1985, on the 200th anniversary of the Thalang War, the Thalang National Museum was established. The museum contains a permanent exhibition of life in old Phuket, ancient artifacts, remains discovered on the coast, and materials used during war with Burma.[24]
Kata Noi Beach
Hat Patong (หาดป่าตอง) (Patong Beach) is Phuket's most developed beach and is 3 kilometres (1.9 mi)-long. It is 15 km from Phuket town. Patong is mostly made up of hotels, restaurants, nightclubs and various tourist attractions. Daytime activities are primarily centered on the beach with watersport activities. Patong is equally well known for its nightlife, centered on Soi Bangla. The northern end of Patong Bay is called Kalim and is a popular place for viewing the sunset and for surfing between April and September each year.
Hat Karon (หาดกะรน) is the second largest of Phuket's tourist beaches, approximately 20 kilometres (12 mi) from town. Large resort complexes line the road behind the shoreline, but the broad beach itself has no development. The southern point has a coral reef stretching toward Kata and Poo Island. There is also its sister beach, Karon Noi.
Kamala Beach, Hat Kamala is a large beach approximately 16 km (10 mi) north of Patong Beach. The beach is undeveloped with coral reefs on the north side and surfing in the low season. It is a tourist beach in the high season and a sleepy seaside Muslim village in the low season. There is a market on Wednesday and Friday nights, as well as a weekly Saturday market.
View Point (จุดชมวิว) is located midway between Nai Harn and Kata Beaches. Kata Noi, Kata, Karon, and Ko Pu can be viewed from this point.
Laem Phromthep (แหลมพรหมเทพ) (Phromthep Cape) is a headland forming the extreme south end of Phuket. "Phrom" is Thai for the Hindu term "Brahma", signifying purity, and "thep" is Thai for "God". Local villagers used to refer to the cape as "Laem Chao", or the God's Cape, and it was an easily recognizable landmark for the early seafarers traveling up the Malay Peninsula.
Wat Chalong (วัดฉลองหรือวัดไชยธาราราม) is where stands the cast statue of Luang Pho Cham, who helped the people of Phuket put down the Angyee, or Chinese Coolie Rebellion, in 1876 during the reign of Rama V. There are also statues of Luang Pho Chuang, and Luang Pho Cham, abbots of the temple during later times.
Phuket Pearl Farm located about one kilometer offshore from Phuket's east coast close to coconut island. Can be visited only by boat.[25]
Khao Phra Thaeo Wildlife Conservation Development and Extension Centre (สถานีพัฒนาและส่งเสริมการอนุรักษ์สัตว์ป่าเขาพระแทว) is a center for study of the environment. Its duty is to promote and distribute wildlife within Khao Phra Thaeo wildlife park. The park is forested and also conserves a number of wild animals that would otherwise have gone extinct in Phuket.
The Big Buddha of Phuket, พระพุทธมิ่งมงคลเอกเนาคคีรี (Phra Phutta Ming Mongkol Akenakiri or Ming Mongkol Buddha), is on the peak of a mountain near Muang Phuket, or Phuket town (ภูเก็ต). The image is 45 m in height and covered in white Burmese marble.
Big Buddha, Phuket
Phuket Butterfly Garden and Insect World, สวนผีเสื้อและโลกแมลงภูเก็ต is one of the very few remaining butterfly gardens in Thailand.
Old Phuket Town in Phuket town, around Thalang, Dibuk, Yaowarat, Phang Nga, and Krabi Roads. The architecture is Sino-Portuguese-style.
Phuket Aquarium is the only public aquarium in the wider region. It is recognized as a major destination on Phuket Island for both foreign and local tourists and attracts around 300,000 vositors each year. You find it easily at the southern part of Cape Panwa on Phuket Island surrounded by breathtaking scenic bays and islands. Phuket Aquarium was established in 1983 as part of the internationally renowned Phuket Marine Biological Center (PMBC), a research and monitoring station within the Department of Marine and Coastal Resources (DMCR). The aquarium provides means to communicate research results and to promote environmental awareness. Open hours 8.30 – 16.30.
Many of the outlying islands are very popular destinations for tourists, divers and snorkelers, including the Phi Phi Islands and the Similan Islands.
Getting around
Thao Thep Krasattri and Thao Si Sunthon Fair (งานท้าวเทพกระษัตรี - ท้าวศรีสุนทร) is held on March 13 every year to commemorate the two great heroines who rallied the Thalang people to repel Burmese invaders.
Vegetarian Festival or Nine Emperor gods Festival (Hokkien Chinese language: 九皇勝會,Kiú-Hông Sēng-Huē or 九皇爺, Kiú-Hông Iâ) Phuket Chinese people Call 食菜節,Tsia̍h-tshài (เทศกาลกินเจ(กินผัก-เจี๊ยะฉ่าย)) is held on the first day of the 9th Chinese lunar month (end-Sep or early-Oct). Phuket islanders of Chinese ancestry commit themselves to a 9-day vegetarian diet, a form of purification believed to help make the forthcoming year trouble-free. The festival is marked by several ascetic displays, including fire-walking and ascending sharp-bladed ladders.[26]
Ghost Festival or Phóo-tōo Festival (Hokkien Chinese language: 普渡節) Full name is Û-lân-phûn Sēng-Huē (Hokkien Chinese language: 盂蘭盆勝會) is held on the middle day of the 7th Chinese lunar month. Intrinsic to the Ghost Festival is ancestor worship. Activities include preparing food offerings, burning incense, and burning joss paper, a papier-mâché form of material items such as clothes, gold, and other goods for the visiting spirits. Elaborate meals (often vegetarian) are served with empty seats for each of the deceased in the family. Other festivities may include, buying and releasing miniature paper boats and lanterns on water, which signifies giving direction to lost souls.
Phuket King's Cup Regatta (งานแข่งเรือใบชิงถ้วยพระราชทาน) is held in December. The Kata Beach Resort hosts yachtsmen, largely from neighbouring countries who compete for trophies.[27]
Laguna Phuket Triathlon (ลากูน่าภูเก็ตไตรกีฬา) is held each December. The triathlon (a 1,800 metres (5,900 ft) swim, a 55 kilometres (34 mi) bike race and a 12 kilometres (7.5 mi) run and a 6 kilometres (3.7 mi) fun run) attracts athletes from all over the world.[28]
Phuket Travel Fair (เทศกาลเปิดฤดูการท่องเที่ยวจังหวัดภูเก็ต), starting 1 November, is usually called the Patong Carnival, from the place where celebrations occur. Colourful parades, sports events, and a beauty competition for foreign tourists are major activities.
Chao Le (Sea Gypsy) Boat Floating Festival (งานประเพณีลอยเรือชาวเล) falls during the middle of the sixth and eleventh lunar months yearly. The sea gypsy villages at Rawai and Sapam hold their ceremonies on the 13th; Ko Si-re celebrates on the 14th; and Laem La (east of the bridge on Phuket's northern tip) on the 15th. Ceremonies, which centre on the setting small boats adrift similar to the Thai festival of Loi Krathong, are held at night and their purpose is to drive away evil and bring good luck.
Phuket Bike Week is the biggest motorcycle event in Asia that is held since 1995. Motorcyclists with their motorcycles and visitors from many countries join this event in every year. The event highlights include Motorcycle Exhibition, Bike Parades "Ride for Peace", Custom Bike contests, Live Entertainment, Miss Phuket Bike Week competition, Bike accessories and Apparel from local and international venders.[29][30]
---
Luxury Villa Manager and Professional Service Team
Response rate:
100%
Response time:
within an hour
Explore other options in and around Tambon Choeng Thale
More places to stay in Tambon Choeng Thale: