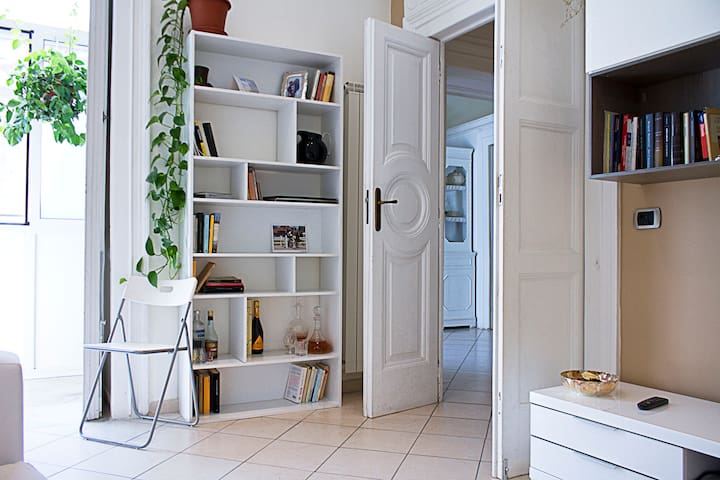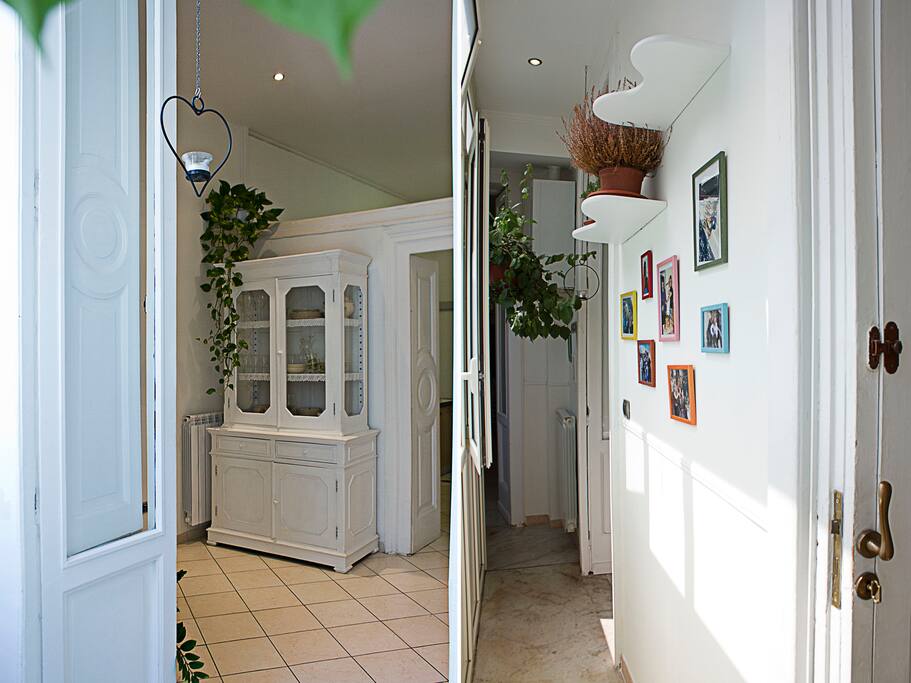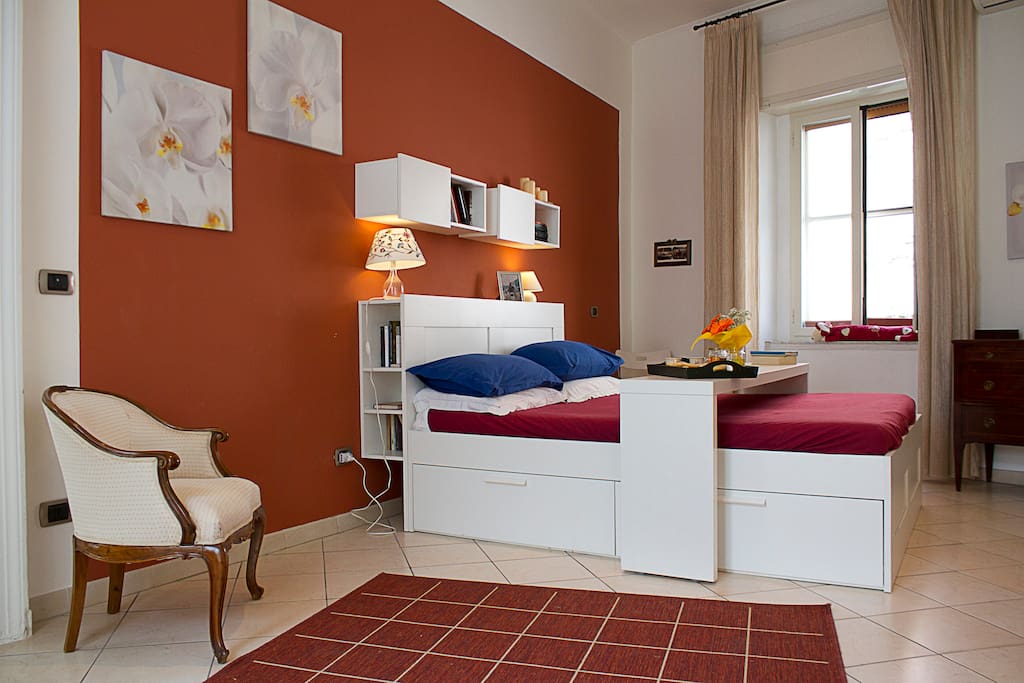 About this listing
---
Check In: Anytime after 2PM
Room type: Entire home/apt
---
---
Extra people: $23 / night after 2 guests
Always communicate through Airbnb
To protect your payment, never transfer money or communicate outside of the Airbnb website or app.
Learn more
---
The space
Hello everybody!
This is a lovely flat of 2 double rooms (120smq), a confortable livingroom, one big bathroom with shower and bath + a small service bathroom (without shower ), a full equipped kitchen over looking the lively and folkloristic neighborhood known as "Quartieri Spagnoli".
The flat is really quiet and very central at the same time, and provided with an additional iron gate that you close at night so it is very safe.
The apartment is elegantly furnished and composed of an entrance, a large bedroom (with double bed), a sitting room with a comfortable sofa bed, and a single folding bed for children (with wheels to be placed where you prefer). The kitchen is large and equipped with all appliances, a smaller bathroom with toilet and sink and another larger bathroom with shower and bath.
Bed linen and towels are always available new and sanitized.
In ten minutes walk through the typical narrow little street of Naples, resounding with vendors voices showing you all sort of merchandises, you will reach the main street Via Toledo, the Royal Palace and the San Carlo Theater. Everywhere around you will find typical restaurants, and nice pizzerias.
Do not be afraid to wander around the narrow streets of Naples, take few simple precautions ( do not carry too much money on you, do not show handbags on the shoulder, or jewelry and expensive watches) and nothing bad will happen.
At 150 mt from the flat you can catch either the cable railways of Montesanto, bringing you to Naples' historic city centre (which is the largest in Europe,and is listed by UNESCO as a World Heritage Site) or the "funicolare centrale", witch will bring you up to the upper part of the city, named Vomero where you can visit St. Martin's Charterhouse (a former monastery complex, now a museum,) and Castel Sant'Elmo, a medieval fortress overlooking Naples.
Only one remark: although not included in the service, I please to offer my host a simple breakfast (coffee, cereals, jelly and toasted slice and cookies), because I'm glad to make my host feel comfortable, but if you are looking for more refined , maybe you have to consider a B& B accommodation instead.
This is also a gay friendly apartment,and last but not least,
we welcome with love every kind of pet.(the apartment has a small veranda equipped with cat litter, dog kennels, bowls of all kinds. We shall charge no additional cost to receive your 4-legged friends.
Upon request, a pet-sitter service can be provided.)
Have a Beautiful day!
The neighborhood
Strongly recommended !!

1.The local bread called "pane cafone" (peasant bread) , to be bought every day in the morning, at the bakery Antica Forneria located in Corso Vittorio Emanuele 242
2.The pastry shop "I sapori di Sicilia" (Sicily taste) , in Corso Vittorio Emanuele 606, everything is delicious !!!
3.For dinner and/or for a quick lunch we invite you at Pizzeria/Restaurant da "Regine dello zio" in Corso Vittorio Emanuele 283 (a small walk from the apartment) . The pizza is good (ask for pizza margherita, the original one, with nothing more than fresh tomatoes, basil, fresh mozzarella and a little olive oil ) but try also the mozzarella and ham, ask for their fried appetizers or "paccheri" (pasta) with seafood. ; it's a nice and cheap place and usually booking is useless
4.If you prefer a take away, and a very typical place to have lunch, just walk through the Spanish Quarters and take a stop at Pizzeria "Da Nennella" between Via Santa Caterina and Vico Mortelle. Saying it is a local folkloristic place is an understatement, I should add that it is colorful and vibrant. Please remember: the seats are few. If you do not want to ruin your day come by foot!
5.The best pizza in the area, da Eduardo, Corso Vittorio Emanuele 247, they deliver also at home by calling them; Tel .Don't miss a walk through the "Quartieri Spagnoli" or Spanish quarters, created in the 16th century to house Spanish garrisons . Explore this area by day, simply continuing to go down the main stairs leading to the apartment.
7.We warmly suggest a visit to the new underground station of Toledo (officially named as the most beautiful underground station of Europe in 2014) situated under one of Naples' main shopping streets, was designed by the Spanish firm of architect Oscar Tusquets Blanca and opened after some delay in September 2012. It was designed around the theme of water and light with mosaics by South African artist William Kentridge and works by Francesco Clemente, Ilya and Emilia Kabakov, Shirin Nehsat and Oliviero Toscani on display. From the apartment, you can reach the subway stop of Via Toledo, simply walking down the stairs going left outside the first main gate (the gray one), and then continuing down through the Spanish Quarters. It's only a 5-6 min walk until you reach via Toledo (main shopping street)
8.The Borbonic tunnel in via Morelli (walking distance by taking the elevator that leads to Via Chiaia); Tel : for guided tour and reservations
9.Certosa di San Martino (Italian St. Martin's Charterhouse) is a former monastery complex, now a museum. Don't miss the naval section, with superb ships belonging to the Bourbon royal family and others historical testimonies. Be astonished by the gorgeous gardens and the ancient monumental cloisters. Another section of the museum is dedicated to the Nativity "il presepe—Nativity scene—considered to be among the finest in the world. Along with Castel Sant'Elmo that stands beside it, this is the most visible landmark of the city, perched at the top of the Vomero hill that looks over the entire gulf. Take the Montesanto funicular and get down at the last stop, then follow the signs
10.The Sansevero Chapel Museum in the historic heart of Naples is a jewel of the world's artistic heritage. With its masterpieces such as the famous Veiled Christ, renowned world over for the remarkable tissue-like quality of the marble, feats of virtuosity such as Disillusion, and enigmatic creations such as the Anatomical Machines, the Sansevero Chapel is one of the most impressive monuments that the human mind has ever conceived. Take the Montesanto Funicular and get down at Montesanto then walk through the historic Centre and ask to someone
11. Napoli Sotterranea [27] Underneath San Lorenzo Maggiore medieval church. You can witness the remains of the Roman city. The tunnels served as shelters during WWII. Take the Montesanto Funicular and get down at Montesanto then walk through the historic Centre and ask to someone
Getting around
PUBLIC TRANSPORT

Public transport it's one of several issue that must be improved in Naples. Avoid buses unless you are ready to wait long time before seeing one arriving, prefer where possible funicular and subway. Apart from that, count on walking (or taking a taxi); city buses are not known for their efficiency and comfort.
•Taxis are not very expensive and remains the quickest way to get to the apartment from the airport and vice versa. Before getting into a taxi, make sure it is licensed. Licensed taxis are usually white, have a city crest on the door and a taxi number. Also, make sure it has a meter. By law, licensed taxis must display a list of pre-agreed fares in a number of languages (Italian, English, French, German, Spanish). Check the presence of such fares and agree to them before starting the journey. Most taxis accept cash only; a few of them take credit cards
The nearest taxi stop is in Corso Vittorio Emanuele (approx. in front of n. 581) – You can call them at or . You may try to reserve a taxi in Corso Vittorio Emanuele 336, but not many drivers will speak English.
•Funicolar : Naples is a very hilly city, the perfect public transport solution therefore is the funicular or cable railway. Naples has four and two of them are really close to the apartment. The famous Neapolitan song Funiculi Funicula was dedicated to them.
1.Central Funicular, connects four stations, Piazza Fuga (Vomero hill) , Petraio-Via Palizzi, Corso Vittorio Emanuele, and Piazzetta Augusteo . At Piazza Fuga, the Central Funicular station is adjacent to Piazza Vanvitelli, where there is a connection to both Vanvitelli station, on Line 1, which will take directly to the Central Station.
Corso Vittorio Emanuele stop is 600 mt far from the apartment. When you are up the stairs of the apartment , just go left.
2.Montesanto Funicular, also connect the Vomero hill with the lower part of the city Starting from the historical Centre, will take you up to Corso Vittorio Emanuele and will continue up to the Vomero district where you'll find fabulous views. Castel Sant'Elmo, and Certosa and Museum of San Martino are the major attractions you can easily reach getting down the last stop. Take it from Corso Vittorio Emanuele stop and get down at Montesanto to reach the historical centre. Montesanto station is adjacent to the subway station Line 2, leading to the Central Station.
Corso Vittorio Emanuele stop is 600 mt far from the apartment. When you are up the stairs of the apartment , just go right.

•Circumvesuviana. The best way to reach Pompei and Ercolano. Circumvesuviana railway stops at the lower level of the central train station at Piazza Garibaldi and has six routes that service the local Naples area. One route goes from Naples to Sorrento with several stops in between, including Ercolano (Herculaneum) and Pompei Scavi (Pompeii) for the ruins. You can buy your tickets at a counter there, or in the main ticket office (where you need to go to the specially indicated counter
Trains are pretty frequent (there is one each 20 minutes approx.). You can reach Pompei Scavi, the station for the ruins, in about 35 minutes out of Naples. Tickets costs 3,20 € each
for more info
When you get off the train turn right and you'll find the main entrance to the ruins just a couple of minutes' walk along the road.
For Sorrento: the train employ around 60 minutes to cover the distance Naples - Sorrento and the cost of the ticket it is of around 3,00 euro.
•Subway any subway stations are regarded as fine examples of contemporary architecture and artistic urban decoration, being part of the Stazioni dell'Arte project. They are generally safer than the other public transport, because they are always monitored by cameras and security officers
Line 1
Runs from Central Station to Piazza Dante (Archeological Museum) to Piazza Vanvitelli ( connection with Central Funicular) then into the north-east suburbs
13 metro stations transformed into works of art, with the most recent on Via Toledo being named one of The Daily Telegraph's most impressive undergrounds in Europe.
From the apartment, you can reach the subway stop of Via Toledo, simply walking down the stairs going left outside the first main gate (the gray one), and then continuing down through the Spanish Quarters. It's only a 5-6 min walk until you reach via Toledo (main shopping street)
If you want to reach the central station, you can take the Montesanto Funicular (600 mt on the right in Corso Vittorio Emanuele), get down at Montesanto stop, turn the corner, ask for the subway stop, take the line 2 and get down at Central Station (only 2 stop).
Or you can take the Central Funicolar ( 600 mt on the left in Corso Vittorio Emanuele) , get down at the last stop in Piazza Fuga, ask for the adjacent subway station of Piazza Vanvitelli, take the subway Line 1 and then get off at Central Station.
Line 2
is an urban, mainly underground service between Central Station and Pozzuoli . Stops in Montesanto . (adjacent to the funicular ), Piazza Dante (Archeological Museum) , Piazza Cavour (Historical centre) and Piazza Amedeo ( shopping centre + movida) , Mergellina (seafront)
There are over 500 outlets in Naples listed as places where you can buy tickets, typically bars and tobacconists. You can also buy at Metro, Funicular and train stations where there are ticket machines.
Buy tickets at a newstand or tabacci shop!! The nearest to the apartment is in Piazzetta Cariati . (upstairs the apartment, turn left, walk along Corso Vittorio Emanuele and you will find many) The funicular/subway stations may well have a machine that dispenses tickets as well, but most of the time it doesn't work or give the rest!
Single Journey Ticket – 1,00 € valid on as many lines as you want (Bus, subway, funicular) only once.
Single Journey hourly Ticket – 1,50 €valid for 90 minutes, you can use it on as many lines as you want (Bus, subway, funicular) only one ride each.
Day Ticket – 3,50 € Valid for unlimited rides on the calendar day the ticket is stamped
Unico Artcard - 3 Day Tourist Pass Including Public Transport For Naples
The card gives you access to art and culture sites in Naples and throughout the Campania region (museums, archaeology, contemporary works, places of sacred art, underground tours and theatres) and use of the public transport system. Online ticket at:
•Ferry .
The part of Naples port where the ferry services and cruise ships dock is referred to as Molo Beverello. It is very much in the city Centre. The majority of boats heading for Capri and Ischia and Sorrento depart from Naples' Molo Beverello and Calata Porta di Massa (which is the adjacent dock) . High speed ferries depart from Molo Beverello (journey time: circa 50 minutes). Ferries and slow ferries depart from Calata Porta di Massa (journey time: 60 and 80 minutes, respectively)
Molo Beverello is located in the Piazza Municipio, almost directly opposite the city's 'Maschio Angioino' castle, whilst Calata di Massa is located about a kilometer to the east (facing the sea). A complimentary shuttle service links the two ports. High speed ferries depart from Molo Beverello Ferries and regular and slow ferries all depart exclusively from Calata di Massa.
High speed ferries are faster and slightly more expensive than regular and slow ferries. Single tickets from Capri to Naples cost circa 18.00 euro. Regular ferry tickets cost approximately 13.00 euro.
It takes 30 minutes to reach Sorrento. From the port of Sorrento in few 2 minutes with yellow bus, you can arrive in the center of Sorrento
Unfortunately the subway station of Piazza Municipio is still under construction, so if you don't want to take a taxi from the apartment, you can only walk down the stairs outside the apartment and keep going down crossing the Spanish Quarters, and keep going down, crossing the castle, until you will reach the port. It's a 20-30 min walk downhill.
•Hop and Off
The main terminus for the popular Naples hop on, hop off open top sightseeing buses is Piazza Municipio. Walk down the stairs outside the apartment and keep going down crossing the Spanish Quarters, and keep going down, until you reach the castle Maschio Angioino. That one is Piazza Plebiscito. CitySightseeing Napoli (, offers multilingual city tours in open-top double-decker buses. The 'Art Tour' and 'Bay of Naples' tour depart every 45mins from Piazza Municipio. Tickets (valid 24hrs) cost €22 for adults, €11 for under-15s and €66 for families of five.
At weekends, there's a 'San Martino' tour from Piazza Municipio every 2 hours. Hop on and off as you like.
•Parking
Naples it's not a car friendly city. No free parking at all and private garage are always full and very expensive . Two private garage at a walking distance from the apartment.
1)Autostazione Aurelia –
Corso Vittorio Emanuele, 374 (close to the Montesanto funicular stop) – Tel Approx 25 € per night – They are often full, so call before or pass by to ask if they are willing to keep your car. They may not speak English.
2)Garage 594 - Car Park
Corso Vittorio Emanuele, 594
Approx 25 € per night – They are often full, so call before or pass by to ask if they are willing to keep your car.)Blue lines on the road mean residents park free and visitors pay (€1-€2/hr) at the pay-and-display machines. Elsewhere, spaces are up for grabs – though look out for signs saying passo carrabile (access at all times), sosta vietata (no parking) and disabled parking (marked off with yellow lines). 'Zona rimozione' (tow-away area) means 'no parking', and is valid for the length of the street or until the next tow-away sign with a red line through it. If a street or square has no cars parked in it, assume it's a no-parking zone.
Illegal 'parking attendants' operate in many areas, offering to look after your car for €1 or so. The safest solution is to use pay parking.
---
Check in is anytime after 2PM
Thank you in advance for being good guests and observing the following House rules:
FIRST OF ALL ENJOY YOURSELF, BE HAPPY AND FEEL LIKE HOME!
Less important rules:
-No crazy parties or noise so you are respecful to neighbours
-No one other than the people who booked the flat shall occupy the flat
-Leave the flat reasonably clean throwing out your rubbish : )
-Switch off lights and heating/air conditioning when leaving the flat each day or out during the day to conserve energy
-Do not remove anything from the flat
-Inform me when leaving if you have broken or damaged anything
We understand some things are likely to get damaged (like glasses etc) and will be sympathetic and dont charge you off for this.
Finally, I want you to have a lovely time in our flat and will do everything I can to make you comfortable or help you on your journey and holiday planning. Thank you in advance for booking with me. Happy holiday ! : )
---
This host has a Moderate Cancellation Policy
Cancel up to 7 days before your trip and get a full refund. Cancel within 7 days of the trip and get a 50% refund of the nightly rate, as well as a full refund of fees.
---
Great location-- in the fun-to-explore Spanish Quarter, but just enough on the edge that it feels very safe at night. Prompt communication from Gaia, fast wi-fi, and super-spacious (well over 1k sq. ft.)
---
A lovely apartment exactly as represented in the photos and description provided by the host. Access is reasonable, down a shortish and manageable flight of steps off Corso Vittrio Emanuele. While it is situated above the Spanish Quarter with its cacophony of noise and activity, the apartment is quiet, and a welcome retreat after busy and tiring touring of Naples, and environs.
---
Great apartment in excellent location. Central to the old town and with easy access to the port, we found this to be a favorite stay of ours. The apartment is large, spacious and very comfortable. The walk up the hill from The city was challenging but very enjoyable and we had a great time in Naples at Gaia's place.
---
Naples, Italy

·

Joined in May 2013
Ho 40 anni, mi ritengo una persona colta, ben educata e piena di interessi. Mi piacciono gli animali, la natura in tutte le sue forme e praticare sport soprattutto se all'aria aperta.Le priorità della mia vita sono un lavoro stimolante, le buone amicizie, l'amore di chi mi sta vicino e viaggiare .
Response rate:
100%
Response time:
within an hour
Exact location information is provided after a booking is confirmed.
Explore other options in and around Naples
More places to stay in Naples: