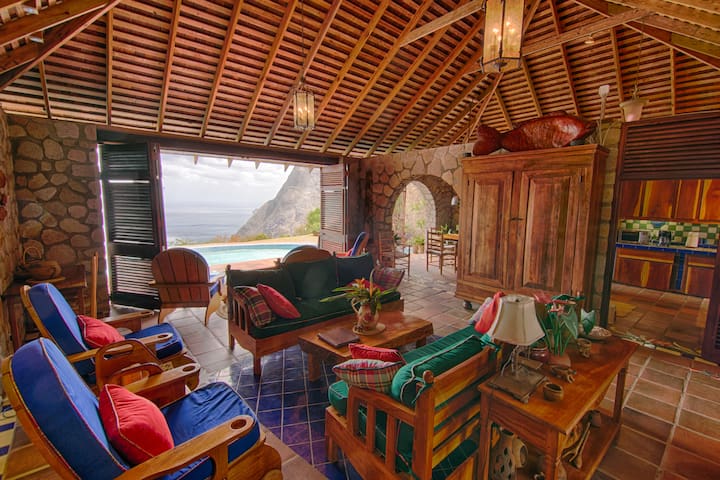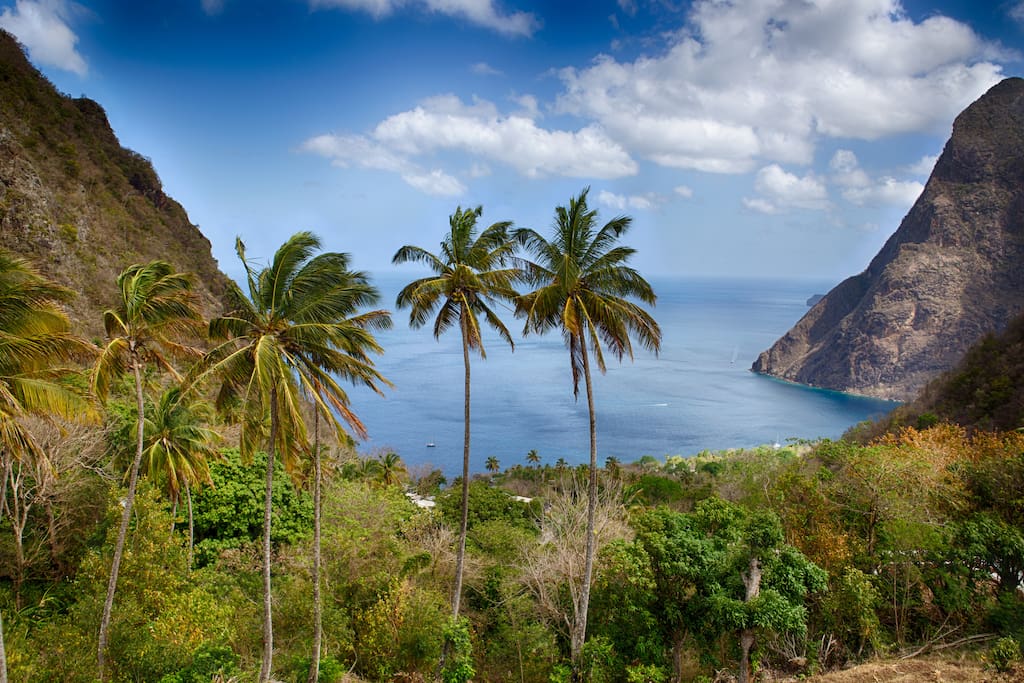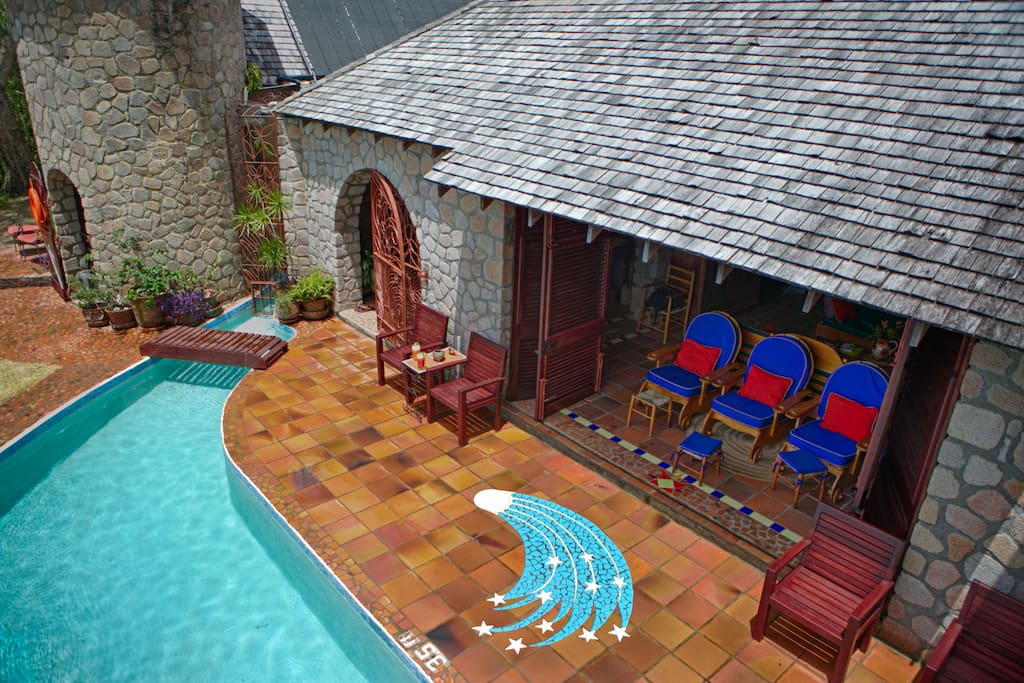 Villa Piton Caribbean Castle
Built by John DiPol, designer of the world-famous Ladera resort, Villa Piton elaborates on the open-aired concept toward a stunning culmination in a refined experience of the Island's natural splendor; and all while cultivating intimate privacy.
The space
It is certain, this is a place unrivaled. We owe tribute for the architecture to the American designer, John DiPol, who built the Villa Piton as his masterpiece and private residence.
Employing DiPol's trademark "open air"-concept, the home expresses its rich surroundings by fusing the lush natural landscape with native St. Lucian materials and furniture to engender a space without bounds.
The natural gray St. Lucian granite and Greenheart woodwork rise gently from its place, high upon the ridge between St. Lucia's most celebrated Pitons, as if nature had intended it.
Outside the home, DiPol's vision of rolling rooflines and louvered Greenheart Jalousie doors combine sweeping openness with absolute privacy. Subtleties in the architecture play upon the old French mill design, preserving the villa's Old World heritage within its Caribbean overtones. Throughout the inside of the villa the red cedar, greenheart and granite stone couple effortlessly with hand-laid terra cotta tile floors, colorful traditional Italian mosaics and local woodcarvings and sculpture art, adding color and texture to compliment the design.
Guest access
As our guest you have access to all the public spaces within the villa itself and the one acre grounds and lawn. The only locked space is the garage and one small owners closet.
Interaction with guests
Our villa staff includes Mary our cook and housekeeper and her brother Gregory, the gardener and pool person. How you choose to allow them access during your stay is your wish. Mary can cook for you if you like or you can do this yourself. If you're honeymooning or celebrating an anniversary, you might wish to have privacy all week. Or Mary can stop in one day to do laundry. You choose.
Villa Piton comes stocked with all bed linens and bath and beach towels. So the only thing you need to bring is a bathing suit and sunscreen! We also suggest a good hat and of course sunglasses!
Laundry service can be provided at a charge of $10.00per load. Mary will do her best to insure great service but guests are responsible for their own items and not hold the host responsible for any damages resulting from same.
We can provide shopping service for food to be available at the villa for guests arriving especially on Sundays when stores are closed or for those guests not wishing to be burdened by shopping on their way from the airport. The service charge for this shopping and delivery is $40.00US. We do not provide the service but rather contract it out and thus do not benefit from providing this service to our guests.
Other things to note
We will help you arrange your arrival shuttle to Villa Piton or provide driving directions if you choose to rent a rental car from HEWANORRA airport. We highly recommend a rental car during your stay and will help you with the details and make that simple as well. For example, you can have a rental car delivered to Villa Piton the evening of your arrival or the next morning, which ever you prefer. We can help with either! We like to work with Ben's West Coast Jeeps. We offer cooked meals as a service by our cook and housekeeper Mary on the night of arrival or any night of your stay for a cooking fee of 30EC ($12.00US)per person. You provide the groceries, local fresh caught fish or vegetables, and Mary cooks and cleans for you at the equivalent of $12.00 per person per meal. This too makes the arrival process easy and relaxing! Ask about menu options when you speak with us and we'll be happy to arrange a local dinner prepared as you like it! If your arrival is scheduled for a Sunday please be aware mostly all stores are closed for food shopping and we recommend having us procure your groceries to stock the fridge and kitchen! The fee is $40US plus grocery invoice.
Villa Piton has Internet service which can be at times interrupted by the fact that our service provider actually wired it on coconut trees! Because of this fact sometimes service is interrupted. The equipment inside the villa is three state of the art WiFi hubs. This normally provides good service everywhere. The router is provided by our Internet provider and is also new.
There are no bath tubs in any of the three baths at Villa Piton but rather hand tiled showers. Three showers in total in three bath rooms.
---
---
Not safe or suitable for infants (Under 2 years)
Check in is anytime after 3PM
Simply treat the Villa as if it were your home.Respect the wildlife, the geckos and frogs especially as they live there year round! Respect the neighbors in spite of not being able to see them. Music and loud noise should stop after 10:00PM. If we receive complaints we reserve the right to terminate the rental early.
If you book with a smaller number of guests than you show up with we reserve the right to terminate early without refund.
---
If you want a slice of absolute paradise, it does not get any better than Villa Piton. This house is all that is pictured, yet surreal in its breathtaking beauty in person. Everyone on the island knows this house and of its special design and placement. The home's loving and creative open-air design, its beautiful pool, details like the "Villa Piton" bath products provided and fully-outfitted kitchen make this place the complete package for a special trip to beautiful St. Lucia. I must commend Kermit, who responded to my many questions and requests for recommendations for a special birthday we were celebrating. We had a snafu at immigration and I texted him while standing there and he called me immediately. He's by far the most responsibe host we have ever had. And the staff at Villa Piton, led by Mary - they made us feel cared for from start to finish.
---
Kermit's property is a true gem. If you are considering a trip to St. Lucia, the Villa Piton should be your number one choice. Kermit is an amazing host who answered all my questions before and during the trip. He even helped us reschedule our trip when a hurricane cancelled our flights. The property is absolutely stunning and is kept in great shape. Mary, the cook and housekeeper, and Gregory, the groundskeeper, took care of everything during our stay. They check in with you each day to see if you need anything and respect your privacy if you would like the property to yourself. Some suggestions if you are planning your trip: -Rent a jeep from Ben's rental car company. They work with Kermit and the staff will pick you up from the airport and drop your rental car off whenever you want it. They'll also stop at the grocery store with you so you can stock the fridge for your time there. (Or Kermit's staff will grocery shop for you for a small fee.) We had a coconut smash our windshield while we were driving from the villa to Soufriere. A rare occurrence but Ben met us on the road with another car within a half hour and we were on our way. The roads are narrow and curvy but you will get used to it over the course of your stay. -Have Mary cook you a meal at least once. She is an amazing cook and made enough sides that we had leftovers for the rest of the trip. -If you want a true beach day, head over to Anse Chastanet. We visited Sugar Beach which is a short drive down the hill from the villa but the beach has a small area for visitors outside of the resort. We found Anse Chastanet is less crowded and more relaxing. -Use bug repellent. Mosquitoes are not an issue but sand flies really seemed to be attracted to us while we were out. Kermit and his staff made our honeymoon unforgettable. The property is stunning and the pictures can't even do the view justice but it was the kindness from everyone we met that really made our trip truly special.
---
Experience of a lifetime! This place has one of the most captivating views of anywhere in the world. The staff is excellent and really cares about your stay here. We were "stuck" here when the airport closed for Hurricane Maria and were fortunate enough to have our trip extended for four additional days. The house is solid and nestled between the Pitons, so we felt very safe. Kermit also explained where we could find a personal bottle of wine he had left here, which was great because all the stores were closed for a day. There is lots to do: snorkeling and boat rides down at Sugar Beach, hiking Gros Piton (don't need a car to get to the trail head from the villa,) dinner at Dasheen (spelling?) Restaurant, and more. We plan to come back for our anniversary in the future!
---
Villa Piton is incredible! It was so relaxing swimming in the private pool while overlooking the Pitons. The views here are breathtaking. I recommend renting a 4-wheel drive Jeep or SUV to help navigate the roads. The best part of Villa Piton is the location. Not only do you have access to the best views on the island but you are also close to fun activities like Sugar Beach, ziplining, volcano mud baths, horseback riding, hiking, waterfalls and more. The chef, Mary, cooked us delectable authentic meals. Greg helped keep the yard and pool clean, not to mention showed us how to open a coconut! Both are incredibly kind and shared fun tips and information about the island. I highly recommend Villa Piton over a resort. With Villa Piton you get stunning views, privacy, friendly staff and a true authentic experience. Kermit, thank you for everything - the best Airbnb we have stayed at!
---
My wife and I spent three wonderful days at this amazing villa. We have traveled extensively and we have never seen a more beautiful location. The villa has an amazing open design that allows guests to enjoy the spectacular view from almost any room. The weather was perfect, warm with a pleasant breeze that made for comfortable days relaxing in the sun and restful sleep at night. Mary, the cook served us a delicious lobster dinner our first night and a local dish the second night. The kitchen was well equipped, and the villa provided every modern convenience to include a whole-house stereo system that allowed us to enjoy our favorite IPad music throughout the villa and pool area. We would make this our top AirBnB recommendation for couples or families looking for a getaway to paradise.
---
Kermit's home is stunning. My husband and I went for the first half of our honeymoon and LOVED the location. We truly felt like locals living on the mountain. The house has an amazing view, sunsets are incredible from the pool, and waking up every morning to the sunrise without even having to leave bed was awesome! We took advantage of being so close to Ladera, the mud bath at Sulphur Springs Park, and hiked the Gros Piton. We also recommend going to the restaurant at Stonefield Resort for their Caribbean BBQ night and trying the salt fish and green bananas at Fond Doux Estate. Mary cooked for us our first night there - mahi mahi, rice, lentils, salad, and a fruit salad. It was one of the best meals we've ever had. And we had so many leftovers we were able to eat it again for lunch the next day. We rented a car from Ben's West Coast and they were fabulous. I was very nervous about driving in Saint Lucia before our trip, but it was not bad at all once you have an idea of how to get to and from Villa Piton. Overall, we had the best start to our honeymoon and can't wait to be back one day!
---
We stayed here for 6 nights - and it was absolutely wonderful. The house is amazing and exactly what we were looking for in a vacation. As other reviews have mentioned, the views can't be beat. It feels very secluded and I would agree has the best views of the Pitons and St. Lucia. The house sits on top of a ridge line between the two Pitons - and you can easily walk down to the trailhead for climbing Gros Piton from the house (located in a small village nearby). You have to pay to climb - $35 a person - pricey but I'd still recommend it. We also did the Tet Paul Nature Trail - which is rather short but worth checking out for the awesome views of the island. You can spot where the villa is from this trail - and it just highlights how this place is so perfectly located. I absolutely recommend renting a jeep - the roads aren't difficult to navigate and you get used to driving in St Lucia really fast. We ended up going down to Sugar Beach several times - it was nice to get drinks down there. I was not a huge fan of their food. But on the food side - Mary's cooking was awesome (we had her cook twice for us - she was great and very accommodating!). We ate at Boucan (Hotel Chocolat) for lunch and dinner - absolutely recommend this place. Ladera was great for dinner, and going their for drinks at sunset was definitely a highlight! We ate at Martha's Table one day for lunch - this is a must go to place for lunch. Some other recommendations from our trip - get the Anse Chastanet day pass - while the views at Sugar Beach are amazing, going to Anse Chastanet is more suited if you want a "beach vibe" kind of day. We did the Mystic Man sunset tour - we didn't get the best sunset the night we did it - but it was still worth it. Seeing the island from the water was worth it. I really can't emphasize how much we enjoyed St Lucia and Kermit's home - we'll definitely be back!
---
A manufacturing jeweler for 37 years, I collect Mid Century Modern furniture and fine art. I was President of the Keith Haring Foundation for 20 years. Live and work in Pennsylvania. Enjoy German cars and cameras too!
Response rate:
100%
Response time:
within an hour
Explore other options in and around Soufriere
More places to stay in Soufriere: