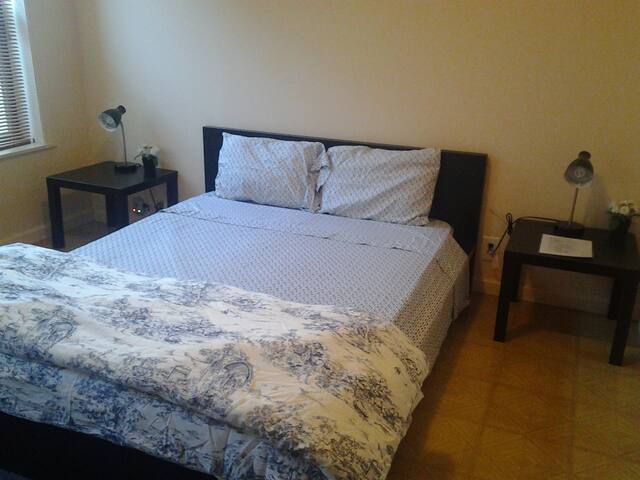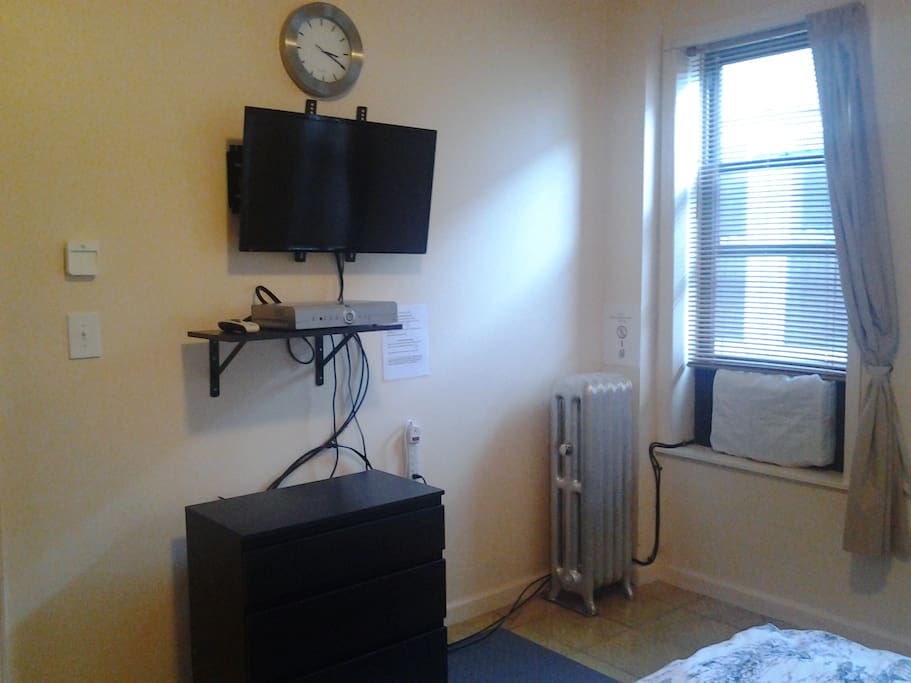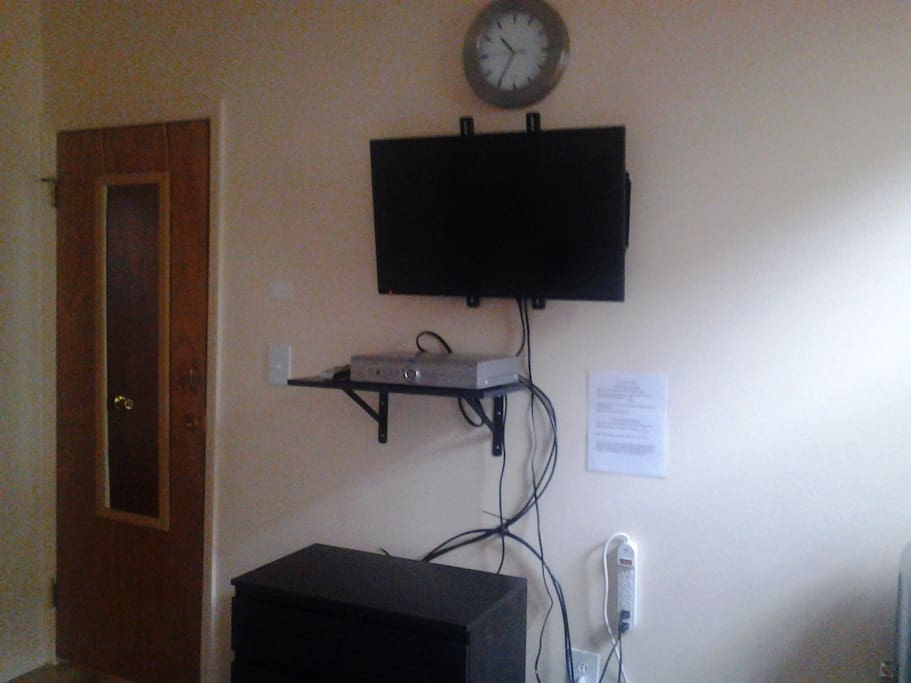 Levite Alms' haven in Brooklyn, NY
The apartment is a private two bedroom apartment on the second floor with one bathroom, a kitchen, and a living room. It is not shared, only with those whom one would choose to travel with. $93 for the first two (2) Guests.
---
This listing has essential business travel amenities.
---
Check In: Anytime after 3PM
Room type: Entire home/apt
---
---
Extra people $35 / night after 2 guests
Always communicate through Airbnb
To protect your payment, never transfer money or communicate outside of the Airbnb website or app.
Learn more
---
Violations of these House Rules could result in Guests' forfeiture of the Security Deposit.
No tolerance for disrespect. No sleeping on the love seat/couch, it isn't intended to substitute for a real bed. There is no extra charge for the use of an airbed. No tolerance for illegal drugs within premises. NO SMOKING. No pets allowed. Please, do not take, destroy, and/or discard menus for restaurants and/or advertisements that are placed within the apartment. The maximum amount of nights to stay within the apartment is eight (8) nights. The maximum amount of people to stay within the apartment is four (4). The rate is $93/night for the first two (2) guests. If there are more than two (2) guests per night then, an extra payment of $35/night is required for each additional Guest.
$93/night (Su-Sat) without Airbnb fees. The cleaning fee is $50. The Security Deposit is $230. If there is anything damaged within/without the building and/or apartment then, partial or none of the deposit will be returned. Damage also consists of SMOKING within the building and/or apartment.
Movies or events that aren't free, a Guest can view it through contacting the Host and requesting the exact title with the channel number to be viewed; no pornography. The Host must be paid in advance with cash for the amount of the paid event or movie, including tax. A receipt will be given.
The maximum amount of people to stay within the apartment is four (4) if there is more please, appropriately arrange it with the Host. The maximum length of nights to stay within the apartment is eight (8), if a guest requests to stay longer please, appropriately arrange it with the Host.
Check-in is at 3 PM (15:00) and check-out is at 11 AM (11:00). Please, give a specific arrival/departure time to/from the apartment to ensure that the Host can make the proper accommodations.
No parties. No drunkenness within premises. Please, try to be tidy. Please do not use bath towels, wash cloths, or hand towels provided within the apartment to remove make-up. If so, a Guest will have to pay to replace any towels or cloths used for make-up. Make-up removal wipes are provided. Please, inform Host if there will be more than four visitors for confirmed guest(s). The stove is connected and fully operational so, make sure all burners on the stove are turned off when not in use and do not leave the stove unsupervised while in use. On Sundays, garbage is thrown out. On Wednesdays, garbage and recycling are thrown out. If you have any garbage or recycling, you can leave it in the hall near your apartment door. There are extra black garbage and white recycling bags on top the refrigerator. For safety reasons, please let me know immediately if there is a problem with anything within the apartment/building. Please do not take it upon yourself to correct/fix any issues within the apartment/building. In the case of an extreme emergency (such as water/gas leakage, heavy smoke, fire, or etcetera), access within the apartment must be acquired with/without guests' permission or prior notification. If there is a need for immediate emergency assistance, there is a Fire Station less than two (2) minutes away from the apartment. A First Aid Station is provided within the apartment.
In order to be lodged effectively, there must only be the amount of people reserved with light travel luggage.
The apartment is not suitable for children under 12 years old.
The apartment is not shared, only with those whom one would choose to travel with. The Host and her family live in their own apartments.
Check-in is at 3 PM (15:00) and check-out is at 11 AM (11:00).
For a walk through tour of the apartments, go to YouTube and type in search Levite Alms' Haven. For other available apartments, please search Levite Alms' haven to check availability and inquire. For a brief visual tour of the neighborhood, please type in search Levite Alms' Neighborhood;please view the video(s) in conjunction with the listings' Guidebook. For more info about the neighborhood and Levite Alms, search Levite Alms. For info about the crime in the neighborhood, please search Spot Crime Brooklyn (not all neighborhood borderlines are accurate) or NYC Crime Map; 75th Precinct. Zoom in to view crime per location. East New York is greater than 2 square miles. The 75th Precinct oversees the largest area in Brooklyn (greater than 3 square miles); 183,000+ residents; and not only East New York but, multiple neighborhoods/subsections. East New York is not the entire 75th Precinct.
Thank you!
---
---
---
---
We initially booked another accommodation but that former host cancelled the day before our arrival and we had to find a new host very quickly ! Jennifer&Gertrude literally saved our trip ! They answered very quickly and were so nice and understanding! They sent us an email prior to our arrival with all the contact and transportation information to make our arrival as easy as possible. We received a very warm welcome from Gertrude and her family. She was very helpful and kind. She was also very flexible: we arrived late at night and Gertrude stayed up to wait for us and made the ckeck-in process very easy. The place was perfectly clean, very spacious and comfy. Gertrude was really a perfect host. She texted us almost every day to make sure we had everything we need to enjoy our trip. She was very thoughtful and provided snacks, milk, eggs, juice, bottled water, coffee, bread, tea as well as toiletries like razors, toothpaste, hair dryer etc. She also gave us tips about the place and there are maps and useful info provided in the apartment. We could also use Wifi along with tv's in both bed rooms and a phone that was connected to Gertrude's apartment to facilitate communication between us. The apartment is located 3 – 4 blocks away to a direct train to Manhattan (lasts 40 mn or so). However, we used cabs every day. Indeed, two cops advised us to do so when we asked directions in the subway, just to make sure we won't have any issues in the neighborhood.
Response from Jennifer & Gertrude:
Hello Elisabeth, Thank you for your kind words; it's greatly appreciated and has aided us in our maturity. The primary thing we hope people who are reading this will absorb from this response to you is; don't assume any or everyone is providing appropriate guidance. When police officers who don't reside in the neighborhood and conceive a bias due to propaganda, which leads to ignorance, no one will obtain factual knowledge. We encourage all readers, hosts, and guests, please do your own research about a community and utilize common sense. For example, we mention in our description that," For info about the crime in the neighborhood, please search Spot Crime Brooklyn (not all neighborhood borderlines are accurate) or NYC Crime Map; 75th Precinct. Zoom in to view crime per location". Before anyone leaves their location to arrive at ours, they can take a moment to observe our crime statistics. No information is precise and exact but, the source of information we offer is a small gesture to enable an individual's quest for knowledge. If anyone patiently read all of our reviews he or she will discover that none of our guests (most or all have used the transit system) have ever encountered an issue with anyone within the community. Also, in our description, we mention that, "If someone has concerns/discomfort/fears/anxieties about the Host, the neighborhood, and/or something else, please feel free to ask during, initial inquiry or anytime afterward. If not, please neither inquire nor make a reservation. I don't want to waste my time, my family's time, and yours". In reality, with what's going on in the world today nowhere is actually safe from, "issues". Thanks and God bless! Jennifer and Gertrude
---
Very spacious place! Gertrude was very nice. The hosts provided snacks, milk, eggs, juice, bottled water, coffee, bread, and tea. They also provided toiletries like razors, toothpaste, face wash, hair dryer, feminine products, etc...very thoughtful! Quiet neighborhood with fast and easy access to the L subway train (to Manhattan). We were very happy with our accommodations and would stay here again in a heartbeat.
---
We were very disappointed with our stay. The host was very inappropriate and should be able to host a dog she never less be responsible for someone vacation experiance. These people were impossible. My friends daughter is here for school and caught the bus to come visit and they were hounding us regarding a 4 person charge. When my friend told Mr. Gertrude she would pay, she was OK then when she came accusing us of smoking in the room and this was untrue. My sister has and oxygen machine in the room so really, smoke never. This host we enter your room without you permission and ruined my first night in NY. The daughter does not disclose that the area is disgusting and has trash up down the street. Its filthy and unkept neighborhood and very scary at night fall. I would not recommend this place to anyone who likes fun and fabulous. Run!!!!
Response from Jennifer & Gertrude:
When Syreeta and her friend first came, they claimed they were "scared" and wanted to leave. Then after a little while, they decided to stay and their other friend arrived. After a long check-in, Syreeta's two friends were hanging outside of the building smoking at dusk. My mother smelled an unusual odor lingering in the hallway so, my mother told Syreeta about the odor and to not smoke within the building. That night Syreeta with her two friends were outside for more than an hour hanging out in front of the building, and again the friends were smoking. At one point one of her "scared" friends threw a plastic bottle in our garden in front of the building. After waiting, another friend joined them and eventually, they all left to go. At around 3 AM these "scared" guests returned to the premises with an additional person. All four stayed the night even though, Syreeta only paid for three. My mother and I went upstairs that morning after 10 AM to inquire about that fourth person. My mother was immediately discomforted by a very strong odor from the apartment. It didn't smell like cigarettes. My mother asked about smoking within the apartment. That fourth person immediately started to become loud and verbally belligerent towards both of us; denied smoking; and was being dismissive. I was also discomforted by this odor. My mother and I found it difficult to talk to them within the apartment. My mother and I then, decided they all had to vacate the apartment and we returned to the apartment to tell them. Upon returning my mother and I were witnessing one of Syreeta's friends WASHING HER ARM PITS in the KITCHEN SINK! My mother asked, why? Then, the fourth person asked, "why are you up in people's business?" Then, that's when Syreeta and two of her friends became verbally abusive; loud; and came close-up into my face. Curse words were not withheld from them. After the police came, my mother called them, to the premises they allowed Syreeta and her three friends time to vacate the premises; which they took more time. The cops had to be called back. We immediately assessed the apartment after their departure. Tobacco leaves were in the recycling bin and in paper towel; green residue on our information sheet and a green piece/ball of something was found on the floor in the front bedroom (we suspect marijuana); the iron was left on and face down on the ironing board. The milk boxes, we provide, (with milk in them) were cut and there was a full carton of eggs, we also provided, were all broken which, we had to completely remove from the fridge. They were leaking in the fridge. One air conditioner is no longer functioning even though, it was in use earlier by the guest when we first confronted them. The list goes on. Thank you and God Bless.
---
My mother and I working together to provide an affordable place of goodness and well-being. Our family incorporates a Christian-based philosophy and more in our approach to our service towards others.
Response rate:
100%
Response time:
within a few hours
Explore other options in and around Brooklyn
More places to stay in Brooklyn: