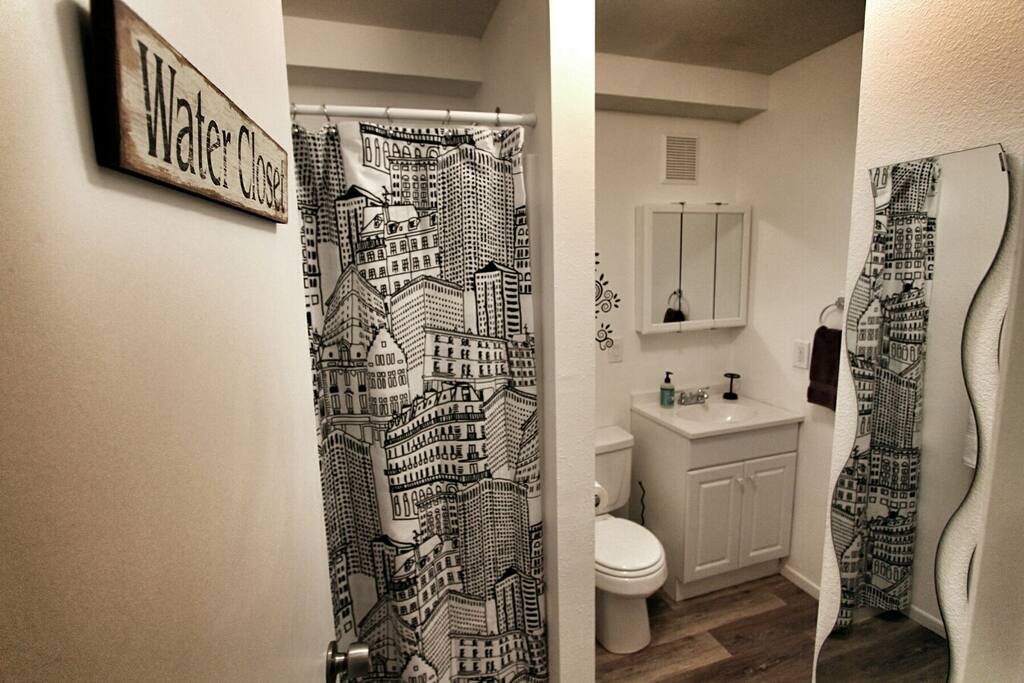 About this listing
Intrigued by Echo Park? OK with walking/driving up a HILLY street? If you appreciate an 81/100 "Very Walkable" score (we're .6 mi /.9 km 11 min walk to Sunset Blvd) with PLENTY OF OPTIONS: restaurants, bars, shopping, coffee shops & music venues... and you won't be bothered by the building's exterior - unremarkable with little charm - because you'll be spending your day exploring LA... and you appreciate the value of a simple, clean place to sleep! Then keep reading!..
---
Check In:
Anytime after 2PM
Room type:
Entire home/apt
---
---
Extra people:
$10 / night after 2 guests
---
The space
"My favourite moments were when we soaked up the culture of the local community, there's some great cafés, bars & vintage shops & Echo Park Lake was just beautiful." - our Guest (review)
NOTE: If you're looking at our listing ON YOUR CELL PHONE, you're likely NOT seeing any information beyond "The Space." To read about our LOCATION, feel free to ask me to message you (or jump on a computer for easy viewing) the section called "The Neighborhood" (Overview & Getting Around), as well as the sections "Guest Access" and "Interaction with Guests." ...Thank you!
Your own private, SMALL studio (210 sq ft. / 19.5 sq meters) accommodates up to three people in a bunk bed setting. Aside from the bathroom and short hallway, the 'living' area - kitchenette, dining table, bunk bed space - is the size of a small bedroom (approximately 12 feet by 10 feet; 120 sq ft. / 11 sq meters). The bunk bed has a twin mattress on top and a full-size futon below with a very comfortable gel memory foam topper. If one or two people are staying, the top bunk could be used to store bags. *There is very limited space for suitcases.*
NOTE: We DO NOT have WiFi listed in our AMENITIES!...
If you can live without great wi-fi service (ours is spotty), which the nearby coffee shops can provide, and can look beyond not having cable TV, we hope the little extra benefits we do provide - like a beach bag with towels for relaxing days, a hair blow dryer for fun nights, and a cork screw to unwind with your bottle of wine at the end of it all - will help make your trip memorable!
"The space is clean, well equipped, silent (we had the best sleep) and close enough to everything but far enough away that you aren't directly in the madness that is LA." - our Guest (review)
KITCHENETTE includes:
* 2 gas stove-top burners allow for basic cooking
* mini fridge inside the bottom left cabinet
* sink with dish soap, a sponge, a dish drying rack & a hand towel
* coffee maker (filters & mason jars with coffee & sugar are provided)
* tea kettle (assorted tea bags in an above cabinet)
* plates, bowls, glasses, coffee/tea mugs (set of 3 each)
* utensils (set of 4 spoons, forks, knives), plus 2 small chopping knives
* salt & pepper, napkins
* medium size pot, frying pan, pot holders & oven mitt
* cooking utensils, measuring cups, can opener & a plastic mixing bowl
* cutting board, collapsible colander, multi tool with corkscrew
* two small plastic tupperware
* fire extinguisher inside the top, left cabinet
NOTE: There is NO microwave and NO oven.
BATHROOM includes:
* bath, face, and hand towels & a towel rack
* toilet paper, bath & hand soap, a blow dryer
* half-size shower (no tub)
* hooks for hanging your stuff & a medicine cabinet for small item storage
...Shower INSTRUCTIONS: turn knob all the way On, then work your way back to the Off position to get hot water. (This should be done before you step into the shower!)
...A delicate WARNING regarding the toilet: it is a low flush toilet and will clog easily if you use too much toilet paper, or if any product other than toilet paper is flushed.
COAT CLOSET includes:
* hangars with space to hang your clothes
* a shelf above and a drawer below for additional storage
* a beach/tote bag with beach towels which you may borrow, since I prefer that the bath towels do not leave the apartment
* a box fan
* 2 small and 1 large (extra) blankets in the bottom drawer
DINETTE TABLE: wood slatted table with two folding drop-leaves which allow you to adjust the table size according to your needs (it is also fully collapsible). There are two folding chairs for seating.

TV: 37-inch LG flat screen with access to some local channels (reception is spotty), and an included HDMI cable that allows you to stream online content from your laptop. Please do not remove the HDMI cable!
NOTE: We DO NOT have cable TV.
WINDOW: There is one window in your studio. It has a privacy blind (a white blind that can be pulled down and latched), as well as a bamboo blind (as seen in the photos) to allow partial privacy as well as some sunlight. The actual window can be opened to allow fresh air, but only as far as the wood dowel will allow... The dowel should remain in place; it is there to protect the tv's antennae, which is taped in the window. The window gets indirect sunlight, strongest between 3:00-5:00 pm and looks out past the driveway at the bushes and trees between our neighbor's backyard.
** AMENITIES that we DO NOT provide include:
no wi-fi, no cable tv, and no heat...
...We would like to cater to travelers who do not have wi-fi or cable tv high on their list of priorities. Which means that you will not penalize us in your review (or our Value rating) for not providing a service that you know IN ADVANCE we do not have listed in our Amenities!
...Los Angeles has a temperate climate almost year-round so a heater isn't usually necessary; our coldest months tend to vary between October and February, however our "winters" are quite mild and we do provide extra blankets (bottom drawer of coat closet).
Guest access
Detailed information on how to find your studio room will be in your Airbnb Itinerary (upon confirmation of your reservation)!
...Your studio is located on the bottom floor of a 4-unit, two level apartment building. The building is located on a hilly, dead-end street. The entrance of your studio is in a short hallway, one door down from the building's small laundry room that you will have access to as well. (You'd need laundry detergent and quarters to operate the machines; $1 wash and $1.25 dry)...
An FYI (Noise Awareness) regarding the Laundry Room facility: Since your studio is next door to the laundry room, you will hear when tenants are using that facility. We do not own or manage the building and unfortunately have no control over the laundry room's 24-hour accessibility or a tenant's choice to do a late night wash.
Detailed information on PARKING will also be in your Airbnb Itinerary!...
* There is easy, free and unrestricted street parking on our hilly, dead-end street; our guests have not yet had a problem finding a spot to park.
* If you prefer not to park on the hill, the bottom of our dead-end street is flat (2 houses down from our building).
* The parking area in the back of the building is STRICTLY for tenants only; please do not park there, not even temporarily!
Interaction with guests
I always try to be available (depending on my work schedule) to personally check you in, show you the space, and answer any questions you may have about the surrounding area, places to see, things to do, etc.
We (my boyfriend and I) also live in the building and yes, the exterior is no-frills with little charm ...although I do hope you enjoy my small urban garden outside your studio!... and what the building lacks in charm, we try to make up for in hospitality. I take my time to communicate with Guests prior to your arrival as well as when we meet. We appreciate our Guests and try to be of best service to you! I believe that ACCURACY is the cornerstone for an OVERALL HAPPY EXPERIENCE so I strive to give you as much information as possible, especially prior to your booking confirmation, to be sure our LOCATION will work for you, and that our studio is up to your expectations and suitable for your needs.
NOTE: I work music events and will not always be able to answer calls or check messages during an event. I always try to reply back as soon as possible.
In the event neither my boyfriend or I are available to personally check you in (which I would discuss with you prior to your arrival)... I've left a folder with ideas for THINGS TO SEE AND DO in Los Angeles, along with my HOUSE MANUAL binder (which has everything you'll need to know about the studio) on the table in your room.
Your ITINERARY (sent by Airbnb upon confirmation of your reservation) has my tips with very important information that can help you PLAN A TROUBLE-FREE ARRIVAL! It includes specific information regarding:
- TRANSPORTATION options to get to/from the airport cheaply!
- CHECK IN/OUT including how to find our building and your studio room!
- PARKING in our area!
The neighborhood
"The surrounding neighborhood was quiet, adorable and a delight to walk through to get to the many coffee shops, restaurants and retail stores on nearby major streets." - our Guest (review)
Echo Park is the perfect blend of city living in a quiet, walk-able, and eclectic neighborhood that has long been home to Latinos, artists & hipsters. We are in close proximity to Dodger Stadium, Elysian Park, Chinatown, and downtown LA.
Our LOCATION is highly desirable among locals in Los Angeles, and because Echo Park has a certain urban seediness to it, it can be hard to understand if you're not from L.A. But locals love it because it's eclectic and artsy and (to quote the Huffington Post) "its rough past is probably what gives the city so much character!…Echo Park is still a bit too raw for full-blown gentrification, but then again, that's what makes it special."
...We have a 5-STAR "LOCATION" rating for a 2nd room IN THE SAME BUILDING, so if you're intrigued by Echo Park and appreciate our Walk Score (81 out of 100 "Very Walkable") and our proximity to Sunset Blvd (11 minute .6 mile walk) with PLENTY OF OPTIONS for restaurants, bars, shopping, coffee shops and even a few music venues!... and don't mind that we're on a HILLY dead-end street and the exterior of the building is an unremarkable orange/yellow color with little charm, because you'll be spending your day actually exploring LA!... And you understand the value of a simple, clean place to sleep, then keep reading!...
"This spot felt very safe, comfortable, and clean, but it also allowed us to feel like locals. The location was really perfect. It didn't take us very long to get anywhere we wanted to go, and there was a lot we could do within walking distance." - our Guest (review)
Sunset Blvd (.6 mile / .9 km, 11 minute walk):
This is where most of the RESTAURANTS (15+), BARS and music venues are located in Echo Park - too numerous to list but I've pinned them in my GUIDEBOOK within this listing. PLENTY OF OPTIONS!
Coffee shops in Echo Park:
* Chango Coffee (.4 mile / .6 km, 8 minute walk)
* Blue Bottle Coffee (.6 mile / .9 km, 12 minute walk)
* Taza (.6 mile / .9 km, 12 minute walk)
* Stories, Books & Cafe (.6 mile / .9 km, 12 minute walk)
* Tierra Mia Coffee (.7 mile / 1.1 km, 14 minute walk)
* Woodcat Coffee Bar (.8 mile / 1.2 km, 15 minute walk)
...If you'll be on the go with no time for a leisurely coffee break, then Lassen's health food store on Sunset Blvd. (.7 mile / 1.1 km, 12 minute walk) also has a great, cheap cup of coffee for about $1.50!
"There is a lot of cool stuff within walking distance: from vintage hunting to club hopping. Echo park is a great area of town!" - our Guest (review)
Music venues in Echo Park:
* The Echo (entrance is on 1822 Sunset Blvd) & downstairs is a larger venue, the Echoplex (entrance is in the alley at 1154 Glendale Blvd.); approximately .6 mile / .9 km walk. It was voted a Top 5 music venue in LA by Filter Magazine and is home to local music events, dance nights and touring acts.
* Lot 1 Cafe (.8 mile / 1.2 km, 16 minute walk) is a casual eatery & live music venue that serves breakfast entrees, burgers, craft beer & sandwiches.
Echo Park Lake (1 mile / 1.6 km, 20 minute walk):
This is a great place to spend a leisurely afternoon or evening. You can rent a paddle boat, jog, stroll around, picnic, or just people watch.
1300 Carroll Ave block:
Near Echo Park lake but technically in Angelino Heights; developed in the mid 1880's, this street consists of Victorian era homes, some of which were used in popular tv shows (Mad Men, Charmed) and music videos (Michael Jackson's Thriller).
Grocery Stores in the area:
* Lassen's (.7 mile / 1.1 km, 12 minute walk) more expensive health food/organic
* Vons (.6 mile / .9 km, 11 minute walk) grocery store with small deli section
NOTE: In the interest of accuracy with regard to our location - the apartment building is on a HILLY dead-end street in the middle of a neighborhood... And if you think our street is hilly, you really should check out Baxter St. a few blocks away!...
"...situated in a beautiful, tranquil and yet very accessible part of town. It is a short walk to important amenities as laundromats, highly rated restaurants, cafes and an organic supermarket." - our Guest (review)
NOTE: If you are visiting other areas of Los Angeles outside of Echo Park, please keep in mind that LA itself is a sprawling city (not very walk-able, and lacking in good public transportation); having a car is recommended. And because LA is a large city with lots of traffic, I always recommend that Guests STAY CLOSE TO WHERE THEY WILL BE SPENDING MOST OF THEIR TIME!
Getting around
For guests with vehicles, Echo Park is centrally located near the 2 freeway, 5 freeway, 10 freeway, 110 freeway, and 101 freeway.
Note: While sightseeing in Los Angeles, always read the street signs before you park, and do not park at red curbs; parking enforcement in LA is ruthless!
Approximate miles/km and minutes from our building to nearby locations by car (it will be DOUBLE THE TIME WITH TRAFFIC!):
- LAX Airport: 20 miles / 32 km, 25 minutes without traffic
- Santa Monica Pier: 18 miles / 28 km, 25 minutes without traffic
- Venice Beach: 20 miles / 32 km, 30 minutes without traffic
- Beverly Hills: 11 miles / 17 km, 25 minutes without traffic
- Universal Studios: 8 miles / 12 km, 15 minutes without traffic
- LA County Museum of Art (LACMA): 7 miles / 11 km, 20 minutes
- Hollywood: 6 miles / 9 km, 12 minutes without traffic
- Griffith Park Observatory: 4.5 miles / 7 km, 12 minutes without traffic
- Downtown LA / Staples Center (Lakers, Clippers, LA Kings): 3.5 miles / 5.5 km, 10 minutes
If you do not have a car...
* LYFT & UBER (pool or UberX is cheapest) are both available in L.A.
* BUSES are cheaper, but ride times are very long in most circumstances (1.5 hours to the beaches versus a 30 minute car trip, depending on traffic). There are a few Metro bus & Dash bus stops near us, mostly located along Sunset Blvd or Glendale Blvd (.5 mile / .8 km walk).
* SUBWAY: There is not a Metro (subway) station within walking distance; the closest one is 2.6 miles / 4.2 km, a 51 minute walk (Vermont/Beverly station), so an Uber/Lyft ride to a Metro station would be recommended.
Union Station (a beautiful transit hub with Mission Revival/Art Deco architecture, opened in 1939) is 3 miles / 4 km away and offers local & regional transportation via subway, light-rail or bus, as well as long distance service via Amtrak. An UberX ride to/from our building to Union Station costs approximately $5-7.
** The "Discover Los Angeles" website has a good overview of the public transportation system.
** The "Time Out Los Angeles" website has GREAT information on events, activities, and things to do in the area!
** Tap To Go has info on public transportation cards you can use on buses or trains (you upload the value). TAP's participating transit systems are listed on their website.
Other things to note
Out of respect for our neighbors, we prefer guests who are quiet!... There are only 4 other apartments in the building, and we have really great neighbors! Your studio is below one of our neighbor's who happens to work from home; please be courteous regarding noise level.
---
* The #1 Rule: PLEASE READ ALL THE INFORMATION IN MY LISTING! Here's why... 1) you will know whether our LOCATION & studio room will meet your expectations and be suitable for your needs, because 2) having that information should leave you with NO surprises during your stay with us, which should result in good reviews for us because you'll know EXACTLY what you're getting :) and finally, 3) it will save me time not having to answer questions that are already answered within!
Other than that...
* Smoking is not permitted inside.
* Please do not light any candles inside.
* Respect the neighbors; mind your noise level!
* Be respectful of our space, and tidy up after yourselves.
* We do not allow any extra people in the studio without prior permission (no gatherings or parties please).
---
---
Los Angeles, California, United States
·
Member since January 2015
Response rate:
93%
Response time:
within a day
Explore other options in and around Los Angeles
More places to stay in Los Angeles: