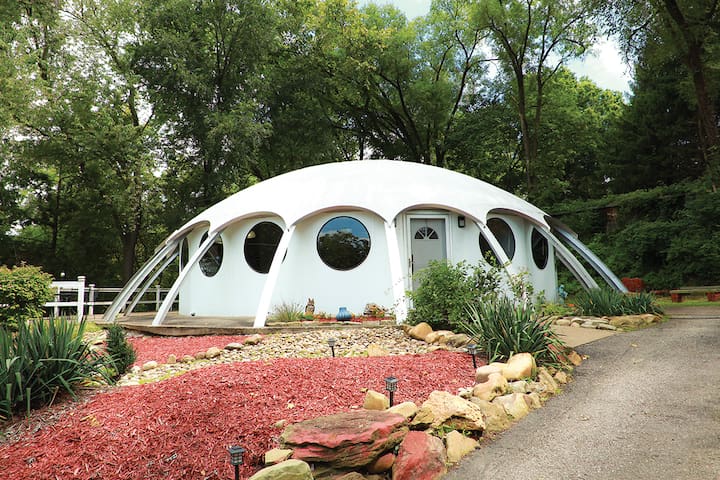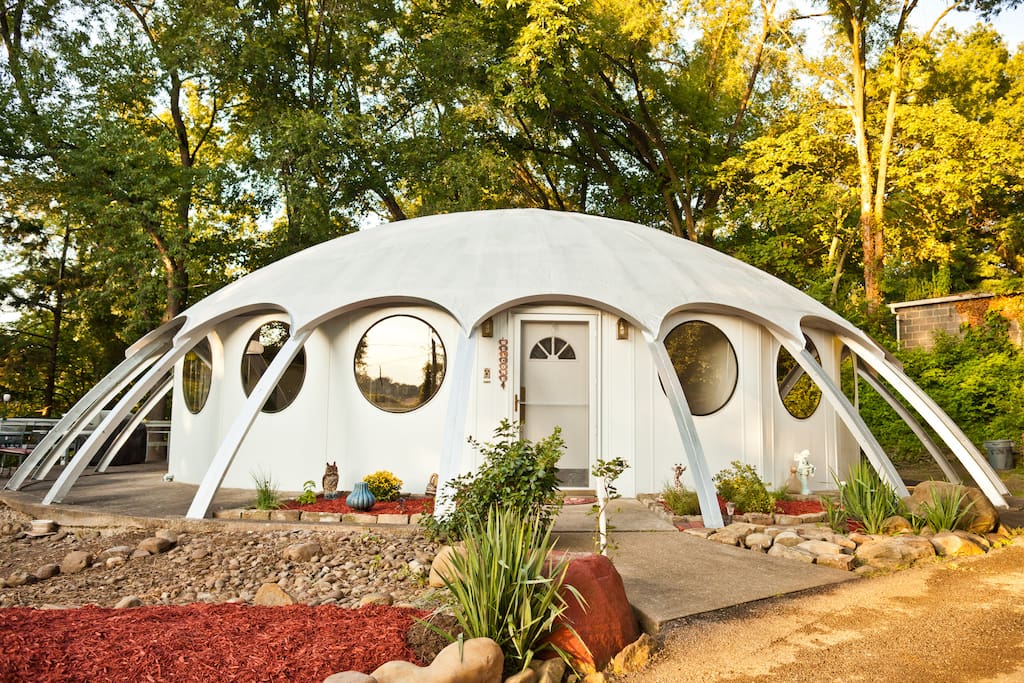 Entire home/apt
6 Guests
3 Bedrooms
3 Beds
About this listing
"Love Where You Sleep" with our new mattresses & pillows from the highly rated Nest Bedding.
Our dome was featured in the Oct. 2014 issue of Pittsburgh Magazine (the article "Dome away from Home" can also be viewed online).
Is it a spaceship? A yurt? A tent? No, it's a Yaca-Dome! And it's not just any old Yaca-Dome, it's the original Yaca-Dome!
---
Room type:
Entire home/apt
---
Kitchen
Space where guests can cook their own meals
Essentials
Towels, bed sheets, soap, and toilet paper
---
Extra people:
$15 / night after 2 guests
---
The Space
This unique home was built in 1969 by Pittsburgh native Joseph Yacoboni, who received a US Patent in 1975 for the construction method. The house was designed to withstand earthquakes and 250 mph hurricanes...not something we here in the 'Burgh normally have to worry about!
• PLEASE READ THE ENTIRE LISTING BEFORE SUBMITTING AN INQUIRY OR A BOOKING REQUEST. Answers to many questions you may have can be found here.
• By reading all of the information we've made available here and by asking in advance any additional questions you may have, you can arrive with realistic and reasonable expectations regarding:
- our House Rules and policies
- the dome itself and the available amenities
- transportation options (we very strongly recommend that guests have a car, as our dome is not in a walkable neighborhood; Uber and Lyft are also viable options).
- proximity to attractions, shopping, dining, and other neighborhoods; the listing's map includes a shaded circle that indicates the general area in which the home is located.
• Please don't book without reading the listing and then leave a negative review based on unrealistic expectations that resulted from your failure to read the listing. Yes, we and other hosts we know have unfortunately hosted a few guests who have done just that... something that any reasonable person understands says far more about those particular guests than it says about the hosts and their listings.
• Feel free to read our reviews and to ask us if you have any questions or concerns regarding a comment made in a prior guest's review.
• If you and/or others in your traveling party are expecting luxury or a place where everything is shiny, new, and perfect, or if our dome isn't in an area you want to stay in, then please do all parties involved a favor and don't book with us.
• But if you're looking to stay in a unique and sometimes quirky home that is within the city limits but feels more secluded, our dome may be perfect for you!
• Our dome is NOT located in a posh neighborhood or a sterile/sanitized/homogeneous cookie-cutter development.
• As our dome is a very unique vintage property that contains mostly vintage furnishings, the dome and furnishings do display some age-appropriate wear. We've made various updates and improvements over the time we've had the dome, and plan to continue doing so as time and finances permit.
• This listing's Airbnb Verified photos reflect the furnishings and decor at the time of the Airbnb photo shoot (August 2013), and the other photos have been taken at various time since then. Please note that furnishings and decor are subject to change at our discretion. The desk (shown in some photos) is no longer in the home, the bed linens have been updated, and various other minor changes have been made.
Guest Access
You'll be staying in one of Pittsburgh's most unique homes. Only 26 Yaca-Domes were ever built; ours was the first one built, and it's also the only Yaca-Dome in this part of the county.
We recently installed new Nest Bedding mattresses and pillows in our dome's 3 bedrooms. Nest Bedding's motto is "Love Where You Sleep" and we do believe that our guests will love these super comfy mattresses and pillows! Nest Bedding's high quality mattresses and pillows are eco-friendly and are made to order by hand right here in the USA.
Features of our dome include:
• WiFi access
• Central heat/AC
• Master Bedroom- King bed with Nest Bedding's Alexander Signature Series mattress in medium firmness, 2 Nest Easy Breather pillows, 2 regular pillows, nightstand with lamp, chest of drawers, dresser with mirror, 2 chairs with a side table and lamp, clock radio, closet, and ceiling fan/light.
• Middle-sized Bedroom- Queen size bed with Nest Bedding's Alexander Signature Hybrid mattress in medium firmness, 2 Nest Easy Breather pillows, 2 regular pillows, 2 bedside tables with lamps, chest of drawers, chair, closet, and ceiling fan/light.
• Smallest Bedroom- Full size bed with Nest Bedding's Love Bed mattress in medium firmness, 2 Nest Easy Breather pillows, 2 regular pillows, side table, narrow chest of drawers, floor lamp, and table fan. There is no closet in this room.
• Bathroom- the dome has 1 bathroom, and it contains a vanity sink, tub/shower combination, Kohler Rialto toilet (low profile), blow dryer, scale, towel rack and towels
• Living room- vintage MCM sofa and matching chair with open wood frames, vintage coffee table and 2 matching end tables, vintage table lamp, floor lamps, overhead light, and a vintage console that holds a TV (it is a "smart TV" however you must use your own account if you want to log into Netflix, Amazon video, or similar services... it is also connected to HBO and Comcast's Digital Economy cable channels, which is a VERY basic package)
• Dining Area- vintage 1960's Italian tubular metal and glass dining table with 4 matching chairs (wooden chairs are stored in closet for use if you've booked for more than 4 guests)
• Kitchen- 5 burner gas range w/ convection oven, side by side fridge, microwave, automatic drip coffeemaker, Bodum French press, tea kettle, toaster, waffle iron, basic cookware, dinnerware, cutlery, other assorted kitchenware, a fresh kitchen sponge, a dish towel, and potholders. Please note that the refrigerator is NOT hooked up to a water line; however, you can buy a bag of ice (or make cubes in the ice trays) and pour it into the bin of the ice maker, which then can be used to dispense cubed or crushed ice thru the door.
• Patio- outdoor dining set with 4 chairs
• If you need another chair or two outside due to having booked for 5 or 6 guests, use the wooden chairs from the closet. Those wooden chairs are the only indoor furniture that you are permitted to take outside, and you are to bring them back inside promptly after each use.
• DO NOT EVER under any circumstances take the metal indoor dining chairs, or any interior furnishings other than the wooden dining chairs, outside!
• Do not rearrange our furniture.
• Iron and ironing board (stored in closet)
• Bed linens- the pictured comforter sets have been replaced with duvets with duvet covers and matching pillow covers. Each bed has 4 pillows; to minimize allergy issues, all pillows and the duvets are free of down or feathers. If additional warmth is needed, there is a blanket for each bed (blankets can be found stored in the closet during warmer months).
• Bath linens- for stays of 4 nights or less, we supply a set of 2 bath towels and 2 washcloths per registered guest; also provided are hand towels and a bath mat. We will provide additional bath linens for longer stays.
• We provide a starter supply of coffee, tea bags, sugar, powdered creamer, salt, pepper, coffee filters, paper towels, trash bags, recycling bags, dish soap, shampoo, body wash, liquid hand soap, and toilet paper.
If your traveling party includes children, infants, and/or individuals with mobility issues, please note:
• the home is not child proofed and there may be cleaning chemicals and other potentially hazardous household items that are not out of reach of children; the booking Guest and other adults in the group are responsible for supervising children at all times
• we do NOT provide cribs, playpens, highchairs, or any other baby gear
• we do not provide toys, games, or other items to keep children entertained
• the home's beds are pretty high; it is the responsibility of the booking Guest to determine prior to booking whether the beds are suitable for the needs of all traveling party members
• there are not grab bars in the bathroom
• the home's toilet (Kohler Rialto) is not an ADA height toilet

Please note that there are some items and areas at the property that guests are not permitted to access as they are reserved for our personal use. Thank you in advance for respecting our privacy, and for ensuring that all traveling party members and invited visitors (including children) also do so. The following areas and items are off limits to guests:
• the outdoor storage shed
• the furnace room
• a small indoor storage room
• the items stored in a few cabinets/drawers/shelves labeled "NOT FOR GUEST USE" that are reserved for our personal use
• anything that is locked
Please be aware that 3 of the home's electrical outlets are controlled by switches. Specific information regarding the location of these switch-controlled outlets, and the switches that control them, can be found in the House Manual (which will be included on the Airbnb itinerary that is generated after you book).
• WE PERMIT A MAXIMUM OCCUPANCY OF 6 PEOPLE (including children and infants, regardless of their proposed sleeping arrangements).
• All individuals who will be on the property for ANY amount of time must be paid for (regardless of their size or age) and are to be accounted for in the total number when you send a booking request.
• We offer our home for use only by the registered guests whose names have been provided to us and who are included in the guest count as shown on the itinerary that Airbnb generates for us once a booking is made.
• For liability reasons, we do not permit any unregistered guests to be on the property.
• No pets are permitted on the property. Our "No pets" policy is NOT negotiable.
• Please respect our right to decide how we allow our home to be used and how many people we feel our home can safely and comfortably accommodate.
Please note that there are no laundry facilities at the dome. The laundromat we recommend to our guests is The Laundry Factory; it is located on Ellsworth Avenue in Shadyside, and is a 10 minute drive from the dome. The Laundry Factory is open 7 AM to 9:30 PM daily and offers self-serve coin operated washers and dryers, drop-off laundry service ($1.35 per pound) with same day service available to noon Monday through Friday, and dry cleaning services. For guests who will not have a car, we could discuss arrangements for pick up and drop off of laundry for a small additional fee.
Interaction with Guests
• Before you submit a booking request, please send a message to tell us a bit about yourself, the makeup of your traveling party, and the general purpose of your trip. Like many Airbnb hosts, we prefer to know these things before we consider accepting a booking request for this home, and we're more likely to accept your request if you have a fully completed profile which includes a clear and recognizable photo of you.
• Please note that you will not be able to complete the booking
process until you have verified your ID via Airbnb's Verified ID process.
• Usually it will be Lisa who answers Airbnb messages, meets you at the dome for check in, and serves as the primary contact during your stay.
• You are responsible for contacting us in advance to coordinate a mutually agreeable arrival time.
• We schedule check in times between 4 PM and 8 PM. Depending on the circumstances and our schedules, we may agree to schedule a check in later than 8 PM, but this must be requested BEFORE the booking is made.
• Please keep in mind that we will schedule our other obligations and plans for the day based on the originally agreed-upon arrival time, and plan your travel schedule accordingly.
• Contact us ASAP if you encounter any delays that will cause you to arrive over 45 minutes after your scheduled check in time... while we will make an attempt to accommodate check in at your new projected arrival time, in order to accommodate our other obligations we may need to schedule the new check in time later than you request.
• If your plans change and you arrive in town earlier than the agreed-upon time, due to our other obligations we often won't be available to meet you earlier and/or may not yet have the house ready for you to check in.
• Upon arrival, be prepared to upon request present your unexpired US driver's license (or state-issued ID card, if you don't have a driver's license) or a valid passport, and all other guests 18 years of age or greater must also be prepared to provide the same.
• You can contact us any time for emergencies, and can call or text between 9 AM and 10 PM for non-emergency questions or concerns.
• During your stay, we may occasionally stop by the property to retrieve items from the storage shed, do some yard work, collect trash, etc.
• During your stay, we will enter the home only if we have informed you in advance, if there is an emergency, or if we have reasonable belief that the House Rules or other terms of the booking may have been violated.
The Neighborhood
Despite being within the Pittsburgh city limits, the home's location feels more secluded than you might expect. It's in a wooded area, near the end of a quiet lane. There are other homes nearby, but the neighbors are pretty quiet and low-key.
Although our dome is NOT in a walkable neighborhood (and there really isn't anything of interest nearby to walk to), shopping and dining in the East Liberty/Shadyside area and other nearby neighborhoods are just a short drive from the dome and include:
• Bakery Square (ZipCar, TechShop, LA Fitness, Asiatique Thai Bistro, Social (bar), Jimmy John's, Panera, Coffee Tree Roasters, Anthropologie, West Elm, PNC Bank, Marriott Springhill Suites...and the Pittsburgh location of the internet giant whose name airbnb won't let me post, it comes from its' founders misspelling the word "Googol")
• The Fire Side Public House
• Village of Eastside Shopping Center (Trader Joe's, McDonald's, Tuesday Morning, Staples, China Garden Buffet)
• Aldi
• Whole Foods
• Giant Eagle
• Target
• A diverse selection of popular Pittsburgh restaurants (BRGR, Casbah, Dinette, Mad Mex, Noodlehead, Paris 66, Plum Pan-Asian Kitchen, Sharp Edge Beer Emporium, Pamela's, Smiling Banana Leaf, Soba, Spoon, Sushi Too, Tana Ethiopian Cuisine, Thai Place, Union Pig and Chicken, and more.
Getting Around
BY CAR:
• One of the great things about Pittsburgh is that most places in the city are within a short drive, as the area encompassed within the city limits is less than 60 sq miles.
• From the dome, many other Pittsburgh neighborhoods are within a 10 to 20 minute drive during non-peak travel times.
• Travel during rush hour can unfortunately double your driving time.
BY BUS (not recommended):
• Considering the location of the house in relation to the major bus lines, guests staying here usually prefer to have a vehicle with them, and we also strongly recommend this. We have also had a few guests who came without a car and successfully used Uber or Lyft for all their transportation needs.
• If you are intending to rely primarily or solely on the bus system for transportation during your stay, we would suggest you not book our home.
• Although it's very easy to get from the house to most places in the city by car within a reasonable time, the bus schedules and routes often make it difficult and time consuming to travel from the house to those same places.
• Should you still choose to use the bus system, the nearest bus stop is a 10 minute walk away.
TRAVEL DURING THE WINTER:
• Guests should keep in mind that it is not uncommon for the Pittsburgh area to experience snow accumulation and icy road conditions at various times between November through March.
• While we do our best to ensure that the property's driveway and sidewalk are passable at our guests' scheduled arrival time, the lane leading to the driveway is a public roadway, and we obviously have no control over the city's street plowing schedule... please consider this if you are interested in booking during the winter months.
• We personally haven't had any problems getting in and out during the winter when using a 4WD vehicle, and also so far have been able to get in and out using a front wheel drive vehicle (Toyota Prius), but as they say "YMMV."
DRIVING DISTANCES:
Driving distances to some of Pittsburgh's many attractions and world class medical facilities are:
• Pittsburgh Zoo and Aquarium 2.5 miles
• UPMC St. Margaret Hospital 2.5 miles
• UPMC Shadyside Hospital/UPMC Hillman Cancer Center 3 miles
• UPMC Children's Hospital 3.5 miles
• West Penn Hospital 3.5 miles
• Oakland 4 miles (Pitt, CMU, UPMC Presbyterian Hospital, Western Psych, VA Hospital, Carnegie Museums of Art and Natural History, Phipps Conservatory and Botanical Gardens)
• Waterworks Mall 4 miles (Waterworks Cinema, Wal-Mart, Old Navy, Barnes & Noble, TJ Maxx, Marshalls, Bed Bath & Beyond, Giant Eagle, Burgatory, Thai Place, Eat'n Park, Chili's Grill & Bar, Five Guys Famous Burger & Fries, & more)
• Strip District 5 miles (Heinz History Center, the original Primanti Brothers location, Penn Mac, Wholey's Seafood, Stan's Produce, various restaurants & ethnic markets, great street food...a veritable foodie paradise!
• Fox Chapel Racket Club 5.7 miles
• Fox Chapel Golf Club 6.3 miles
• Shady Side Academy Senior School 6.4 miles
• Downtown/Cultural District 6.5 miles
• The Waterfront 6.5 miles (AMC Loews Theatre, The Improv, Costco, Barnes & Noble, Best Buy, DSW Shoes, Macy's, Men's Wearhouse, Old Navy, Victoria's Secret, Bar Louie, Bravo Cucina Italiana, Dave & Buster's, Mitchell's Fish Market, P.F. Chang's, Rock Bottom Brewery, Yokoso Japanese Steak House, lots of other shopping & restaurants)
• Hill District/Uptown 6.5 miles (Consul Energy Center, UPMC Mercy, Duquesne University)
• David L. Lawrence Convention Center 6.7 miles
• Sandcastle Water Park 7 miles
• Kennywood Park 8 miles (the world famous Thunderbolt & 5 other roller coasters, Potato Patch Fries, & Kiddie Land for the little ones!)
• Oakmont Country Club 8.5 miles
• North Shore/North Side 9 miles (PNC Park, Heinz Field, Rivers Casino, Allegheny General Hospital, Andy Warhol Museum, Carnegie Science Center, National Aviary, Children's Museum, Stage AE)
• Pittsburgh International Airport 27 miles
DAY TRIP IDEAS:
While in Southwestern Pennsylvania, you may want to consider visiting nearby Fayette County to tour:
• Fallingwater (Frank Lloyd Wright's masterpiece)
• Kentuck Knob (another home designed by Frank Lloyd Wright)
• Ohiopyle State Park (waterfalls, white water rafting, kayaking, biking, hiking, picnic area, natural water slide)
• Laurel Caverns (Pennsylvania's largest cave, and the only developed cave in the world having its largest rooms and passages completely in their original state)
• Fort Necessity National Battlefield (site of George Washington's only military surrender, which occurred during one of the earliest battles of the French & Indian War)
• Jumonville Glen (another French & Indian War site)
Other Things to Note
To avoid misunderstandings and disappointment RE: pricing, please note that:
• our posted nightly rates vary (see calendar for nightly pricing, and keep in mind that those amounts are the base rates for up to 2 guests)
• if your traveling party includes more 2 people, there will be an additional nightly charge for each extra guest (including infants and children, regardless of age, size, or proposed sleeping arrangements)
• rates can be seen when you enter your dates and the number of guests in your traveling party
• if the date range entered qualifies for the weekly discount (7+ nights) or monthly discount (28+ nights), that discount is already been taken into account in the total quoted by the Airbnb system
• the quoted total will also include a cleaning fee and the Airbnb service fee
If you have any questions about the rate displayed once you have entered the dates and the correct number of guests, contact us for clarification BEFORE you submit a booking request. Also, please do not submit a booking request unless your travel dates are firm and not subject to change. Once we have accepted a booking request, the only pricing adjustments or alterations that we will consider making will be requests to add nights or to include additional guests who weren't part of the original booking.
For the safety and security of the property, we reserve the right to install and utilize exterior security cameras to monitor the property. There will NOT be any security cameras operating inside the home during a guest's booking.
---
Check-in time is 4PM - 8PM.
• Check-in time is 4PM - 8PM; at least 7 days before the arrival date (or immediately upon booking if your stay will begin within the next 7 days), you must contact us to schedule a more specific 1 hour time window to ensure someone will be available to meet you at the dome when you arrive for check-in.
• Check-out time is by no later than 11 AM, unless other arrangements have been made via the Airbnb system and the applicable late check-out fee has been paid in advance. All late check out requests must be made via the Airbnb messaging system. Please submit any request for a late check out as soon as possible so payment arrangements can be made if we are able to accommodate your request. If we are able to accommodate your request, the additional fee will be as follows: $20 if requesting check out by 12 PM; $30 if requesting check out by 1 PM; and $40 if requesting check out by 2 PM. If requesting check out after 2 PM, you will be required use Airbnb's alteration tool to book and pay for the additional night if it is still available, as a departure after 2 PM would not allow enough time for us to have the dome ready in case we should receive a request from another guest for a same day check in. If another guest has already booked the dome for arrival on your check out date, depending on our schedule and the incoming guest's arrival plans we unfortunately may be unable to consider any late check out requests.
•Check out is not considered to have officially occurred until the time you have left the keys in the designated location, vacated the property, and notified us via text or the Airbnb messaging system to confirm that you have departed; while you are to vacate the property by the scheduled check out time, we do allow an additional 15 minute grace period for you to send us the notification of check out.
•If you have not notified us of your check out (as per the Check Out Process outlined above) by 11:15 AM (or by 15 minutes after the agreed upon check out time, if we agreed to a later time and you have paid the applicable fees), you will be considered an unauthorized late check out and agree that you will be charged late check out fees of $35 per every 30 minutes or portion thereof that you remain on the property beyond the agreed upon and paid for check out time; this charge will continue to accrue until the time that you have vacated the property and notified us via text or the Airbnb messaging system to confirm that you have departed.
•If you fail to ensure that all keys that were given to you upon check in are left in the designated location upon check out, you will be liable for the cost of replacing all affected locks.
•No parties or events are permitted; the property is offered for use by the registered guests only.
•All bookings made via this listing shall permit use of the property for lodging purposes only. Guests may not use the property to engage in any commercial activities. Any photographs, films, or videos taken in or of the home and/or grounds must be for personal and non-commercial use only.
• Maximum occupancy is 6 people. After the first 2 people, the listed extra person fee applies to each additional guest (including infants and children, regardless of age/size/proposed sleeping arrangements).
• Prior to or immediately upon booking, the booking Guest will provide us with the full legal names of all individuals (including infants and children) who are included in the reservation.
• For liability reasons, guests may not at any time invite, entertain, or host anywhere on the property anyone whose name has not been provided in advance and who has not already been accounted for in the guest count and paid for in the reservation.
• All adults included in the booking must be prepared to provide their unexpired US driver's license (or state-issued ID card, if they don't have a valid US driver's license) or a valid passport upon check in.
• No pets are permitted on the property, not even temporarily.
• Before you book, please make sure your arrival and departure dates are firm, fixed, and not subject to change. No refunds will be given for early departures or shortened stays.
• If you cancel your booking, eligibility for any refund will be strictly as specified by the listed cancellation policy.
• Per Airbnb's policies, third party bookings are not permitted. This means that the Guest whose account was used to make the reservation must be part of the traveling party and will remain in residence throughout the reserved period.
•ABSOLUTELY NO KEYS OR ACCESS WILL BE PROVIDED TO OTHERS IF THE GUEST WHOSE ACCOUNT WAS USED TO MAKE THE BOOKING IS NOT PRESENT FOR CHECK-IN.
• ABSOLUTELY NO SMOKING, VAPING, OR TOBACCO USE OF ANY KIND IS PERMITTED INSIDE THE HOUSE. You may smoke, vape, or use other forms of tobacco (including oral tobacco) outdoors only, and you must properly extinguish smoking materials and dispose of all waste products properly; DO NOT under any circumstances bring any of the waste products into the home. If using any form of chewing tobacco, you must provide your own sealable container for expectoration of the resulting waste products; the container must be tightly sealed while not being actively used, is not under any circumstances to be brought inside the house, and when disposed of it must be placed in the trash in a manner that ensures the contents will remain in the sealed container. No tobacco expectorant/waste products are to be discharged onto the ground, plantings, or any other surfaces on the property.
• Lighting of bonfires, grills, fireworks, sparklers, candles, incense, oil lamps, tiki torches, mosquito coils, or similar items is NOT permitted in the house or anywhere on the property.
• DO NOT UNDER ANY CIRCUMSTANCES CONTINUE PAST OUR HOME TOWARDS THE LAST HOME ON THE LANE (the home at the end of the lane is a private residence, and we expect you to respect the owner's privacy). You are responsible for ensuring that you and others in your traveling party do not in any way disturb or intrude upon the residents/premises of that property or any other homes on the lane.
• The home's WiFi network name and password are included on your Airbnb itinerary. By personally using this network and/or by sharing the network name and login info with others, the booking Guest agrees to accept full legal responsibility for any activity that occurs on the home's internet connection during the reservation period. No torrenting, P2P (Peer-to-Peer) file sharing, or similar bandwidth extensive online activities are permitted. Harassing or illegal internet activities are strictly forbidden.
• Airbnb's terms of service specify that the home is to be left in the same condition as you found it. We expect guests to maintain the house in a clean and sanitary condition during their stay. Cleaning supplies are available for guest use. Promptly wipe up crumbs, spills, drips, or cooking splatters, and sweep up any cookies and such dropped by children (or others), and mop up any tracked in mud.
• Dishes and other kitchenware used during your stay are to be washed, dried, and returned to where you originally found them.
• Place all used towels and washcloths in the provided hamper basket. Do not strip the beds, but do leave unmade any beds that were used.
• Other than toilet paper and bodily wastes, no other items are to be placed in the toilet. Place all feminine hygiene products and their wrappings/applicators, diapers, wipes, facial tissues, cotton balls or swabs, and other objects in the trash.
• Any trash that contains diapers is to be double bagged and left outside in the covered outdoor trash can prior to your departure.
• Recycling is MANDATORY in the City of Pittsburgh. If you choose to mix trash and recyclables or otherwise disregard the recycling instructions that are posted in the home and we have to sort the items, you will be subject to and hereby agree to pay a $25 sorting fee which will be paid by you via the resolution center, deducted from your security deposit, or charged to your account's payment method by Airbnb.
• Prior to departure, empty your food and beverage items from the refrigerator, freezer, and cupboards and dispose of them properly (including emptying, rinsing, and properly disposing of any recyclable food packaging). However, you may if you choose leave any UNOPENED food or beverage items behind for the next guest's use.
• Before departing close all window blinds, turn the round thermostat (heating) down to the lowest setting, and set the rectangular thermostat (AC) to 85 degrees Fahrenheit or higher. Also make sure both doors are locked and fully closed upon departure.
• Please make sure that you have returned all keys before you leave. If you fail to return all keys upon departure, you will be subject to and hereby agree to pay a fee of $50 per affected lock, which will be paid by you via the resolution center, deducted from your security deposit, or charged to your account's payment method by Airbnb. The only exception to this $50 per lock charge will be if you are able to make arrangements to IMMEDIATELY (i.e., within 1 hour or less of your scheduled check out time) return the missing keys to us at the location of our choice.
• The booking Guest (or another adult who is part of the reservation, if the booking Guest is rendered incapable of doing so) is to notify us immediately of any occurrence on the property that involves an injury requiring medical attention that is sustained by the booking Guest or other traveling party members, or that in any way involves a call to 911 and/or is responded to by an ambulance, the Police, and/or the Fire Department, and at our request shall also for our records complete and sign a written statement to document the circumstances of the injury or occurrence.
• Illegal activity of any kind is forbidden in the home or anywhere else on the property, including but not limited to illicit substance use, possession of illegal drugs or any controlled substance for which no one present has a valid prescription, and underage drinking.
• Any action that occurs on the property which results in the Police or other local authorities issuing any type of citation to Guest or other traveling party members may result in forfeiture of the entire security deposit and immediate cancellation of the remainder of Guest's reservation, and no refund shall be given for any unused nights.
• The booking Guest is fully responsible for any and all accidents, injuries, deaths, or property damages on our premises that occur either fully or partly as the direct or indirect result of use of any substance (i.e., alcohol, illicit substances, and/or any other substances that could cause mental or physical impairment) by the booking Guest or other traveling party members, regardless of whether the individual(s) involved used the substance on the premises or elsewhere. The booking Guest is also fully responsible for ensuring that anyone who consumes any alcohol while on the property does so in a responsible manner and is of legal drinking age (which is 21 in Pennsylvania).
• As the booking Guest, you are fully responsible for ensuring that all members of your traveling party are made aware of and abide by the House Rules, any conditions included in the listing, and any additional conditions specified in our communications on the Airbnb message thread. You are also fully responsible for the actions of and/or any damages that are directly or indirectly caused by the acts and/or omissions of yourself and/or by the acts and/or omissions of members of your traveling party. The booking Guest and other adults in the traveling party may be required to sign off on a printed copy of the House Rules when you check in.
• Failure to comply with the House Rules, any conditions included in the listing, and any additional conditions specified in our communications on the Airbnb message thread may result in additional charges and possible forfeiture of your security deposit. If we discover the violation prior to the end of your reservation period, it may at our discretion also result in immediate cancellation of the remainder of your stay, and no refund shall be given for any unused nights.
---
---
The minimum night stay for this listing varies.
Your Host
---
Pittsburgh, Pennsylvania, United States
·
Member since August 2012
Hi we're Azhar (but everyone calls me Lee) and Lisa. Lisa usually handles the bookings and other communications on our listings. Our listings include an entire dome home, 1 & 2 BR apartments, and Private Rooms.

Our dome has been featured in Pittsburgh Magazine, and it may be the most unique Pittsburgh property that is offered on Airbnb. It's a Yaca-Dome (we call it "the Igloo"), and it's usually available only as a whole house rental. With 3 bedrooms, the home can accommodate up to 6 guests. The Igloo offers a relaxing, private setting while still being within the city limits and close to all the great amenities and attractions Pittsburgh has to offer. Please note that this home's location is NOT a good choice for guests who plan to walk or rely on public transportation... we strongly suggest that guests here have access to a vehicle (there is free off-street parking available).

The private apartments we offer are located on bus lines that provide easy access to Oakland and Downtown. There is also free on-street parking available.

While we occasionally offer private room rentals in the Yaca-Dome or in the 2 bedroom apartment, most of the private rooms we offer are at the home we live in. In our home, you can rent individual or multiple rooms (including one room with its own private en suite bathroom), depending on availability. Our home is conveniently located near all the amenities Pittsburgh's East End has to offer, and is less than a 10 minute walk to Bakery Square/G**gle. We are also located near a CMU and Chatham shuttle stops. And if you bring a car, plenty of free street and off-street parking is available.

Lee has already added numerous green features to our houses, such as an in-floor radiant heating system (in the 1st floor and basement of the 5 bedroom house), changed all the lighting to LED & CFL bulbs, low flow water fixtures, etc. We plan to use part of our Airbnb earnings to add more green features. Ultimately, a Net-Zero house is Lee's goal. So please consider booking our places for all your needs, and tell your friends about them.

Thank you very much for your time,
Lee & Lisa
Response rate:
100%
(
past 30 days
)
Response time:
within an hour
Explore other options in and around Pittsburgh