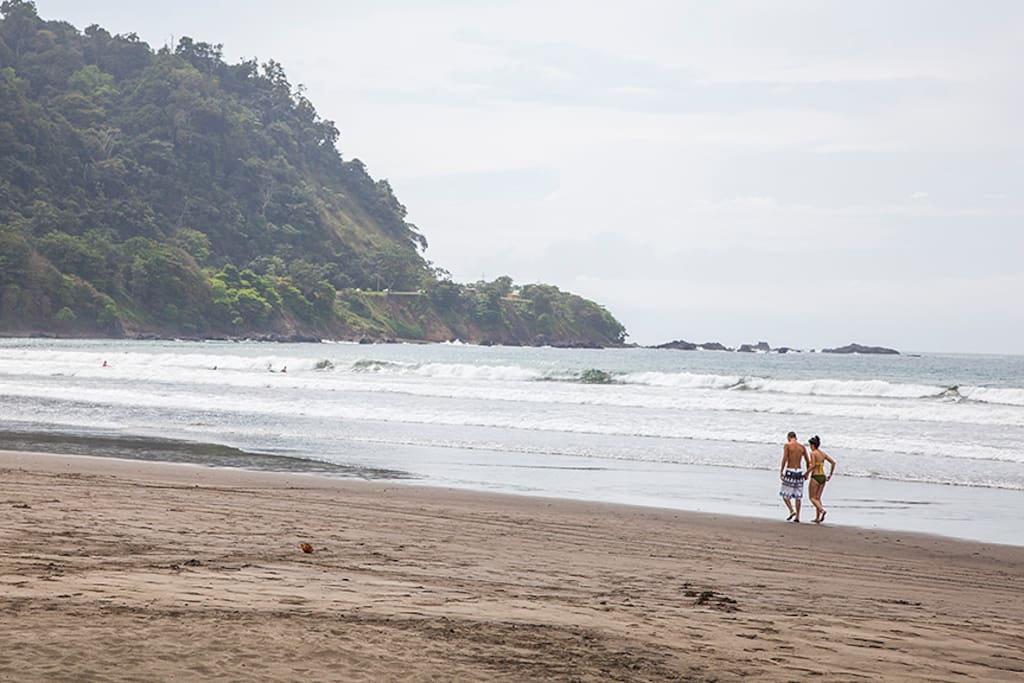 BEST BEACHFRONT DEAL IN JACO!!!
UNDER NEW MANAGEMENT and remodelled in August 2017! This is the best deal in Jaco, DIRECTLY on the beach, amazing location! Comes with Wifi, super comfy king size mattress, fold out couch and even a surf board if you want to give it a go! Easy access to town and yet out of the way and quiet to relax.
The space
This unit is DIRECTLY in front of the ocean on the south end (best side) of Jaco Beach.
- Newly upgraded
- 1 bedroom, 1 bath
- large oceanfront pool.
- One of the few units with a fully equipped kitchen!
- Fast Wifi
- Cool energy efficient AC
- SECURE gated and guarded area. You'll feel very safe here.
- Great neighbors, very helpful.
- HDMI cable connection for your Mac or PC to plug right into the TV. And a stereo hook up for your Ipod / Ipad or music devices.
- Cable TV
- a coin operated washer & dryer just outside the condo
- hot water
- Two flat screen TVs - one in the bedroom and the other in the front room with great stereo sound.
- DVD players in both rooms
- tempur-pedic mattress (sleep like you're in heaven)
- Reverse osmosis water filter (stay healthy)
- dog friendly!
There are several restaurants within very close walking distance like Hotel 9, Morgans Cove and The Point Bar & Restaurant. And its a beautiful 10 min walk along the beach into town.
There's no question this is one of the BEST values in Jaco. I will be happy to assist you in booking your accommodation and suggesting options for air transportation, booking tours, etc. I can also give you a list of restaurants and fun things to do. No need to rent a surf board one will be provided for you!
Please note to accommodate 4 people, 2 would sleep on the same bed in the room and 2 on fold out couch. The place is not massive, but the location is awesome. Book it now while its still available.
Guest access
Pool, poolside patio and entire condo.
Interaction with guests
Over phone / email and have concierge onsite when they are there.
---
---
Check in is anytime after 4PM
Self check-in with keypad
This is a family oriented place, yes you can bring the occasional guest over if you want , just be courteous of your neighbors.
Consider your environment - please don't run air conditioning unnecessarily.
This is a dog friendly place.
Enjoy your stay!
---
We arrived and we had to drive to a sushi restaurant to pick up the keys, restaurant was closed because it was a holiday... we talked with the host and he told us to jump over the fence and get the key that's inside the apartment , we got the key and when we were in the unit realized there was no power ... contact the host again and he couldn't reach the maintenance team because it was a holiday. We had to go and find another hotel because we couldn't stay here. Host needs to improve the check in and maintenance options because it's not professional and the customers are suffering. The apartment looked dated and not as good as in the pictures.
---
This was a really nice place by the beach and the room was refreshing and clean, but i had a hard time trying to reach the host, no one would answer and the info on their site is incorrect the only person who answered me was a lady who doesn't even work there anymore. Therefore no one was there to let us in and we were asked if we even tried to call them... we were late for check in that day and had to wait until someone let us in. You aren't allowed to have guests in their pool unless you actually own the condo so if your planning to be here dont expect guests to be welcomed but if its just two or one of you it should be no problem. My family came into the pool and it was only the 6 of us there no one else was swimming and my family was kicked out. I dont like the service here its not flexible but if its just two or one person with no expected company it should be fine. Other than that location, room cleanliness, and value was great. Our sink wasn't in working condition but we settled on just using the kitchen sink. I would not be staying here just because id rather have someone available at all times for check in and or questions and a place were any guest is welcomed. Not recomended unless you will not be expecting Family or a nice welcome
---
I traveled solo to Jaco, Costa Rica for a week vacation and Jame's place was perfect for me. My flight got in at night and Andres (the security guard) got my name, checked my passport and got me checked in really quickly. This place is 100% accurately pictured. It was spacious and clean and had all of the amenities you could need for a week not to mention it's right on the beach! Luckily, Mar Arena is on the part of the beach with no rocks and Tortuga surf camp is located right outside the condominium so it's super easy to book surfing lessons. Because I was by myself I walked into town (15 minutes) everyday during the day time because I felt extremely safe doing so. When it was dark, I had Andres call a taxi which runs about $2 into town. The Welcome Guidebook is a wonderful tool for restaurant suggestions and things to do. I would highly suggest booking a tour to Tortuga Island. I only had one issue with my stay and that was with the shower. The shower head was not working properly but should be an easy fix before the next guest. Overall I had a better experience than I could've hoped for. Thank you!
---
This is a great place to crash. I would not recommend it to a family that needs extra space though. The sofa pull out isn't very comfortable. Two of my kids slept on it and were quite uncomfortable... but hey, it's a sofa bed, right!?! ;) The pool was great, neighbors seemed like locals and very friendly, location to the beach was amazing. Note: this is a perfect beach for surfing. Waves were huge. Some days the waves would crash and still allow for some fun boogie boarding waters or splashing fun. I do recommend that the sofa be steam cleaned, since it has a wet/raunchy smell to it. The pillows were in horrible condition, but replaced upon our request. The shower head can also use a replacement since it seems clogged from the hard water. All in all, it was a great place to crash, but if you're looking for luxury, this isn't it.
Hi there Jessica thanks for staying.. 1 - We are having the sofa steamed clean, thank you for your feedback on that. 2 - We got new pillows so no problem there. 3 - We got new shower head. I'm glad you enjoyed it otherwise, hoping to get a 5 star review next time you come through, thank you! James
---
Pros: Location (close to the beach) Nice pool Walking distance to downtown (about a mile) Good value Cons: Lots of "extra" amenities like bikes, surf boards, etc., but lacking basic amenities like towels. We only received two for our four day stay, and there was no hand towel in the bathroom. He did bring us two additional towels when we requested them, and we purchased two more. Lack of communication: Ana was great when we originally booked it, but is no longer the property manager. The new manager did not contact us until we were on the plane in Houston. He did not give us any kind of tour of the property at check-in, and we didn't receive the wifi password until our second day after we requested it. The shower leaks so much water that only a trickle comes out of the showerhead. It was not enough to wash my hair. The bottom line is this was an okay rental, but it could be a great rental with some attention to detail and a few minor changes.
After we changed hands in management we had to get a lot of things in place.. but I hope you'll come stay with us again because we have a better process now and have heard your feedback .. New guests rest assured of 5 star treatment, thank you and again sorry for your experience.
---
Decent size one bedroom condo right across from the beach. You can see and hear the waves crashing from the kitchen window. Air conditioning worked good and the bed was a super comfortable tempurpedic. There was a pool that was open all night and the place was secure (gated) and had private parking (gated). The other people staying there/living there were all friendly and it was quiet. 5 minute drive into the downtown area of Jaco. If you want to cook, make sure you bring everything you might need. It was pretty bare bones, not that it was expected that many things be provided but just make sure you bring everything with you that you might need. There were pots, pans, utensils and ample dishes. There wasn't really a closet that you can hang stuff in…more like a shelving wall unit. Hangers were supplied and there were ample hooks to hang things on but as far as expecting a closet, not so much. Minimum towels were available. The TV's were not HD and the sound system did not work, just in case that is something that is important to you. The phone that was to be provided was in the bottom of the kitchen drawer with no charger available, so we had to add an international plan to our phone. The bike that was provided had two flat tires and the pump did not have the proper adapter for us to be able to fill it with. There were 2 beach chairs provided…..we only used one but it was pretty rusted out and barely worked. There were 2 major problems that we had. 1) The shower was horrible. The shower head did not work properly. It was a huge rain shower—shower head but probably less than 1/10th of it actually shot out water and it shot out in all directions. As a woman, needing to wash my hair….this was impossible. The only way I could wash my hair was by getting on all fours and washing it under the faucet, not on the shower setting…..or you could use the outside shower, but that was out by the pool in the public area and only had cold water (not feasible). 2) Although Andres was friendly and apologetic, there were no keys for our room or the outside gates upon our arrival. In addition, there was also no key or way to reset the safe that was supposed to be provided. We had to lug our valuables to the car every time we left the room. We arrived on a Saturday and this was not rectified until Monday afternoon and we were checking out on Tuesday. Each time we left the room, we had to leave it unlocked and hope that the security guard was available when we wanted to leave or return due to the locking gates. There is only security from 6pm-6am, so if we were to leave the premises during the day, we had to park on the street...
Very sorry about your experience with us.. after I lost my assistant managing the condo we had some issues like this that came up 1 - We replaced the keys, new guests will have no issues 2 - We have noted the issue with the shower pressure and had this resolved with a new shower head 3 - We steam cleaned the couch 4 - We should have the bikes fixed by next week 5 - Guest can now lock the doors when they leave. Please let me know if there's anything else we could improve for you and future guests! Again very sorry but we've made significant improvements based on your feedback and hope to have you come stay with us again. James
---
Living in Costa Rica helping people create effective systems to free themselves and live a life in alignment with their purpose.
Response rate:
100%
Response time:
within an hour
Explore other options in and around Jaco
More places to stay in Jaco: