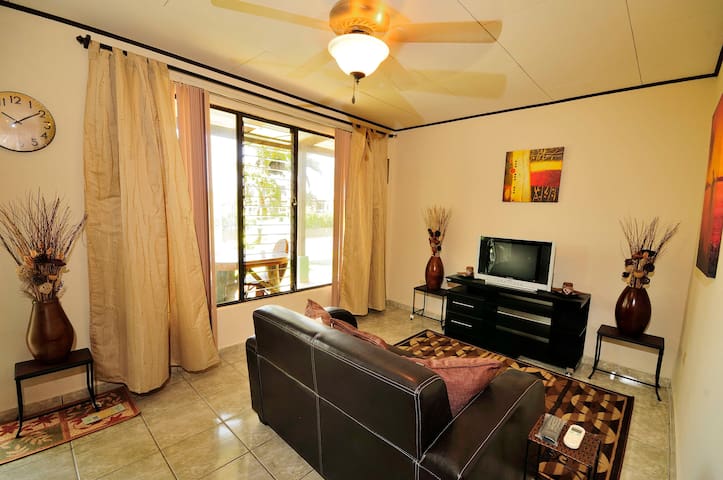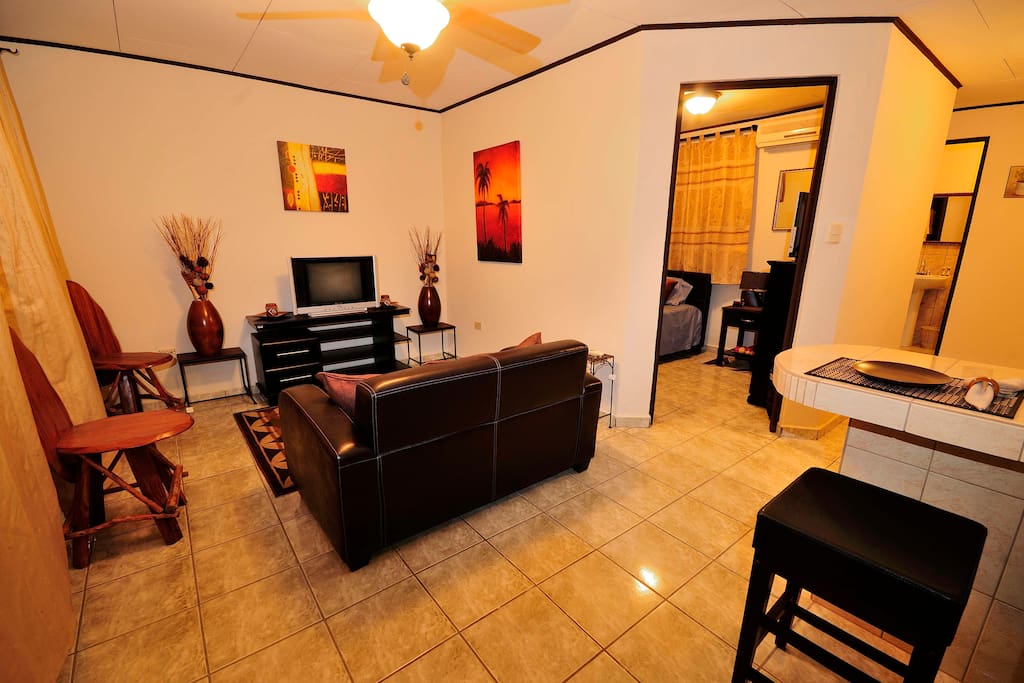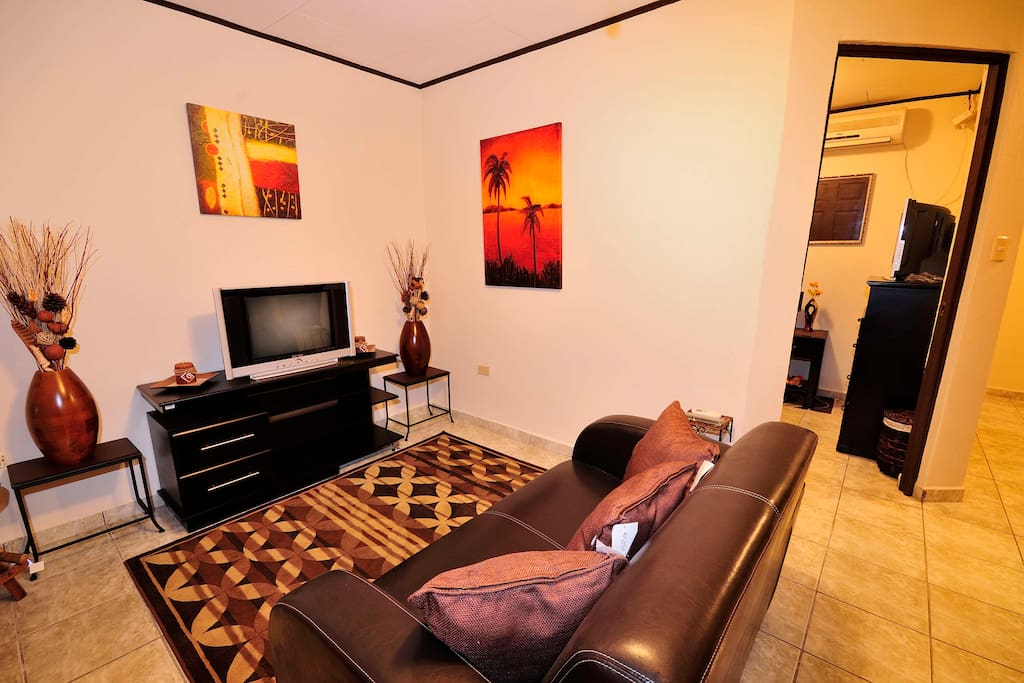 My Condos 120 yards from Jaco Beach
Great Midtown location only 150 Meters to the beach and just behind the City park, movie theatre, Broadway theatre, KFC, Quiznos, Pizza Hut, grocery store, shopping, bars, coffee shops and good restaurants! The condos poolside & has 24 hour security!
The space
The perfect location in Jaco Beach, Costa Rica. Only 150 Meters from the Beach and just behind the City Park, Movie Theatre, Live Broadway Theatre, Grocery store, KFC, Quiznos, Pizza Hut, shopping and many of the locals favorite spots and restaurants. The Poolside Condominiums are Newly remodeled and in a well secured Central location and equipped with new appliances, safety boxes and all your cooking and living needs. I will be happy to meet and greet you and offer any information about local activities, adventures and recommendations for dining and "must see" spots to make the most out of your Costa Rican experience!!!
Guest access
Relaxing pool with contoured sun chairs (some shaded and others in the sun:) and picnic tables with umbrellas on the pools deck as well as an outside shower for getting the sand off when you return from the beach. There is also an additional tables and chairs on the Patio furniture poolside furniture, outside shower,
Interaction with guests
I am happy to help with arranging tours, directions or suggested "must see" places as well as the local places that might be off the beaten path for favorite places to eat and explore.
Other things to note
The Manual for the property, Check out/refund return info. As well as The communities Home owner associations and House Rules:
1) The trash bins are near the front gate just to the right of the guards shack.
Please tie shut the plastic bags tops before tossing them into the bins. I use my plastic grocery bags as replacement bags but if you need some please feel free to ask also there is a separate recycling container for plastics and glass.
2) The swimming pool is open from 7am to 9pm there are lounge chairs in the shade and on the sun deck as well as an outdoor shower and table on the pool deck.
3) When I rent the condo it's not like a hotel where housekeeping or the replenishment of linens and toiletries ( clean sheets, towels, shampoo, soap, T.P and paper towels) is offered so if you need toilet paper; single rolls can be purchased at the Mega Super grocery store 75 feet in front of the condo for .90 cents and linens/towels can be cleaned along with your clothes at Lava Max on Main Street where you can drop it off in the morning and pick it up in the afternoon for a reasonably low cost.
4) There is a table on the patio for your use. If you smoke, please smoke outside. Please note that we will get tickets by the administration if cigarette buds, clothing or anything else is left outside, it's an $85 fine for clothing left outside so please if you have wet towels that need to dry I leave mine on one of the tables on the pool deck or a lounge chair at the pool for a couple hours.
5) All the kitchen countertop appliances are plugged into a surge protecting strip. When not using the appliances please turn the switch to ensure a hot plate or coffee pot is not left hot.
6) When you open the door you'll find the living room lights/fan and the other switch is to the outside patio light, please turn the patio light off when not needed to decrease the accumulation of bugs and keep the light from going in your neighbors front window.
7) There are 2 safety boxes and the keys to the safes are in the safes lock, you'll find one under the back bedrooms bed and another under the kitchens countertop. The key pad is not used only turn the handle and turn the key (then hide the key somewhere:)
8) The remote controls will be on the countertop along with a local map and some tourist information guides.
We have channels in English and in Spanish for your enjoyment.
9) To turn on the A/C just point the controller within 10 feet of the A/C and press the round button in the center. For the coldest setting you want the mode to show the snowflake symbol. I find that the A/C cools best in the first few hours of use then it should be turned off for a few hours to defrost or it won't blow out as strong and cold also to protect the A/C from power surges please turn it off when you leave.
10) The fan can be used to help blow the cold air from the bedroom to the living room or turned around to blow air from one bedroom to the other. If you want to cool the two bedrooms off quickly then close the two bedroom doors and face the fan blowing the cold air through the window and the A/C will cool both rooms off quickly.
11) The Costa Rican style shower heats the water within the shower head so the proper way to Use it is turn the water on then if you desire heated water turn the switch from the center-neutral cold water position to the left or right for a hot shower. I have noticed that when you turn the water all the way open the over abundance of water volume prohibits the water from heating well, if this happens decrease the water volume. When your done showering please put the switch back in the neutral center position before turning off the water or the heating element will get damaged and will have to be replaced before you will be able to enjoy a hot shower again. If this happens please let me know.
12) Toilets: Being at sea level I've found that the low slope/grade between the bathroom and the septic tank results in the water draining somewhat slowly so when flushing the toilet please hold the handle down for a few seconds to allow all the water to empty from the tank to ensure the toilet flushes fully.
Although they recommend not flushing paper in Jaco I understand the preference to flush it down so feel free and if you get a clog I will come fix it as soon as I can.
Also, You will find the kitchen has a variety of: pots, pans, utensils, glasses, cups, plates, bowls, and more also a broom can be found in the back bedroom and clean towels and soap will be found in the bathroom.
If you have any maintenance issues please call, text or email me and I will address it as soon as I possible can:)
In an effort to try to help the Costa Rican goal of "being the Worlds first Carbon neutral country by 2021" I try to do my part and ask that anytime you don't need utilities to be "Green minded" and turn off lights, etc. whenever they're not needed. Thanks:) I hope you have a Wonderful Stay!
" Please Be Green like Me and Leave a Low Carbon Blueprint"
The communities Home owner associations and House Rules: $85 - $100 Fines can be given for:
1) Leaving laundry or personal items in the common areas ( this would include hanging laundry to dry from the trees, cars, the patio, patio furniture, bushes or at the pool ) also any personal items left outside ( which is common area ) like; cigarette buds, beer cans, shoes or wet towels.
These items should be taken to the laundry mat and beer cans, clothes and cigarettes should not ever be left unattended on the patio table, chairs or anywhere else and running a clothes line is strictly prohibited.
2) No noise or loud music after 9pm. Actually, if your music is disrupting other guests at anytime then it's too loud and an $85 fine will be imposed and if the guests don't immediately stop the disturbance then they will be asked to leave. Also no loud outside/inside talking after 9pm, if your at the patio/ sitting on the patio furniture after 9pm you must not he heard inside the other condos.
3) No glass bottles around the pool or alcohol in the pool or you will receive an $85 fine.
4) If you or your guests create a major disturbance and/or the police need to be called to intervene ( like in the case of domestic violence, etc. ) then you will lose your deposit and be asked to leave the property immediately.
5) Additional guests policy: If you want to have an additional guest come to the condo that you have not already registered at the time of your arrival then you need to first pre-arrange a time with me to have the guest properly registered. To properly register a guest they must bring their passport(s) and inform me of the number of days that they will stay and pay a $20 per night supplemental fee as well as a $100 cash deposit per guest which will be returned to them when they depart ( minus any damages or fines that they may have accumulated during their stay.) The maximum occupancy including guests in my condos is 4 however if you make a reservation for 1 then arrive with 4 you will need to pay an additional $20 per guest per night supplemental fee in cash upon their registration or their/your arrival.
The newly arriving guests orientation will only take about ten minutes to ensure that they are informed by me of the HOA and House rules like: No glass at the pool, no additional guests, don't leave personal items outside no loud music/talking after 9pm, where the trash bins are located, only smoking outside is permitted, proper care and precautions with the electrical appliances like using the surge protectors when charging your computers or smart phones and being sure to turn off the self heating hot water showers when your done using them and the A/C when you are not in the home or during times of electrical surges which could damage the A/C.
Any attempt by renters to bring unregistered guests without prior authorization will result in the loss of the renters deposit and could lead to the renters eviction. The security guards report all attempted entries of unauthorized guests to the property to the property manager which leads to me receiving notice and having to sit down with them in their office and discuss why this violation of HOA protocol happened and why it should only be notated in my file but I should be given grace and not receive a fine. Note: I have received a pass a number of times for my previous guests violations and now my file is so thick that my vacation rental condos are recognized as having a perpetual offender problem so they have been enforcing the fines every time my guests violate any of the rules.
Also please be aware that only Owners and renters with a minimum of a one year lease can register guests to enter the property while Short term daily/weekly visitors can not register anyone to enter the property by Home owners association (HOA) rules. Far to often short term renters will rent a condo for two people and then sub-let it to others to come stay with them or even have another car with eight more people waiting down the road who plan to stay in the condo once the renter gets registered and receives the keys. I actually voted at the HOA meeting to enforce a this policy because I have had this happen at least a dozen times and these additional guests are not paying anything for the increased utilities, wear and tear and they don't know the rules nor have they paid a deposit so they were constant offenders yet when they receive a fine they say the renter didn't inform them so I have to keep the renters deposit and evict everyone. Also in the past short term renters have attempted to bring back "street" people which could cause a dangerous and disruptive situation for the renter as well as the entire community.
The best policy is to be honest and upfront and if you want to have a guest over for dinner or overnight inform me so I can approve it and follow the proper protocol to ensure the proper policies are followed and avoid problems for both of us. Please!!!
Check out info:
Here the info to receive a full return of your deposit:
1) Please request a check out time the day prior to your departure and let me know if I need to assist you in arranging any airport transportation?
2) If anything has been broken/damaged or is missing please tell me, often a glass gets broken or a towel gets lost at the beach and these items are $5 - $10 but going through the inventory takes more time when a person doesn't tell me up front.
3) The condo will be cleaned after you depart but should be "generally clean" which means no marks on the walls, excessive cleaning needed for stains on towels/sheets, dishes should be done and trash taken out but I'm not a stickler on it.
However, if the hot plate or coffee pot have burnt marks or walls have shoe or other marks on them needing excessive cleaning/painting they'll be an excessive cleaning fee charge for that.
What I generally look for is:
A) Any burns in sheets or sofas
B) Any cups or wet towels left on the wood damaging the varnish
C) I check the entire inventory.
D) Any missing or damaged items.
---
---
Extra people $20 / night after the first guest
Weekend Price $98 / night
Always communicate through Airbnb
To protect your payment, never transfer money or communicate outside of the Airbnb website or app.
Learn more
---
Check in is anytime after 1PM
The "House Rules" for this condo are: All guests must bring $100 (in cash) deposit that will be refunded minus any damage, theft or need for excessive cleaning. If your prefer to have your passport held for you until check out then there is no deposit requested.
No smoking inside the condo and the maximum occupancy including guests in my condos is four 4 even if the Hoa rules permit more occupants I limit my condos to a maximum of four 4. And no excessively loud noise or music after 9pm. By renting through this site you agree to the terms of the "House rules" Thank you for your anticipated cooperation in observing the house rules. I very much appreciate it! I will meet, greet and familiarize you with everything upon your check-in:)
---
---
---
---
I chose to live in Jaco Beach, Costa Rica because its a very Healthy environment. I Personal train clients in Jaco Beach and utilize the beach, mountains, rivers and waterfalls as part of my daily health regimen. The Nature surrounding Jaco is Amazing enabling me to see Parrots, Tucsans and monkeys on a regular basis. I have lived in Jaco for a decade now and would be happy to recommend to you my favorite local spots. From adrenaline charged activities to Sunset dinners I'm sure you'll enjoy Jaco beach for the length of your stay and I wouldn't be surprised if the "Pura Vida" lifestyle encourages you to stay as long as I have :-)
See you soon!
Languages:
English, Español
Response rate:
100%
Response time:
within an hour
Explore other options in and around Jaco
More places to stay in Jaco: