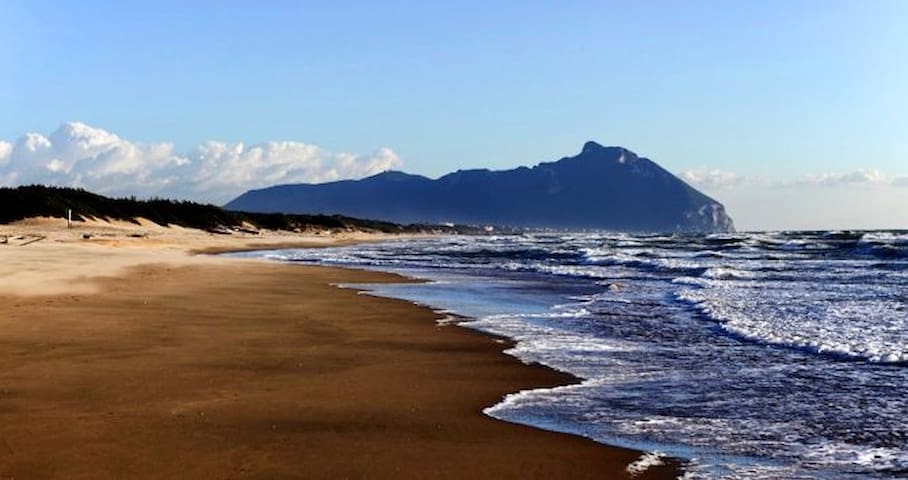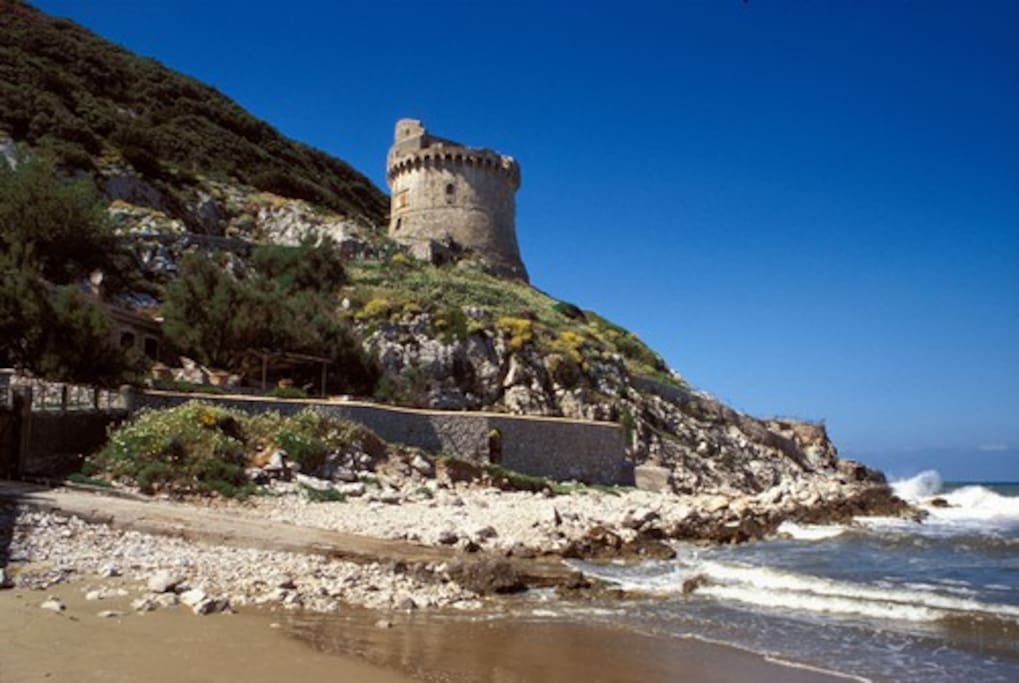 CIRCEO On Sabaudia beach near ROME
CIRCEO On Sabaudia beach near ROME
HOME HIGHLIGHTS
Self check-in
You can easily check in with the doorman.
SEPTEMBER - On a lovely coastal area between Rome and Naples, at 90 km south of the Italian capital, I rent a cosy house on the wonderful and wild beach of SABAUDIA. The beach is of gold sand; a long coastal dune separates the sea from a lake (Lago di Paola). The characteristic Mediterranean vegetation spreads all around. The whole area is part of the Circeo National Park. On this beautiful beach in front of the house you can admire "Torre Paola" a 16th century watchtower built by will of Pope Pius IV at the west end of Circeo promontory, guarding the channel, dug by old Romans, to connect the sea with the lake.
The two- storey apartment of 80 square meters can accommodate 7 persons and is composed of:
- 3 bedrooms (one room with double bed, one with 3 single beds (one bunk bed), one small room with bunk bed;
- 3 bathrooms with shower;
- 1 living room;
- 1 kitchen room fully equipped (gas stove with oven, large fridge, dish- washing machine, Washing machine, coffee machine, toaster);
- And a nice garden with a view on the lake "Lago di Paola".
Dining shaded place is available outdoors, as well as lounge chairs.
TV, INTERNET Connection, telephone, vacuum cleaner, iron, are also supplied.
The house can be reached from ROME in about 90 minutes by car or by bus.
The closest airport is Roma-Ciampino International Airport at 70 km. We suggest you to rent a car directly at the airport.
The house is on the sea- front, on the " Lungomare di Sabaudia", near the mountain "Monte Circeo", 6 km from Sabaudia center.
The closer shopping area is at the hamlet of Mezzomonte (4 km).
You can also reach the outskirt of San Felice Circeo village, named La Cona (6 km).
From the harbour of San Felice Ciceo, distant 8 km, you can reach in 40 minutes by ferry-boat the famous islands of Ponza, Palmarola, Ventotene and Santo Stefano.

You can also reach by car, the coastal lovely villages of Terracina, Sperlonga, Gaeta, Formia, and the near village of San Felice Circeo. Here you can visit the amazing caves of the rocky Circeo promontory, the most famous of which is the "Guttari Grotto" one of the oldest Neanderthal man finding sites in Italy. In this cave In 1939, the skull of a Neanderthal man was found by a team led by the palaeontologist Alberto Carlo Blanc.
Several other findings also prove that the mountain was inhabited in prehistorically times.
In the hinterland many places are worth a visit: e.g. the 12th century Abbay of Fossanova and Gardens of Ninfa, the hill towns of Sermoneta, Norma, Maenza , Bassiano, Campodimele and many others.
The house is available from SEPTEMBER 2017 the first at 3600€ per month or at 1300€ per week.
The costs of electric power and gas are not included.
Do not hesitate to contact me for further information.
Between Rome and Naples: Exploring the Lazio Coast
(This article originally appeared in the March 2010 issue of Dream of Italy)


Every now and then you hear about a part of Italy that American travelers— even those who constantly dream of Italy and spend time there — never mention. A lovely coastal area between Rome and Naples is one of those places. You won't find its towns in guidebooks, magazines or newspaper travel sections, although they make perfect day trips from either big city. It's also worth a detour for a less expensive, less crowded Italian beach vacation – except in August when all the Italians arrive.
The area between Sabaudia and Formia is a 40-mile stretch that is 60 miles south of Rome and 60 miles north of Naples. There are hill towns, a national park, gardens, churches and beaches, and the remains of temples and villas. Given all that, perhaps the reason the area is 'undiscovered' is that no one thing rises to the level of the best Italy has to offer. Still, there is plenty of charm, interest and beauty for both beachgoers and travelers looking to experience low key Italian life. Southern Lazio is an ideal flirtation in a lifelong love affair with Italy.
Italian tourism promotes this stretch as "the Ulysses Riviera." This designation grew out of the Homeric legend that Ulysses visited this land and was bewitched by Circe, who inebriated Ulysses and his sailors with the aroma of wine made from the local Moscato grapes to capture and control them. Maybe travelers who give any of the following places a try will be equally captivated.
Thanks go to Benito Mussolini for the beach town of Sabaudia, built in 253 days. Many tried to tame the malaria-ridden Pontine Marshes, but Mussolini made it happen, beginning in the 1920's. The town's architecture is Rationalist-Fascist style: simple and linear, maximizing land and construction materials. No rococo swirls here!
Like Diamond Head on Waikiki, Monte Circeo rises up and out of the sea at the end of Sabaudia's curved beach, a long stretch of white sand and dunes that consistently wins environmental awards and is popular with families. There is a two-hour trail to the summit of Monte Circeo, or drive up, and enjoy stunning views of the coast.
The ancient Romans who lived and summered here left plenty behind: an aqueduct, villas, bridges, roads and walls. Inland a bit is a lush agricultural area where the buffalo roam—and produce lots of fresh buffalo mozzarella. Sabaudia is at the edge of Circeo National Park, created when the marshes were being drained in 1934, to preserve 21,000 acres of watery landscape, forests, wildlife and wildflowers. It has a museum, cycling and walking paths and boasts 250 species of birds.
A pleasant seaside resort with a huge picturesque port, Terracina's central location makes it a good sport for visitors who want to explore the entire area. It also has the best shopping. Along its wide tree-lined boulevards, two great boutiques among many are Colavolpe (Via Rom, 133) for contemporary silver jewelry and Sahara (Piazza Garibaldi, 29) for costume jewelry, accessories, and especially all things felt: hats, purses, pins, hair ornaments.
You can't miss Terracina's 'skyline,' the remains of the Temple of Jupiter (Tempio di Giove). The impressive vaulted base with a dozen arches can be seen for miles. There is a small restaurant and bar on the top of the hill, and it is a great place to take photos, with a spectacular view on its own or as a backdrop for human subjects. Below the temple is a monument to Roman engineering and the will of Emperor Trajan (53-117 A.D.): a hundred-foot slice out of solid rock allowed the Appian Way to go through instead of around a hill.
An amphitheater, baths, and other ruins (there are discoveries as recent as 2006) are scattered around the upper and lower parts of town. In the Centro Storico, Piazza del Municipio contains paving stones from the Roman Forum, a crumbling archway, cathedral and the small archaeological museum.
When you're ready to break away from the coast for some exploring, these two unique destinations make fabulous day trips:
Of all the towns along this part of Italy's Tyrrhenian coast, Sperlonga has it all. It is charming and gorgeous, with clustered rustic whitewashed houses, a long wide beach, white cliffs, a busy marina, lovely piazzas, striking tower, interesting murals, inspiring church. All that and the archeological site of Emperor Tiberius' summer villa.
In the 1960's, a road built from Terracina to Gaeta awakened travelers to this forgotten fishing village. Today visitors wander the narrow winding alleyways, taking photos at every turn.
There are beaches to the north and south of the town. The north is more civilized, but to the south, beyond the harbor, there is a stretch of beach with trees and greenery along the shore. Most of the beach is taken up with rented shaded lounge chairs. Paying for space on the beach is common in Italy but there is always some 'spiaggia libera' (free beach), and there is plenty of space to stroll along the water's edge free of charge.
The location of the seaside home of Tiberius (14-37A.D.) has been known since the 17th century but it wasn't until a road construction project in 1957 that the extensive complex was explored and excavated. Thousands of fragments of sculptures were found. These mythological works of art have been both copied and reconstructed (as much as possible). Both versions are on display in the bright, modern archaeological museum (Museo Archeologico Nazionale). The most striking piece is Ulysses' head, rich with detail and expression.
On a narrow peninsula facing a beautiful gulf, Gaeta has been a safe harbor and stronghold since the time of the Roman Empire — and to this day, with a NATO naval base as proof. Homer and Virgil extolled its virtues. The tiny town stands behind medieval walls, filled with narrow alleys and houses dating from the 11th to 13th centuries and bordered by a steep cliff. Piccolo Alley, Gaeta's longest street, only is only about eight feet wide, paved with ancient stones.
The immense Aragonese-Angevine Castle is estimated to have been built in the 6th century and added onto over the years. The Royal Chapel, built in 1849, is in the dome of the tallest tower. This is a town full of churches. The Sanctuary of SS. Trinità was visited by St. Francis. Its Crucifix Chapel was built in 1434 over a rock that fell off nearby cliffs. From the sanctuary, visit the Grotta del Turco, a grotto on the sea and where light and waves create an interesting show.
The Church of Annunziata, built in 1320 and rebuilt at the beginning of the 17th century, houses many works of art and the Golden Grotto, a Renaissance room where Pope Pius IX devised the dogma of Papal infallibility.
The Cathedral of Assunta e Sant'Erasmo was erected over a more ancient church, and consecrated by Pope Paschal II in 1106. The main event is the Romanesque style marble Paschal candelabra from the late 13th century. Decorated with 48 reliefs in four vertical rows, it depicts the life of Jesus. One of the town landmarks is the cathedral's elegant late-Romanesque bell tower; its roof composed of colored ceramic tiles. At the base are slabs and parts of columns from ancient Roman structures.
Behind Gaeta, on the top of Monte Orlando, there is a cylindrical tomb, said to be the best preserved of its kind in Italy. This is the final resting place of Lucius Munatius Plancus, a Roman senator associated with Julius Caesar. A small ladder leads to the top. Climb it if you dare; your reward is a spectacular view.
Gaeta's fine sand beach, Serapo, is popular with wind- and kite-surfers. Covered with large white umbrellas and blue chairs all summer, it is close to the modern part of Gaeta, convenient to shopping and restaurants.
This tranquil escape 26 miles from Sabaudia is a paradise of flowers, plants, trees, and ruins. Known mostly to garden enthusiasts, Il Giardino di Ninfa should not be such a well-kept secret. Who doesn't appreciate a clear stream, the scent of roses, honeysuckle and jasmine?
Once upon a time, Ninfa was a town set in swampy marshes so plagued it with malaria during the Middle Ages that it was abandoned for centuries. Long owned by the aristocratic Caetani family, it wasn't until the 1920's when a Caetani descendant transformed 20 acres of this land into a botanical garden.
Today, this romantic English sale garden has plants from the Mediterranean, Asia and the Americas. There are 300 varieties of roses alone. They and other plants, flowers and vines climb over the remains of walls, archways and towers. Pathways that once were streets are lined with lavender as far as the eye can see. The damp conditions keep it all lush and blooming.
Don't miss the walled garden at the foot of the old fortress where ducks and swans glide under a moat. Ninfa has extremely limited opening times, requires visitors go on guided tours and not all guides speak English, so call or have your hotel inquire ahead of time to make arrangements ((PHONE NUMBER HIDDEN) GRATIS or the World Wildlife Fund office in Rome: (PHONE NUMBER HIDDEN) GRATIS ). Also ask about summertime concerts.
Built in the 12th century and restored over the years, some of the original walls of Abbazia di Fossanova are still standing. This church complex is considered one of the earliest examples, if not the first, of early Gothic architecture in Italy. Austere (unlike most Italian churches) and peaceful, it has beautiful rose windows and pointed arches, twisted columns and colonnades and a faded fresco of the Madonna and Child. The abbey's light colored limestone sometimes looks gray and sometimes yellowed, depending on the light. St. Thomas Aquinas became ill while visiting the abbey in 1274 and died here. His remains were moved to France, but his room at Fossanova was turned into a chapel.
Today, Fossanova Abbey ((PHONE NUMBER HIDDEN) GRATIS ) is an active Franciscan monastery and a parish church. The film, The Name of the Rose, starring Sean Connery was shot here. Don't miss the chocolate shop and café across from the main entrance.

*************************************************************************** DESCRIZIONE IN ITALIANO
In una bella zona costiera tra Roma e Napoli, a 90 km a sud della Capitale, affitto un'accogliente casa situata a 2 minuti solamente della splendida spiaggia di Sabaudia. La spiaggia è di sabbia dorata e separa il mare dal lago costiero (Lago di Paola). Tutta la zona fa parte del Parco Nazionale del Circeo ed è caratterizzata dalla tipica vegetazione mediterranea. Su questa bella spiaggia è possibile ammirare "Torre Paola", una torre del 16 ° secolo costruita per volere di papa Pio IV, a guardia del canale, scavato già in epoca Romana per collegare il mare con la lago.
L'appartamento, su due livelli di 85 metri quadrati in grado di ospitare 5 persone comodamente (al massimo 7), è composto da:
- 3 camere da letto (una camera con letto matrimoniale al primo piano, una con 3 letti singoli al primo piano, una cameretta con letto a castello al piano terra) ;
- 3 bagni con doccia accanto alle 3 camere da letto;
- 1 soggiorno;
- 1 cucina indipendente completamente attrezzata (fornelli a gas, forno, grande frigorifero, lavastoviglie, lavatrice, macchina per il caffè, tostapane);
- un bel giardino con vista sul lago "Lago di Paola". Tavolo e sedie all'aperto sono a disposizione, così come sdraio, lettini e una doccia esterna.
La casa è dotata di TV, connessione internet, telefono, aspirapolvere, ferro da stiro. E' raggiungibile da Roma in circa 90 minuti di auto o in pulmann. L'aeroporto più vicino è l'aeroporto internazionale di Roma-Ciampino a 70 km. Vi consigliamo di noleggiare un auto direttamente in aeroporto. La casa si trova sul "Lungomare di Sabaudia", nei pressi del "Monte Circeo", a 8 km sia dal centro di Sabaudia sia dal centro di San Felice Circeo La più vicina area commerciale è a Mezzomonte (4 km).
Dal porto di San Felice Circeo si possono raggiungere in 1 ora di traghetto le famose isole di Ponza, Palmarola, Ventotene e Santo Stefano. In auto potete anche raggiungere i bei borghi di Terracina, Sperlonga, Gaeta e il vicino paese di San Felice Circeo con il suo caratteristico centro medievale adagiato su una collina. Qui si possono visitare le splendide grotte del roccioso promontorio del Circeo, la più famosa dei quali è "la Grotta Guttari", uno dei più antichi siti preistorici abitati dell'uomo di Neanderthal. In questa grotta nel 1939, il cranio di un uomo di Neanderthal è stato trovato da un team guidato dal paleontologo Alberto Blanc.
Laptop friendly workspace
Check-in is anytime after 9AM
Self check-in with building staff
This home doesn't have any reviews. If you stay here, your review will appear here.
Diplômée à l'université de Rome en Littératures, Je suis une femme passionnée d'art, d'histoire de l'Empire Romain, de musique classique Italienne (à part l'opéra j'adore Vivaldi, Marcello et Verdi). J'aime beaucoup aussi danser et skier avec mes enfants. J'aime voyager et découv…
Languages:
English, Español, Français, Italiano
Always communicate through Airbnb
To protect your payment, never transfer money or communicate outside of the Airbnb website or app.
Explore other options in and around Lungomare di Sabaudia
More places to stay in Lungomare di Sabaudia: