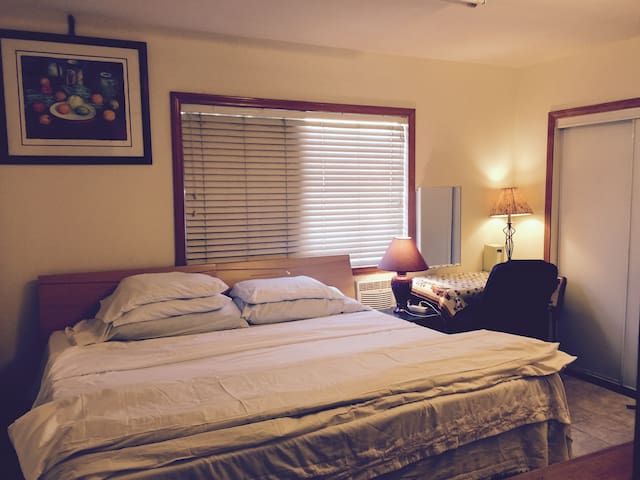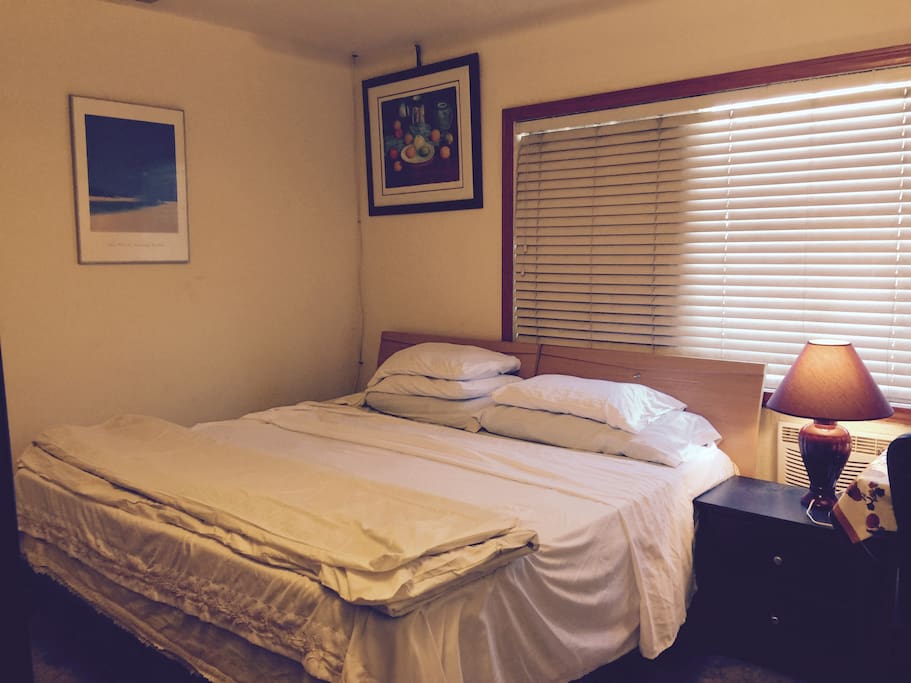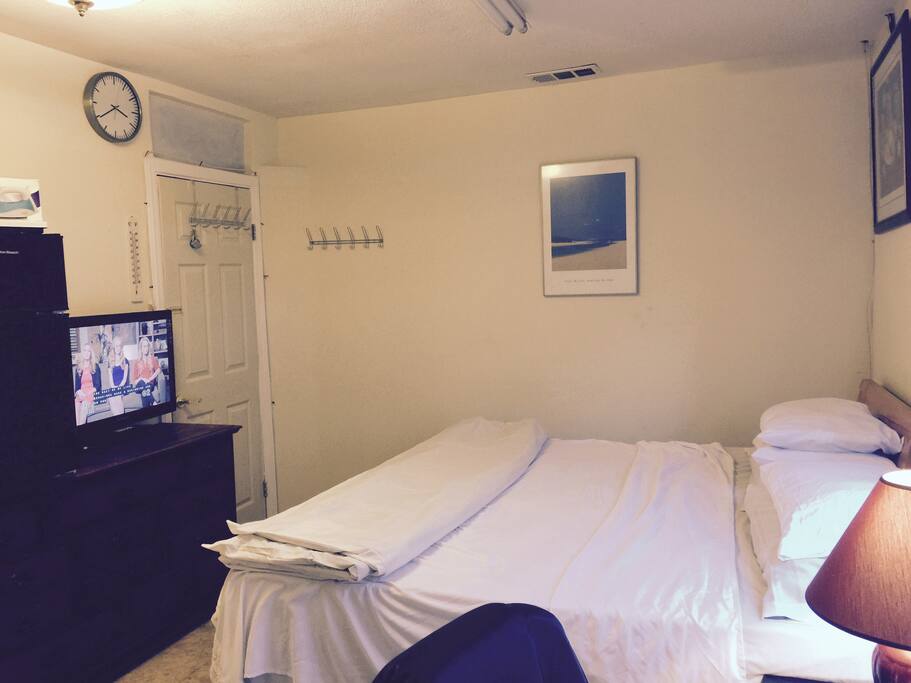 About this listing
我的房源靠近全統廣場。因為典雅,和舒適-精緻商務旅遊 渡假遊學-交通餐廳超市便利、氛圍,您一定會愛上我的房源。我的房源適合情侶和商務旅行者。共享廚房 衛浴 請保持乾淨
---
Check In: Anytime after 4PM
---
---
---
The space
典雅,和舒適-精緻套房-商務旅遊 渡假休閒 遊學待產-交通餐廳超市便利
精緻套房,交通便利,銀行, 超市 ,餐廳方便
典雅的客房,溫暖和舒適。每間客房都配有一張full size雙人床,辦公桌 椅和衣櫥,停車位。其特點在房間內有迷你酒吧,電話,高速互聯網接入,鬧鐘,MP3播放器連接, 熨斗,熨衣板,吹風機,咖啡壺,以及免費的咖啡和茶葉包。電視超過69個頻道以上。
我的房源靠近全統廣場。因為典雅,和舒適-精緻商務旅遊 渡假遊學-交通餐廳超市便利、氛圍,您一定會愛上我的房源。我的房源適合情侶和商務旅行者。共享廚房 衛浴 請保持乾淨
The house has WIFi, washer and dryer, plenty of parking, a full kitchen with all the amenities.
Conveniently located on a quiet, friendly, safe block in the beautiful town of San Gabriel, Southern California, steps from the business area or No. 76 and No.489 bus stop- less than 5 minute walk.
The room has one double beds (King size) , up to 3 people if one futon bed be added. Amenities include air-conditioned room with private bathroom,broadband Wi-Fi, fully equipped kitchen for your use any time of day or night , flat screen TV's and shower, washer & need to pack shampoo, conditioner or body wash as your bathroom will have all these products.
BEDROOM : King size double bed, microwave, desk, walk-in closet. iron, ironing board.
KITCHEN: fully equipped (microwave, hotplate, oven, freezer, toaster, water back, coffee maker , dishwasher, herbal teas...)
Parking: Backyard For Your Car.
The area is filled with quality Chinese restaurants, supermarkets, banks, night clubs and much more. It sits near No. 10 freeway which quickly takes you to most of Downtown LA City's attractions. very short distances from 2 different City buses lines, 76 and 487 are literally just five minutes away. If you rent a direct taxi to the airport(which is a widely supplied service in the area), it only costs within 50 dollars.

Highlights include:
* Private bathroom
* Free parking in the yard with Gate Remote Controller.
DIRECTIONS FROM THE ROOM STAFF.
The house is very close to freeway so you are able to go and come back to Los Angeles city center easily.
From downtown Los Angeles, take the 110 North to the 10 East and exit Del Mar Ave. Take Del Mar Ave north (towards San Gabriel) to Valley Blvd, turn left to 116 Hovey Ave.
Los Angeles International Airport---27 mile
DIRECTIONS
Take I-105 East to I-710 North to I-10 East. Exit Del Mar Blvd north (towards San Gabriel) to Valley Blvd. Left on Valley 116 Hovey Ave.
Distance from Room:
28 mi.
Drive Time:
33 min.

Rental Car Vary
Taxi 60.00 USD
Super Shuttle 37.00 USD GET TURN-BY-TURN
THINGS TO DO
There are so many things to do in San Gabriel. Beautiful Beaches, theme parks, nightlife, and museums await you within minutes of HOUSE (106 Hovey Ave) Los Angeles/San Gabriel. We're scenically located just off the I-10 freeway, east of downtown LA, with easy access to local Bob Hope Airport (BUR) and LAX Airport.
Be sure and visit our famous local attractions! You'll have plenty to choose from with Santa Anita Race Track, The Rose Bowl, Dodger Stadium, Disneyland, Knotts Berry Farm, and much more just minutes away
15 minute drive to L.A. Downtown
15 minute drive to Ventura Blvd restaurants
20 minute drive to Universal Studios, Burbank
15 minute drive to 6 Flags over Magic Mountain
20 minute drive to Hollywood
20 minute drive to UCLA/Westwood etc (without traffic)
30 minute drive from Museum of Science & Industry
35 minute drive to Disneyland in Anaheim
Natural History Museum, US, downtown garment district
Chinatown, Olvera Street
---
*Please be considerate of others. Your gentleness is highly appreciated :)
This Rental Agreement and Contract (the "Agreement") is a legally binding agreement made and entered into as of the Reservation Date by and between the undersigned person(s) or company (the "Guest") and the undersigned owner, manager or agent ("Rental Agent"), pursuant to which the Guest has agreed to rent the residence described below (the "Property"), for the duration of the Rental Term for the Total Rental Fee and other good and valuable consideration as described herein.
OCCUPANCY
Guest agrees that no more than max guests agreed and paid for shall be permitted on the Property at any time during the Rental Term, all of whom shall comply with the conditions and restrictions imposed upon Guest under this Agreement.
CONDITION AND USE OF PROPERTY
The Property is provided in "as is" condition. Rental Agent shall use its best efforts to ensure the operation of all amenities in the Property, such as internet access, satellite or cable TV access. Rental Agent shall not be held responsible for such items failure to work, but will make every effort to correct any issues as reported as quickly as possible. Guest acknowledges that use of apartment and veranda and its facilities, all attached and surrounding amenities such as the beach, pier amenities and activities, and the like may be potentially dangerous and involve potential risks if improperly used, particularly with regard to children and such use is at the Guest's own risk.
Guest shall use the Property for residential purposes only and in a careful manner to prevent any damage or loss to the Property and keep the Property in clean and sanitary condition at all times. Guest and any additional permitted guests shall refrain from loud noise and shall not disturb, annoy, endanger, or inconvenience neighbors, nor shall Guest use the Property for any immoral, offensive or unlawful purposes, nor violate any law, association rules or ordinance, nor commit waste or nuisance on or about the Property.
DEFAULT
If Guest should fail to comply with the conditions and obligations of this Agreement, Guest shall surrender the Property, remove all Guest's property and belongings and leave the Property in good order and free of damage. No refund of any portion of the Total Rental Fee shall be made and if any legal action is necessary, the prevailing party shall be entitled to reimbursement from the other party for all costs incurred.
ASSIGNMENT OR SUBLEASE
Guest shall not assign or sublease the Property or permit the use of any portion of the Property by other persons who are not family members or guests of the Guest and included within the number of and as permitted occupants under this Agreement.
RISK OF LOSS AND INDEMNIFICATION
Guest agrees that all personal property, furnishings, personal affects and other items brought into the Property by Guest or their permitted guests and visitors shall be at the sole risk of Guest with regard to any theft, damage, destruction or other loss and Rental Agent shall not be responsible or liable for any reason whatsoever.
Guest hereby covenants and agrees to indemnify and hold harmless Rental Agent and their agents, owners, successors, employees and contractors from and against any costs, damages, liabilities, claims, legal fees and other actions for any damages, costs, attorneys fees incurred by Guest, permitted guests, visitors or agents, representatives or successors of Guest due to any claims relating to destruction of property or injury to persons or loss of life sustained by Guest or family and visitors of Guest in or about the Property and Guest expressly agrees to save and hold Rental Agent harmless in all such cases.
RELEASE
Guest hereby waives and releases any claims against Rental Agent, the Property owner and their successors, assigns, employees or representatives, officially or otherwise, for any injuries or death that may be sustained by Guest on or near or adjacent to the Property, including any common facilities, activities or amenities. Guest agrees to use any such facilities or amenities entirely at the Guest's own initiative, risk and responsibility.
ENTRY AND INSPECTION
Rental Agent reserves the right to enter the Property at reasonable times and with reasonable advance notice for the purposes of inspecting the Property or showing the Property to prospective renters or other authorized persons. If Rental Agent has a reasonable belief that there is imminent danger to any person or property, Rental Agent may enter the Property without advance notice.
UNAVAILABILITY OF PROPERTY
In the event the Property is not available for use during the Rental Term due to reasons, events or circumstances beyond the control of Rental Agent, Rental Agent will apply due diligence and good faith efforts to locate a replacement property that equals or exceeds the Property with respect to occupancy capacity, location and value that meets the reasonable satisfaction of the Guest. If such replacement property cannot be found and made available, Rental Agent shall immediately return all payments made by the Guest, whereupon this Agreement shall be terminated and Guest and Rental Agent shall have no further obligations or liabilities in any manner pertaining to this Agreement.
ADDITIONAL TERMS TO THE RENTAL AGREEMENT
In addition to the standard terms included herein, Guest acknowledges and agrees that the following additional terms and conditions apply to the Guest's rental of the Property:
GENERAL PROVISIONS
This Agreement contains the entire agreement between the parties with regard to the rental of the Property, and any changes, amendments or modifications hereof shall be void unless the same are in writing and signed by both the Guest and the Rental Agent. This Agreement shall be governed by the laws of the State of California. The words "Rental Agent" and "Guest" shall include their respective heirs, successors, representatives. The waiver or failure to enforce any breach or provision of this Agreement shall not be considered a waver of that or any other provision in any subsequent breach thereof. If any provision herein is held invalid, the remainder of the Agreement shall not be affected. Any notice required to be given under this Agreement shall be in writing and sent to the contact information included herein. This Agreement may be signed in one or more counterparts, each of which is an original, but taken together constitute one in the same instrument. Execution of a digital signature and/or confirmed booking and payment shall be deemed a valid signature, and agreement and acceptance of this contract.

---
---
Los Angeles, California, United States

·

Joined in July 2012
2Sources Inc
Gife item Premium

Response rate:
100%
Response time:
within an hour
Exact location information is provided after a booking is confirmed.
Explore other options in and around San Gabriel
More places to stay in San Gabriel: