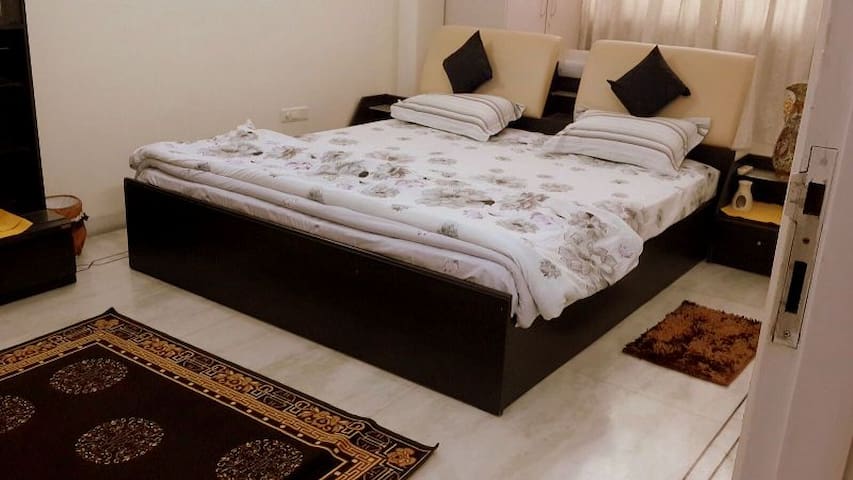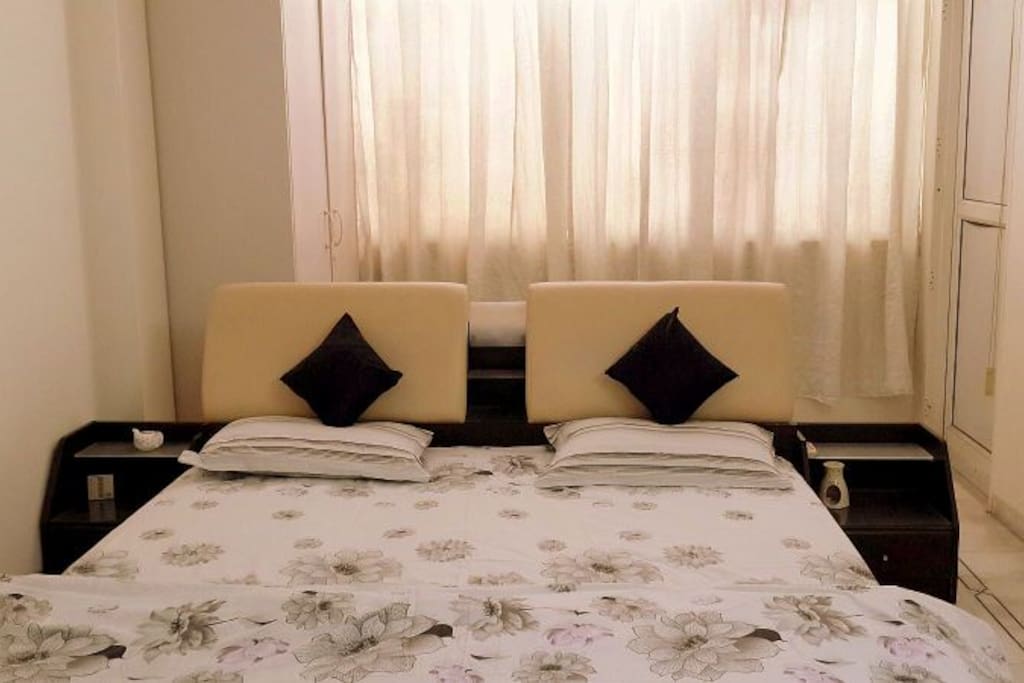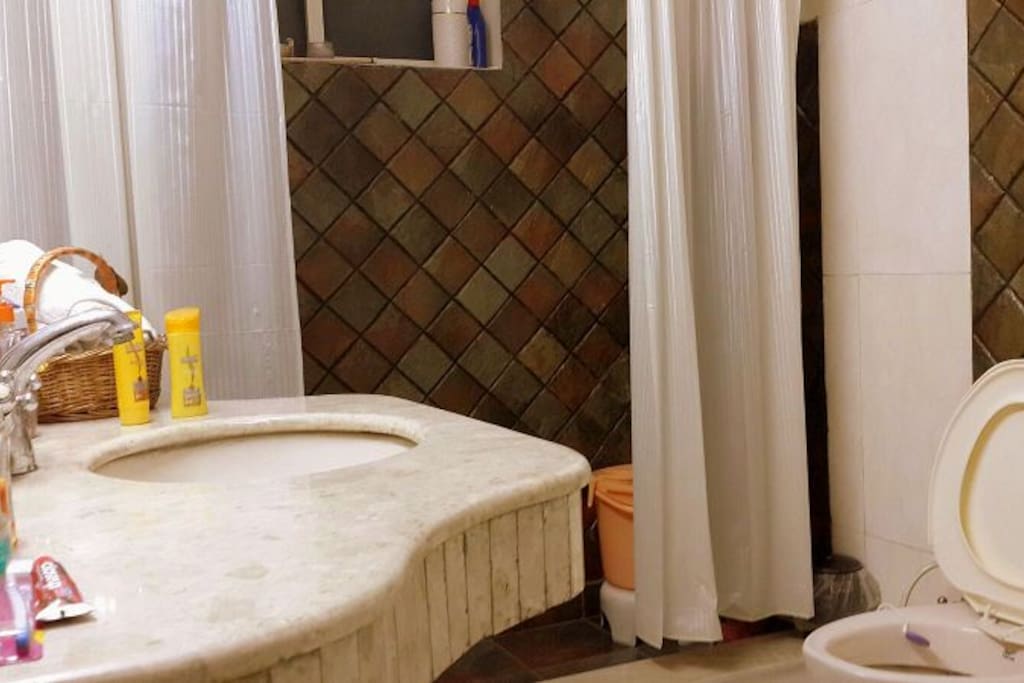 India is a land of hospitality, culture, religion, cuisine & love. And as your hosts, we are committed to providing all that to you. We take a lot of pride hosting on Airbnb and it is this reason why we have earned our "Superhost" status.
Superhosts on Airbnb are 1% of the total Airbnb host community globally and we work very hard to ensure that we do justice to the stripes we have earned.
It is our endeavor to make you feel at home and we look forward to having you stay with us.
The space
We have been living in our home for over 20 years and my husband and I have built it with a lot of love and passion. I have been a housewife and my husband retired a few years ago so we both are usually home.
We live on the ground floor; while the first floor – which has its own independent access is fully furnished and has 3 bedrooms, drawing and dining room, a kitchen and 3 private bathrooms attached to each bedroom. The first floor of our home is the one, which we offer to guests on Airbnb and in total it can comfortably accommodate 8 adults.
Depending on your need and requirement, you could choose to book all 3 rooms together for your family or else individual rooms can also be booked.
We offer two large and spacious rooms on the floor that can accommodate 6 adults while the third room (on the mezzanine floor) can house 2 adults.
The current listing that you are viewing is of 2 bedrooms adjacent to each other. 1 is a luxury room with a private television while the second is a deluxe room without a private television. The rooms sizes are the same but the bathroom size is different in each rooms. And in case you want to book more than 2 bedrooms or even a single room then please click on my picture and you will see my other listings. They all have "True Taste of India" as part of the title.
The bedrooms, bathrooms, kitchen etc are all fitted and equipped with new age furnishing and fittings so that you don't face any inconvenience during your stay. Since we live in a gated community we have a 24hr security along with it being a very quite and private road as we are off the main road.
The neighborhood also houses a multi specialty hospital, several restaurants, a few markets, ATM, bus stop, etc to make your stay comfortable.
Like I mentioned, my husband and I live on the ground floor with our staff; whereas you will be living on the first floor. So even though there are people around to help you at any time, there is privacy for you at all times.
Our son (Mohit) lives in Gurgaon and is a Super host on Airbnb too! While our daughter (Mitali) lives in Mumbai. They will interact with you on email, phone and will answer any query that you might have regarding your stay.
Whether we get a chance to host you or not, if you are reading this then we would like to wish you luck, joy and comfort for your stay in our city and in our country.
Best wishes,
Sadhana Aunty
Guest access
As a guest in our house we will make every effort to make you feel comfortable. During your stay you will have access to the kitchen, living room, dining room and the balcony along with your bedroom and private bathroom.
We will also provide you with a separate set of key for your room so that you are at piece when away from home.
Interaction with guests
SOME FACILITIES AT OUR HOME:
FOOD
On request, we are also happy to provide you home cooked meals (Vegetarian/Non Vegetarian – Chicken only). Please let us know in advance if you are interested in either of the options.
The charges for home cooked meals are as follows and can be paid in actuals.
Rs.150 for Breakfast
Rs. 200 for Vegetarian Lunch/Dinner
Rs 250 for Non Vegetarian Lunch/Dinner
Rs 30 for a kettle of Tea/Coffee (This will serve 2 cups)
Above prices is on a per person basis except kettle of tea/coffee.
The most economical choice for food, however, would be for you to cook your own meal. We have a well-equipped kitchen with a gas stove, cooking utensils, a microwave, a water boiler – for tea/coffee and a refrigerator along with other basic condiments. Please feel free to use the kitchen and cook anytime. However, you will have to buy your own ingredients and groceries.
You could choose to order groceries through the Internet or walk 100mtrs to a nearby grocery store.
More details of this are mentioned in the house manual that will be accessible to you post booking.
Other than this the kitchen is stocked with a few other basic supplies like tea, coffee, sugar, fruits, milk, biscuits, cornflakes, oats etc. Unlike other homes, we don't charge you for it, but we really appreciate guests, who buy their own supplies or at least replenish what they use so that the next guest can avail the same comfort.
WATER
The kitchen is equipped with a reverse osmosis water filter which is 100% safe drinking water. The kitchen has a few water bottles and you may choose to pick one for your use during the stay.
For drinking water pls only use water from this machine and don't drink tap water.

WHITE GOODS
We have a refrigerator, a common TV in the dining area, a washing machine, an ironing board and an iron along with a microwave oven, a gas stove, utensils, on this floor. Please feel free to use these facilities. However, we request you to share the household appliances if other guests are occupying the floor as well. We have a fully automatic top loading washing on your floor, which has an in-built drier. But the Indian machines only dry clothes up to 80% thus, we have provided a drying rack for clothes in the balcony. In case you wash clothes you could hang them on the rack outside. Kindly avoid hanging clothes inside of your bedrooms.
Also, please refrain from taking the ironing board inside your room, so that other guests are not inconvenienced.
Along with this all the bedrooms are equipped with a private air conditioner with individual temperature control settings. And your private bathroom is equipped with a water heater/geyser. In case you want to use hot water for shower, you will need to switch this on and it will take 10-12 minutes for the water to heat. Post usage; please ensure to switch the geyser and Air conditioning off.
We like to conserve energy in any form that we can and encourage our guests to support us with this cause.

DOCTOR ON CALL:
In an unfortunate scenario of you requiring any medical attention; our home is 250 mtrs from a super specialty hospital that is functional 24x7. Our driver can drive you there if required.
And incase you prefer to have a general physician pay you a home visit then let us know and we will organize for our family doctor to come and see you. Since he's family doctor, he gives us a special discount and you can avail the same discount from him.
We also keep a well-equipped first aid kit at home for emergencies.
LOCAL SIM CARD & MOBILE PHONE:
Our guests from out of India often find it hard to avail a local SIM card in India. Therefore, we offer our guests the facility to rent a local SIM card and a mobile phone. The rent for the mobile phone & SIM card is Rs 50 per day. You will have to get the card recharged as per your requirement. You can either do it at any of the local shops at the nearby market, or you can pay our staff and they can get it done on your behalf. In case you lose the phone and the sim card then there would be a fine of Rs 5,000. You will have to provide us a copy of your passport in case you want to rent the phone.
24x7 SECURITY:
There are two gates that block the two opposite ends of the lane where our house is situated. It is guarded by a trained security guard 24x7.

PRIVATE ENTRANCE:
We will provide you with your own set of keys to the main gate, the floor entrance gate and to your bedroom so that you may come in and go at your own convenience without disturbing any other house member. Please keep these keys safe and don't forget to return them at the time of your check-out.
Other things to note
TRANSPORTATION TO OUR HOME:
We live in the suburb of New Delhi – Noida. And our home is in Sector 11, Noida. The nearby landmarks are Rashtriya Sahara, Modern School and Metro Hospital.
The best way to come to our home is using a cab and I would encourage you to download one of the radio cab apps on your phone. Both UBER and OLA Cabs operate within Delhi & NCR and both can bring you to our home.
Once you have booked with us, you will receive an email, which will have very detailed notes on how to get to our home. Along with GPS coordinates and our address.
Since Internet for international tourists can be an issue on arrival in India; you have the alternate of booking a government operated cab from the airport or train station. Look for a pre-paid booth counter and you will be able to book one.
Like I said, a more detailed note will be in your inbox post booking.

PLACES TO VISIT IN NOIDA:
SHOPPING, EATING OUT & MOVIE THEATRES:
Spice Mall (Sector 25A) – 2kms from our home
Centre Stage Mall (Sector 18) – 3.5kms from our home
The Great India Place Mall (Sector 18) - 4kms from our home
Mall of India (Sector 18) – 4kms from our home
INTERNATIONAL TEMPLES:
Akshardhaam Temple – Timings 9:30AM to 6:30 PM (Noida Mor) – 8kms from our home
ISKCON Temple – Open Daily - 4:30 AM - 10:00 PM (Sector-33) – 4kms from our home
AMUSEMENT PARK:
World Of Wonder – 12:00 PM to 8:00 PM, Open All Days. (Next to Great India Place Mall, Sector-18) – 4kms from our home
FILMCITY: (Sector 16) – 4.5kms from our home
---
---
Extra people $10 / night after 4 guests
Weekend Price $52 / night
Always communicate through Airbnb
To protect your payment, never transfer money or communicate outside of the Airbnb website or app.
---
SOME HOUSE RULES TO ENSURE ALL OUR GUESTS ARE HAPPY
• Please treat our home like your own home, and not like a hotel and also co-operate and interact with other guests so that there is a friendly environment. Of course, if you prefer to be alone then, we are sure that other guests will respect your privacy. We usually inform our guests about other guests as well since there are 3 bedrooms on this floor and sometimes all the 3 rooms are booked at the same time.
• Smoking is not permitted inside any of the bedrooms however you can access the front balcony for smoking. Please use the ashtray in the balcony.
• Please refrain from playing loud music post 10:00 PM if there are guests on the floor.
• We have a cleaner who will clean your room every day, however, you would have noticed during the time of your booking that we don't charge our guests an extra cleaning fee. So kindly don't litter the premises. If you choose to cook in our kitchen then please ensure that you leave the kitchen and dining table clean so that other guests don't face any inconvenience.
• The television is in a common room and you are more than welcome to use it during your stay. We have a Tata Sky connection for English & Hindi entertainment.
• If you want to invite your friends over then please let us know in advance. We usually don't allow our guests to bring their friends over to ensure safety and comfort of other residents in the house.
• Unlike most Airbnb homes, we also provide toiletries (shampoo, shower gel, toothpaste etc) for our guests in all bathrooms to ensure that our guests don't face any inconvenience. We also provide some basic kitchen supplies and we don't charge you for any of it to keep your cost as low as possible, however, we do appreciate guests who carry their own toiletries/supplies or buy or replenish what we provide during their stay. However, please feel free to use everything we provide as it is for your comfort, but kindly don't take any of the supplies or toiletries with you at the time of your check out s that the next incoming guest continues to avail the same facility at our home.
• We have a live in staff who stays within our premises for security. Our man friday - Raju and his family has lived with us for decades and we treat them like family. Kindly don't treat them like servants or use them for your personal errands without informing us. Our staff will help you at every step, will provide you all information, will assist you in settling down or will provide support for all the things that you will need. For any query, kindly speak to me or my son/ daughter.
• If you wash your clothes at home, then please don't dry them in the living room. We have provided a drying rack in the balcony so please feel free to use it.
• We provide a set of keys to all our guests. Kindly keep your rooms locked while you are away as we don't take responsibility for your valuables in case you leave your room open. Our staff is very trustworthy, but we have 3 rooms and they can be occupied too at the time of your stay. We use our personal discretion to accept bookings, however, we advise everyone to keep their rooms locked during their absence or while sleeping at night. The main gate keys are provided to all our guests you so that our guests can come and go at any time as per their convenience. But in case you return late, and if there are other guests occupying other rooms at the time of your stay, then we request you to not be loud if it's post 10:00 pm.
---
---
---
Our stay at the accommodation was very comfortable and the hosts were very friendly and accommodating, the location is great well connected even at odd hours, the house is very comfortable and well quipped with everything you can think off while living away from home, I would definitely like to come back the next time I am in Noida. Thank you for making our stay a memorable experience.
---
Just Fantastic, The host is superb nice lady always ready to help whenever needed , the caretaker Raju and family go out of their way to help , Thank you Mrs. Srivastav for everything you did.
Dear Prakash ji Thank you for your kind words, high rating and a great review for our listing. We really appreciate your feedback and we are glad that you found everything perfect. It was lovely hosting you and we hope you visit and stay with us again. Regards Mrs Srivastava, Mitali & Mohit
---
1: host wait for us till 12:00 pm and no any complains; 2: I have no enough small change to pay for the taxi, their staff help me to pay and didn't ask me to give back. 3: room is very clean and comfortable; 4 they ask us what do I need, I said I need some fresh fruits is Ok. They give me too many fruits, and it is very fresh. Including apple; banana ; orange and grape! Very good ! Very good !
---
Hello! My husband and I built our home together in Noida over 20 years ago. We come from a very traditional background and have been hosting our relatives since ages. I hail from Lucknow and my husband was from Kanpur (2 prominent towns in Uttar Pradesh.)
We were married for over 35 years and have been living in the Delhi NCR region since the time we've been married. He passed away recently and this home is one of his loving legacy to us.
We have 2 kids, a son and a daughter who are both married too. My son lives in Gurgaon and is a super host on Airbnb, it was him and our old age love of hosting our relatives that got us to Airbnb. Initially I was very skeptical about the whole idea of having strangers in my home, but since I started; there has been no looking back. Airbnb has been a very rewarding and humbling experience and I can't think of not being a host any longer.
My daughter runs her own strategy and advertising agency in Mumbai and lives with her husband. My 2 kids are also very frequent user of the platform as guests. It is usually my daughter/son who reply to guests but it is my home where I host and I will be your host in Noida, while my kids will always be available over the phone/text for any other help. We also have our live in staff who takes care of the house and they are like family to us.
We will be delighted to host you and look forward to having you over.
Languages:
English, Hindi
Response rate:
100%
Response time:
within a few hours
Explore other options in and around Noida
More places to stay in Noida: