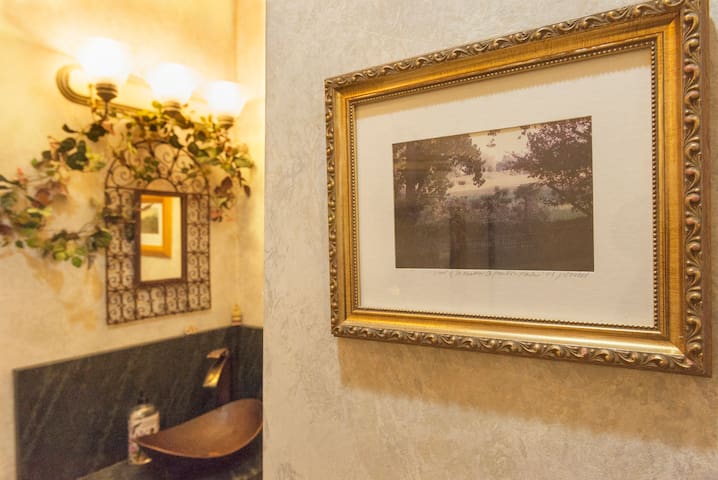 JazzVille: Bn'B Boston & Cambridge
JazzVille: Bn'B Boston & Cambridge
Well- appointed bedroom and private bath in an 1872 home ( new systems) provides privacy and quiet rest amid all the excitement of Cambridge and Boston with incredible access to everything.
--- Why search for breakfast?
Wake up & follow your nose!
The space
The Place
--Welcome to the center of Cambridge, MA. where you can access virtually anywhere in the center of Boston or Cambridge easily by walking and excellent public transportation (all major destinations in Cambridge or Boston under 15 minutes)
***************************************************************************(URL HIDDEN)What you are renting as my Airbnb guest:
****************************************************************************
A quiet, nicely appointed bed room with full- sized bed on the 3rd floor and a/ private shower /bath on the second floor, in my condo unit.
--A fully cooked breakfast is included!
***************************************************************************
The Building:
Owner-occupied duplex condominium (2nd & 3rd floors) of beautiful Mansard Victorian home in the heart of Central Cambridge.

The Room:
The Airbnb suite is sunny and quiet. It has great views of Cambridge and Boston (Cambridge rooftops and Boston skyline respectively) as it is on a corner of the building. There are two windows, with wide windowsills.
Quality appointments include a large, leather window seat and a built-in computer workstation with a tiny guest library, above.
Atmosphere:
The room lighting is designed to make working at a computer, reading in bed, or relaxing in low lighting in this room enjoyable for what ever your need. Down to a person, I'm told by everyone who stays here how well they sleep! (couples included!)
My two- story condo has 2 full baths; a master bath (3rd Floor) and a guest bath ( 2nd floor). As my guest, you will have access to both the 2nd and 3rd floor baths.
Guest Bath:
The designated guest bath consists of a shower/ sink/ toilet/ and a well-stocked medicine cabinet with travel soaps, shampoos, first aid just in case you forget something essential. Expect to find shower gel, shampoo and conditioner in the shower. Expect also have freshly laundered bath and hand towels, as well as wash cloths, for your use in the guest bath.
**NOTE: I have only one Airbnb room, (therefore you will not have 'other' guests sharing your bathroom.) Guests have access to BOTH bathrooms: their own
2 nd floor private bath, and the 3rd floor bath, (which is shared with the host.)
Other features in the Airbnb room:
**A hairdryer is kept in the bedroom for your convenience.
***An extra soft blanket (for that coveted nap!) and extra towels, are also found right in the room.
***A drying rack for hanging out delicate items, is also found in the room closet storage.
*** ironing board & iron available, upon request
**** access to laundry room ( next to Airbnb room, upon request)
Other Amenities
*** Jazzville is Air Conditioned for high humidity days; (not like a refrigerator, just enough to wring out the moisture). In winter you will be toasty and cozy in your room in the Mansard roof level, with quiet baseboard heat and a great, and poetic view of the snowy Cambridge & Boston rooftops.
Food:
** A FULL BREAKFAST IS INCLUDED in the cost of your room.
FINDING LUNCH, DINNER IN THE NEIGHBORHOOD
Central Square, my neighborhood, is teeming with restaurants of every price point, street food takeaway joints, Indian and Tibetan all-you-can eat buffets, to several of the most revered, chef-owned restaurants in Boston.
Omnivore or Vegan, you will have no trouble finding and eating great food a few blocks from my house.
*** See also: my AirBnb Neighborhood Guidebook
In the neighborhood guide you will find locations and mini reviews for the neighborhood restaurants as well as entertainment, spots for quiet contemplation and insights on local landmarks.
LOCAL TRAVEL IDEAS & INFO IS IN THE ROOM
Up to date Cambridge and Boston street maps and guide books are in the Airbnb room for your use.
There are many different venues to help you discover Boston and Cambridge, and I have information about almost all of them --guided walking tours, trolley tours, 'Duck boat" ( land/sea) tours, Segway Tours, Harbor Sails, ferries to Salem, or out to the Boston Harbor Islands.
The information to get you started is right here.
"Extras"
Dine In Option ( $ Ask host about availability)
Corkscrew with 2 wine glasses (no charge)
JazzVille is highly accessible and centrally located to reach all the major sightseeing destinations in both Cambridge and Boston.
I am a FOUR MINUTE WALK ( five blocks) To a direct PUBLIC TRANSPORTATION node (the RED LINE T and many bus routes.)
Here you can go direct to either Harvard Square or downtown Boston also direct to the airport and direct to bus and train terminals. Walk to MIT (under 8 minutes) and Harvard University (15 minutes) Or... take the 'T' one stop in either direction to reach both Harvard and MIT campuses in under 10 minutes.
Whether you want to visit the great universities, see a Red Sox game, or visit Boston's North End for dinner, you will find it easy to walk or use the T from JazzVille. Even day trips to the North Shore, (Gloucester, Salem, Newburyport, Ipswich and Essex) for antiquing and whale watching (or witch hunting!) are a snap, because the connections to the commuter rail and water taxi are very directly connected to the subway-- which you can enter easily, 5 Min from my home.
Other attractions, including the Freedom Trail, the Boston Museum of Fine Arts, The Isabella Stewart Gardener Museum are accessed directly from my front door.
The City of Cambridge:
Cambridge is sometimes referred to as the cultural 'Left Bank' of Boston. We are our own city with a distinct, funky, artsy vibe--and of course, we are the home city of MIT & Harvard. I am located in Cambridgeport section which is smack-dab between both Universities. Central Square is the subway stop closest to me. ( 5 min)
HOSTING:
I will encourage and to help you to see Cambridge and Boston as a native while you discover it for yourself as a visitor. Rather than tell you what to do, I try to hear what you may be interested in and then help you to accomplish locating compatible venues in the most efficient way, given how much time you have.
Some of my guests are here for longer stays for academic programs. For guests doing a longer stay, there is an generous amount of clothes-closet and built- in drawer space, (& overhead suitcase storage) to keep things tucked away. The extra storage will help to ensure that your room remains pleasant to work in and feels free of clutter, throughout your stay.

PLEASE NOTE: Two female house cats, Sydney and Wynstyn, live on premises. They are generally not allowed in the guest room. Being shy girls, they (generally) prefer to keep to themselves.

***GETTING AROUND***
--Cambridge is a walking city, and we are proud of it!
Bikes are also becoming an increasingly popular mode of commuting.

If you are able-bodied I highly recommend doing the majority of your travel by foot and public transportation.
An EXTENSIVE public bike system "HUBWAY" throughout greater metro Boston/ Cambridge (and many of the surrounding cities and towns!) makes touring the area by bike a very desirable and easy option.
Public Transportation: our bus & subway system is known as the "T"
IF YOU DO BRING A CAR:
Most local people park on the street--(and you could too, were it not for the fact that you need a Cambridge Resident Permit), so...
For those with an automobile: FREE on-street parking is also available with the loan of my Cambridge Guest Pass.
Parking can be found usually right in front of the house. (or at most, a half block away.)
Guests are responsible for obeying the posted Cambridge Street Parking restrictions. (strict enforcement!)
If you need to arrive by car, once you are in Cambridge, you will find that you will have little use for your vehicle.
The Green Street Garage is a public parking garage with very modest day rates; it is about 3 blocks from my place and a great place to stow a vehicle until you are ready to use it, (or in a snow emergency when streets have to be cleared!)
OTHER VEHICLE TRANSPORT: Car rental by the hour and day
ZIP CAR stations all around.
20 or more cars to choose from at any one time, (note: drastically less on weekends!) 3 pick up points which are less than 4 minutes walk from my house, 4 more pick up points with multiple cars in less than 8 minute walk.

RENTAL CARS Enterprise Car Rental very close by (4 blocks away with excellent rates and service
Bus, walk or Ride the T.
GREAT STREET MAPS are here waiting for you!!
OTHER OPTIONS : Tired from a long day? 'Dining In' Option/ (available upon request as host schedule allows.)
Host-prepared Gourmet/ Dinners Aprox $13-$15 Suggested Donation. (Prepared with Always Fresh, mostly local, seasonal, sustainable, ingredients. I'm an omnivore who's solved most 'dilemmas.'
You'll eat very well if you eat with me!!

FOOD INCLUDED:
I provide a
Healthy Breakfast, free of charge. Breakfast is easily adapted to vegan tastes.
(Breakfast is usually coffee / tea/or Yerba Mate Choice of Milk or Coconut or Flax Milk/.
Always fresh fruit, and either granola , eggs, hot steel cut oatmeal, or hearty whole grain toast with seasonal fruits, nut butters, and occasionally, savory herb cheese or pesto spreads.
For Lunches and dinners:
Plenty of restaurants right up the street from me: they run from expensive to dirt cheap.
Tibetan, Thai, Palestinian, Pizza, Subs, Felafel, New American Fusion, 3 different Indian All- you-can-eat luncheon buffets--to choose from, vegan, Sushi (You name it, we got it.)
Don't feel like going out?
You can also DINE IN at Jazzville for dinner (if you request it in advance, or sometimes I can accommodate a later request. if I can I will, but no guarantees!)
I charge a modest fee, just to cover the ingredients... (see above)
SIGHTS:
World famous universities MIT and Harvard are within walking distance (on the subway line as well.) Mass General Hospital is also 2 stops away.
Also easy to visit:
Berklee College of Music, Boston University, Emerson College- all super accessible from Jazzville. (Did you know that We have over 90 Colleges and universities in the Metro Boston Area?!)
Jazzville is located a 4 Minutes walk to the the 'T'. from there you'll have Incredibly E-Z access to downtown Boston, Freedom Trail, Quincy Market, Fanueil Hall, The Seaport District, North End, Newbury Street, Convention /Prudential Shopping Concourse, and even to Logan airport.
Flying in? Its possible to fly to Logan Airport and get right to my door--very easily-- with out a cab! (How? Use the "T"! Silver line to Red Line.)
Coming by Bus or Train? Ridiculously easy! A direct (Red Line) subway route from station to station.

You are also convenient to the commuter rail and water taxi, so visiting The Harbor Islands, Salem, Rockport, Gloucester and Cape Ann are easy day trips to make from Cambridge, by T, by train and water taxi.
Whale watching from the Aquarium is popular.
JAZZ VILLE IS TRULY A CENTER POINT.
The Neighborhood is residential. Mostly '3 Deckers' (the traditional housing stock of Boston) with a couple of hi Rise buildings and some single family, historic "soap worker" cottages.
Central Square ( which is a geographical and subway stop 'center point'/ "midpoint" between Harvard University and MIT, on Massachusetts Avenue. (or "Mass Ave"as we call it.) is a little 'textured' i.e. 'gritty.'
It is a real eclectic stew of diverse clientele, as it is a major transportation node. (Lots of folks passing through, along with the stay-put locals.)
We locals are, ourselves, a diverse bunch: a mix of folks who shop at the discount merchandise retailers, scientists, poets, recent immigrants , international college students, lots of young professionals, some 'sketchy' folks; some street regulars, some winos, politically correct food co-op customers, cool coffeehouse hanger-outers, and some fancy hipsters who eat at a handful exclusive restaurants with reputations for great food, along with a couple of independent local pubs with good, if not great food.
Yes ! All of this diversity in the one pleasantly textured neighborhood.
02138 and 02139 might be the most opinionated and educated zip codes in the United Sates, but we are not exempt from the ubiquitous: Dunkin' Donuts and a somewhat seedy MCDonald's are also represented in Central Square. (I'm just saying...)
The street life on Mass Ave is certainly a mosaic of all of these different peoples and eateries.
My 'hood, just off Mass Ave, is pretty much made up of young professionals, some older, lifelong Cantabrigians and some young families from all over the world-- and I do mean all over the world.
It's a four to five minute walk from the subway to my place, which has a pleasant 'neighbor-hoody' kind of vibe.
It is highly diverse, highly educated, edgy and eclectic (both culturally and economically) population.
Welcome! At Jazz Ville you will have a very comfortable oasis from which to explore the whole area!
I look forward to making your Cambridge experience a fulfilling one.
Guest access
Your Bedroom is on 3rd floor of the house.
Your private bathroom (for showering and stowing your toiletries, is on 2nd Floor **NOTE: In addition to your own second floor bathroom, guests may ALSO access the master bathroom on 3rd floor, for convenience.
**The kitchen, at breakfast, between 7-9 AM
****(Additional spaces by invitation of host.)
Laundry room: Ask
If you need to do laundry, I'll be glad make my laundry room, detergent, drying rack, iron or electric dryer, etc. available free of charge. (single load)
The laundry room is conveniently located just next to the Airbnb bedroom.
Guests:
I value my neighbor's AND my guest's comfort, privacy and right to relative quiet & well-being, in equal measure.
I am one of several owners of this building. My fellow owners and neighbors know that I am an Airbnb host and respect me for the work I do. In return I ask that my Airbnb guests refrain from loud conversations, as they come and go through the front entrance hall and front porch.
Interaction with guests
I value my privacy and yours.
I tailor my interactions based on your social cues.
Here's what to expect as a baseline:
*A welcome at the front door.
*A brief tour of the house, and an orientation on the Boston /Cambridge map, with subway directions included, if you need it.
*When we enter the kitchen area, I will also ask you about food allergies and preferences for breakfast the next morning.
*Once you are comfortable with the layout of the home and how to get around, you'll be given your own key to come and go as you like for the remainder of your stay.
*I may check in with in with you later to make sure that you are comfortable with everything at home and with navigating Cambridge and Boston, independently.
***PLEASE, speak up if you are confused about house rules, OR you are too hot, or too cold-- or if something is not to your liking during your stay. Nothing is more disquieting to a conscientious host than to devote oneself to anticipating and filling guest's needs, only to find out AFTER the stay (in the review) that there was a 'problem,' which the guest never said anything about!!
*I am happy to answer questions, and share local insights.
*I work from home, but that does not mean (necessarily) that I never leave home.
*During the work week , I concentrate on my consulting work. ( I run a consulting firm from my home, and try to start my work day at 9AM.)
* I go out frequently during the day and sometimes in evenings, thus I am not 'home all the time."
* Mornings at breakfast (between 7-9 AM) are usually our principal time together. This time can be either very interactive (conversational ) or not.

If you prefer to start your day with quiet, just let me know. I am happy to prepare breakfast and leave it out for you to enjoy some solitude.
The Airbnb Travel experience is a unique way to experience being a Citizen of the World. The 'stay with a local 'perspective is one I truly believe in.
Being part of this network is rewarding for me on many levels; from what my guests tell me, they love it, too!
Overwhelmingly, my guests seem to agree that Airbnb provides them with a more 'human' travel experience.
No one is a stranger here.
*Conversations about everything from world cultures, food ways, anthropology, democracy, health care and economics happen at the breakfast table.
Breakfast is a great time to ask for help to find Boston Cambridge/ treasures/ activities/ or if you need help figuring navigation/ transportation.
Other things to note
Building features:
This is a tall, 11'-ft ceiling Victorian-era building, which = STAIRS.
This is a multi-unit building, a 'side by side' with two front doors.
The front door entrance on the left side, is the entrance to my condo.
No one else uses this entrance but me. ( And of course, you.)
My condo is a comfortable duplex, on the second and third floors of this three -story house. It is a light -filled, air-conditioned oasis, with high ceilings and every modern comfort.
(Wi-fi, Zoned Heating, new plumbing and electrical.)
*The finishes are refined and I have some nice original art, along with funky-found objects. (The best way to describe my home decor and over all atmosphere would be 'Bohemian Chic'. )
*My home is a work in progress.
What does that mean, exactly? Part of my spacious, 2 level condo --the kitchen and the living area floor, for instance-- remain unfinished. (***The AirB bedroom and bath which you are renting, are, of course each FULLY FINISHED as well as well-furnished, and they are exactly as pictured.)
-- Its my own living quarters which are partly 'unfinished'.
* I have patiently reinforced the beams and columns in the whole building so I could ( safely )create a more open-plan living area in my unit. *I have imported and restored a lot of missing architectural detail, a process which has taken me more than 10 years to complete.
*I still have open-stud walls in the big, sunny kitchen and a plywood sub-floor, ( instead of a finished, hardwood floor) in my office and living area.
**As hundreds of guests who have stayed at Jazzville have attested, the 'unfinished" parts of the house--the kitchen and my office- living area--do not seem to impact the quality of their stay in the least.
In fact, just the opposite--many of my guests actually remark at how 'welcoming' the open plan / work- in-progress- open- nature of the kitchen and living areas of my home make them feel.
They seem to appreciate the quality breakfasts, the very central location, the comfortable, clean, private bedroom and bath, as well as the conversation which take place here, most of all.
My intention in telling you this is to give you a real sense of what you, as a guest, can expect to see, feel, taste and experience, once you arrive at Jazzville.
My aim is to have zero daylight between what you see and read here and what you experience while staying here.
Deliverables:
A great bed. A great bath. Privacy. Comfort and a
welcome feel'. A great breakfast. A location in the center of the city of Cambridge, in a quiet neighborhood.
After reading this, if you suspect that stairs might be a barrier to you enjoying yourself, or that parts of my unfinished living quarters might- in any way--detract from your experience-- please---choose somewhere else to stay! No hard feelings.
I'm proud of my my guests enthusiastic reviews and I am also proud the work I have done on this house. I even like the work I have yet to do to complete the kitchen finishes. If Bohemian isn't your cup of tea, no hard feelings!
Kitchen Access:
Breakfast:
Guests are made welcome in the sunny kitchen for a full breakfast between 7AM & 9AM.
I'm sorry, I do not offer guests kitchen privileges at Jazz Ville.
Due to my home layout ( open plan ) its impractical for me to have folks padding about in my kitchen when I'm working close by.
l prefer serving you from my kitchen.
I'm glad to bring you a cup of tea later in the day or the evening--- Just ask!
Enjoying Our Best Breakfast:
Guests who have the best experience typically come down early: (PHONE NUMBER HIDDEN) AM. ( Earlier is okay, just ask.)
By 9:00 AM I'm typically clearing breakfast things away for the day and beginning my work day.
Sleeping in(URL HIDDEN)Feel free to sleep as late as you like at Jazz Ville.
However if you do elect to sleep in past 9:00 AM, you will need to plan on going out for breakfast. There are plenty of coffee houses and tasty options within a few minutes walk, for late risers.
Night Owls:
--Coming in late(URL HIDDEN)No problem. I'll leave the front hall lights on for you.
Come in quietly and turn off the light in the front foyer. ( I'll show you.)
Food Storage:
I'm glad to store the odd restaurant left over, a bottle of wine or water, but please do not count on large quantities of food storage space in my refrigerator.
I use my fridge heavily and often have little, if any room.
Smokers:
If you let me know of your desire to smoke, I'll be glad to direct you to where to enjoy a cigarette comfortably, with chair and ashtray in back of the house : My aim to provide you a cigarette break is which is relaxed and dignified, and to ensure that the butts are not left behind on the ground. There is absolutely no smoking in on the front porch, which is s common area for the building--)

Getting the Most from your Visit(URL HIDDEN)truly love AirB & B hosting, thus I'm delighted to help every traveler plan how to get the most from his or her trip to Boston and Cambridge.
(URL HIDDEN) The best time for us to explore your options together is usually just after you arrive, or at breakfast, where I can give you my full attention.
(URL HIDDEN) I am delighted to help get you oriented and give all the local to tips on walking distances, maps, the hidden finds and great eating places, according to your own specific interests, budget and objectives(URL HIDDEN) I have a full social life and a demanding work schedule. Thus its best to speak with me at the beginning of the day, or preview things in the evenings for the next day.
From 9AM to roughly 6PM I'm working and prefer not to have interruptions. During the day, I need it fairly quiet, not a lot of hustle and bustle here at the house.
----THANK YOU for reading this!
---
Laptop friendly workspace
---
Extra people $18 / night after the first guest
Always communicate through Airbnb
To protect your payment, never transfer money or communicate outside of the Airbnb website or app.
Learn more
---
Not safe or suitable for children (0-12 years)
Check in time is 3PM - 7PM
3 HOUSE RULES:
1) All Guests:
We love you madly, and more than anything we want you to be comfortable during your stay at JazzVille.
There are boundaries, however.
We love --and even encourage!-- sleeping attire at the breakfast table. Outside of the privacy of your room and the bathroom however, please, no walking around partially or completely nude (i.e without a shirt, wearing only shorts /underpants, or a towel....)
*** Just in case what I just said is confusing, here is a guide to what is meant:
If the body parts you are exposing at Jazz Vile would normally be covered in public, you're 'sharing' too much of yourself. No, we're not asking you appear fully-dressed in your street clothes to go to the bathroom, or to the breakfast table, please just to be covered in some type of clothing. ---Tee-shirts and pajama bottoms worn en-route to bathroom or breakfast, for instance--are just brilliant, thank you!!! (:>D
2) GENTLEMEN: At Jazz Ville, the Universal Default Position for Toilet Seats is DOWN. When co-habitating with females anywhere, developing a "T.S.D.H." is a good thing.
Not a venereal disease, a 'T.S.D.H.' (Toilet Seat Down Habit) actually enhances your masculine appeal and earns you props for enlightened behavior with the entire female gender across the globe. :-) ! (Yes, I was laughing as I wrote this, and I hope that by now, you are too! But make no mistake, I'm not kidding about this the toilet seat thing...
.... If you do forget and leave the seat up, you can count on being (discreetly) reminded for the first time. The second time... well..... ):>( ...But really, do we need to go there? (:>o ??
3). The Airbnb room is kept Cat free. Please close the door to your bedroom when ever you leave it- (including to shower, come to breakfast, or to check out.)
Thanks for taking the time to read this. I ADORE MY AIRBED GUESTS!!
You must also acknowledge
Cat(s) live in the house
---
---
---
---
Joan is a friendly and hospitable person. The room is lovely and breakfasts scrummy. Ideal location near subway but down peaceful neighbourhood road. Couldn't fault my stay. Thoroughly enjoyed myself, thank you Joan
---
Joan is absolutely wonderful. She goes above and beyond to ensure that your trip is the best it can possibly be. An outstanding host. The location is a short walk from Mass Ave where you can easily find food, supplies and transport. Uber is also quick and cheap. We either walked or caught an Uber.
---
My husband and I recently spent four wonderful nights at Joan's place. It is the perfect location if you want to visit Harvard or go into Boston The subway is less than a 5 minute walk away and it was very easy to use. Joan very kindly spent time when we checked in giving us helpfu hints about using the subway and told us about good places close by to eat at. Joan also very kindly prepared a snack when we arrived as we had not eaten lunch yet. Joan is a very thoughtful person and she makes you feel that her aim is for you to have an extremely memorable trip to Boston. Joan lives in Cambridge just of Mass Avenue which is such a convenient location. Joan is such an interesting, articulate and intelligent woman who goes beyond what you might expect to make sure her guests enjoy their stay and are made to feel very special. We highly recommend staying at Joan's you will be very glad if you do.
---
Staying at Josh's was a pleasure. Breakfast was a pleasure and the home was conveniently located near the T. Joan was very accommodating about letting me drop off my bag before check-in. The bed was comfortable and the room well-stocked with information about the city. Highly recommend staying here.
---
Joan's home is an amazing find!!! You cannot beat this location- right in central square, minutes from the subway station. She makes you feel right at home with an amazing gourmet, home-cooked breakfast each morning- we felt like we were visiting family!! Would absolutely recommend you stay with Joan for your trip to Boston!
---
Joan is a lovely host, she and her house are very welcoming. Joan is currently renovating much of her space which I didn't mind at all, and the booked bedroom was fully equipped and renovated. I haven't had such a good and extensive breakfast in a long time and Joan would basically prepare anything I would have liked. Two very quiet, adorable cats live in the house, too. The house can be reached within a few minutes from public transportation (red line at Central Square) and is in a very quiet neighborhood. In summary, I really enjoyed my stay.
What a glowing review, Weibke! Thanks. As it says in the description of Jazzville, (and show in the photos ) my kitchen and living room remain unfinished, which should not affect the quality of your stay in the slightest. As Weibke and other guests points out, the room and bath you rent from me are nicely finished, and have every comfort. Please note: There is NO active construction going on, so there is no dust, noise or disruption. (Once I resume the renovation process --most likely sometime in mid 2018-- Jazzville will close to the public, until the kitchen and living room are fully completed. But in the meantime, I just wanted visitors to know they can expect a quiet and clean bedroom and bath. (No renovations are actively in process. )
---
Boston, Massachusetts, United States
Joined in August 2008
Funny, politically astute, progressive pragmatist.
Arts and culture-as in Music--as in Jazz, visual arts and food ways-reign supreme at JazzVille.

Work in the Sustainable Foods Movement.
I love to cook, and when I'm not doing that, I write, teach and think about Food. (I've been called 'Totally Food-Centric," more than once.)

People who know me tell me I'm a very capable household manager, which is probably why hosting for AB& B feels natural for me.

Besides cooking and food/ farm interests, visual arts and music, I'm a licensed builder. World travel has influenced me and my interests in both of these pursuits are immediately apparent to anyone coming to stay at Jazz Ville.
I do my best to provide a comfortable oasis and great breakfasts for visitors looking to navigate their own journey through Boston and Cambridge.
Languages:
English
Response rate:
100%
Response time:
within a few hours
Explore other options in and around Cambridge
More places to stay in Cambridge: