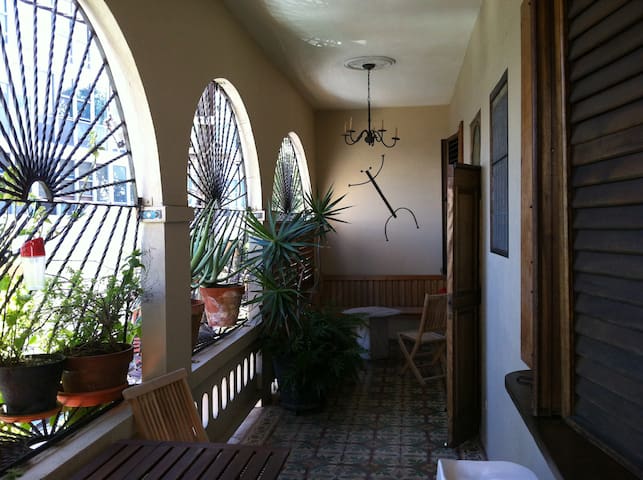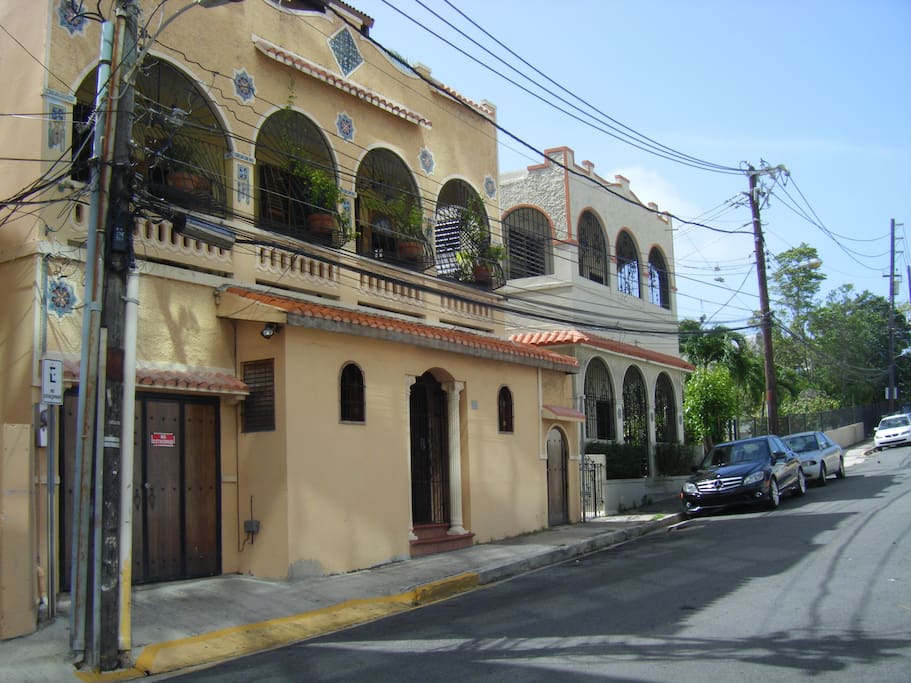 About this listing
More than just another vacation rental!
I offer a fully hosted experience in a historic house with three suites/museum/gallery in San Juan's vibrant Santurce Arts District.
On arrival, I'll meet you for check-in & take you on an Arts District tour including Plaza del Mercado.
My office for hotel/tourism consulting is onsite - so I'm here all day for any recommendations or assistance.
If you appreciate art, culture, music & history in a local neighborhood, this may perfect for you!
---
This listing has essential business travel amenities.
---
Check In: Anytime after 3PM
Room type: Entire home/apt
---
---
---
The space
The second floor suite is one flight (18 steps) up the art deco staircase. There is a locked door to your suite with bedroom, TV Room, bathroom (shower - no tub), full kitchen, rear sun deck and traditional balcony facing the street with seating and dining area.
You also have use of the dining room just outside of your suite.
Bedroom: King bed, cable TV, free wifi, ceiling fan, air conditioner, closet, dresser and french doors that open out to the sun deck.
TV Room: Long sofa, computer desk, sitting area, large TV, wifi, closet, ceiling fan and French doors to the sun deck (no air conditioning).
Sun Deck: At the back of the house with access from both the bedroom and TV room. A great place for morning coffee, working on your tan or evening glass of wine in the moonlight. Hammocks available in the lobby.
Kitchen: Full kitchen with arch overlooking the dining room plus a pass-through to the front balcony dining and seating areas. Fully equipped with everything you need!
Balcony: Access through the kitchen door or pass-through window to the traditional street-front balcony with dining table/chairs, plants and herbs. There is also a seating area with teak bench and chairs. You're welcome to use any of the herbs for cooking or treat sunburn with fresh aloe from the balcony container garden.
Note: the kitchen does have an archway - you can see penthouse guests as they pass through the dining room to their penthouse stairway - but they do not have access to your locked portion of the 2nd floor. There are venetian blinds that can be lowered to cover the arch, so you have complete privacy.
-------------------------------------------
NATURE ALERT: The house has a very open design that encourages open doors and windows. There may be small lizards on the balcony (we like them - they're cute and they eat mosquitoes). Small birds and hummingbirds are common. If you're lucky, you'll see a 'coqui' tree frog. Mosquitoes blow in when the wind comes from the lagoons during rainy weather (we provide spay and have screens on the bedroom door/windows). There are screens for the bedroom/TV room/bathroom but not for the kitchen or balcony due to the open design.
Guest access
All guests enter the house through the same gate and front door. Please make sure to always double-check the front door and the front gate by pulling it with your hand to make sure that it is securely locked.
You'll enter the lobby and have access to beach towels/chairs, suntan lotions, yoga mats, bug stuff, umbrellas, tourist info/guides and our coffee/tea bar. We also have a collection of hammocks for your outdoor area or the beach.
Note: the dining room on the second floor is available for your use. It is technically not part of the suite - since it is in the shared area that penthouse guests need to pass through on their way upstairs, but you are welcome to use it anytime. You also have table/chairs for dining/working on your front balcony, rear deck and TV room.
Interaction with guests
On arrival - I'll meet you outside the house and give you an orientation in the lobby at check-in before showing you to your suite.
After you get settled, I'll give you a tour of the neighborhood so you understand the history/development of the Arts District and where to find supermarkets, banks, restaurant, museums, bars, clubs and galleries.
We'll end at Plaza del Mercado where you can find restaurants/bars and the weekly 'street parties'.
I'll also point out how to get to Old San Juan, the beach at Ocean Park and the bohemian/hipster Loiza Street area.
I have my office hotel/tourism consulting and real estate at the back of the museum just off the lobby and is available from approximately 9am-9pm. I'm always happy to help with directions or recommendations and love getting feedback on your adventures in San Juan.
And of course, you're always welcome to visit the museum or Art Gallery.
The neighborhood
When you arrive, I'll take you on a walking tour of the neighborhood and show you all arts venues, restaurants, bars, supermarket, ATMs, way to the beach, bus stops, etc. and end up at Plaza del Mercado.
The Santurce area of San Juan was the center of all business, shopping, restaurants, theaters and nightlife from the 1940's - 1980's. Often referred to as the 'Times Square' of Puerto Rico. Our area of Ponce de Leon had so many exclusive shops and boutiques it was called 'The Fifth Avenue of the Caribbean'. There was an elegant 'Rainbow Room' style dinner club one block away at 'Top of the First' and the highest concentration of movie palaces in the Caribbean.
All this changed when TV came to Puerto Rico. While the US mainland had their 'golden age' of TV in the 1950's, it wasn't until the 1970's that Puerto Rico developed their own local programming. After this, people could just sit at home for entertainment and no longer supported so many theaters. At the same time, the Hato Rey business district was created - luring many businesses out of Santurce. The final blow came when Plaza las Americas opened in the 1980's and Ponce de Leon Avenue was no competition for the largest shopping mall in the Caribbean. The neighborhood gradually just faded away with abandoned buildings and theaters on every block.
But like many urban areas - artists and creative entrepreneurs discovered a wealth of great spaces - just a few minutes walk across the highway from the best tourism areas of Condado and Ocean Park. Started as a 'grass roots' effort with private clubs, galleries, bars, etc. in the areas surrounding the Fine Arts Center (4 theaters and Symphony Hall).
The Arts District was formalized with the opening of the Puerto Rico Museum of Art in a former hospital, The Museum of Contemporary Art in a former public school and the Conservatory of Music in a former Catholic School.
With the Miramar Historic District at one end and Sacred Heart University at the other - it now forms the highest concentration of arts in the Caribbean.
The neighborhood is still evolving - so some blocks are still abandoned and a bit shabby around the edges. This isn't a Disney-style gentrification area, but a real urban neighborhood that has everything from homeless to ultra-chic condos and lots of artists and interesting characters in between. But even the bad blocks are considered safe for tourists and have some of the best urban art in the world!
If you want a generic resort vacation, this may not be for you... but if you want a fascinating local experience with easy access to great beaches, Old San Juan's UNESCO World Heritage, authentic Puerto Rico living and some of the friendliest people in the world - the Arts District might be perfect for your trip to San Juan!
Getting around
When you arrive at the airport - the only real alternatives for transportation are taxi or rental car.
UBER has arrived in San Juan Metro Area - but is currently blocked at the airport for arriving passengers - although you can use it when you return for your flight home.
Taxis are flat-rate from the airport at $20 plus $1 per luggage and any tip (10% is customary here).
Rental car rates vary so shop around. Off-season rates can be very reasonable and when you consider a taxi from the airport will be about $22 each way - it may make sense to rent for your entire stay even if you don't use it every day. There is free parking on the street in front of the house.
If you do only want a rental for a day or two - both Target Rental Car and Bella Rental Car are within walking distance of the house.
If you don't plan on exploring outside San Juan, you really don't need a car at all.
The house is approximately a 10 minute drive from the airport. I'll send a map with directions after you reserve.
We have the best bus service in San Juan at the end of our block - with regular service to Old San Juan from 5am - 11pm every day.
I'll send a detailed bus guide after you reserve.
While we're not on the beach - we're only a 14 minute walk to Ocean Park Beach (the best beach in San Juan), or a short bus ride to Condado or Isla Verde Beaches or the Escambrón Beach near the Caribe Hilton.
I'll also send you a detailed walking tour that also includes our 24/7 supermarket (3 blocks away), restaurants, bars, discos, museums, galleries, nightlife, shopping, etc.
There is no public transportation outside of San Juan.
If you plan to visit the rain forrest, bio-bay, caverns, Luquillo beaches, etc. you will either have to rent a car or take a tour.
NOTE: If you are combining San Juan and Vieques or Culebra - your only options are flying or ferry.
Flights leave from both San Juan's airports (SJU or Isla Grande) so check to make sure which one you choose. Flights are expensive, but get you there on time - and very short so you maximize time on the islands.
If you choose the ferry - you have to drive at least 1 hour to Fajardo, find the ferry terminal and make sure to park in the 'secure parking'. If you take a taxi, it will be approximately $85-100 each way.
UBER will now go to Fajardo for approximately $65 - but does not offer a service to return (ask your driver for his number so you can make arrangements).
The ferry is run by the government and is a constant source of complaints, frustration and ruined plans. Ferry tickets are only available at the terminal (no online sales) and local residents of the islands get priority. Make sure that you also purchase your return ticket if going round-trip since boats fill up quickly. We always recommend a 'plan b' in the event that the ferry is full, weather is bad, or you miss the boat. If everything goes well, the ferry is very cheap - but if you end up loosing your deposit on a hotel in Vieques or Culebra while having to find a last-minute place to stay in Fajardo, it can be much better choice to consider a flight.
Other things to note
Puerto Rico Tourism Company Hotelier ID: .
We have included 7% Tourism Tax in all rates.
-------------------------
A note on our 'open design': Although 99% of our guests love the 'indoor/outdoor' living, we've had some comments lately about noise.
The renovation of the house has been done with a very open layout - French doors open to the terraces, open eves and arched windows create a 'natural chimney, windows are mostly louvered wooden windows that allow trade winds to flow through the space.
Because of this open design - you will hear urban traffic sounds, plus the chirps of coquis (they stop about midnight), crickets that can be loud at times and some music from the recording studio next door or the dance school behind our house which rarely go past 11pm.
Air Conditioning is only provided in the bedroom. For guests who prefer non-air conditioned sleeping, open doors can provide great breezes - but also allow a higher exposure to urban sounds.
If you are used to central air conditioning and sealed windows - please realize that this house is not sealed and controlled. It would not fit the nature of the 100 year old historic structure - nor would it fit the way I choose to live in the Caribbean.
We have also had some comments about 'dirty floors' from guests used to central air conditioning and 'controlled environments'.
All floors in the house have floor tiles and are mopped the morning prior to your arrival. However, since the design of the house is very open - the constant tropical trade wind breeze brings in a fine soot-like dust that is common throughout San Juan and eastern Puerto Rico.
This is especially common in the summer when extremely fine dust blows from Africa's Sahara desert all the way across the Atlantic and covers the island. Puerto Ricans have a special local word for it - 'BRUMA' which is included in daily weather reports - with special updates when the dust will be heavy.
The 'BRUMA' brings natural fertilizer to the island, but also can also cause delays at the airport and form a layer you can see in the air when there is no breeze (check it out when you land at the airport - its not smog, but part of the Sahara desert suspended above San Juan).
Local folklore says that a summer with substantial 'BRUMA' means we will have an easy hurricane season since the heavy dust can slow down development of cyclonic systems.
The BRUMA dust/soot can appear even if floors are mopped every day - especially if you are barefoot- it is so fine that it sticks to your skin. Since we have open windows and doors in every unit and don't provide daily maid service, it can make the floor 'dirty' in a matter of minutes or hours depending on how the wind is blowing.
I provide a 'swiffer' in each unit so you can quickly give the floors a cleaning each day. However - if there is a heavy BRUMA - it will be 'dirty' again in a short time.
Local residents face the situation on a daily basis - so we tend to wear socks rather than go barefoot if we don't live in central air conditioning (our house only has airco in the bedroom of each unit - so BRUMA is a factor in other rooms).
This is a fact of life throughout San Juan and not something unique to this house or neighborhood. This is part of the 'charm' of the house, or could be a reason not to stay here, depending on your lifestyle and point of view.
This has been a factor for a very small percentage of guests - but since we are dedicated to guests having the very best vacation experience possible, I want to make sure that you are aware of this if it is a consideration for your lifestyle and choice of accommodations. Plus - the housekeeper asked to explain so you won't think he didn't do his job :)
---
May not be safe or suitable for children (0-12 years)
Check in is anytime after 3PM
Thanks for booking your suite in San Juan's Arts District!
I'll send a complete set of arrival instructions and neighborhood guide by regular email after receiving your reservation.
Please advise me of your airline/flight/time so I can track any delays and make sure that I'm at the house when you arrive.
ARRIVAL: Check-in time is normally at 3pm (earlier may be possible if your suite is not occupied the night before).
- If you have an early morning arrival, book from the night before and I'll meet you at any hour even if it is early morning - then you can go straight to your suite.
- If you arrive on an early morning flight and prefer to wait until check-in time, I usually will be at my office by 9:30am and you can leave luggage in the museum until your suite is ready later in the day.
DEPARTURE: Normal check-out time is 11am. There is no problem with early morning departures - just let me know in advance. Late check-outs can only be arranged once you get to San Juan since it depends on whether your suite is booked on departure day. If you have a very late flight, you can book an extra night, or leave your luggage in the museum until you head out to the airport.
CRITICAL RULE - ELEC/WATER: Turn off airco and lights when not in your suite. Report any water leaks or running toilets. Puerto Rico has some of the highest utility rates in the world - so please make sure that you turn off lights and air conditioners when not in your suite.

SMOKING: No smoking in your suite, but you can smoke in outdoor areas as long as you position so smoke does not go into the suite or public areas.
THE BAND NEXT DOOR: We love the guys from the indie rock band FANTASMES and their recording studio. However, this means there is music most days. Groups range from Reggae, Punk, Trance, New Age, Classical, Dance Hall, 50's Bop, Hard Rock and more. Some are fantastic - others just getting started. Our informal agreement is that they wind down by 11pm but sometimes they get carried away and don't realize what time it is. If they go too late, just let me know and I'll give them a call. Most guests love having the studio next door and we rarely have a problem - but something you should know before booking. Note: we always have earplugs available in the lobby if the band de jour is not your favorite genre.
Photo Identification required on check-in (I'll make a photocopy).
No children under 12 years without approval (per contract with the onsite museum). No pets. No parties or events without approval of the host.
HAVE FUN !!!!
---
Strict
Cancel up to 7 days before your trip and get a 50% refund plus service fees back.
---
---