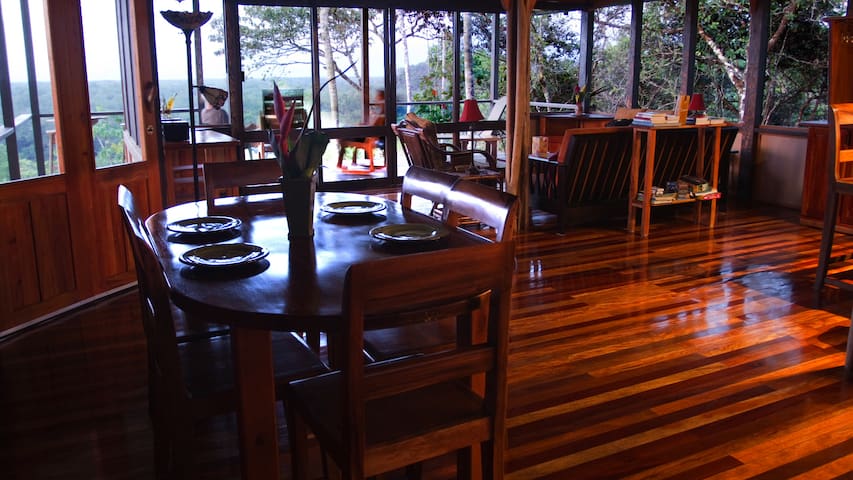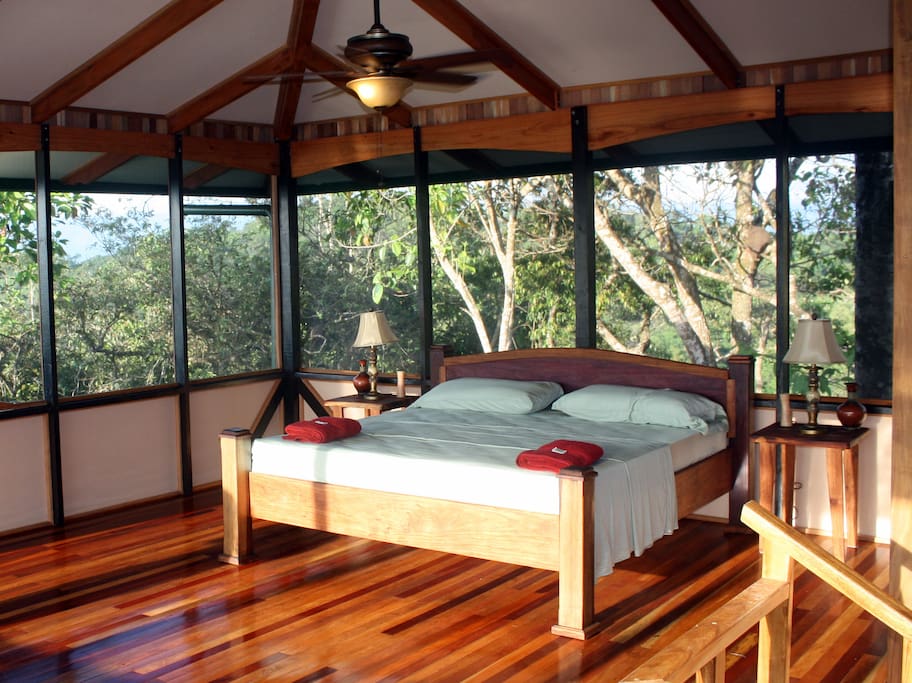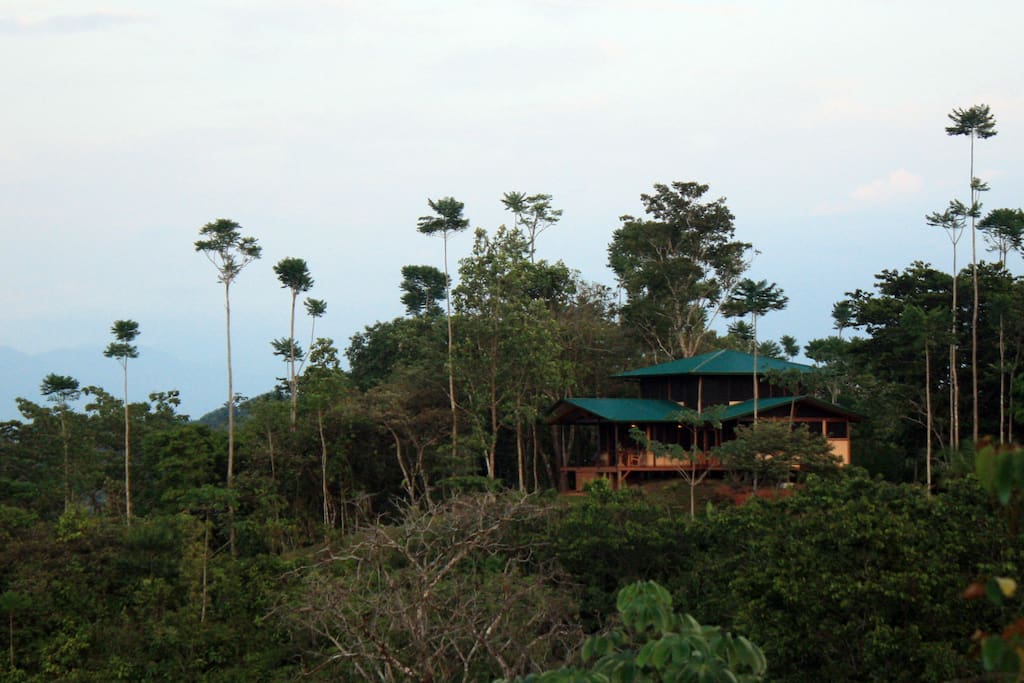 Private Waterfront Home, Adventure
This is the Costa Rica experience you see on the National Geographic channel. Rainforest, river, and ocean environments can all be enjoyed from this home - a home that is rich in aesthetic and harmonious in feel and existence with the environment.
The space
This is your chance to completely escape the monotonous grind of everyday life and rejuvenate your body and mind with a healthy dose of natural beauty, active adventure, rustic luxury, and cultural authenticity. All five senses will be on full alert here…each one contributing to an overall sense of joy and relaxation. Start your mornings with the sounds of howler monkeys, the sight of tropical sunrises, and the aroma of Costa Rican coffee that would put Starbucks to shame. Fill your days with a plethora of river, ocean, or rainforest adventure – all available directly from your front steps. Finally, wind down the evening watching the flight of white ibis across the sunset over Isla Violin with a cold cervesa or mojito in hand. Sound like paradise to you...we think so too!
Our home's location on the Sierpe River – a fully navigable river that flows into the Pacific Ocean – serves as a direct connection to all of the best adventure activities that Costa Rica is known for. Accessible directly from the front steps of the home are 5 kilometers of hiking trails that weave through primary rainforest, wetlands, mangroves, and 3 tropical fruit filled gardens - great for wildlife watching and birding. Feel free to help yourself to the fruit, the resident monkeys certainly do! Four kayaks are stored on-site and are yours to use for exploring the river and its tributaries. Are you a fan of fishing? If so, you'll be glad to know that some sizable red snapper and snook have been caught from the two riverfront piers. For adrenaline junkies some pretty intense mountain biking and horseback riding trails connect the property to the Mirimar mountain range to the south. Just want to relax?...then you'll love the lounger and hammock on the deck overlooking the river..
In addition to the on-site activities, it is highly recommended that you arrange for a variety of tour boats to pick you up at the riverfront dock for some of the ocean related activities that have made this area so popular with tourists. Favorites include deep-sea fishing (world class in-shore and off-shore), snorkeling, diving (Costa Rica's most renowned), wildlife watching in Corcovado National Park, Cano Island hiking, snorkeling, surfing, beach cruises, and dolphin and whale watching. All of these tours can easily be arranged for you by the owner or on your own and are of a very high quality.
The home itself is 6 years old and was built in the signature "refined rustic" style of our Canadian builder. Large beamed exotic hardwoods combine with lofted ceilings and ample use of screened in windows to emphasize views of, and harmony with, the natural surroundings. A 300 sq. ft. veranda has rocking chairs, a breakfast nook, and lounger available to relax in while enjoying the amazing views. Despite being very isolated and completely "off the grid", a very large solar system, on demand hot water, and 3G cell phone will keep you comfortable and connected. Ask about internet options. King and queen sized beds, 500 thread count sheets, and custom built furniture convey a true sense of luxury in the jungle. One of two spacious 3/4 baths with high volume/pressure showers connect directly to first floor bedroom and living area, while the other is located in the upstairs master suite. The kitchen/dining area seats up to 9 and has a 6 burner oven/stove, fridge, and freezer.
For more info on logistics, services, transport, etc. consult the "house rules".
While the enjoyment of our river retreat provides the ultimate in tranquility, beauty, and seclusion, it must be said that this experience is better geared towards those who are adventurous, independent, and enjoy physical activities. The walk to the cabina from the boat dock is the equivalent of a few blocks and involves a large hill. While the home is very new and provides a wide range of modern comforts and conveniences, you must remember that you are "off the grid" and in the middle of a tropical rainforest. This cabin does not have air conditioning, but 9 overhead fans and a design utilizing cross-ventilation measures keeps the cabina comfortable. In our version of paradise we sacrifice air conditioning for air of the purest condition!
This home is not suitable for children aged 2 and under. Please ask about suitability for children aged 3-6
Please note that this home is not located in Drake Bay Proper. It is located on the Sierpe River. Most of the same tours and attractions that can be experienced in Drake Bay can be enjoyed from this home.
Guest access
The entirety of the home, and all piers, hiking trails, ranchos, and gardens of the 63 acre property that this home is a part of. Guests will also get use of 4 kayaks and 2 mountain bikes.
Interaction with guests
Our general manager Guillermo meets you at our office in Sierpe, transports you to the home by boat, assists you with your luggage, gives you a brief tour of the home, and then leaves you to enjoy it! He will be available by phone for questions, emergencies, coordinating tours, and organizing boat transport.
Other things to note
Please read house rules for very important information regarding the nature of staying at an off the grid, solar powered, boat access only home in the rainforest.
---
Room type: Entire home/apt
---
Laptop friendly workspace
---
Extra people $15 / night after 2 guests
Always communicate through Airbnb
To protect your payment, never transfer money or communicate outside of the Airbnb website or app.
Learn more
---
Bedroom 1
1 king bed, 1 sofa bed
---
Not safe or suitable for infants (Under 2 years)
Check in time is 2PM - 4PM
Conditions of Rental at Sierpe del Pacifico, Guidelines, Suggestions, Directions, Rules, and Tips for a Comfortable Stay
Congratulations on your interest in booking a stay at our beautiful Sierpe River home! We've put together a list of important information for you to be aware of that will allow you to best enjoy your time at our beautiful vacation home along the Sierpe River.
Please keep in mind that this is a self-catering stay at a private home. We are not a hotel, nor do we offer concierge type services. Instead, we will provide you a well adorned and comfortable home, and a wealth of information on how best to enjoy the surrounding rainforest, river, ocean, and the home itself. We will also outline the specific services provided by our very diligent and helpful employees, as well as all rental policies and rules. If you have any questions or need clarification on any of the following items below please feel free to contact me by email (EMAIL HIDDEN) or ph(PHONE NUMBER HIDDEN)) US, (PHONE NUMBER HIDDEN) CR.
Before booking this home, please be self-selective and realistic with your ability to abide by these terms and conditions/house rules and deal with unique features such as managing solar energy use, coping with heat, humidity, insects, and physical activity.
Pura Vida! - Cassidy
Check-in and Check out – Standard Check in is between 2 p.m. and 4 p.m. Earlier check-in starting at 10 a.m. may be available with prior arrangement with Cassidy or Guillermo and is mostly dependent upon whether we have guests leaving the same day and the amount of time needed to clean and turn around the house.
We require that our guests give us a specific time of their arrival at least 48 hours in advance of their arrival so that we can have staff ready to assist you upon your arrival. Failure to notify us of an arrival time might result in you having to wait on our comfortable veranda for a bit because our staff will be engaging in other work. Make yourself at home and relax, you're in Costa Rica! Word will get to us that you have arrived.
It gets dark at 6 p.m. year round in Costa Rica, so if you arrive later than 4 p.m. you will have to spend the night in Sierpe as there will not be sufficient time for you to get provisions, arrange for tours if you have not previously done so, transport you to the house down river, and allow for our employees to return to Sierpe while it is still light out. If you are delayed and you arrive later than 4 p.m. we will be happy to assist you in finding a hotel for the night and will transport you to the home first thing in the morning. No refunds will be given for this nights stay if you must stay in town as a result of an arrival after 4 p.m.
For information on getting to and from Sierpe please see the "driving directions" section.
Parking is available for you to use at our office. While this parking is gated and secured at night and no incidents of theft or damage have ever occurred, Sierpe del Pacifico is not responsible for theft or damage to cars parked on our property.
It is also your responsibility to tell Cassidy by email how you would like the beds made up at least 48 hours in advance of your arrival. In listing (SENSITIVE CONTENTS HIDDEN) 295001/(SENSITIVE CONTENTS HIDDEN)375958/Airbnb(PHONE NUMBER HIDDEN)/(SENSITIVE CONTENTS HIDDEN) there is a queen upstairs, a full downstairs, and a pullout futon. In listing (SENSITIVE CONTENTS HIDDEN) 388015/(SENSITIVE CONTENTS HIDDEN) 366726/Airbnb (PHONE NUMBER HIDDEN)/(SENSITIVE CONTENTS HIDDEN) there is a king upstairs, a queen downstairs, and futons in both the upstairs master suite and downstairs living area. Extra air beds can be made available for both homes.
Check out is between 6 a.m. and 10 a.m. A later checkout may be arranged if we do not have guests arriving later that same day and you arrange for the late checkout at least 48 hours in advance. Late checkout is at the sole discretion of the property manager Guillermo.
Upon checkout we require that you leave the home in the same condition it was in when you arrived. Failure to do so could result in deductions from your security deposit. We require that you put all used towels and sheets in a large garbage bag so that our employee who will be transporting you to Sierpe can bring them with him promptly and efficiently.
Number/Ages of Guests Arriving – Your reservation will be for the number of guests you have dictated and paid for in your online reservation. Arriving for check-in with more guests than is dictated in your reservation is a violation of the rental agreement. Your reservation will be immediately cancelled without refund.
Ages of all children aged 12 or younger must be stated in your reservation email for the purpose of declaring suitability. This home is not suitable for children aged 3 or younger. Please talk to Cassidy about suitability for children ages 4-6 prior to booking.

Caretaker and Management Services – Here is a detailed description of services provided to you by our management. We are a small business striving to make your stay as enjoyable as possible and keep our rental rates more affordable than area hotels. As such, we try to be as efficient as possible with our services provided to you.
- Boat Transport – The initial arrival and departure trips will be provided free of charge and are available 2 p.m. to 4 p.m. for your arrival and 6 a.m. to 10 a.m. on your departure. Additionally, for every 5 nights that you stay we will offer another complimentary round trip by boat to and from Sierpe. These complimentary trips are available 6 a.m. to 4 p.m. Boat transport will not be available from Sierpe del Pacifico management after 4 p.m or on Sundays or the National holidays listed below. These boats trips with Sierpe del Pacifico management must be pre-arranged with Guillermo or Cassidy at least 24 hours in advance. Additional private boat trips beyond the arrival and departure and 5 day allowance can be provided for $20 each way and again, they must take place between the hours of 6 a.m. and 4 p.m and must be arranged at least 24 hours in advance. Furthermore, they will not be available on Sundays or the National Holiday's listed here: January 1st, April 11th, the Thursday and Friday before Easter, May 1st, July 25th, August 15th, September 15th, and December 25th. Only initial arrival and departure trips will be available on Sundays and the above mentioned National Holidays. For non-check-in and check-out boat transport to and from town, the 4 wheel drive vehicle will not be available to transport luggage or groceries from the docks to the home. Please plan on only bringing items you will be able to comfortably bring up to the home in your hands or in a backpack.
If you wish to be transported to or from Sierpe del Pacifico between the hours of 6 p.m. and 4 a.m. please talk to Guillermo as far in advance as possible. He will look into arranging private transport for you through trusted providers, but he can't guarantee it. The price quoted to you by Guillermo from the third party is non-negotiable with Guillermo. You are welcome to contact the provider on your own to negotiate the price. Trips during the nighttime hours will typically cost between $30 and $40 each way. The fees for these trips must be paid by you directly to third party provider in cash only.
Another option to get back and forth to Sierpe is to catch a ride with a passing tourist boat or water taxi. Boats pass throughout the day, but do so with more frequency from 8-10 a.m. and 2- 4 p.m. Many of these boats will pick you up and give you a ride to Sierpe for a $1-$5 a person. Please keep in mind that a boat picking you up is likely, but is not guaranteed. It is also up to you to negotiate the price and make payment in cash. To return to Sierpe del Pacifico talk to the representatives at either the Oleaje Sereno hotel and restaurant. You can also try the Las Vegas or Kokopelli Restaurant. They can tell you what time the next boat will leave and how much it will cost per person to get back. You should plan on attempting to arrange this trip as early as possible in the day or as soon as you arrive into Sierpe earlier in the day, as after the hour of 2 or 3 p.m. there might not be a boat going down river and you will have to make your own arrangements. Note, there are more boats available in the months of December-April and July and August. There are less boats in May, June, and September – November.
- Security/Game Trail Cameras – In several locations on the access and hiking trails as well as near the entrances of the houses and the docks there are trail cameras that serve the function of documenting the wildlife we have at the property as well as maintaining a record of who comes and goes for security purposes. No cameras view inside the houses or onto the decks of the houses.
- Phone Communication – Guillermo will be your primary phone contact. For questions that you have about the home or property please first consult the "welcome book". If this doesn't satisfy you, you are welcome to call or text message Guillermo or Cassidy. Keep in mind that English is Guillermo's second language. Direct and specific terms are most easily understood . Please restrict your non-emergency phone calls to the hours of 7 a.m. to 7 p.m., however Guillermo is most readily available before 4 p.m. Please refrain from calling after 7 p.m. unless it is an emergency. Loss of power due to overuse is not an emergency. For collective tours, please call Guillermo to assist you in arranging the tours, unless you have pre-booked tours with Rayna in advance in which case she will be in touch with you directly on the cell phone. Sunday is all of our employees' (including Guillermo) day off. We ask that you refrain from calling them on Sunday for anything but emergencies and any problems that might be occurring at the home. Please complete all phone calls regarding tours or other information on Saturday. Boat trips beyond the initial arrival and departure will also not be available on Sunday. Please restrict non-emergency phone calls from occurring on the following National Holidays as well January 1st, April 11th, the Thursday and Friday before Easter, May 1st, July 25th, August 15th, September 15th, and December 25th.
- Sheets/Towels – Sheets for the house will be provided free of charge for each of the bedrooms in the house. Extra sheets for the futon or air mattresses can be provided for $10 a set. Towels will be provided for each guest in your party. For every 5 nights that you book with us we will replace your used towels and sheets on beds with new ones. Futon and air mattress sheets will be $10 to switch out. Please coordinate sheet/towel exchange with your designated complimentary boat trips to and from Sierpe, as a special trip will not be made to the property to merely replace your sheets and towels. Special trips to the property to replace sheets and towels will be charged at normal boat transport rates. In order to receive your fresh sheets and towels we require that you gather all used sheets and towels and exchange them with us in Sierpe so that we may wash them and have them ready for our next guests. We do not provide paper towels. If you would like some we encourage you to purchase them along with your groceries.

General - This is a self catering experience at a vacation home that is isolated and private. There are no restaurants or grocery stores to walk to because you are in the middle of the rainforest. You came to Costa Rica to enjoy the best adventure of the natural environments that Costa Rica is famous for…so embrace it!!!
Upon your arrival at our office in Sierpe we will accompany you to grocery stores so that you may procure provisions as well as a tour office so that you can get tour information and book them if you would like. We then transport you to the home by boat (10-15 minutes), help you transport your provisions and heavy luggage up to the home, and give you a brief tour of the home and its features, answer your questions, and finally, present you with the "welcome book" – a conclusive book of information for your stay. After that you are on your own to enjoy the river and rainforest! There is a cell phone available for questions, emergencies, and the booking of tours. If you don't like the idea of cooking too much, the Oleaje Sereno and Kokopelli Restaurant can prepare decent meals to go.
SOLAR POWER - This home is run off of solar power. We have sized it to meet all reasonable uses continually with a sizable battery back-up, however being conservative with the use and diligence with turning things off that are not needed at the moment and when you leave is necessary strategy for ensuring the most comfortable stay. If you are wasteful with the energy use, the batteries will drain to a low charge that will potentially cause permanent damage. At this point the system will shut off. We will not turn the system back on until the batteries have recharged to an acceptable level. This can only occur during the daytime. If you lose power at night there is nothing that can be done until the next day. Loss of power means no lights, no refrigeration, limited water pressure, as well as no ignition to the on demand hot water heater.
Leaving a couple fans and lights on while you go on a day tour to the ocean can cause a serious drain to the batteries! If you are diligent with turning things off, do not run the fans on high, do not use prohibited high wattage items such as curling irons and blow dryers, and only use lights and fans that are directly near you, you will not run out of power. If you run out of power the lights, fridge, and fans will not function until they have had sufficient time to recharge. Groups with young children or 6 or more people must exercise extra precaution in regards to solar power management. No refunds are given for low batteries, power shutting off, or lack of power!
General Comfort and the Nature of "Off the Grid" – It must be noted that staying at this home can present what some people would consider environmental and comfort challenges. Most people, however, would view these as being par for the course when staying off the grid in the Costa rican rainforest and will find that the level of aesthetic, amenity, and comfort we've been able to create in this environment is quite remarkable! That said, please note the items below and be honest with yourself about your ability to deal with them.
1) Heat and Humidity – Costa Rica is located 8 degrees north of the equator. If the sun is shining, it will be hot anywhere with low elevation. The homes have heat insulation in the roofs, are situated to take advantage of cross breezes, and have ample fans to help deal with the heat. That said, you will likely get hot at some point and will likely sweat at some point as well. Getting out on the ocean and river will allow you to swim and be near breezes. Taking lots of refresher showers at the home will help you stay cool as well. If you don't do well with heat and humidity, then you probably shouldn't visit Costa Rica and definitely should not visit these homes
2) Physical Activity – The homes are located on the top of a ridge that is a 5-10 minute walk from the docks on the river. The elevation change is about 70 meters. Being at this height allows the homes to have nice views and take advantage of breezes. It also means that you will get a workout every time you go up and down to the boat docks on the river. The heat and humidity will accentuate they physicality of this activity. If you (or members of your rental party) don't do well with steps or substantial physical activity, then these homes will not be good option for you.
3) Insects –This house has a micro-mesh "super screen" imported from the US for window material. It does an exceptional job of keeping the airflow coming in, and insects out. We also have very tight brush guards on the entry doors. This can make them a little more difficult to open, but they also keep insects out. Combined with insect repellent, the screens and doors are very effective at keeping you comfortable and mostly bug free. We also spray and treat the supporting pillars of the houses for bugs. That said, these homes are the only places emitting light in the middle of a tropical rainforest. They also have food in them that you brought there. You will see and experience some bugs near or in the house from time to time. Keeping the lights at a minimum at night, keeping doors closed, and cleaning up food or beverage mess immediately and entirely after cooking will help keep bugs at a minimum and will help keep you comfortable. If you don't do well in the presence of insects, you should not visit this home.
4) Independence/Diligence in Planning – Because of the remote location and unique rainforest environment people who are independent, resourceful, adventurous, and diligent in their planning will get the most out of this experience. If you are the kind of person that just likes to "wing it", is fussy, or has a negative attitude you will likely find the experience a bit challenging and, perhaps, unenjoyable.
Reservations/Canellations/Security Deposit – Reservations are considered complete once the full rental payment and security deposit are made and you receive a confirmation email from your chosen rental site. If you booked on (SENSITIVE CONTENTS HIDDEN), (SENSITIVE CONTENTS HIDDEN), or (SENSITIVE CONTENTS HIDDEN) and cancel in advance of 60 days from the reservation date we will reimburse you 50% of the rental fee. If you cancel within 60 days there will be no refund as it is often times very hard to secure a new rental within this time period, however we will offer you a rental credit of 50% of your rental fees on a future rental within 180 days of the cancelled reservation date. The security deposit will be fully refundable on all cancellations.
Airbnb has different cancellation policies. Please refer to policies on website.
Security Deposit - Upon your departure from the home the security deposit will be refunded within 14 days pending that there are no damages to the home, missing items, unpaid sheets fees, rules violations, unpaid accounts for tours, or extra boat transportation. Common forfeitures of the security deposit include broken dishes, broken lights, missing items (books, games, home wares, silverware, hangers), international phone calls placed on the cell phone, phones dropped in the river, phones not kept in a dry bag, scratched floors from moving furniture (please don't do it, it is prohibited ), towels destroyed from taking to the beach, lost house or lockbox keys, and a home not left in the same condition it was in upon arrival. Prime examples would be unwashed dishes, spilled items in fridge, trash not deposited in the garbage cans, and improper or careless handling of fish remains.
Other House Rules – Violation of these rules may result in a deduction from your security deposit.
1) Don't move any furniture other than chairs or futons being folded out to sleep on. Doing so can scratch our nice wood floors. This will be an expensive forfeiture!
2) Don't use high wattage devices like curling irons, hair dryers, or other heating elements. Doing so may short out or cause excessive energy drain on the solar system.
3) Don't feed wild or domestic animals. Doing so will make wild animals less wild and potentially problematic. Every now and then a domestic dog from a nearby village may come through the property. We don't want them here as they may chase or harm native wildlife. Do not pet or feed any domestic dogs that might be encountered.
4) Don't flush any paper or non organic material down the toilets. These off the grid homes have single level septic systems that can't handle non-organic material. All other garbage and waste (INCLUDING TOILET PAPER) must be deposited in the garbage cans.
5) Respect Night Time hours. There might be other guests staying at the Sierpe del Pacifico property. Sound can carry through the jungle at night, so please keep louder activities confined to hours between 6 a.m. and 10 p.m.
6) The cell phones provided are for domestic calls in Costa Rica only. Any charges for international calls will be deducted from you security deposit plus $25.
7) Fish remains must be disposed of into the outside garbage cans or river immediately. Any fish for human consumption must not remain in the fridge for a period of time to where it becomes odorous. A fridge that is left smelly from fish can result in a deduction from the security deposit. The cleaning of any fish caught in the river or ocean should take place at the docks or fish cleaning tables nearby and not in the home.
8) The towels provided at the home are not to be taken to the beach. You are responsible for bringing your own beach towels.

You are about to embark on a truly unique and adventurous experience in the Osa Peninsula's most exciting and diverse experience. This is an experience that is not for the timid of mind or body! If you are up to it, are strong in mind and spirit, love adventure, and embrace the experience, you will have an amazing time!!!
Pura Vida y Viva Sierpe!!!
- Cassidy
---
---
---
---
Response rate:
100%
Response time:
within an hour
Explore other options in and around Drake Bay
More places to stay in Drake Bay: