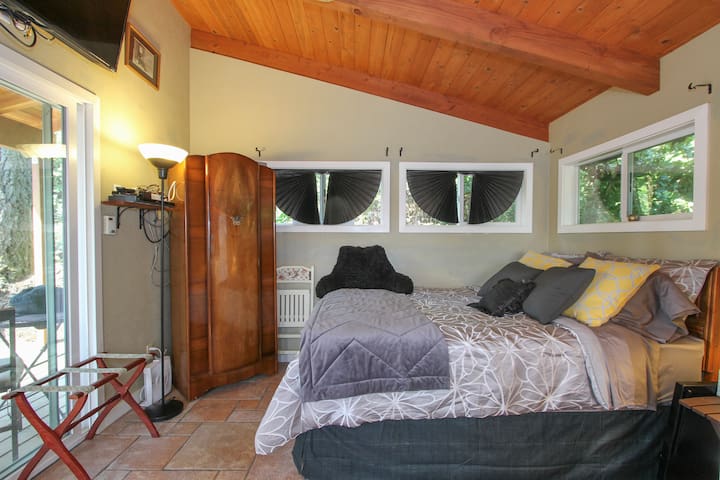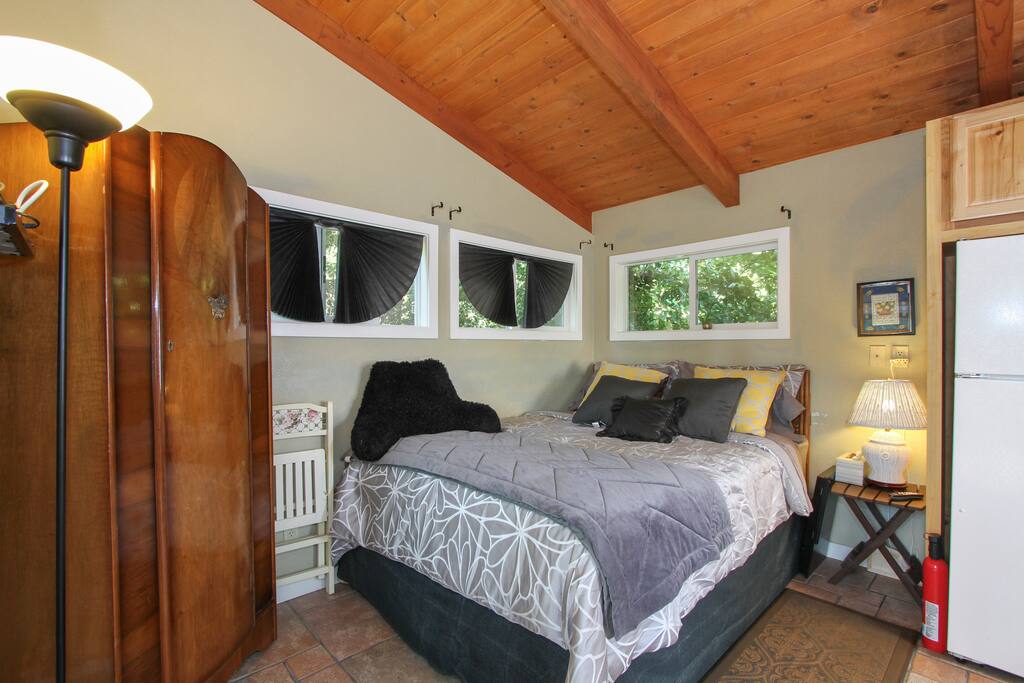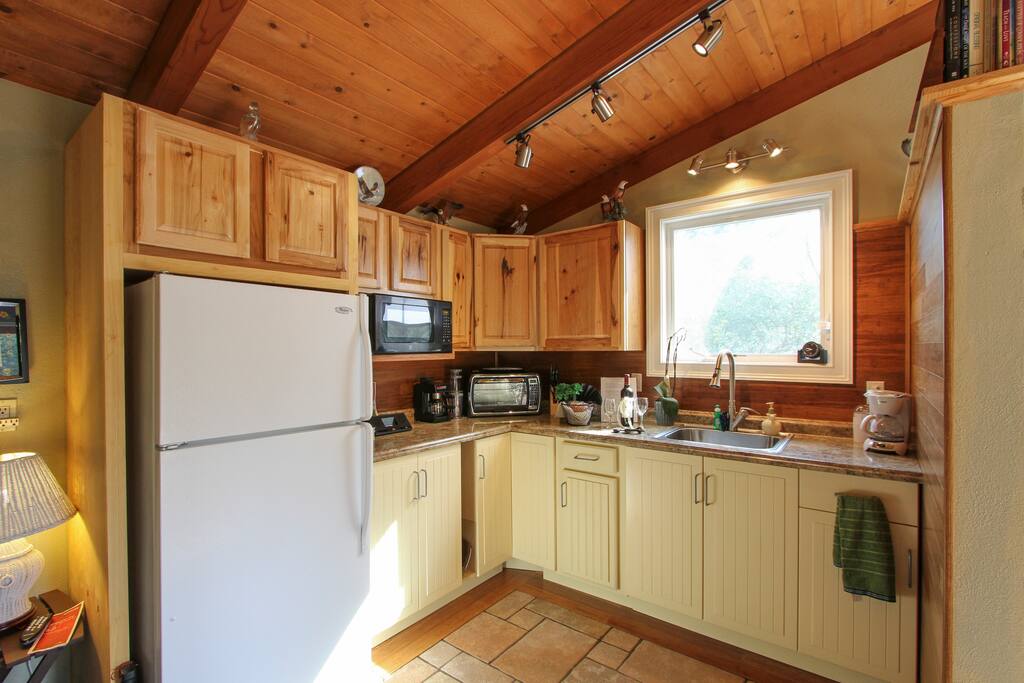 About this listing
Russian River Resort Area MOUNTAIN RETREAT Redwood guesthouse/studio: 1 queen-size bed/1 full bath with SpaShower; Large Screen SmartTV w/BluRay DVD, WiFi; kitchenette, full octagon deck with outdoor gas grill, patio, and hot tub on private lower deck with view.
---
---
---
The space
PLEASE Note: our guest reservation pricing already includes the required 9% Sonoma County Transient Occupancy Tax (TOC# 2633N) through 2016, and increases to an outrageous 12% TOT starting 2017 for guests, which makes our rates appear higher than they actually are!
All photos are verified by Airbnb and recent. Exclusive use Hot tub is on a private lower deck, not shared, and working as pictured, and available year-round.
Enjoy lounging on the sunny unique octagon deck in the 2 zero-gravity chairs, the rocker or either bistro set, as well as enjoying the privacy of your lower deck hot tub (not shared, available year-round !). No Smoking!
Welcome to your retreat to awe and wonder evoked by beautiful views and the great memories you'll create here! The radio show On Being aired an interview with Esther Sternberg called "The Science of HEALING PLACES." In it, Esther Sternberg, an immunologist and pioneer in the field of environmental psychology, related her excitement about discovering that there are measurable physiological and neuroscientific bases of the feeling of AWE and WONDER evoked by BEAUTIFUL VIEWS or by places that trigger GOOD MEMORIES. "I firmly believe from what I have seen that this is the chosen spot of all the earth as far as nature is concerned," horticulturist Luther Burbank said of Sonoma County.
About 75 miles north of San Francisco lies the Russian River Valley, which was nominated as one of the Wine Regions of the Year by Wine Enthusiast magazine in 2011. In the heart of beautiful coastal Sonoma County Wine Country, you'll find The Sunrise Mountain Guest House Studio encircled by sun, stars, moon and massive redwoods.
"Few wine regions evoke more vivid impressions of great wine, stunning landscapes and friendly people than the Russian River Valley. World-class Zinfandels and Petite Sirahs abound, often from gnarled, centenarian vineyards. Rhône varieties, both red and white, as well as great Chardonnays, join the valley's crown jewel: Pinot Noir, now coming off a stellar string of vintages" (Wine Enthusiast magazine).
The Sunrise Studio, in its beautiful private Mountain Retreat setting, creates an ideal environment for writers/musicians, clergy/religious, health professionals, YOU, on retreat/getaway or for...
* Private intimate wedding, Vow renewal, honeymoon or romantic proposal location
* Times of reflection, indoors or while out "sunning" on the deck with cool mountain breezes and lots of privacy.
* Uninterrupted rest & relaxation or constant opportunities for vacation-related activities in Wine Country & Sonoma Coast
* Hiking, walking or biking in the serenity of nature (ocean, river, mountain, valley...Redwoods!)
* Swimming, kayaking, canoeing, paddle boarding, or lazy river tube floating and fishing (fly) in the nearby Russian River or walking in Austin Creek just down the hill!
* Concentrated reading or writing and reflection
* Extended solitude for contemplation
* Rejuvenate...we offer a spectacular shower experience and on-site outdoor hot tub/Jacuzzi. Or, book a personal/couple massage (nearby or out-call)
* large window in Shower/Spa is 1-way view (with full blind, if preferred); you can see out, but you (and the deer!) cannot see in !
... we are happy to recommend:
--Osmosis Day Spa Sanctuary - just 25 mins. away in Freestone. Phone: (phone number hidden)
--The Spa at Applewood - just 5 miles east in Guerneville. Phone: (phone number hidden)
--Or enjoy a hot stone/deep tissue rhythm massage (Swedish/Thai) at Patte's Guerneville parlor or here at The Studio (out-call). (email hidden) (phone number hidden))
or yoga session/pampering by Cindy of (website hidden) :)

…..and We are Pet-Friendly: Pets are welcome (see pet fee policy under "House Rules" tab). For all size dogs (up to 2 dogs allowed) there is a non-refundable pet fee of $35/night/per pet (max $100). For guests staying more than 2 nights, their pet fee is discounted to $25/night/pet (max $75). Service pet(s) are not exempt. Pets are not "guests" according to TOTax standards.
Pet FEE is in addition to your human reservation quote. Due to Airbnb limited tax issues platform/software which present a Tax related pet fee accounting nightmare, the pet fee must be separate from your Airbnb human guest/reservation quote. In 2017, if you choose to pay pet fee now through Airbnb as part of your human guest reservation, then you will need to add their 12% county tax and 8% processing fee to your total (= 20% additional fee to the pet fee); see Airbnb's "alter my reservation" or contact your agent. If so, payment is due at least 1 week prior to your pet's arrival. Or you may arrange the week or day of your arrival to pay by cash, check or phone (NFC) upon arrival. If you have any questions, kindly contact me. Your pet and I say "thanks" :) However, if your pet does not "check-in", then refund in full !
Dining Options
The kitchenette (NOT a kitchen) has all the utensils you'll need for serving snacks/beverages, but NOT intended for cooking; including a refrigerator, microwave and toaster oven (no stove), coffee maker (filters provided) and electric teapot, and outdoor gas grill. The kitchenette is NOT a kitchen and not intended for cooking meals: microwave and toaster oven only for warming or heating and enjoying previously prepared light snack-meals, etc.; cupboard has plates, glassware, flatware & cutlery.
You are NOT allowed to use your own camp stove or burner. No fires, No fire-pit. No extensive cooking or meal preparation on premises; see "House Rules"

For your dining convenience, there's a lap-tray and folding bistro table & chairs set for inside use as well as a rocking chair, if the weather prohibits enjoying your coffee/wine/meal on the front porch or deck. You're also welcome to patronize local: restaurants, organic grocery, a Safeway, coffee/cafes, bakeries, and restaurants; or you may prefer to "order-in" or "takeout".
Once your reservation is accepted/confirmed, I'd be happy to send you our "virtual web tour" email/attachment where you "click" your way through Sonoma Coast and Wine Country sites and dining.
Comforts of Home...Linens are provided;
* Bed linens, blankets and pillows are provided.
* Towels for kitchen and bath are also provided. BRING YOUR OWN BEACH TOWELS. Guest towels for on-site use only! Thanks:)
* Bring your own liquid body wash, shampoo, toiletries.
* no early check-in; no luggage drop off
* NO SMOKING ON THE PROPERTY
Sonoma Coast & Wine Country affords: Hiking, Canoeing, Kayaking, Paddleboarding, Horseback riding, Segway Touring, Wine tasting, Zipline through the Redwoods!
Birding, wildflowers, tide-pooling, fishing, and so much more!
Guest access
**As sensible safety for all, we'll ask registered guests to present a valid state picture identification upon arrival/welcome. We'll present ours, as well.**
__*Minimum Age Limit For Guest(s): 25 yrs. old with valid ID
Be sure to thoroughly read the Guest Policy Agreement /"HOUSE Rules" tab before booking. Only registered guests will have access to all amenities listed pertaining to the unit itself.
Interaction with guests
Upon arrival/check-in, I always need to greet my guests (please show/present your valid photo IDs) and point out amenities/brief tour. During your stay, total privacy; yet usually local (as required by Sonoma County TOT, hosted rental) and happy to be available/accessible for any guidance, questions or concerns.
Upon departure, you must actually "check-out" ( be sure to report on your stay, any concerns, breakage, etc.) so I may give you a proper "send-off" :)
The neighborhood
TREES, forest, mountain view, "where the deer and antelope play", vineyard peek in distance, grand sky view, sunrises, sunsets, mesmerizing Marine Layer swirling below right above Austin Creek. Sunny deck for yoga or lounging, immerse in beauty cradled by our Mother/Nature
Getting around
There's bus transportation (SCTA) from Santa Rosa to Monte-Rio via Guerneville (#20). If you need a lift, I'd be happy to pick you up in Monte Rio, if I'm available. There is also a Monte Rio Taxi service ( search), always available.
Other things to note
Come to the CA Redwoods to renew your commitment, vows or an anniversary GetAway (Sonoma Coast and Russian River Area) ... this intimate Wedding & Vow Renewal site (Additional Fees apply for ceremony, etc.). Contact me for your on-site PRIVATE intimate Wedding/Renewal of Vows/Anniversary ceremony, then stay for your "honeymoon" getaway!
--large window in Shower/Spa is 1-way view (with full modesty blind screen, if desired; you can see out, but only you (and the deer!) can see in !
---
May not be safe or suitable for children (0-12 years)
Check in time is 4PM - 8PM
The Studio "House Rules" & Guest Agreement
Be sure to Agree to the "Guest Policy" before booking (initial where indicated *)
_____*Minimum Age Limit For Reserved Guests: 25 yrs. old with valid ID
_____*Pricing: Rates are as listed
_____*Cancellations: Strict cancellation policy. If I choose to cancel, then a $75 service fee to the host is deducted from my refund.
--Minimum Stays: There is a 2 night minimum.
--Check-in: 4:00 p.m to 8pm. Early or Late arrivals are discouraged; no discounts or extra fee.
--Check-out: 11:00 a.m. or before; not after! (Exceptions upon request DURING last night or last morning of your stay), or may be subject to additional day charge.
--Day Use: None (due to the intimate size of the property, privacy & safety)
--Visitors: We're sorry, ONLY registered guests; NO outside visitors are allowed during your mountain retreat getaway.
--Parking: Driveway use only (fire hazard); parking is limited to ONE (1) vehicle.
_____*NON-SMOKING Only! Sonoma County ordinance restricts smoking on property. Smoking (including use of "E"- cigarettes) is prohibited in the house and on the surrounding decks/property. Smoking in any of the rooms will incur an automatic $175 damage penalty. There are NO "designated smoking areas"_________________________signature
--No outside noise from 9 p.m-8 a.m. per Sonoma County Ordinance.
--Children: NO. Unfortunately, due to safety concerns.
____*my host is not responsible for my personal items, etc., either damaged, lost, or left behind.
____*NO REFUNDS for results of Acts of Nature (possible interrupted electric services, water, etc.) or Comcast (TV, WiFi/internet) failures; NOTE: The Guest House now has it's own designated generator...yay!
--Early Departures: There are NO refunds for early departures and/or unused nights.
_____*Pets: Pet fee is in addition to your Airbnb lodging quote. For all size dogs (up to 2 dogs allowed) there is a non-refundable pet fee of $35/night/per pet (max. $100). When booking, please indicate number of pets you are bringing : ___ @ $35/night x _____nights = Total amount due: $ ______ For guest staying more than 2 nights, their pet reservation fee is discounted to $25/pet/night (max $75). Service pet(s) are not exempt. If pets do not "check-in", then refund in full!
_____*Additional Fees and Taxes: ____*There will be an extra $75 electrical fee due at check-out, if there is extensive food preparation & cooking. Taxes included in reservation payment: Taxes @ 12% already INCLUDED in reservation quote (Sonoma County Transient Occupancy Tax: 12% of the listing price including any cleaning fee for reservations 30 nights and shorter already INCLUDED in final quote. Pets are not registered guests; thus separate additional fee. For detailed information, visit TOT); Certificate # 2633N
--EASY ON SUNDAY MORNINGS: Make it a really long weekend. Stay Friday and Saturday, then enjoy a late (1 pm) checkout on Sunday, if available. An extra day of wine tasting, Sunday brunch at a local restaurant, or just lounging on your deck with a favorite book. For sports fans, see the game on your large screen TV. The "fine print": offer based on availability (check with owner only the last night or last morning DURING your stay!).
"I firmly believe from what I have seen that this is the chosen spot of all the earth as far as nature is concerned." horticulturist Luther Burbank said of Sonoma County
Signed: __________________________________ Date: ______________
HOUSE RULES:
Check-in is 4:00pm-8pm only
Check-out is 11:00am or before, but not after
--NO SMOKING ON THE PROPERTY
The Studio Guest House is totally for your relaxing pleasure; hang out in bed just a little longer, and reflect on the mountain beauty of the Redwood, Pine, Fir, Madrone and oak trees that cradle you. There's life and love in the air...breathe it in...hold it close...and then share it with joy. It's your moment to honor and respect all that is, to be at one.
Give Care/Caution:
(1) NO cooking indoors. The Studio is equipped with a kitchenette, not a kitchen, so any food preparation is intended to be limited. You are not allowed to use your own camp-stove or any electric or gas burner.
Note: There will be an extra $75 (electrician/maintenance) fee due at check-out, if there is extensive food preparation & cooking.
The kitchenette is intended for warming prepared items. There is a microwave and toaster oven only for warming or heating light snack-meals, etc. The toaster oven works great for warming up pizzas, leftovers and other goodies, as well as toast.
(2) Grilling outdoors; first turn 1 knob to ignite position; if it does not ignite, repeat procedure. Utensils are provided. Extensive grilling is restricted (i.e, Ethnic, Asian BBQ, etc.). PLEASE turn-OFF each knob.
BE warned: Birds and other creatures WILL eat food left unattended :(
(3) Using the Jacuzzi Whirlpool/hot tub: use caution climbing in and out. Showering before use is REQUIRED for balanced water management & your health. After 20 mins use, be sure the jets are off for 5 mins. (every 20mins); when done, replace the cover in order to maintain heat (and protect the pump system from overheating). Note: unit will not heat while jets are on.
(4) Using the Indoor Ceiling Fan: CAUTION!! Please be sure the fan blades are not in contact with overhead TV before using the ceiling fan.
(5) Using candles: LED flame-less are provided; or bring ONLY jar candles. NO free-standing votive/candles indoors or outdoors. Do not leave candles unattended.
(6) Use your own BEACH Towels and beach blankets; guest towels are for on-site use ONLY.
(7) NO SMOKING ON THE PROPERTY !
Pets:
(1) Pets must be kept OFF bed & bedding. (2) Out of respect for future guests, pets must NOT be in our beds (this is a high flea and tick area!). Please be sure to bring your pet's favorite sleeping pad/bedding. (3) Pets are not permitted to run or roam unattended. When walking your pet, be sure to keep them on a leash and comply with community courtesy: please remember to pick-up/clean-up after them (blue doggy bone/waste bags are provided on side of Guesthouse on the metal railing; place waste in black Trash bucket Only). Thanks for respecting my property, other pets, other guests and my neighbors :)
Remember:
---No smoking on the property at any time. $175 damage penalty will be assessed.
---parking is restricted to the parking pad ; 1 car maximum. It is a fire hazard to park otherwise.
---Recycle: Kindly separate your recyclable items from regular trash.
---Used/dirty kitchen items i.e, dishes, glassware, utensils, cookware, etc. should be left in sink w/soapy water to soak before check out. Thanks :)
Notes:
---The Studio bathroom/lavatory floorplan does not afford a privacy door.
---keyless or keyed entry: access code or key will be given upon check-in; although locking your door (especially while you are off the property) may not seem necessary, it is recommended.
Check-Out checklist:
---11:00 a.m. or before, not after! (If a late check-out "Easy on Sunday morning" is of interest to you, kindly check availability with your host only last night or last morning DURING your stay).
---Double check: be sure the outdoor grill knobs are OFF
---Dishes, etc. should be left soaking in hot soapy water upon departure.
Thanks :)
---
Strict
Cancel up to 7 days before your trip and get a 50% refund plus service fees back.
---
---
The minimum night stay for this listing varies.
Dr. Joe's studio is as breathtaking as listed. He is a gracious host. He welcomed us at our check in and gave us a thorough tour. Enjoying the secluded surroundings was a great way to get in a little work without any pain. The views, amazing. The shower, amazing. The bed, super comfortable for all types of sleepers. It's about a 16-20 minute drive from a grocery store and restaurants, and about same distance to HWY 1 and the ocean. In our short stay, from this location we were able to drive to Leggett for the chandilier tree, with time for a tasting at Saracina winery, and watched the sunset at Portuguese beach.... IN ONE DAY! Ended the evening with gazing into the endless diamond sky in a relaxing jacuzzi. I look forward to staying with him again soon!
---
We had a great time at the Sunrise Mountain Studio and thoroughly enjoyed the hot tub! Everything was available for us. We did have a problem with the programing on the tv and couldn't get it to work and also trying to get hotter water for the fabulous shower, however we didn't ask for help. The studio was clean and Rev Joe gave us some nice treats.... chocolate and red wine. :)
---
If you're looking for a relaxing, unplugged weekend this is your spot! This is our 2nd time here and it's such a magical oasis. The setting is absolutely stunning, bed is super comfy, the spa under the stars is beautiful and the town is a 15min drive for grabbing supplies for the grill or lunch. RevDrJoe is such a gracious and kind host, you won't meet another like him! I highly recommend this home to friends and family all the time. We'll certainly be back as it holds a special place in our hearts!
---
I do not think I can write anything more than what has been written. The place is secluded private and nice. We hiked a couple of trails: - 8 miles at the Armstrong Redwood State Natural Reserve - 6 miles on the coast at Salt Point Both of them are awesome hikes and the place was central. If you want to come relax with minimal or no activity I highly recommend the place. Dr. Joe was a pretty gracious host and very welcoming. He also respects the privacy of guests and goes out of his way to tell them where to go and what to do. Thanks Dr. Joe!
---
California, United States

·

Joined in March 2013
I wish you peace, love and much joy as you prepare to COME TO (URL HIDDEN) Renew... Reflect... and Revive here in Northern California's Russian River Retreats & Renewal site.
You can find out more "About Me" from my professional webpage: (URL HIDDEN) or (URL HIDDEN)
Meanwhile....
My Favorite leisure activity:
Meeting friends, outdoor adventures, dancing and culinary arts

My Favorite TV-show:
I love the movies and my nightly dvds

My Favorite books:
J.R.R. Tolkien, Ken Wilbur, Joseph Campbell, Candice Pert, Andrew Harvey, Henri Nouwen, The Mystics, Rumi, Hafiz, Arthur Rex, The White Company, Hermann Hesse, Herman Melville, Walt Whitman, D.H. Lawrence & Thoreau.

My Favorite music:
Neil Young, Jonathan Edwards, Bee Gees, Pointer Sisters, Jazz, Classical, Opera, 50's&60's, the Grease Band and Full Frontal Folk

My Favorite drink:
Sunday morning coffee, dark beer, Wild Hog organic red wines (Pinot Noir), herb teas, vodka and tonic with an extra twist, and Anthony's Holiday mix

My Favorite meal:
Seafood, Mom's homemade Italian food and biscotti

My Favorite country for traveling:
Italy...

My Favorite quotes:
"By Words the Mind is excited and the Spirit elated"
-Aristophanes-

"The essence of being human is that one does not seek perfection"
-George Orwell-
Response rate:
100%
Response time:
within a few hours
Exact location information is provided after a booking is confirmed.
Explore other options in and around Cazadero
More places to stay in Cazadero: