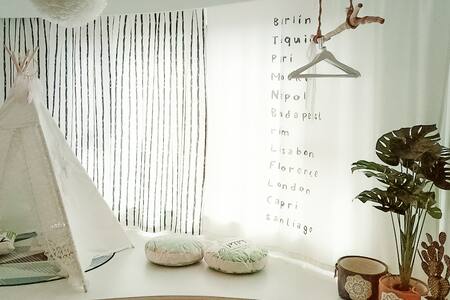 SUPERHOST
Entire apartment · 4 guests · 1 bed · 1 bath
千早ins北欧风&阿那亚黄金海岸&北戴河5分钟直达海边新奥海底世界&清新大床榻榻米房整租&首旅京伦
The strong ins wind Scandinavian & Korean style is a refreshing mix of styles, allowing you to enjoy one room and two feelings. You can enjoy the comfort of a lace fairy on a large comfortable bed, and you can enjoy a tumble on the tatami with a Nordic style. Simple, decorative flowers and plants, whether it is a couple, or a parent with a baby, you can enjoy the concave shape self-timer; bathroom shower with high-end atmosphere black industrial wind, excellent water, you can wash away a day of exhaustion, if you want to do it yourself There is no problem with rice. Kitchen cooking seasonings can be used for free. Come and roll over.
What guests are saying:
"Especially good! It's really a very stylish house, the real thing is exactly the same as the photo, it is very pleasing to live, the room is cleaned and the infrastructure is also available. The view from the window is also very nice, the floor-to-ceiling windows are huge, and people always want to linger in front of the window. The house itself is a building with a hotel. The traffic is very convenient. Five minutes to the sea is true. It is faster to go to Yanshan Night Market. The landlord sister is a very good person, the voice is very nice and very patient."
The new Nordic ins wind 50 square meters of cozy small apartment with sea view, sun-filled balcony, balcony overlooking the sea. The new kitchen can cook. A loving room layout, all bedding and accessories are carefully selected by the owner. Just to let our friends from different places live in a warm, comfortable and homely way! Cool in the morning, gently open the curtains, and make a hearty breakfast for yourself. Lazy in the afternoon, facing the sea, blossoming in spring, walking to the beach and enjoying a nice sunbathing. Quiet at night...
What guests are saying:
"The room is very good, similar to the picture, and you can see the beautiful sea view, especially beautiful in the morning and evening"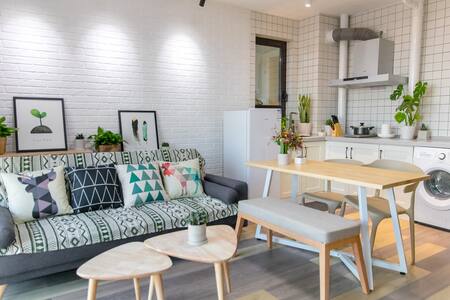 SUPERHOST
Entire apartment · 3 guests · 1 bed · 1 bath
【COFFEE HOUSE】「生活公寓」 秦皇岛咖啡小屋 紧邻金梦海湾 北戴河 「点头像有更多房源」
Hi ~ Welcome to pay attention to my listing ~ I am a post-85 boy who likes to travel and love coffee ~ I am very happy to meet you ~ The homestay is located in the west section of Hebei Avenue, Haigang District, Qinhuangdao City, between Beidaihe District and Shanhaiguan District, close to Olympic Sports Center, Golden Dream Bay, Xin'ao Underwater World, Yanshan University; drive to Beidaihe for about 10 minutes, and Shanhaiguan for about 40 minutes; the community entrance is a catering street, three convenience stores, and a large comprehensive supermarket diagonally opposite. The indoor area is about 45 square meters; it takes about 10 minutes to walk from the community to the seaside; Beidaihe Station and Qinhuangdao Station each take a taxi to and from the community of the B & B; it also provides special tickets for various attractions on the island and exclusive routes for the sky city of Anaya and Cat . Click on the picture to see more listings ~
What guests are saying:
"The house is easy to find, the room design is nice, the style and placement are very pleasing, it is neat, and the seasoning for cooking is relatively complete, except that the windows in the living room seem to not open, the air conditioning and floor heating are ok, and the short-sleeved shorts are Question, I want to come and live next time"