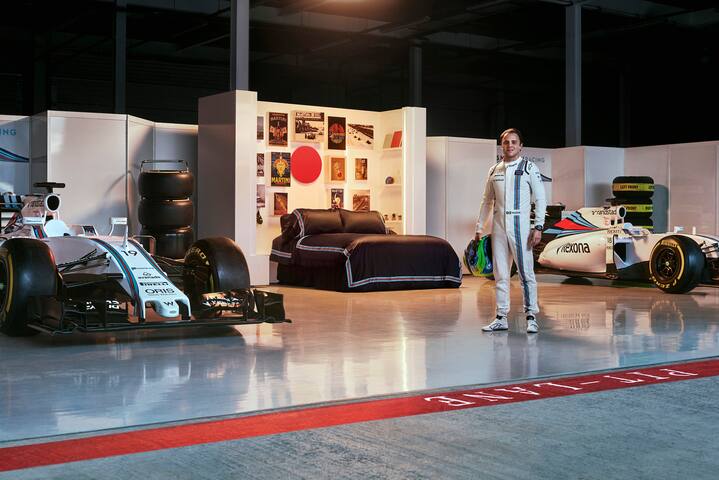 Night At
Williams Martini Racing Garage
Private room
2 Guests
1 Bedroom
1 Bed
About this listing
Formula 1™ fans looking for a way to live out their passion, can now spend a night at the Williams Martini Racing garage at the 2017 Formula 1™ Rolex British Grand Prix, in Silverstone, England. Nestled between two Williams Martini Formula 1™ cars, the bed will offer the ultimate headrest for a max power nap.
---
Room type: Private room
Bed type: Real Bed
Property type: Other
Accommodates: 2
Bedrooms: 1
Bathrooms: 1
Bed: 1
Check In: After 3:00 PM
---
Amenities
Essentials
Towels, bed sheets, soap, and toilet paper
Wifi
Continuous access in the listing
Breakfast
Breakfast is provided
Kitchen
Kitchen
Space where guests can cook their own meals
Internet
TV
Essentials
Essentials
Towels, bed sheets, soap, and toilet paper
Shampoo
Heating
Air conditioning
Washer
Dryer
Free parking on premises
Free street parking
Paid parking off premises
Wifi
Wifi
Continuous access in the listing
Cable TV
Breakfast
Breakfast
Breakfast is provided
Pets allowed
Pets allowed
Assistance animals are always allowed
Family/kid friendly
Suitable for events
Suitable for events
The listing can accommodate a gathering of 25 or more attendees
Smoking allowed
Wheelchair accessible
Wheelchair accessible
Easy access to the building and listing for guests in wheelchairs
Elevator
Elevator
The home or building has an elevator that's at least 52 inches deep and a doorway at least 32 inches wide.
Indoor fireplace
Buzzer/wireless intercom
Doorman
Pool
Hot tub
Gym
Hangers
Iron
Hair dryer
Laptop-friendly workspace
Laptop-friendly workspace
A table or desk with space for a laptop and a chair that's comfortable to work in
Private living room
Private entrance
Private entrance
Separate street or building entrance
24-hour check-in
24-hour check-in
Lockbox, keyless entry, buzzer, or someone available at any time
---
Description
The Space
Ever dreamt of meeting the world's best racing drivers or spending time in a working F1™ garage with racing's top engineers? Well, wake up and make your dream a reality! Williams Martini Racing Team is offering the chance to spend the night at the heart of their operation, a place that F1™ fans rarely get to visit: their garage at Silverstone, plus track-side seats at the big race the next day.
The garage will transform from a bustling workplace into a peaceful bedroom. With curated works of Martini Racing Art on the walls and an expertly engineered bed ready for your speediest dreams. The winner and their guest will relax for the night cosily nestled between two working Formula 1™ cars.
The two lucky fans will be hosted by Claire Williams, Deputy Team Principal at Williams Martini Racing and be treated to a meet-and-greet with Brazilian racing driver, Felipe Massa and the Williams Martini Racing team mechanics and engineers.
During the stay, the guests will hear first-hand about their role, the vehicle's performance and the driver's routines ahead of the race.
Finally, experience the thrill of racing, watching the race with Williams Martini Racing.
Guest access
The Contest is open to residents of the following countries only: Belgium, Italy, Germany, Russia, Spain and the United Kingdom. You and your guest should be over 25 years old. You must be available to spend the night from Friday 14th July to Sunday 16th July. Please read the full Contest Rules below.
Night At Williams Martini Racing Garage on Saturday 15th July 2017.
NO PURCHASE OR PAYMENT NECESSARY TO ENTER OR WIN. A PURCHASE OR PAYMENT WILL NOT INCREASE YOUR CHANCES OF WINNING.
When you submit a submission for this Contest, you agree with the Official Rules below.
Sponsor. The Sponsors of this Contest ("Contest") are Airbnb Ireland UC, The Watermarque Building, South Lotts Road, Dublin 4, Ireland ("Airbnb") and Bacardi Martini BV Groningenweg 8, 2803 PV Gouda, the Netherlands ("Partner")
How to Enter. Participants who have reached the age of 25 at the time of participation, may enter the Contest from Thursday 27th April 2017 at 10 am Central European Time until Tuesday 16th May 2017 at 11:59 pm Central European Time by following the process below. Submissions must be received through the below process by the close of the Contest to be eligible.
Process: To participate in the Contest and to try to win the prize described below, you have to:
1.Sign in with an Airbnb account
2.Go to the Williams Martini Racing garage competition listing page
3.Click on the "Enter to Win" button
4.In the form provided write an artistic and creative story of 100 words maximum in English, French, Italian, Spanish, Russian or German explaining what you love about racing and why you deserve to be the one to stay the night in the Williams Martini Racing Garage at Silverstone, for the 2017 Formula One Rolex British Grand Prix..
The Submission must be sent from the participant's Airbnb account to be verified and reviewed. Each participant can only participate once and you represent that you are at least 25 years old. Airbnb is not responsible for computer or network problems, problems with servers, problems with email accounts or the failure to receive any Submission for any reason whatsoever. By entering the Contest, participants agree, on their behalf and if applicable any guest that as a winner they are permitted to share the prize with, that they may be contacted by Airbnb in relation to the Contest and agree to take part in any publicity that occurs as a result of the Contest and grant Airbnb and Partner and their group companies and agents the right to use their name and/or image and/or town/country of residence.
Eligibility. The Contest is open to residents of the following countries only: Belgium, Italy, Germany, Russia, Spain and the United Kingdom, and by entering participants agree that the individual winner(s) will be selected from all Submissions received from residents of these countries. Directors, officers, employees, independent contractors and agents of Partner and Airbnb, or their subsidiaries or affiliates, and the members of their immediate families or households, are not eligible.
Winner Selection. One (1) winner participant will be selected from the Submissions and will be nominated winner and best story writer of the Contest. The winners will be chosen entirely on merit, based on the following criteria applied by a panel of judges:
-Originality and creativity of the submission. Does it surprise and delight us?
-Spirit of the Submission. How does your Submission relate to the night at the Williams Martini Racing garage?
The panel of judges will be comprised of members of the marketing teams of Airbnb and Partner, and one independent judge. The judges' decisions are final and binding. If substantially similar Submissions are submitted by different entrants, judges will select only the best version of that idea, as determined by the judges in their sole discretion. If in the opinion of the judges no suitable Submissions are received, or no winner can be contacted or responds as set out in these Official Rules, then the Sponsors may cancel, extend or repeat the Contest in their sole discretion.
Prohibited Content. Submissions/content must be the original work of the participant and not have been previously published, or entered in any other competition, and must not violate the rights of any other party, including but not limited to intellectual property rights or rights of privacy, publicity or other moral rights. Submissions must NOT contain: (a) advertising or commercial content for any party other than Airbnb or Partner; (b) content that endorses/promotes illegal or harmful activity; (c) violent, profane, vulgar, obscene, defamatory or otherwise objectionable material; (d) adult material; or (e) defamatory content. The Sponsors reserve the right to disqualify any participant who violates these prohibitions or any other provision of these Official Rules, or that the Sponsors deem inappropriate for any reason, in their sole discretion.
License. By submitting a Submission, participants grant each of Airbnb and Partner a perpetual (or for the term of the protection granted by the relevant intellectual property rights), worldwide, irrevocable, royalty-free license to transform, edit, modify, reproduce, distribute, transmit, publish, communicate to the public, broadcast, perform, display, or otherwise use the submitted story, in whole or in part, with or without modifications, in any form or medium (including but not limited to: internet, any printed medium distributed via press, billposting, point of sale advertising, flyers, leaflets…), whether now existing or later developed, for entertainment, promotional and/or advertising purposes and/or any other purpose. To the greatest extent permitted by law, participants agree to waive and not to assert or invoke any so-called moral rights in relation to their Submissions (including without limitation the right to be identified as the creator of the work and the right to object to derogatory treatment of the work). For the avoidance of doubt, the license referred to in this paragraph is a fully paid-up license. By entering, you guarantee that your Submission is original as referred to above, and that you have all necessary rights to provide the Submission and to grant to Airbnb and Partner as applicable the rights set out in these Official Rules, as well as the consent of any person identified, depicted or referred to in the Submission. You will indemnify and hold Airbnb harmless for any breach of these provisions. Only the winner(s) will receive a prize according to the next paragraph: 'Prize'.
Prize. One winner will receive, in recognition of his/her personal writing talent and as full and comprehensive consideration for the License described above, the following:
-One prize consisting of a one-night stay for two (2) persons at the Williams Martini Racing Garage, at the Silverstone circuit on Saturday 15th July 2017. The prize includes dinner on Saturday 15th July and breakfast on Sunday 16th July in the Williams Martini Racing Motorhome. The winner will experience a guided tour of the Williams Martini Racing garage and will have an opportunity to meet Claire Williams and Felipe Massa.
-THE PRIZE INCLUDEs:
oThe winner can bring a guest. Please note, the guest's travel and accommodation are included in the prize providing the guest is travelling from the same location as the winner. Accommodation is based on the two-people sharing one (1) double bed. The guest's meals are included in the prize too
oAccommodation will be provided on Friday 14th July and Sunday 16th July for the winner and guest at an Airbnb property within 30 miles of the Silverstone circuit
oAccommodation on Saturday 15th July will be in the Williams Martini Racing garage, located at Silverstone during the 2017 Formula One Rolex British Grand Prix
oMeals included; lunch on Saturday 15th July at Silverstone, dinner on Saturday 15th July in the Williams Martini Racing Motorhome, breakfast on Sunday 16th July in the Williams Martini Racing Motorhome .and lunch on Sunday 16th July at Silverstone.
o£250 cash (total amount) to be given to the winner to cover an evening meal on Friday 14th July, and evening meal on Sunday 16th July
oReturn trip to London Economy class
oVisa Fees
oAirport transfers from the winner's home to/from their local airport
oAirport transfers to collect the winner and guest from a London airport and provide return transfers to the Airbnb property
oTwo (2) x passes to access the Williams Martini Racing Suite on Saturday 15th and Sunday 16th July. The suite includes food and beverages on both days and a Williams Martini Racing driver appearance on both days
oMartini gifting (including branded towels and dressing gowns)
oNOT included in the prize:
oAny meals (except for any meals which are expressly included in the prize description), any expenses (except for any expenses or spending money which are expressly included in the prize description)
Participants represent that they are available to travel to London and onward to the Silverstone circuit, to be present on Friday 14th July, Saturday 15th July and Sunday 16th July 2017. Participants must have a valid passport (or EU Identity Card) to travel to the United Kingdom during the period of the trip to redeem the prize. The total value of the prize is approximately £20,000]GBP (or the equivalent in local currency) + a return trip to London. The Sponsors are allowed to ask for a written confirmation or proof of the place of residence and age of the winners and any guest(s) they are permitted to share the prize with before awarding the prize. No substitution or transfer of the prize is permitted. The prize may not be redeemed for cash. If due to circumstances beyond Airbnb's or Partner's control, Airbnb or Partner are unable to provide the stated prize, Airbnb and Partner reserve the right to award, as substitute, a prize of equal or higher value.
Notification/Announcement of Winner.
The winner(s) will be selected on Wednesday 17th May 2017 and will be notified by email and/or via the Airbnb message centre within 7 days. Each winner must confirm their acceptance of the Prize in writing within 48 hours of such notification. The Sponsors reserve the right to disqualify any winner who does not confirm acceptance of the Prize in accordance with these Official Rules, and reserves the right to select an alternative winner in such event. In the event of a dispute about the identity of a winner, the Sponsors will award the prize to the authorized account holder of the Airbnb account from which the winning Submission was sent. The Sponsors may publicly announce the name of the winner within 30 days of the close of the Contest, including through social media channels such as Twitter (@airbnb, @williamsracing) and through their websites.
Prize Conditions. Save as may be required by any applicable mandatory laws, the prize will be as referred to in these Official Rules and is provided as-is with no express or implied warranty or guarantee. This Contest is subject to applicable local laws and regulations, including but not limited to tax laws. The winner is solely responsible for any taxes applicable to or resulting from the award of the prize, and the Sponsors will have no obligation for any taxes that may be payable. Access to the race track paddock is subject to the paddock's standard terms and conditions. Sponsors may require the winner, and where applicable, the winner's guest, to sign and return an affidavit of eligibility, a liability release and a publicity release permitting the Sponsors to use the winner's name, image and winning Submission in promotional materials where permitted by law and subject to applicable rules. Prize winner and their guest must sign a waiver of liability with Williams Grand Prix Engineering Limited. Refusal or inability to sign and return any such forms within 72 hours of receipt may result in disqualification and awarding of prize to an alternate winner. The winner and guest represent they will behave as good citizens during their stay from Friday 14th through to Sunday 16th July 2017 at the Airbnb property and the Williams Martini Racing Garage and that they will cooperate with the security personnel that will be present at Silverstone circuit on Saturday 15th and Sunday 16th July 2017.
General Liability Release. By entering this Contest, participants release the Sponsors and their agents from any liability whatsoever, on any theory, and waive all claims and causes of action arising from or related to this Contest and/or fulfillment and/or use of the Prize, to the extent permitted by applicable law. However, nothing in these Official Rules limits or excludes any person's or entity's liability for death or personal injury caused by their negligence or any other liability which may not as a matter of law be limited.
Data. By entering the Contest and submitting a Submission and any other personal information, participants are expressly consenting to the processing of their personal information by the Sponsors for the purpose of the Contest or any associated publicity by Airbnb or Partner. Airbnb's privacy policy will apply. Airbnb may share the Submissions with Partner, Williams, Formula One Management Limited and any other third party prize providers for Contest administration and prize fulfillment purposes.
Interpretation and Disputes. Participants agree: (a) to be bound by these Official Rules and all decisions of the judges, which are final and binding; (b) that any disputes shall be governed by the laws of Ireland (or by mandatory local laws, if applicable), and shall be resolved only in the courts in Ireland (or in mandatory local jurisdiction, if applicable), without resort to any form of class action or other form of collective action, to the extent permitted by applicable law; and (c) that they consent and waive any objection to the jurisdiction of said courts for any such disputes.
Miscellaneous. The Contest is void where prohibited. If any provision or part-provision of these Official Rules is held by a court of competent jurisdiction to be invalid, illegal or unenforceable, it shall be deemed modified to the minimum extent necessary to make it valid, legal and enforceable. If such modification is not possible, the relevant provision or part-provision shall be deemed deleted. Any modification to or deletion of a provision or part-provision under this clause shall not affect the validity and enforceability of the rest of these Official Rules. To the extent permitted by applicable law, the Sponsors may suspend, modify or terminate the Contest if they believe, in their sole discretion, that malfunction, error, disruption or damage is impairing or will impair the administration, security, fairness, integrity or proper conduct of the Contest, in which case the prizes will be awarded among the eligible Submissions received that were unaffected by the problem, if possible. With reference to the Italian participants please note that this Contest does not constitute a "Manifestazione a Premio" under the provisions of D.P.R. 430/2001 because winner(s) are selected and prizes are assigned to them on the basis of their personal writing talent and consequently the exception described under Article 6, par. 1, letter a) of the above mentioned decree shall apply.
---
- Always abide by the rules or you will incur a five-second penalty
- Please observe the local speed limit of approximately 80km/h in the pit lane
- No wearing a helmet in bed. Helmet hair is not a good daytime look
- Ear plugs may be required when tuning is in practice
- In colder weather, tyre warmers will be provided. Do not use your own.
- No flag waving. This may distract your neighbours
- No pets. We find the loud engines scare them
- No sleepwalking. The nearby pit lane can be a very busy area of track
---
About the Host, Claire
Hello, I am Claire Williams the Deputy Team Principal at Williams Martini Racing.
I am delighted to welcome you to Silverstone. Having grown up in motorsport, I have spent a lot of time behind the scenes of Formula One™ so I am looking forward to explaining more about the team and providing a tour of the Williams Martini Racing garage.
You will be sharing the garage with other members of the team as we prepare for our all-important home race. Our two drivers will play a vital role during the weekend and Felipe Massa might just be hanging around for you to meet and learn about his race preparation.
The 2017 Formula One™ Rolex British Grand Prix is a very special race for my family and the team as we are celebrating our 40th anniversary - there couldn't be a better race to join us.
--
Bonjour, je m'appelle Claire Williams et je suis Directrice Générale de Williams Martini Racing.
Je serai ravie d'être votre hôte à Silverstone. J'ai grandi dans la course automobile et notamment dans le monde de la Formule 1, qui a bercé mon enfance. J'ai hâte de vous présenter l'équipe et de vous faire découvrir les paddocks Williams Martini Racing.
Vous serez aux premières loges pour assister aux préparatifs de l'équipe pour cette course d'importance majeure : nous jouons à domicile pour ce Grand Prix. Nos deux pilotes seront sur place également, leur rôle étant tout aussi décisif avant la course que pendant. C'est votre occasion unique de rencontrer Felipe Massa. Vous saurez tout sur la manière dont il se prépare avant une course.
Ce Grand Prix est particulièrement important pour moi et pour le reste du staff. Cette année marque le 40e anniversaire de Williams Martini Racing, c'est donc le Grand Prix idéal pour venir découvrir les coulisses de l'équipe.
--
Hi, ich bin Claire Williams, die stellvertretende Teamchefin bei Williams Martini Racing.
Ich freue mich sehr darauf, euch in Silverstone willkommen zu heißen. Ich bin mit dem Motorsport groß geworden und habe viel Zeit hinter den Kulissen der Formel 1™verbracht. Daher kann ich es kaum erwarten, euch das Fahrerlager von Williams Martini Racing zu zeigen und mehr über unser Team zu erzählen.
Ihr werdet euch den Rennstall mit anderen Mitgliedern des Teams teilen, während wir uns auf dieses extrem wichtige Heimrennen vorbereiten. Unsere beiden Rennfahrer spielen an diesem Wochenende eine entscheidende Rolle und Felipe Massa wird euch persönlich treffen und an seinen Rennvorbereitungen teilhaben lassen.
Der 2017 Formel 1 Rolex Grand Prix bedeutet mir – und dem kompletten Team – sehr viel, weil wir bei Williams Martini Racing dieses Jahr unser 40-jähriges Bestehen feiern. Es gibt also keinen besseren Anlass, um an diesem besonderen Wochenende Teil unseres Teams zu sein!
--
Salve, mi chiamo Claire Williams e sono la vicepresidente di Williams Martini Racing.
Sono cresciuta in questo ambiente e, di conseguenza, ho trascorso molto tempo dietro le quinte della Formula 1™. Sono lieta di ospitarti a Silverstone: non vedo l'ora di conoscerti, di farmi conoscere e di farti da guida presso il box Williams Martini Racing.
Saranno presenti anche altri membri del mio entourage, tutti intenti a preparare il team al meglio per questa importante corsa in casa. I nostri due piloti svolgeranno un ruolo fondamentale durante il weekend e Felipe Massa potrebbe passare a salutarci per spiegare come si prepara prima di una competizione.
Il Formula One Rolex Grand Prix di quest'anno è una gara particolarmente importante, sia per me stessa che per Williams Martini Racing, poiché festeggeremo il nostro quarantesimo anniversario. Un'occasione perfetta per unirti a noi!
--
Hola, soy Claire Williams, directora adjunta de la escudería Williams.
Es un placer ser tu anfitriona en Silverstone. He crecido rodeada por el mundo del motor y he pasado mucho tiempo en la Fórmula 1, así que estoy deseando guiarte por nuestro box y contarte un montón de cosas sobre el equipo.
Compartirás box con otros miembros del equipo mientras nos preparamos para la carrera más importante del año, la que se celebra en nuestra propia casa. Nuestros dos corredores jugarán un papel esencial durante el fin de semana y tendrás la oportunidad de conocer a Felipe Massa, que se pasará a saludarte y te contará los preparativos previos a la carrera, antes de que dé comienzo el Gran Premio.
El Gran Premio de Gran Bretaña Rolex de 2017 es una carrera muy especial para mí y para todo mi equipo, ya que Williams Martini Racing celebra su 40 aniversario. ¡Y estamos deseando compartirla contigo!
--
Привет, я Клэр Уильямс, заместитель директора команды Williams Martini Racing.
Я рада приветствовать вас в Сильверстоуне. Я в автоспорте с самого раннего детства, и провела много времени за кулисами Формулы 1™. Во время вашего визита я расскажу много интересного о команде и проведу экскурсию по гаражу Williams Martini Racing.
Вы будете находиться в гараже вместе с другими членами команды во время подготовки к домашней гонке. Нашим гонщикам предстоит жизненно важная задача на этих выходных, возможно, вам даже удастся встретиться с Фелипе Масса и узнать о том, как он готовится к гонке.
2017 Formula One Rolex Grand Prix — особая гонка для меня и команды, ведь Williams Martini Racing празднуют свой 40-летний юбилей — мы будем рады отпраздновать это событие вместе с вами.