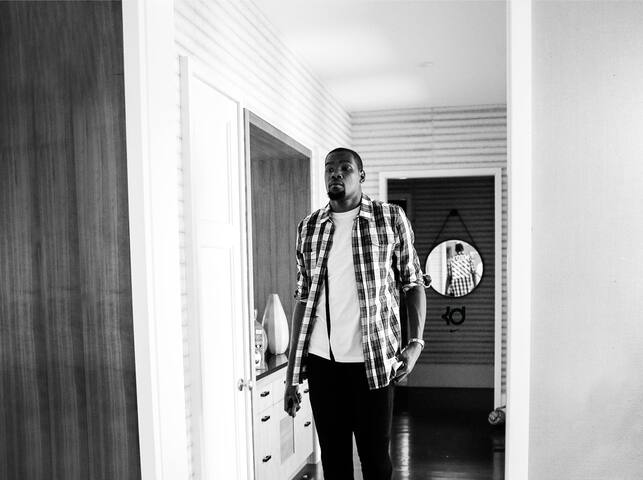 Night At
KD's Bay Area Gallery
Entire home/apt
2 Guests
Studio
1 Bed
About this listing
Moving to the Bay Area means becoming a part of a community rich in culture and innovation. In partnership with Nike Basketball and Victor Solomon, I've curated a gallery experience that celebrates my journey through the game: from my quiet beginnings in AAU growing up in Seat Pleasant, Maryland, to elevating my game to the professional league and The City.
On 10.21, spend the night in this space that embodies the ultimate intersection of art, culture, and sport.
---
Room type: Entire home/apt
Bed type: Real Bed
Property type: Other
Accommodates: 2
Bedrooms: Studio
Bathrooms: 1
Beds: 1
Check In: 3PM - 5PM
---
---
Description
The space
Located in San Francisco's South of Market district on Rincon Hill, the space features my own personal touches with the help of thoughtful curation by my friend Victor Solomon. When you arrive, make yourself at home and enjoy this one of a kind space.
The gallery is a celebration of the evolution of basketball, represented by the wide-ranging contrast between the hand-made wood backboard and well-worn street balls, to ornate stained-glass and lustrous gold basketballs.
It's a celebration of my journey and evolution through basketball, too. From quiet beginnings growing up in Seat Pleasant, Maryland, as a kid playing for the local AAU league, to getting drafted to play professionally at age 19, to elevating my game to The City.
And this is only the beginning.
---
The art may be ballin', but save the games for the hard top. Please don't move or touch the artwork in the gallery.
I've been known to enjoy capturing moments and places in time. Let the gallery space inspire you to capture your own memories.
Feel free to share about your time here on social, but keep the #NightAt experience between you and your plus one. No additional guests are allowed over.
Own the gallery like it's your own. Take a walk through my photo gallery while you walk in your new pair of KDs.
AIRBNB-NIKE INC
"NIGHT AT KD's BAY AREA GALLERY" CONTEST
OFFICIAL RULES
NO PURCHASE OR PAYMENT NECESSARY TO ENTER OR WIN. A PURCHASE OR PAYMENT WILL NOT INCREASE YOUR CHANCES OF WINNING.
When you submit a submission for this Contest, you agree with the Official Rules below.
Sponsors. The Sponsors of this Night At KD's Bay Area Gallery Contest are Airbnb, Inc., 888 Brannan Street, San Francisco, CA, and Nike Inc., One Bowerman Drive, Beaverton, OR 97005 (collectively, "Sponsors").
Eligibility. The Contest is open to legal residents of the Bay Area (Northern California) only, age 21 or older. This means that you are not allowed to participate if you reside outside of these jurisdictions. Directors, officers, employees, independent contractors and agents of Sponsors, or their subsidiaries or affiliates, in addition NIKE sponsored athletes and their immediate families are not eligible, (collectively, the "Contest Entities"), and the members of their immediate families or households, are not eligible.
How to Enter.
Participants who have reached the age of 21 at the time of participation, may enter the Contest from Open Day, October 14 at 9:00AM (PST) until Close Day, October 16, at 11:59PM (PST) by following the process below. Submissions must be received through the below process by the close of the Contest to be eligible.
Entry Process.
Sign in with an Airbnb account. If you are not already an Airbnb user, you must also complete the registration process to create an Airbnb user account. This process is free.
Go to the "Night At KD's Bay Area Gallery" listing page https://www.airbnb.com/night-at/kdgallery (the "Contest Page")
Click on the button 'Enter to win' and tell us a little about yourself, where you live and answer the question:
"Tell me what I am going to love most about living in the Bay?"
In the form provided, write your story addressing the question above in at least 50 characters but no more than 550 characters (the "Submission").
Submission Requirements. The submission must be in English and be entrant's original work, not previously submitted in any other contest, promotion or competition or otherwise have been publicly displayed. The Submission must be sent from the email account associated with the entrant's Airbnb account to be verified and reviewed. Each participant can only participate once. Airbnb is not responsible for computer or network problems, problems with servers, problems with email accounts or the failure to receive any Submission for any reason whatsoever. By entering the Contest, participants agree, on their behalf and, if applicable, any guest (who must also be a registered Airbnb user) that as a winner they are permitted to share the prize with, that they may be contacted by Sponsors in relation to the Contest and agree to take part in any publicity that occurs as a result of the Contest and grant Sponsors and their agents the right to use and/or identify their name, image, likeness and/or town/country of residence in any such publicity.
Prohibited Content. Submissions/content must not violate the rights of any other party, including but not limited to intellectual property rights or rights of privacy, publicity or other moral rights. Submissions must NOT contain or consist of: (a) advertising or commercial content for any party other than Sponsors; (b) content that endorses/promotes illegal or harmful activity; (c) violent, profane, vulgar, obscene, defamatory or otherwise objectionable material; (d) adult material; or (e) defamatory content. The Sponsors reserve the right to disqualify any participant who violates these prohibitions or any other provision of these Official Rules, or that the Sponsors deem inappropriate for any reason, in their sole discretion. You represent and warrant that your submission/content does not make unauthorized use of, or violate, any rights of any third party, and that, if necessary, you can provide proper permissions in a form acceptable to the Sponsors.
License. By submitting a Submission, participants grant Sponsors a perpetual (or for the term of the protection granted by the relevant intellectual property rights), worldwide, irrevocable, royalty-free license to transform, edit, modify, reproduce, distribute, transmit, publish, broadcast, perform, display, or otherwise use the Submission, in whole or in part, with or without modifications, in any form or medium (including but not limited to: internet, any printed medium distributed via press, billposting, point of sale advertising, flyers, leaflet, etc.), whether now existing or later developed, for entertainment, promotional and/or advertising purposes and/or any other purpose. To the greatest extent permitted by law, entrants agree not to invoke any so-called moral rights in relation to their Submissions (including, without limitation, the right to be identified as the creator of the work and the right to object to derogatory treatment of the work). For the avoidance of doubt, the license referred to in this paragraph is a fully paid-up license. By entering, you guarantee that your entry is original as referred to above, and that you have all necessary rights to provide the entry and to grant to Sponsors the rights set out in these Official Rules, as well as the consent of any person that may be identified, depicted or referred to in the entry. You will indemnify and hold Sponsors harmless for any breach of these provisions. Only the winner will receive a prize according to the next paragraph: 'Prize'.
Prize. One (1) Prize is available. The winner will receive, in recognition of his/her personal writing talent and as full and comprehensive consideration for the License described above, the following Prize for himself/herself and one adult guest:
A one-night stay on 10.21.16 (October 21, 2016) for two (2) persons at Terra Gallery – 511 Harrison St, San Francisco, CA 94105 which will include Golden State Tickets, NIKE product, two meals, and round trip game transportation.
Approximate retail value of the Prize is $1780. Actual value may vary.
Any prize details not specified above will be determined by the Sponsor in its sole discretion. Prizes are not transferable and must be accepted as awarded. No cash or other substitution may be made, except by the Sponsor, who reserves the right to substitute a prize with another prize of equal or greater value if the prize is not available for any reason as determined by the Sponsor in its sole discretion. The Winner is responsible for any and all other costs and expenses not listed above. Prizes will be reported as income to a Winner and the Winner is responsible for taxes, if any, associated with the receipt of a prize.
Winner Selection. One (1) winner will be selected from the Submissions. The winner will be chosen entirely on merit, based on the following criteria applied by a panel of judges:
Originality of the answer. Does it surprise and delight us?
Spirit of the answer. Does it -- "Tell me what I am going to love most about living in the Bay?"
The panel of judges will be comprised of members of the marketing teams of Sponsors and/or other authorized personnel or consultants chosen by Sponsors. If substantially similar Submissions are submitted by different entrants, judges will select only the best version of that idea, as determined by the judges in their sole discretion. The judges' decisions are final and binding.
Notification/Announcement of Winner. The winner will be selected on or about October 17. Within 24 hours of selection, winner will be notified via email. Winner must confirm their acceptance of the Prize in writing within 24 hours of such notification. The Sponsors reserve the right to disqualify any winner who does not confirm acceptance of the Prize in accordance with these Official Rules, and reserve the right to select an alternate winner in such event. In the event of a dispute about the identity of a winner, the Sponsors will award the prize to the authorized account holder of the Airbnb account from which the winning entry was sent. The Sponsors may publicly announce the name of the winner within 30 days of the close of the Contest, including through Sponsors' official social media channels.
Prize Conditions.
The winner is solely responsible for any taxes applicable to or resulting from the award of the prize, and the Sponsors will have no obligation for any taxes that may be payable. Sponsors may require the winner, and where applicable, the winner's guest, to sign and return a W9, affidavit of eligibility, a liability release and a publicity release permitting the Sponsors to use the name and likeness of the winner and his/her guest and winning Submission in promotional materials where permitted by law and subject to applicable rules. To the extent permitted by applicable law, refusal or inability to sign and return such forms within 72 hours of receipt may result in disqualification and awarding of Prize to an alternate winner. The winner and his/her guest shall strictly abide by any rules and procedures set forth by Sponsors in connection with the Prize. Engaging in any inappropriate or illegal conduct during any prize-related activity may result in removal from the premises where the event is occurring.
Airbnb may conduct a background check on the winner and his/her guest to confirm eligibility, compliance with these rules and/or fitness as Prize recipients. By entering, you agree to cooperate reasonably with any such background checks. Failure to cooperate may result in disqualification and selection of an alternate winner. If a background check reveals that a potential winner or guest has engaged in conduct that could damage the reputation or business of Sponsors, the winner and/or guest may be disqualified and, in the case of the winner, the prize may be awarded to an alternate winner, time permitting.
General Liability Release. By entering this Contest, entrants release the Sponsors and their agents from any liability whatsoever, on any theory, and waive all claims and causes of action arising from or related to this Contest and/or fulfillment and/or use of the Prize, to the extent permitted by applicable law.
Data. By entering the Contest and submitting a Submission and any other personal information, participants are expressly consenting to the processing of their personal information by the Sponsors for the purpose of the Contest or any associated publicity by the Sponsor. Sponsors' Privacy Policy and Terms of Service will apply. Sponsors may, however, share Submissions and other entrant information with Partners and third party prize providers for Contest administration and prize fulfillment purposes.
Interpretation and Disputes. Entrants agree to be bound by these Official Rules and all decisions of the judges, which are final and binding. Any disputes shall be governed by the laws of the State of California, and shall be resolved in the courts of San Francisco, California.
Miscellaneous. The Contest is void where prohibited. If any provision or part-provision of these Official Rules is held by a court of competent jurisdiction to be invalid, illegal or unenforceable, it shall be deemed modified to the minimum extent necessary to make it valid, legal and enforceable. If such modification is not possible, the relevant provision or part-provision shall be deemed deleted. Any modification to or deletion of a provision or part-provision under this clause shall not affect the validity and enforceability of the rest of these Official Rules. To the extent permitted by applicable law, the Sponsors may suspend, modify or terminate the Contest if they believe, in their sole discretion, that malfunction, error, disruption or damage is impairing or will impair the administration, security, fairness, integrity or proper conduct of the Contest, in which case the Prize will be awarded among the eligible entries received that were unaffected by the problem, if possible.
---
About the Host, Kevin
Originally from Seat Pleasant, Maryland, I am now excited to call The City home. From the food, to tech, to music, I'm hyped to explore this new city and get to know the people who have already shown me so much love and support. Can't wait to hear what you love most about The Bay.