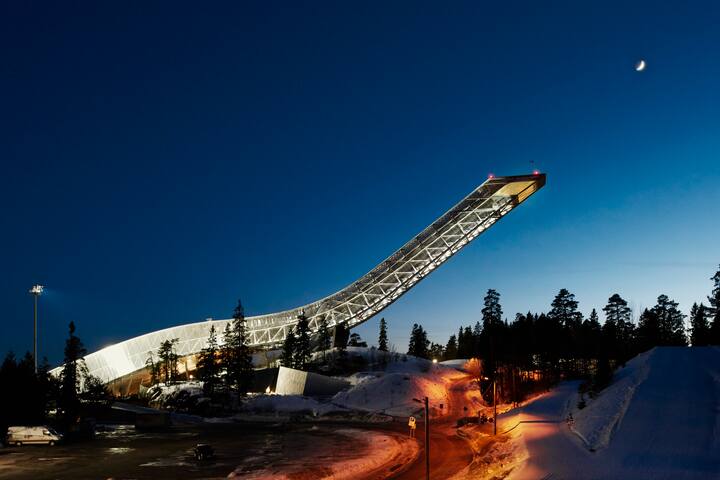 Night At
Ski in, zip line out
Entire home/apt
2 Guests
1 Bedroom
1 Bed
About this listing
**CONTEST CLOSED**
The winners have been contacted. Thank you all for participating. Keep your eyes open for more spectacular listings.
---
Room type: Entire home/apt
Bed type: Real Bed
Accommodates: 2
Bedrooms: 1
Bathrooms: 0.5
Bed: 1
---
Amenities
Kitchen
Space where guests can cook their own meals
Essentials
Towels, bed sheets, soap, and toilet paper
Wifi
Continuous access in the listing
Kitchen
Kitchen
Space where guests can cook their own meals
Internet
TV
Essentials
Essentials
Towels, bed sheets, soap, and toilet paper
Heating
Air conditioning
Washer
Dryer
Free parking on premises
Free street parking
Paid parking off premises
Wifi
Wifi
Continuous access in the listing
Cable TV
Breakfast
Breakfast
Breakfast is provided
Pets allowed
Pets allowed
Assistance animals are always allowed
Family/kid friendly
Suitable for events
Suitable for events
The listing can accommodate a gathering of 25 or more attendees
Smoking allowed
Wheelchair accessible
Wheelchair accessible
Easy access to the building and listing for guests in wheelchairs
Elevator
Elevator
The home or building has an elevator that's at least 52 inches deep and a doorway at least 32 inches wide.
Indoor fireplace
Buzzer/wireless intercom
Doorman
Pool
Hot tub
Gym
Hangers
Iron
Hair dryer
Laptop-friendly workspace
Laptop-friendly workspace
A table or desk with space for a laptop and a chair that's comfortable to work in
Private living room
Private entrance
Private entrance
Separate street or building entrance
24-hour check-in
24-hour check-in
Lockbox, keyless entry, buzzer, or someone available at any time
---
Description
The Space
Love winter sports? Available on March 26 or 27? Then this is the place for you!
If you fancy following in the footsteps of champions in a winter sports wonderland, why not spend a night at the home of Norwegian ski jumping?
High above Norway's capital, you'll find Holmenkollen. An arena that has hosted ski jumping daredevils from all over the world, including those visiting for the World Championships and Winter Olympics.
You'll spend the night at Holmenkollen's very own fully furnished penthouse. Set at the top of the ski jump where champions prepare for flight, the apartment's floor to ceiling windows give you one of the best views imaginable of Oslo, snow capped mountains and endless forest.
On the first floor, 250 steps below the apartment you will find the world's first ski museum. Discover more than 4,000 years of ski history and learn about the adventures of polar explorers, including Roald Amundsen.
Grab a pair of cross country skis and enjoy 1,500 kilometres of fresh tracks right on your doorstep. Feel the need for speed? No problem. You'll find Oslo Vinterpark ski resort and Norway's most intense toboggan run, 'The Corkscrew', just around the corner.
After a day in the snow, leave your gear and take the lift up to your apartment at the very top of the Holmenkollen ski jump.
Right above you is the highest roof terrace in town, so you can do some serious stargazing as dinner is served. If you're really lucky, you might even see the Northern Lights.
In the morning, breakfast will be served in the VIP lounge. So say you're ready to check out, but find taking the lift a little too boring - no worries, there is an alternate exit. The zip line will give you a new perspective on things. What a fresh way to start the day!
Tell us by 11.59pm on March 16 why you (and a lucky guest) would like to spend the night. It´s ok if you don't live close by, we'll fly the winners in from anywhere in the world outside of Norway. What are you waiting for?
---
• Please do not apply if you are scared of heights.
• Only pros are allowed to use the ski jump so don't think you're going to be pulling any tricks on your toboggan.
• Spandex outfits are encouraged, but not mandatory.
• No smoking. Top athletes have to breathe this air too.
• We'll provide all the food and drink you need, so leave the thermos and sandwiches at home.
• Although the Olympics saw 120,000 people packed in and around the jump, only 1 additional guest is allowed in the apartment.
• The stay will not be commentated on, and no style-points will be issued.
• There are no neighbors. So if you feel like walking around in your tighty whities, be our guests.
Terms and Conditions
Night at Holmenkollen on 26 – 28 March 2015
NO PURCHASE OR PAYMENT NECESSARY TO ENTER OR WIN. A PURCHASE OR PAYMENT WILL NOT INCREASE YOUR CHANCES OF WINNING.
When you submit a submission for this Contest, you agree with the Official Rules below.
Sponsor. The Sponsors of this Contest ("Contest") are Airbnb Ireland, The Watermarque Building, South Lotts Road, Dublin 4, Ireland ("Airbnb") and Foreningen til Ski- Idrettens Fremme (Skiforeningen), Kongeveien 5, 0787, Oslo, Norway ("Partner")
How to Enter. Participants who have reached the age of 18 at the time of participation, may enter the Contest from 3 March 2015 at 10 am Central European Time until 16 March 2015 at 11:59 pm Central European Time by following the process below. Submissions must be received through the below process by the close of the Contest to be eligible.
Process: To participate in the Contest and to try to win the prize described below, you have to:
1.Sign in with an Airbnb account
2.Click on the "Contact the Host" button by selecting any date on the calendar
3.Send a message in the form of a story of 100 words maximum – in English – explaining why you should be the one to stay one night in the Holmenkollen (the "Submission").
The email must be sent from the email account associated with the participant's Airbnb account to be verified and reviewed. Each participant can only participate once and you represent that you are more than 18 years old. Airbnb is not responsible for computer or network problems, problems with servers, problems with email accounts or the failure to receive any submission for any reason whatsoever. By entering the Contest, participants agree that they may be contacted by Airbnb in relation to the Contest and agree to take part in any publicity that occurs as a result of the Contest and grant Airbnb and their agents the right to use their name and/or image.
Eligibility. The Contest is not open to residents from: North Korea, Cuba, Iran, Indonesia. This means that you are not allowed to participate if you reside in one of these jurisdictions. The Contest is for residents of all other countries of the world and by entering participants agree that the individual winners will be selected from all entries received from these countries. Directors, officers, employees, independent contractors and agents of Partner and Airbnb, or their subsidiaries or affiliates, and the members of their immediate families or households, are not eligible.
Winner Selection. Two participants will be selected from the Submissions and will be nominated winners and best story writers of the Contest. The winners will be chosen entirely on merit, based on two judging criteria applied by a panel of judges at the following weight:
70% - Originality and creativity of the submitted story. Does it surprise and delight us?
30% - Spirit of the submission. How does your submission relate to Holmenkollen?
The panel of judges will be comprised of members of the marketing teams of Airbnb and Partner, and one independent judge. The judges' decisions are final and binding. If substantially similar Submissions are submitted by different entrants, judges will select only the best version of that idea, as determined by the judges in their sole discretion.
Prohibited Content. Submissions/content must be developed by the participant and must not violate the rights of any other party, including but not limited to intellectual property rights or rights of privacy, publicity or other moral rights. Submissions must NOT contain: (a) advertising or commercial content for any party other than Airbnb or Partner; (b) content that endorses/promotes illegal or harmful activity; (c) violent, profane, vulgar, obscene, defamatory or otherwise objectionable material; (d) adult material; or (e) defamatory content. The Sponsors reserve the right to disqualify any participant who violates these prohibitions, or that the Sponsors deem inappropriate for any reason, in their sole discretion.
License. By submitting a submission, participants grant each of Airbnb and Partner a perpetual (or for the term of the protection granted by the relevant intellectual property rights), worldwide, irrevocable, royalty-free license to transform, edit, modify, reproduce, distribute, transmit, publish, broadcast, perform, display, or otherwise use the submitted story, in whole or in part, with or without modifications, in any form or medium (including but not limited to: internet, any printed medium distributed via press, billposting, point of sale advertising, flyers, leaflets…), whether now existing or later developed, for entertainment, promotional and/or advertising purposes and/or any other purpose. To the greatest extent permitted by law, participants agree not to invoke any so-called moral rights in relation to their submissions (including without limitation the right to be identified as the creator of the work and the right to object to derogatory treatment of the work). For the avoidance of doubt, the license referred to in this paragraph is a fully paid-up license. Only the winners will receive a prize according to the next paragraph: 'Prize'.
Prize. Each winner will receive, in recognition of their personal writing talent and as full and comprehensive consideration for the License described above, the following trip
-A night for two persons at the Holmenkollen ski jump at Kongeveien 5, 0787, Oslo Norway. The night will be either on March 26th 2015 or on March 27th 2015, at the Promoter's absolute discretion.
-Dinner and breakfast for two persons (at an establishment or location of the Promoter's choice) is included
-Return trip for two persons to Oslo, Norway for all non-Norwegian residents in Economy class.
-Return transfer for two persons to and from Holmenkollen from Oslo Airport, Gardermoen for all non-Norwegian residents.
The prize shall not include: visa fees (if applicable), transfer fees in the winner's local country of residence or any meals or expenses not expressly stated in the prize description.
Participants represent that they are available to travel to Oslo to be there by 4 pm local time on 26 and 27 March 2015 (winners will be notified of the date at which they will be required to travel once they have accepted the prize). Participants must have a valid passport (or EU Identity Card) to travel to Norway during the period of the trip to redeem the prize. The total value of the prize is approximately 5000 EUR (or the equivalent in local currency) + a return trip to Oslo, Norway for all the non-Norwegian residents. The Sponsors are allowed to ask for a written confirmation or proof of the place of residence and age of the winners before awarding the prize. No substitution or transfer of the prize is permitted. The prize may not be redeemed for cash. If due to circumstances beyond Airbnb's or Partner's control, Airbnb or Partner are unable to provide the stated prize, Airbnb and Partner reserve the right to award, as substitute, a prize of equal or higher value.
Notification/Announcement of Winner.
The winner(s) will be selected on March 16 2015 and will be notified by email or via the Airbnb message center within 72 hours. Each winner must confirm their acceptance of the Prize in writing within 24 hours of such notification. The Sponsors reserve the right to disqualify any winner who does not confirm acceptance of the Prize in accordance with these Official Rules, and reserves the right to select an alternative winner in such event. In the event of a dispute about the identity of a winner, the Sponsors will award the prize to the authorized account holder of the Airbnb account corresponding to the email address that sent the winning entry. The Sponsors may publicly announce the name of the winner within 30 days of the close of the Contest, including through social media channels such as Twitter (@airbnb) and Facebook
Prize Conditions. Save as may be required by any applicable mandatory laws, the prize is provided as-is with no express or implied warranty or guarantee. This Contest is subject to applicable local laws and regulations, including but not limited to tax laws. The winner is solely responsible for any taxes applicable to or resulting from the award of the prize, and the Sponsors will have no obligation for any taxes that may be payable. Sponsors may require the winner, and where applicable, the winner's guest, to sign and return an affidavit of eligibility, a liability release and a publicity release permitting the Sponsors to use the winner's name, image and winning Submission in promotional materials where permitted by law and subject to applicable rules. Refusal or inability to sign and return such forms within 72 hours of receipt may result in disqualification and awarding of prize to an alternate winner. The winners represent that they will behave, and will ensure that their guest will behave, as good citizens during their stay at Holmenkollen and that they will cooperate with the security personnel that will be present at Holmenkollen on 26 – 28 March 2015. The winners understand that failure to comply with this requirement may result in their eviction from the Holmenkollen at the Sponsors' sole discretion.
General Liability Release. By entering this Contest, participants release the Sponsors and their agents from any liability whatsoever, on any theory, and waive all claims and causes of action arising from or related to this Contest and/or fulfillment and/or use of the Prize, to the extent permitted by applicable law. However, nothing in these Official Rules limits or excludes any person's or entity's liability for death or personal injury caused by their negligence or any other liability which may not as a matter of law be limited.
Data. By entering the Contest and submitting a Submission and any other personal information, participants are expressly consenting to the processing of their personal information by the Sponsors for the purpose of the Contest or any associated publicity. Airbnb's privacy policy will apply. Airbnb may share the Submissions with Partner and third party prize providers for Contest administration and prize fulfillment purposes.
Interpretation and Disputes. Participants agree: (a) to be bound by these Official Rules and all decisions of the judges, which are final and binding; (b) that any disputes shall be governed by the laws of Ireland (or by mandatory local laws, if applicable), and shall be resolved only in the courts in Ireland (or in mandatory local jurisdiction, if applicable), without resort to any form of class action or other form of collective action, to the extent permitted by applicable law; and (c) that they consent and waive any objection to the jurisdiction of said courts for any such disputes.
Miscellaneous. The Contest is void where prohibited. If any provision or part-provision of these Official Rules is held by a court of competent jurisdiction to be invalid, illegal or unenforceable, it shall be deemed modified to the minimum extent necessary to make it valid, legal and enforceable. If such modification is not possible, the relevant provision or part-provision shall be deemed deleted. Any modification to or deletion of a provision or part-provision under this clause shall not affect the validity and enforceability of the rest of this agreement. To the extent permitted by applicable law, the Sponsors may suspend, modify or terminate the Contest if they believe, in their sole discretion, that malfunction, error, disruption or damage is impairing or will impair the administration, security, fairness, integrity or proper conduct of the Contest, in which case the prizes will be awarded among the eligible entries received that were unaffected by the problem, if possible. With reference to the Italian participants please note that this Contest does not constitute a "Manifestazione a Premio" under the provisions of D.P.R. 430/2001 because winners are selected and prizes are assigned to them on the basis of their personal writing talent and consequently the exception described under Article 6, par. 1, letter a) of the above mentioned decree shall apply.
---
About the Host, Holmenkollen
Hi, I am Holmenkollen. I like sports and outdoor activities. I love to invite friends over from all around the world, and I have more than a million guests stay with me every year. I was born in 1892 and have been rebuilt 19 times since then. (Hey, we all need a little fixing up once in a while.) I prefer to enjoy nature, but I am more than happy to recommend some other spots in and around Oslo you might want to visit.