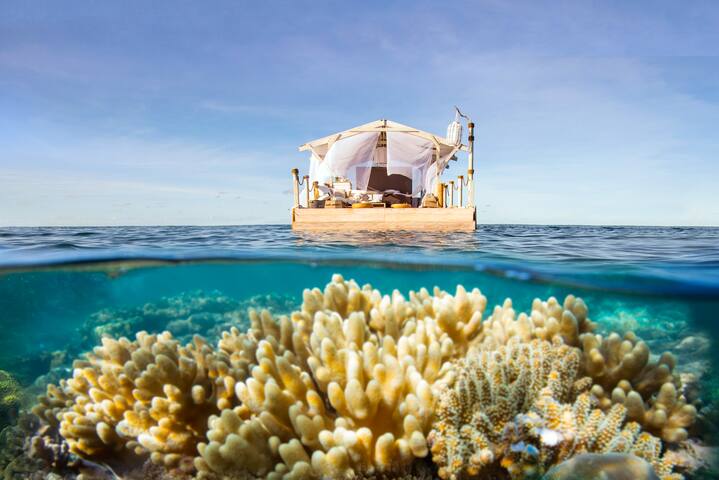 Night At
Great Barrier Reef
Entire home/apt
4 Guests
2 Bedrooms
3 Beds
About this listing
This is your once-in-a-lifetime opportunity to live in a floating home on the Great Barrier Reef and experience the magic of one of the world's seven natural wonders.
---
Room type: Entire home/apt
Accommodates: 4
Bedrooms: 2
Bathrooms: 1
Bed: 3
---
Amenities
Essentials
Towels, bed sheets, soap, and toilet paper
Breakfast
Breakfast is provided
Kitchen
Kitchen
Space where guests can cook their own meals
Internet
TV
Essentials
Essentials
Towels, bed sheets, soap, and toilet paper
Shampoo
Heating
Air conditioning
Washer
Dryer
Free parking on premises
Free street parking
Paid parking off premises
Wifi
Wifi
Continuous access in the listing
Cable TV
Breakfast
Breakfast
Breakfast is provided
Pets allowed
Assistance animals are always allowed
Suitable for events
The listing can accommodate a gathering of 25 or more attendees
Smoking allowed
Wheelchair accessible
Wheelchair accessible
Easy access to the building and listing for guests in wheelchairs
Elevator
Elevator
The home or building has an elevator that's at least 52 inches deep and a doorway at least 32 inches wide.
Indoor fireplace
Buzzer/wireless intercom
Doorman
Hot tub
Gym
Hangers
Iron
Hair dryer
Laptop-friendly workspace
Laptop-friendly workspace
A table or desk with space for a laptop and a chair that's comfortable to work in
Private living room
Private entrance
Private entrance
Separate street or building entrance
24-hour check-in
24-hour check-in
Lockbox, keyless entry, buzzer, or someone available at any time
---
Description
The Space
Imagine living atop a coral garden beside a sand cay in a billowing reef home on the Great Barrier Reef. You feel the pull of the unknown when you peek over the edge of the coral shelf and take in your neighborhood--home to 600 types of soft and hard corals, 100 species of jellyfish, 3,000 varieties of molluscs, 500 species of worms, 1,625 types of fish, 133 varieties of sharks and rays, and more than 30 species of whales and dolphins. And somewhere, beneath you, is the most famous Blue Tang in the world.
In July 2016, Airbnb will welcome one lucky family to experience the magic and wonder of one of the most spectacular places on Earth. You can experience the rich, unrivaled beauty of the Reef, and see firsthand what it's like to live in a coral garden.
One of Australia's most influential chefs, Neil Perry, will cook with local North Queensland produce and treat you to a late lunch on the cay. Later, you'll accompany your host, Pascal, on a dive to take in the awe of the marine life and tour the private coral gardens with a renowned marine biologist. Above all, you'll witness the complex fragility and human impact on this natural wonder--to help counter this impact, Airbnb will plant wetland plants for every guest visiting the region for the remainder of 2016.
And though you might not find every fish you're looking for --the neighborhood is larger than Italy!--you might just discover the power of belonging, and what it means to be at home anywhere in the world.
How can you be the lucky winner to experience this larger-than-life Night At? Just tell us a little about yourself, and why you belong on the Great Barrier Reef.
Other things to note
Night at The Great Barrier Reef on 9-30 June 2016

NO PURCHASE OR PAYMENT NECESSARY TO ENTER OR WIN. A PURCHASE OR PAYMENT WILL NOT INCREASE YOUR CHANCES OF WINNING.

When you submit a submission for this Contest, you agree with the Official Rules below.

Sponsor. The Sponsor of this Contest ("Contest") is Airbnb Australia Pty Limited (ACN: (PHONE NUMBER HIDDEN)), Level 4, 60 Reservoir Street, Surry Hills, NSW 2010, Australia ("Airbnb").

How to Enter. Participants who have reached the age of 21 at the time of participation, may enter the Contest from 9 June 2016 at 5 pm Australian Eastern Standard Time until 30 June 2016 at 11:59 pm Australian Eastern Standard Time by following the process below. Submissions must be received through the below process by the close of the Contest to be eligible.

Process: To participate in the Contest and to try to win the prize described below, you have to:
1. Sign in with an Airbnb account
2. Go to the Night at The Great Barrier Reef listing page
3. Click on the "Enter to Win" button and respond to the following:
"Tell us a little about yourself and why you and 3 guests belong on the Great Barrier Reef."
4.In the form provided, write your story addressing the question above, between 50 characters and 500 characters in English, German, Spanish, French, Italian, Portuguese, or between 50 characters and 300 characters in Chinese (Simplified or Traditional), Japanese or Korean (the " Submission").

The Submission must be sent from the email account associated with the participant's Airbnb account to be verified and reviewed. Each participant can only participate once and you represent that you are 21 years of age or older. Airbnb is not responsible for computer or network problems, problems with servers, problems with email accounts or the failure to receive any Submission for any reason whatsoever. By entering the Contest, participants agree, on their behalf and if applicable any guest that as a winner they are permitted to share the prize with, that they may be contacted by Airbnb in relation to the Contest and agree to take part in any publicity that occurs as a result of the Contest and grant Airbnb and their Partner and their agents the right to use their name and/or image and/or town/country of residence.

Eligibility. The Contest is not open to residents from: Crimea Region of Ukraine, North Korea, Syria, Iran, Sudan, any country subject to embargo by the United States, or the Province of Quebec, or any jurisdiction where the Contest would be prohibited or restricted by law. This means that you are not allowed to participate if you reside in one of these jurisdictions. The Contest is for residents of all other countries of the world and by entering participants agree that the individual winners will be selected from all entries received from these countries. Directors, officers, employees, independent contractors and agents of Partner and Airbnb, or their subsidiaries or affiliates, and the members of their immediate families or households, are not eligible.


Winner Selection. One (1) participant will be selected from the Submissions. The winner will be chosen entirely on merit, based on the following criteria applied by a panel of judges:

- Originality and creativity of the submitted story. Does it surprise and delight us?
- Spirit of the submission. How does your submission answer the question about why you and 3 guests belong on the Great Barrier Reef?

The panel of judges will be comprised of members of the marketing teams of Airbnb and/or authorized personnel or consultants chosen by Airbnb. The judges' decisions are final and binding. If substantially similar Submissions are submitted by different entrants, judges will select only the best version of that idea, as determined by the judges in their sole discretion.

Prohibited Content. Submissions/content must be the original work of the participant and not have been previously published, or entered in any other competition, and must not violate the rights of any other party, including but not limited to intellectual property rights or rights of privacy, publicity or other moral rights. Submissions must NOT contain: (a) advertising or commercial content for any party other than Airbnb or Partner; (b) content that endorses/promotes illegal or harmful activity; (c) violent, profane, vulgar, obscene, defamatory or otherwise objectionable material; (d) adult material; or (e) defamatory content. The Sponsors reserve the right to disqualify any participant who violates these prohibitions or any other provision of these Official Rules, or that the Sponsors deem inappropriate for any reason, in their sole discretion.

License. By submitting a Submission, participants grant each of Airbnb and Partner a perpetual (or for the term of the protection granted by the relevant intellectual property rights), worldwide, irrevocable, royalty-free license to transform, edit, modify, reproduce, distribute, transmit, publish, broadcast, perform, display, or otherwise use the submitted story, in whole or in part, with or without modifications, in any form or medium (including but not limited to: internet, any printed medium distributed via press, billposting, point of sale advertising, flyers, leaflets…), whether now existing or later developed, for entertainment, promotional and/or advertising purposes and/or any other purpose. To the greatest extent permitted by law, participants agree not to invoke any so-called moral rights in relation to their submissions (including without limitation the right to be identified as the creator of the work and the right to object to derogatory treatment of the work). For the avoidance of doubt, the license referred to in this paragraph is a fully paid-up license. By entering, you guarantee that your entry is original as referred to above, and that you have all necessary rights to provide the entry and to grant to Airbnb the rights set out in these Official Rules, as well as the consent of any person identified, depicted or referred to in the entry. You will indemnify and hold Airbnb harmless for any breach of these provisions. Only the winners will receive a prize according to the next paragraph: 'Prize'.

Prize. Each winner will receive, in recognition of their personal writing talent and as full and comprehensive consideration for the License described above, the following prize for himself/herself and three (3) eligible immediate family members:
o Return trip to Cairns, Australia for all non-Cairns residents – Economy class for four (4) people.
o One night's accommodation at the Airbnb listing on the Great Barrier Reef
o Airbnb accommodation in Cairns on 12 and 14 July 2016
o Snorkel tour with a marine biologist
o Scuba dive on the Great Barrier Reef for all guests aged 12 and above, and where guests are deemed eligible to dive by the nominated dive instructor.
o Lunch on a coral sand island
o Transfers from Cairns to Normanby Island
The prize described here above does not include: Visa fees, airport transfers from the winner's home to/from their airport or train station, any meals (except for any meals which are expressly included in the prize description), any expenses (except for any expenses or spending money which are expressly included in the prize description).

Participants represent that they are available to travel to (i) Cairns from 12 to 14 July 2016 (both dates inclusive) and (ii) The Great Barrier Reef to be there on 13 and 14 July 2016. Participants must have a valid passport (or EU Identity Card) to travel to Australia during the period of the trip to redeem the prize. The total value of the prize is approximately 30,000 USD (or the equivalent in local currency) including a return trip to Cairns, Australia for all the non-residents of Cairns, Australia. The Sponsors are allowed to ask for a written confirmation or proof of the place of residence and age of the winner(s) and any guest(s) they are permitted to share the prize with before awarding the prize. No substitution or transfer of the prize is permitted. The prize may not be redeemed for cash. If due to circumstances beyond Airbnb's or Partner's control, Airbnb or Partner are unable to provide the stated prize, Airbnb and Partner reserve the right to award, as substitute, a prize of equal or higher value.

Notification/Announcement of Winner.
The winner(s) will be selected on 4 July 2016 and will be notified by phone and email via the Airbnb message centre within 24 hours. Each winner must confirm their acceptance of the Prize in writing within 24 hours of such notification. The Sponsors reserve the right to disqualify any winner who does not confirm acceptance of the Prize in accordance with these Official Rules, and reserves the right to select an alternative winner in such event. In the event of a dispute about the identity of a winner, the Sponsors will award the prize to the authorized account holder of the Airbnb account from which the winning entry was sent. The Sponsors may publicly announce the name of the winner within 30 days of the close of the Contest, including through social media channels such as (SENSITIVE CONTENTS HIDDEN) (@airbnb) and (SENSITIVE CONTENTS HIDDEN)

Prize Conditions. Save as may be required by any applicable mandatory laws, the prize is provided as-is with no express or implied warranty or guarantee. This Contest is subject to applicable local laws and regulations, including but not limited to tax laws. The winner is solely responsible for any taxes applicable to or resulting from the award of the prize, and the Sponsors will have no obligation for any taxes that may be payable. Sponsors may require the winner, and where applicable, the winner's guest, to sign and return an affidavit of eligibility, a liability release and a publicity release permitting the Sponsors to use the winner's name, image and winning Submission in promotional materials where permitted by law and subject to applicable rules. Refusal or inability to sign and return such forms within 72 hours of receipt may result in disqualification and awarding of prize to an alternate winner. The winner and guest represent they will behave as good citizens during their stay at The Great Barrier Reef and that they will cooperate with the security personnel that will be present at The Great Barrier Reef during the stay.

General Liability Release. By entering this Contest, participants release the Sponsors and their agents from any liability whatsoever, on any theory, and waive all claims and causes of action arising from or related to this Contest and/or fulfillment and/or use of the Prize, to the extent permitted by applicable law. However, nothing in these Official Rules limits or excludes any person's or entity's liability for death or personal injury caused by their negligence or any other liability which may not as a matter of law be limited.

Data. By entering the Contest and submitting a Submission and any other personal information, participants are expressly consenting to the processing of their personal information by the Sponsors for the purpose of the Contest or any associated publicity by Airbnb or Partner. Airbnb's privacy policy will apply. Airbnb may share the Submissions with Partner and third party prize providers for Contest administration and prize fulfillment purposes.
Interpretation and Disputes. Participants agree: (a) to be bound by these Official Rules and all decisions of the judges, which are final and binding; (b) that any disputes shall be governed by the laws applicable in the state of New South Wales (or by mandatory local laws, if applicable), and shall be resolved only in the courts located in New South Wales (or in mandatory local jurisdiction, if applicable), without resort to any form of class action or other form of collective action, to the extent permitted by applicable law; and (c) that they consent and waive any objection to the jurisdiction of said courts for any such disputes.
Miscellaneous. The Contest is void where prohibited. If any provision or part-provision of these Official Rules is held by a court of competent jurisdiction to be invalid, illegal or unenforceable, it shall be deemed modified to the minimum extent necessary to make it valid, legal and enforceable. If such modification is not possible, the relevant provision or part-provision shall be deemed deleted. Any modification to or deletion of a provision or part-provision under this clause shall not affect the validity and enforceability of the rest of these Official Rules. To the extent permitted by applicable law, the Sponsors may suspend, modify or terminate the Contest if they believe, in their sole discretion, that malfunction, error, disruption or damage is impairing or will impair the administration, security, fairness, integrity or proper conduct of the Contest, in which case the prizes will be awarded among the eligible entries received that were unaffected by the problem, if possible. With reference to the Italian participants please note that this Contest does not constitute a "Manifestazione a Premio" under the provisions of D.P.R. (PHONE NUMBER HIDDEN) because winners are selected and prizes are assigned to them on the basis of their personal writing talent and consequently the exception described under Article 6, par. 1, letter a) of the above mentioned decree shall apply. With reference to the Chinese, Japanese, and Korean participants, please note that the local language version of these Official Rules is for reference only, and the English version shall prevail.
---
• No clownfish jokes.
• Protect the anemones.
• Speak like a whale.
• Try to find the giant clam.
• Spot all 13 resident sea turtles.
• If you fall out of bed, don't forget your mask.
• Don't bark at the seals.
----------
• Ne faites pas le poisson-clown !
• Interdiction de cueillir les anémones.
• Entraînez-vous à parler en baleine. On ne sait jamais, vous pourriez en croiser une...
• Pas besoin de poisson-pilote, on vous emmène.
• Les tortues vous attendent, alors sortez de votre carapace !
• Si vous tombez du lit, prévoyez votre masque et votre tuba pour faire des somnan-bulles !
----------
• Keine Witze über Clownfische.
• Pass immer und unbedingt penibelst auf die Anemonen auf.
• Versuch auf jeden Fall, mit den Walen zu singen.
• Mach dich auf die Suche nach der Riesenmuschel.
• Finde alle 13 Meeresschildkrötenarten, die hier wohnen.
• Vergiss bloß nicht deine Taucherbrille, wenn du aus dem Bett fällst.
• Seehunde anbellen verboten.
----------
• Niente battute da pesce pagliaccio.
• Proteggi gli anemoni, sempre.
• Puoi parlare in balenese, se vuoi.
• Individua tutte e 13 le specie di tartarughe di mare.
• Trova la vongola gigante, se ci riesci.
• Se cadi dal letto, non dimenticare la maschera.
• Non abbaiare alle foche.
----------
• Nada de piadas sobre peixes-palhaço.
• Proteja as anêmonas.
• Recomendamos treinar o seu "baleiês".
• Tente encontrar a ostra gigante.
• Identifique todas as 13 tartarugas residentes.
• Se você tem costume de cair da cama, melhor dormir com a máscara de mergulho.
• Nada de ficar imitando o som das focas.
----------
• No hagas el pez payaso.
• Cuida de las anémonas.
• Aprende a hablar balleno a la mínima oportunidad. ¡Nunca se sabe!
• Sal en busca de la legendaria almeja gigante.
• Localiza a las 13 tortugas marinas que viven en la zona.
• Ponte el equipo de buceo para dormir. Es solo una idea, por si te caes de la cama...
• Pase lo que pase, no grites a las focas: ten por seguro que no te van a entender.
----------
• 不开小丑鱼的玩笑。
• 保护海葵。
• 学鲸鱼说话。
• 寻找大蛤蚌。
• 把13种当地海龟全找出来。
• 如果从床上掉下来,可別忘了戴上你的潜水面罩。
• 不要冲着海豹乱叫。
----------
• クラウンフィッシュ(ニモ)のジョークは禁止だよ。
• アネモネは保護しようね。
• クジラのようにしゃべること。
• オオシャコガイを探そう。
• この辺りに生息する海がめ13種を全部探そう。
• ベッドから落っこちる際には、酸素マスクをお忘れなく。
• アシカに大声で吠えないこと。
----------
• 물고기가 보는 앞에선 생선회를 먹지 마세요.
• 말미잘을 보호합시다.
• 고래의 언어로 대화해 보세요.
• 초대형 조개를 찾아 보세요.
• 우리 동네의 소중한 주민, 바다거북 13마리를 모두 찾아 보세요.
• 침대에서 떨어지면, 얼른 산소 마스크를 쓰세요.
• 물개와 누가 더 크게 짖나 맞짱뜨지 않기.
---
About the Host, Pascal And Family
Hi, I'm Pascal Dattler and together with my parents, we'll be your hosts for the night. I've been called the Mowgli of the Sea and a modern day Huck Finn, but really I'm just a kid who's spent most of my childhood on the Great Barrier Reef. I've caught fish for my family, encountered sharks, and respect the ocean and all its creatures.
There's so much to see and explore in the ocean and we're excited to show you what it's like to live on the Great Barrier Reef.
We look forward to hosting you on the Reef!
----------
Salut ! Je m'appelle Pascal Dattler, mes parents et moi-même seront vos hôtes pour la nuit ! Dans ma vie, on m'a surnommé le Mowgli de la mer, ou encore le Huckleberry Finn des temps modernes. Moi, je me vois plutôt simplement comme quelqu'un qui a passé son enfance à explorer la Grande Barrière de corail. Quand j'étais petit, je pêchais des poissons pour ma famille et il m'arrivait de croiser des requins au cours de mes plongées. C'est grâce à ce style de vie que j'ai appris à respecter l'océan.
L'océan recèle encore une infinité de merveilles à explorer. J'ai hâte d'être votre guide sur la Grande Barrière de corail !
À bientôt sur l'eau !
----------
Hi, ich bin Pascal Dattler, und gemeinsam mit meinen Eltern bin ich dein Gastgeber für die Nacht. Man nennt mich den Mogli der Meere, manchmal auch den modernen Huck Finn. Aber eigentlich bin ich nur ein stinknormaler Typ, der einen Großteil seiner Kindheit am Great Barrier Reef verbracht hat. Ich habe Fisch für meine Familie gefangen und bin dabei jede Menge Haien begegnet. Und mein allergrößter Respekt gilt dem Meer und allen Kreaturen, die darin leben.
Es gibt so unglaublich viel zu sehen und zu erleben im Meer, und ich freue mich schon sehr darauf, euch zu zeigen, wie das Leben am Great Barrier Reef ist.
Bis ganz bald am Reef!
----------
Ciao, mi chiamo Pascal Dattler e, con i miei genitori, ti ospiterò per la notte. Mi hanno definito "il Mowgli del mare" e "un moderno Huckleberry Finn", ma sono solo un ragazzo che ha passato la maggior parte della propria infanzia sulla Grande barriera corallina. Ho pescato, incontrato squali e vissuto molte avventure in mare aperto. Il mondo subacqueo è meraviglioso e ancora tutto da scoprire.
Io e la mia famiglia nutriamo un enorme rispetto per l'oceano e tutte le sue creature e non vediamo l'ora di ospitarti sulla Grande barriera corallina!
----------
Olá, sou o Pascal Dattler e serei seu anfitrião da noite junto com meus pais. Já fui chamado de Mogli do Mar e um Huckleberry Finn dos dias modernos, mas na verdade não passo de uma criança que passou a maior parte da infância na Grande Barreira de Coral. Já pesquei para minha família, me deparei com tubarões e respeito o oceano e todas as suas criaturas.
Há muito o que ver e explorar no oceano e ficaremos muito felizes de lhe mostrar como é viver na Grande Barreira de Coral.
Não vemos a hora de receber você na Grande Barreira!
----------
¡Hola! Me llamo Pascal Dattler y, con la ayuda de mis padres, seré vuestro anfitrión por una noche. Me han puesto apodos de lo más variopinto, desde «el Mowgli del mar» hasta «el Huckleberry Finn de nuestros tiempos», pero en realidad no soy más que un chaval que ha pasado gran parte de su infancia en la Gran Barrera de Coral. He pescado para mi familia, me he cruzado con unos cuantos tiburones y he intentado respetar siempre tanto las profundidades marinas como a todos los extraordinarios seres vivos que habitan en ellas.
Hay muchísimo por explorar en el océano y, por eso, estoy deseando mostraros cómo es la vida en la Gran Barrera de Coral.
¡Os espero en el agua!
----------
嗨,大家好,我叫Pascal Dattler,我和我的家人是这个晚上接待你的房东。人们都称我为大海里的毛格利和现代版的哈克·芬,但事实上,我只是一个在大堡礁度过了大部分童年时光的孩子。我为家里捕过鱼,还曾遇到过鲨鱼,我认为尊重海洋和海洋里的所有生物非常重要。
大海里有许许多多的东西可以探索发掘,我们非常高兴能让你们体验生活在大堡礁是一种什么样的感觉。

期待在大堡礁接待你们!
----------
やあみんな。両親と一緒に今回ホストを務めるPascal Dattlerです。「海のジャングル少年モーグリ」とか「現代のハックルベリー・フィン」って呼ばれてるけど、グレートバリアリーフの地元っ子というだけのことなので適当にスルーしてやってね。家族のために魚を採ったこともあるし、サメに遭遇したこともあって、海や海の生き物のことは心底リスペクトしてます。

海には見せたいもの、連れていきたいところがたっくさんあるので、グレートバリアリーフの暮らしに早くみんなを案内したいな。
リーフで待ってるよ!
----------
안녕하세요. 곧 여러분을 만나게 될 파스칼 대틀러(Pascal Dattler)입니다. 부모님과 함께 여러분을 호스팅할 거예요. 저는 '바다의 늑대소년', '현대판 허클베리 핀' 등 다양한 별명을 갖고 있지만 그냥 어린 시절의 대부분을 그레이트 배리어 리프에서 보낸 평범한 소년일 뿐입니다. 저는 물고기를 낚아본 경험이 있고 상어를 만난 적이 있으며, 넓은 대양과 그곳에 사는 모든 생명체를 경외하는 마음을 갖고 있습니다.
바닷속에는 정말 너무나 많은 놀라운 것들이 숨어있습니다. 여러분께 그레이트 배리어 리프에서의 삶을 보여드릴 생각에 벌써 설레는군요.
여러분을 만나게 될 날을 기대할게요!
----------