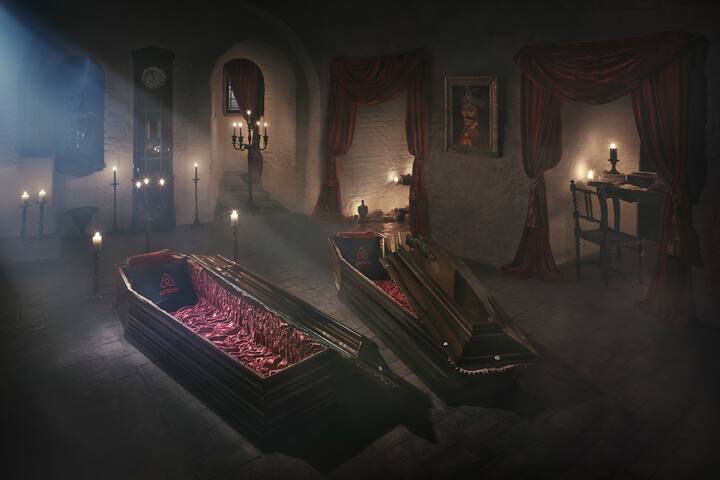 Night At
Dracula's Castle in Transylvania
Entire home/apt
2 Guests
1 Bedroom
2 Beds
About this listing
Nestled in the Carpathian mountains, high in the heart of Transylvania, lies the home of the most chilling tale of the nineteenth century. Are you brave enough to test the myth?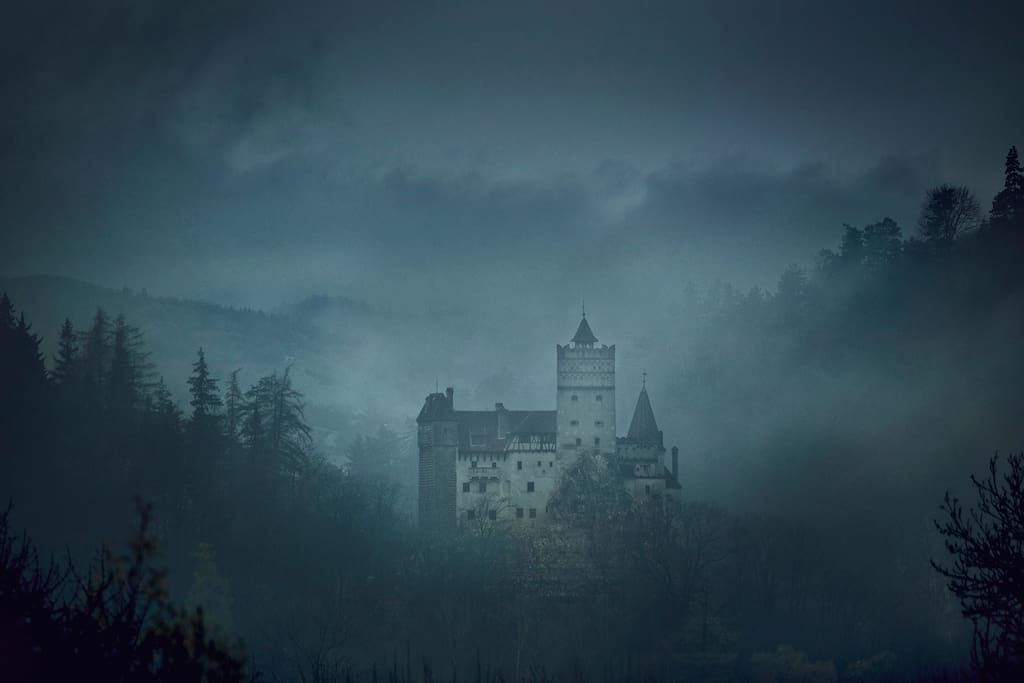 Bran castle's history dates back to the 14th century, it is most well-known as the inspiration for Dracula's castle in Bram Stoker's celebrated novel.
---
Room type: Entire home/apt
Accommodates: 2
Bedrooms: 1
Bathrooms: 1
Bed: 2
Check In: After 7:00 PM
---
Amenities
Essentials
Towels, bed sheets, soap, and toilet paper
Breakfast
Breakfast is provided
Kitchen
Kitchen
Space where guests can cook their own meals
Internet
TV
Essentials
Essentials
Towels, bed sheets, soap, and toilet paper
Heating
Air conditioning
Washer
Dryer
Free parking on premises
Free street parking
Paid parking off premises
Wifi
Wifi
Continuous access in the listing
Cable TV
Breakfast
Breakfast
Breakfast is provided
Pets allowed
Pets allowed
Assistance animals are always allowed
Family/kid friendly
Suitable for events
Suitable for events
The listing can accommodate a gathering of 25 or more attendees
Smoking allowed
Wheelchair accessible
Wheelchair accessible
Easy access to the building and listing for guests in wheelchairs
Elevator
Elevator
The home or building has an elevator that's at least 52 inches deep and a doorway at least 32 inches wide.
Indoor fireplace
Buzzer/wireless intercom
Doorman
Pool
Hot tub
Gym
Hangers
Iron
Hair dryer
Laptop-friendly workspace
Laptop-friendly workspace
A table or desk with space for a laptop and a chair that's comfortable to work in
Private living room
Private entrance
Private entrance
Separate street or building entrance
24-hour check-in
24-hour check-in
Lockbox, keyless entry, buzzer, or someone available at any time
---
Description
The Space
A horse-drawn carriage carries you swiftly through Transylvania as the sun sets towards the horizon, heralding the hours of swooping bats and howling wolves. When you come around the final bend on the tree-lined road, you'll catch a glimpse of Bran Castle. This misty mountain-top manor is home for the night. The chill that suddenly fills the carriage is not the evening mist, it's a fear older than the forests now grown up around the castle rock. This is the lair of vampires, and you cannot leave until dawn.
Dacre Stoker, Bram Stoker's great grandnephew, will answer your knock on the castle's imposing wooden doors. He will be your host for the night, and resident expert on Transylvanian lore. Enter the castle and explore the labyrinth of lamp-lit corridors, creepy nooks, and squeaky staircases while there is still light in the sky. You may traipse through all fifty-seven rooms, from lofty tower lookouts to deep dark crypts, and even enjoy an incomparable view of the Carpathians from the terrace as the sun makes its final descent. But once darkness comes, retreat inside. Unexpected guests have been known to come knocking in the moonlit hours.
A secret passage on the first floor leads to the grand dining room where an intimate candlelit dinner will await, prepared exactly as described in Bram Stoker's novel. Following the hearty, blood-enriching meal, you will be left to sleep in luxurious velvet-trimmed coffins in the seclusion of the Count's crypt.
Fall asleep to the creaks and whispers of the Transylvanian night, and the sound of wolves roaming outside the castle walls.

"Listen to them, children of the night, what music they make…"
The entry
Your dark imagination and deep knowledge of vampires will prepare you well to answer this simple question: What would you say to the Count if you were to come face-to-fang with him in his own castle? Show us your vampiric wit by 11:59 p.m. CET on 26th October 2016 and you could be sleeping in his crypt as the witching hour approaches.
Not a local in Transylvania? No worries. Winners will be flown in from anywhere in the world.
Guest access
You and your guest should be over 18 years old. You must be available to spend the night on 31st October - 1st November 2016.
Enter freely, go safely, and leave some of the happiness you bring.
Other things to note
Submissions should be between 50-550 characters in English, French, German, Spanish, Italian, Russian or Portuguese and 100-300 characters in Chinese (Simplified or Traditional), Japanese or Korean. Please read the full contest rules under "House Rules" below.
House Rules
• No garlic or garlic-scented items allowed
• You are kindly requested to leave your silver jewellry at home
• Do not cross the cutlery. In fact, please refrain from placing anything in a
• Cross formation
• Beware of the bats in the castle tower
• Please close all curtains before sunrise
• The count is not a fan of mirror selfies
--
Terms & Conditions
NO PURCHASE OR PAYMENT NECESSARY TO ENTER OR WIN. A PURCHASE OR PAYMENT WILL NOT INCREASE YOUR CHANCES OF WINNING.
When you submit a submission for this Contest, you agree with the Official Rules below.
Sponsor. The Sponsors of this contest ("Contest") are Airbnb Ireland, The Watermarque Building, South Lotts Road, Dublin 4, Ireland ("Airbnb") and Bran Castle Str. General Traian Mosoiu, nr. (PHONE NUMBER HIDDEN) Bran, Romania ("Partner")
How to Enter. Participants who have reached the age of 18 at the time of participation, may enter the Contest from 17th October 2016 at 10 am Central European Time until 26th October 2016 at 11:59 pm Central European Time by following the process below. Submissions must be received through the below process by the close of the Contest to be eligible.
Process: To participate in the Contest and to try to win the prize described below, you have to:
1.) Sign in with an Airbnb account
2.) Go to the Dracula's castle in Transylvania competition listing page
3.) Click on the "Enter to Win" button
4.) In the form provided write an artistic and creative story - of between 50 and 550 characters in English, French, German, Spanish, Italian or Portuguese and between 50 and 300 characters in Chinese, Japanese or Korean – explaining what would you say to count Dracula if you were to meet him in his castle (the " Submission").
The Submission must be sent from the participant's Airbnb account to be verified and reviewed. Each participant can only participate once and you represent that you are more than 18 years old. Airbnb is not responsible for computer or network problems, problems with servers, problems with email accounts or the failure to receive any Submission for any reason whatsoever. By entering the Contest, participants agree, on their behalf and, if applicable, any guest that as a winner they are permitted to share the prize with, that they may be contacted by Airbnb in relation to the Contest and agree to take part in any publicity that occurs as a result of the Contest and grant Airbnb and Partner and their group companies and agents the right to use their name and/or image and/or town/country of residence in promotional activities.
Eligibility. The Contest is not open to residents from: Cuba, the Crimea Region of Ukraine, North Korea, Syria, Iran, Sudan, any country subject to embargo by the United States of America or any jurisdiction where the Contest would be prohibited or restricted by law. This means that you are not allowed to participate if you reside in one of these jurisdictions. The Contest is for residents of all other countries of the world and by entering participants agree that the individual winner(s) will be selected from all Submissions received from these countries. Directors, officers, employees, independent contractors and agents of Partner and Airbnb, or their subsidiaries or affiliates, and the members of their immediate families or households, are not eligible.
Winner Selection. Two participants will be selected from the Submissions and will be nominated winners and best story writers of the Contest. The winners will be chosen entirely on merit, based on the following criteria applied by a panel of judges:
- Does the Submission fit the entry criteria?
- Originality and creativity of the Submission. Does it surprise and delight us?
- Spirit of the Submission. How does your Submission relate to the legend of Dracula?
The panel of judges will be comprised of members of the marketing teams of Airbnb and Partner, and one independent judge. The judges' decisions are final and binding. If substantially similar Submissions are submitted by different entrants, judges will select only the best version of that idea, as determined by the judges in their sole discretion. If in the opinion of the judges no suitable Submissions are received, or no winner can be contacted or responds as set out in these Official Rules, then the Sponsors may cancel, extend or repeat the Contest in their sole discretion.
Prohibited Content. Submissions/content must be the original work of the participant and not have been previously published, or entered in any other competition, and must not violate the rights of any other party, including but not limited to intellectual property rights or rights of privacy, publicity or other moral rights. Submissions must NOT contain: (a) advertising or commercial content for any party other than Airbnb or Partner; (b) content that endorses/promotes illegal or harmful activity; (c) violent, profane, vulgar, obscene, defamatory or otherwise objectionable material; (d) adult material; or (e) defamatory content. The Sponsors reserve the right to disqualify any participant who violates these prohibitions or any other provision of these Official Rules, or that the Sponsors deem inappropriate for any reason, in their sole discretion.
License. By submitting a Submission, participants grant each of Airbnb and Partner a perpetual (or for the term of the protection granted by the relevant intellectual property rights), worldwide, irrevocable, royalty-free license to transform, edit, modify, reproduce, distribute, transmit, publish, communicate to the public, broadcast, perform, display, or otherwise use the submitted story, in whole or in part, with or without modifications, in any form or medium (including but not limited to: internet, any printed medium distributed via press, billposting, point of sale advertising, flyers, leaflets…), whether now existing or later developed, for entertainment, promotional and/or advertising purposes and/or any other purpose. To the greatest extent permitted by law, participants agree to waive and not to assert or invoke any so-called moral rights in relation to their Submissions (including without limitation the right to be identified as the creator of the work and the right to object to derogatory treatment of the work). For the avoidance of doubt, the license referred to in this paragraph is a fully paid-up license. By entering, you guarantee that your Submission is original as referred to above, and that you have all necessary rights to provide the Submission and to grant to Airbnb and Partner as applicable the rights set out in these Official Rules, as well as the consent of any person identified, depicted or referred to in the Submission. You will indemnify and hold Airbnb harmless for any breach of these provisions. Only the winner(s) will receive a prize according to the next paragraph: 'Prize'.
Prize. Each winner will receive, in recognition of their personal writing talent and as full and comprehensive consideration for the License described above, the following trip:
- For all non-Romanian residents: economy class return travel to Bran, Romania
- Attendance at an exclusive event at Bran castle on 31 October 2016
- Transport between the airport in Romania and Bran Castle
- All on the ground lodging expenses prior to and after the event whilst the winner is in Romania
- A stay in Bran castle on 31 October
- Dinner on October 31 and breakfast on November 1, as well as meals prior to and after the event whilst winner is in Romania
- Travel insurance
Not included in the prize are:
- Fees for visas or any other required travel permits or authorisations
- Transport between the winner's home and airport or train station.
- Any expenses not expressly included in the prize description
- Any meals not expressly included in the prize description
Participants represent that they are available to travel to Bran, Romania to be there on 31st October 2016. Participants must have a valid passport (or EU Identity Card) to travel to Bran, Romania during the period of the trip to redeem the prize. The total value of the prize is approximately 3000 EUR + a return trip to place of origin for all the non-Romanian residents. The Sponsors are allowed to ask for a written confirmation or proof of the place of residence and age of the winners and any guest(s) they are permitted to share the prize with before awarding the prize. No substitution or transfer of the prize is permitted. The prize may not be redeemed for cash. If due to circumstances beyond Airbnb's or Partner's control, Airbnb or Partner are unable to provide the stated prize, Airbnb and Partner reserve the right to award, as substitute, a prize of equal or higher value.
Notification/Announcement of Winner.
The winner(s) will be selected on 27th October 2016 and will be notified by email or via the Airbnb message centre within 24 hours. Each winner must confirm their acceptance of the Prize in writing within 24 hours of such notification. The Sponsors reserve the right to disqualify any winner who does not confirm acceptance of the Prize in accordance with these Official Rules, and reserves the right to select an alternative winner in such event. In the event of a dispute about the identity of a winner, the Sponsors will award the prize to the authorized account holder of the Airbnb account from which the winning Submission was sent. The Sponsors may publicly announce the name of the winner within 30 days of the close of the Contest, including through social media channels such as (SENSITIVE CONTENTS HIDDEN) (@airbnb) and (SENSITIVE CONTENTS HIDDEN)
Prize Conditions. Save as may be required by any applicable mandatory laws, the prize will be as referred to in these Official Rules and is provided as-is with no express or implied warranty or guarantee. This Contest is subject to applicable local laws and regulations, including but not limited to tax laws. The winner is solely responsible for any taxes applicable to or resulting from the award of the prize, and the Sponsors will have no obligation for any taxes that may be payable. Sponsors may require the winner, and where applicable, the winner's guest, to sign and return an affidavit of eligibility, a liability release and a publicity release permitting the Sponsors to use the winner's name, image and winning Submission in promotional materials where permitted by law and subject to applicable rules. Refusal or inability to sign and return such forms within 48 hours of receipt may result in disqualification and awarding of prize to an alternate winner. The winner and guest represent they will behave as good citizens during their stay at Bran castle and that they will cooperate with the security personnel that will be present at Bran castle on 31st October and 1st November.
General Liability Release. By entering this Contest, participants release the Sponsors and their agents from any liability whatsoever, on any theory, and waive all claims and causes of action arising from or related to this Contest and/or fulfillment and/or use of the Prize, to the extent permitted by applicable law. However, nothing in these Official Rules limits or excludes any person's or entity's liability for death or personal injury caused by their negligence or any other liability which may not as a matter of law be limited.
Data. By entering the Contest and submitting a Submission and any other personal information, participants are expressly consenting to the processing of their personal information by the Sponsors for the purpose of the Contest or any associated publicity by Airbnb or Partner. Airbnb's privacy policy will apply. Airbnb may share the Submissions with Partner and third party prize providers for Contest administration and prize fulfillment purposes.
Interpretation and Disputes. Participants agree: (a) to be bound by these Official Rules and all decisions of the judges, which are final and binding; (b) that any disputes shall be governed by the laws of Ireland (or by mandatory local laws, if applicable), and shall be resolved only in the courts in Ireland (or in mandatory local jurisdiction, if applicable), without resort to any form of class action or other form of collective action, to the extent permitted by applicable law; and (c) that they consent and waive any objection to the jurisdiction of said courts for any such disputes.
Miscellaneous. The Contest is void where prohibited. If any provision or part-provision of these Official Rules is held by a court of competent jurisdiction to be invalid, illegal or unenforceable, it shall be deemed modified to the minimum extent necessary to make it valid, legal and enforceable. If such modification is not possible, the relevant provision or part-provision shall be deemed deleted. Any modification to or deletion of a provision or part-provision under this clause shall not affect the validity and enforceability of the rest of these Official Rules. To the extent permitted by applicable law, the Sponsors may suspend, modify or terminate the Contest if they believe, in their sole discretion, that malfunction, error, disruption or damage is impairing or will impair the administration, security, fairness, integrity or proper conduct of the Contest, in which case the prizes will be awarded among the eligible Submissions received that were unaffected by the problem, if possible. With reference to the Italian participants please note that this Contest does not constitute a "Manifestazione a Premio" under the provisions of D.P.R. 430-2001 because winner(s) are selected and prizes are assigned to them on the basis of their personal writing talent and consequently the exception described under Article 6, par. 1, letter a) of the above mentioned decree shall apply.
---
About the Host, Dacre
I am Dacre Stoker, the great grandnephew of Bram Stoker, author of the legendary Dracula novel. I am a vampire expert and passionate advocate of my great grand-uncle's novel. Bran Castle is where the legend of Dracula was born and I am thrilled to welcome and guide you through the dark passages of the castle for a private unveiling of its many mysteries.
--
Bonjour, je m'appelle Dacre Stoker et je suis l'arrière petit-neveu de Bram Stoker, l'auteur du légendaire roman Dracula. Je suis passionné par l'univers des vampires et j'adore parler de ce roman. Le château de Bran est le lieu où cette légende est née. Je serai ravi d'être votre guide. J'ai hâte de vous révéler les nombreux mystères tapis dans les couloirs du château.
--
Mein Name ist Dacre Stoker und ich bin der Urgroßneffe von Bram Stoker, dem Autor des legendären Romans über Graf Dracula. Ich bin ein absoluter Vampirexperte und begeisterter Fan des Werkes meines Urgroßonkels. Schloss Bran ist der Ort an dem die Legende von Dracula geboren wurde. Ich freue mich sehr darauf, euch an diesem besonderen Ort willkommen zu heißen und durch die dunklen Ecken und Winkel des Schlosses zu führen. Und natürlich werde ich euch ein paar haarsträubende Mythen und Geheimnisse verraten.
--
Mi chiamo Dacre Stoker. Sono un discendente di Bram Stoker, un esperto di vampiri e un appassionato sostenitore dell'opera del mio antenato. Per questo sono lieto di potervi accogliere presso il castello di Bran - dove la leggenda di Dracula è nata - e di svelarvi i suoi molti misteri.
--
Eu sou Dacre Stoker, sobrinho-bisneto de Bram Stoker, autor da clássica obra Drácula. Eu sou especialista em vampiros e defensor apaixonado da obra do meu tio-bisavô. A lenda do Drácula nasceu aqui no Castelo de Bran, e será um prazer enorme receber e guiar você através das passagens escuras do castelo para juntos desvendarmos seus inúmeros mistérios.
--
Меня зовут Дейкр Стокер, а автор легендарного романа «Дракула» Брэм Стокер приходится мне двоюродным дедом. Я специалист по вампирам и преданный поклонник этой книги. Замок Бран — колыбель легенды о Дракуле! И я с удовольствием проведу вас по его темным закоулкам и поведаю множество тайн только вам!
--
Me llamo Dacre Stoker y soy descendiente de Bram Stoker, autor de la legendaria novela del conde Drácula. Soy experto en vampiros y un defensor acérrimo de la obra de mi antepasado. Estoy deseando ser tu anfitrión y guiarte por los oscuros pasadizos del castillo de Bran, la cuna que vio nacer la leyenda de Drácula. Te espero para descubrir juntos todos sus misterios.
--
我叫戴克·斯托克(Dacre Stoker),是布莱姆·斯托克(Bram Stoker)的曾侄孙,而他正是经典吸血鬼小说《德古拉》(Dracula)的作者。我是研究吸血鬼的专家,也热衷于推广我曾祖叔父的这部名著。布朗城堡(Bran Castle)是德古拉传说的诞生地,我非常高兴能在这里迎接您的到来,并带您穿越城堡里一条条幽暗的走廊,为您揭开它的神秘面纱。
--
我是戴克·史杜克,我的曾祖叔父就是著名小說《德古拉》(Dracula)的作者伯蘭·史杜克。我也是個吸血鬼專家,熱衷於推廣我曾祖叔父的名著。布蘭城堡是德古拉傳奇的誕生地,我很期待您的入住,讓我帶領您穿越古堡中的幽暗通道,為您揭開古堡的謎樣面紗。
--
僕はダクレ・ストーカー。伝説のドラキュラ小説を書いたブラム・ストーカーの甥の孫です。専門はヴァンパイアで、あの小説を広める使徒だと自分では思ってます。ブラン城は、ドラキュラ伝説発祥の地なので、教えたい秘話が山ほどあります。詳しいところは城の薄暗い通路を案内しながら教えてあげるとしましょう。
--
저는 데커 스토커입니다. 전설적인 소설 ⸢드라큘라⸥의 저자인 브램 스토커의 조카 손자예요. 저는 뱀파이어 전문가이며 종증조부님의 소설의 열렬한 팬입니다. 브란 성은 드라큘라의 전설이 탄생한 곳이에요. 성의 수많은 미스터리를 파헤치기 위해 방문하는 게스트를 맞이하고 어두운 성안 곳곳을 안내해 드릴 생각을 하니 벌써 설레네요.