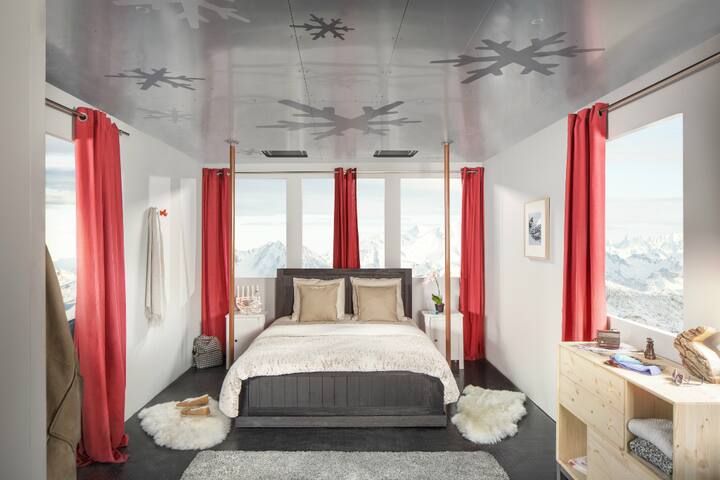 Night At
Night at 9,000ft in the air
Entire home/apt
4 Guests
Studio
2 Beds
About this listing
CONGRATS to Thomas Stroud. Thanks everyone for your participation and keep an eye open for the next incredible nights coming up on Airbnb!!
---
Room type: Entire home/apt
Accommodates: 4
Bedrooms: Studio
Bathrooms: 0
Bed: 2
---
---
Description
The Space
How does a night in a bubble at 9,000ft sound? You and your intrepid few could be the very first to voluntarily spend an evening in a cable car.
On the night of March 6th, we will be sliding open the doors to a fully equipped cable car. Announce your arrival in style with a cloud of powder after cruising up the slopes on snowmobiles. And prepare to fill your (ski) boots with the traditional 'Savoyard' welcome… lots of food and wine.
After a dinner suspended from a cable, at 9,000ft, you'll spend the night feasting above the clouds surrounded by the breathtaking views of La Saulire, the highest point in Courchevel.
Don't hit the tartiflette too hard though because in the morning, powdery nirvana awaits. Live the dream and be the first to carve into Courchevel's slopes.
If this sounds too good to miss, take off your mittens (for ease of typing) and tell us by 11:59pm on Wednesday, 25th February why you're eager to win this night.
This contest is open to families and groups of 4 people (maximum). As we receive many messages, we won't be able to answer all of them. Rest assured though that each will be taken into consideration.
Vertigo sufferers need not apply.
Other things to note
Night at 9,000ft in the air in Courchevel
NO PURCHASE OR PAYMENT NECESSARY TO ENTER OR WIN. A PURCHASE OR PAYMENT WILL NOT INCREASE YOUR CHANCES OF WINNING.
When you submit a submission for this Contest, you agree with the Official Rules below.
Sponsor. The Sponsors of this Contest ("Contest") are Airbnb Ireland, The Watermarque Building, South Lotts Road, Dublin 4, Ireland and S3V Société des 3 Vallées, La Croisette BP40 – 73122 Courchevel Cedex
How to Enter. Participants who have reached the age of 18 or more at the time of participation, may enter the Contest from 27 January 2015 at 10 am Central European Time until 26 February 2015 at 11.59 pm Central European Time by following the process below. Submissions must be received through the below process by the close of the Contest to be eligible.
Process: To participate in the Contest and to try to win the prize described below, you have to:
Sign in with an Airbnb account
Click on the "Contact the Host" button by selecting any date on the calendar
Send a message of 100 words maximum – in French or English – explaining why you should be the one to stay one night at 2,700 metres altitude in Courchevel (the "Submission").
The email must be sent from the email account associated with the participant's Airbnb account to be verified and reviewed. Each participant can only participate once and you represent that you are more than 18 years old. Airbnb is not responsible for computer or network problems, problems with servers, problems with email accounts or the failure to receive any submission for any reason whatsoever. By entering the Contest, participants agree that they may be contacted by Airbnb in relation to the Contest and agree to take part in any publicity that occurs as a result of the Contest and grant Airbnb and their agents the right to use their name and/or image.
Winner Selection. There will be one winner with his/her 3 companions. The winner will be selected from the Submissions. The winner will be chosen entirely on merit, based on two judging criteria applied by a panel of judges at the following weight:
70% - Originality and creativity of the submission. Does it surprise and delight us?
30% - Spirit of the submission. How does your submission relate to the mountain?
The panel of judges will be comprised of members of the marketing teams of Airbnb and Courchevel Tourism. The judges' decisions are final and binding. If substantially similar Submissions are submitted by different entrants, judges will select only the best version of that idea, as determined by the judges at their sole discretion.
Prohibited Content. Submissions/content must be developed by the participant and must not violate the rights of any other party, including but not limited to intellectual property rights or rights of privacy, publicity or other moral rights. Submissions must NOT contain: (a) advertising or commercial content for any party other than Airbnb or Courchevel; (b) content that endorses/promotes illegal or harmful activity; (c) violent, profane, vulgar, obscene or otherwise objectionable material; (d) adult material; or (e) defamatory content. The Sponsors reserve the right to disqualify any participant who violates these prohibitions, or that the Sponsors deem inappropriate for any reason, in their sole discretion.
License. By submitting a submission, participants grant the Sponsors a perpetual (or for the term of the protection granted by the relevant intellectual property rights), worldwide, irrevocable, royalty-free license to transform, edit, modify, reproduce, distribute, transmit, publish, broadcast, perform, display, or otherwise use the submission for promotional or any other purposes, on or in relation to Airbnb.com, S3V.com or related sites, with or without modifications, in any form or medium (including but not limited to: internet, any printed medium distributed via press, billposting, point of sale advertising, flyers, leaflet, etc.), whether now existing or later developed, for entertainment, promotional and/or advertising purposes. To the greatest extent permitted by law, participants agree not to invoke any so-called moral rights in relation to their submissions (including without limitation the right to be identified as the creator of the work and the right to object to derogatory treatment of the work).
Prize. The winner will receive the following trip:
A dinner for four people (the winner and his/her 3 companions) in the Saulire cable car in Courchevel on 6 March 2015
A one night stay for four people (the winner and his/her 3 companions) in the Saulire cable car in Courchevel(France) (the night of 6 March 2015)
Breakfast the next morning
The return trip to Courchevel for the winner and his/her 3 companions
Economy class train or plane ticket for the winner and his/her 3 companions if the winner is a non-French resident
Participants represent that they are available to travel to Courchevel to be there on 6 March 2015 and on 7 March 2015. Participants must have a valid passport (or EU Identity Card) to travel to France during the period of the trip to redeem the prize. The total value of the prize is approximately 2,000EUR (or the equivalent in local currency) + a return trip to their country of residence for all the non- French residents. The Sponsor is allowed to ask for a written confirmation or proof of the place of residence and age of the winners before awarding the prize. No substitution or transfer of the prize is permitted. The prize may not be redeemed for cash. If Airbnb is unable to provide the stated prize, Airbnb reserves the right to award, as substitute, a prize of equal or higher value.
Notification/Announcement of Winner.
In the event of a dispute about the identity of a winner, the Sponsor will award the prize to the authorized account holder of the Airbnb account corresponding to the email address that sent the winning entry. The Sponsor may publicly announce the name of the winner within 30 days of the close of the Contest, including through social media channels such as Twitter (@airbnb) and Facebook .
Prize Conditions. The prize is provided as-is with no express or implied warranty or guarantee. This Contest is subject to applicable local laws and regulations, including but not limited to tax laws. The winner is solely responsible for any taxes applicable to or resulting from the award of the prize, and the Sponsors will have no obligation for any taxes that may be payable. Sponsors may require the winner, and where applicable, the winner's guests, to sign and return an affidavit of eligibility, a liability release and a publicity release permitting the Sponsors to use the winner's name, image and winning Submission in promotional materials where permitted by law and subject to applicable rules. Refusal or inability to sign and return such forms within 72 hours of receipt may result in disqualification and awarding of prize to an alternate winner. The winners represent they will behave responsibly during their stay in the Saulire cable car in Courchevel and that they will cooperate with the security personnel that will be present on 6 March and 7 March 2015.
General Liability Release. By entering this Contest, participants release the Sponsor and their agents from any liability whatsoever, on any theory, and waive all claims and causes of action arising from or related to this Contest or use of the Prize, to the extent permitted by applicable law.
Eligibility. The Contest is not open to residents from: North Korea, Cuba, and Iran. This means that you are not allowed to participate if you reside in one of these countries. The Contest is for all other countries and by entering participants agree that the individual winners will be selected from all entries received from these countries. Directors, officers, employees, independent contractors and agents of the company Trois Vallées and Airbnb, Inc., or its subsidiaries or affiliates, and the members of their immediate families or households, are not eligible.
Data. By entering the Contest and submitting a Submission and any other personal information, participants are expressly consenting to the processing of their personal information by the Sponsors for the purpose of the Contest or any associated publicity. Airbnb's privacy policy will apply. Airbnb may share the Submissions with the company Trois Vallées for the Contest administration purposes.
Interpretation and Disputes. Participants agree: (a) to be bound by these Official Rules and all decisions of the judges, which are final and binding; (b) that any disputes shall be governed by the laws of Ireland, and shall be resolved only in the courts in Ireland, without resort to any form of class action or other form of collective action, to the extent permitted by applicable law; and (c) that they consent and waive any objection to the jurisdiction of said courts for any such disputes.
Miscellaneous. The Contest is void where prohibited. If any terms or provisions of these Official Rules are held by a court of competent jurisdiction to be invalid, void or unenforceable, the remaining provisions shall continue in full force and effect. To the extent permitted by applicable law, the Sponsors may suspend, modify or terminate the Contest if they believe, in their sole discretion, that malfunction, error, disruption or damage is impairing or will impair the administration, security, fairness, integrity or proper conduct of the Contest, in which case the prizes will be awarded among the eligible entries received that were unaffected by the problem, if possible.
---
• Be conscientious to the neighbours, chamois are notoriously light sleepers.
•Lines are for travel, not for washing.
•If the gondola's a rockin' don't come a knockin'.
•Please leave your feedback on a foggy window.
•360° panoramic views, no television.
•Please do not call asking for more ice.
•Take plenty of photos, no one will believe you.
---
About the Host, Courchevel
Moi, Courchevel, station mythique des Alpes françaises, je suis nichée au cœur des 3 Vallées, le plus grand domaine skiable au monde. Destination plebiscitée depuis des années par les fondus des sports de glisse venant des quatre coins du monde, j'incarne l'ouverture à l'international et le mélange des cultures.
Mes champs de poudreuse sont réputés dans le monde entier, de même que l'hospitalité des habitants de ma région. Je propose des activités variées pour petits et grands : ski bien sûr, mais aussi balade à cheval ou randonnée.
Je bénéficie d'un cadre grandiose avec un panorama à couper le souffle. 80 % de mes pistes sont situées au-dessus de 1 800 mètres d'altitude et j'offre des lieux magiques, comme la vue sur le Mont Blanc depuis la Saulire et des pistes offrant des sensations fortes comme la mythique piste noire Jean Blanc, au milieu de la forêt.
Si vous aimez les ambiances enneigées, notre téléphérique vous attend.
Membre depuis décembre 2014.
--
Hi there! I am Courchevel, one of the most famous ski resorts in the French Alps.
Nestled in the 3 Vallées, the largest skiable area in the world, I have been visited for many years by ski fans and have the pleasure of welcoming a diverse range of people and cultures.
The powder here is world famous, as is the regions' hospitality. There is something for everyone, whether it be skiing, trail rides or going for a walk to take advantage of my breathtaking panoramas.
80% of my runs are above 1,800 meters and I have some magical spots to explore such as the view of Mont Blanc from La Saulire or a thrilling experience on Jean Blanc's black run.
If you love the slopes, our cable car is waiting for you.