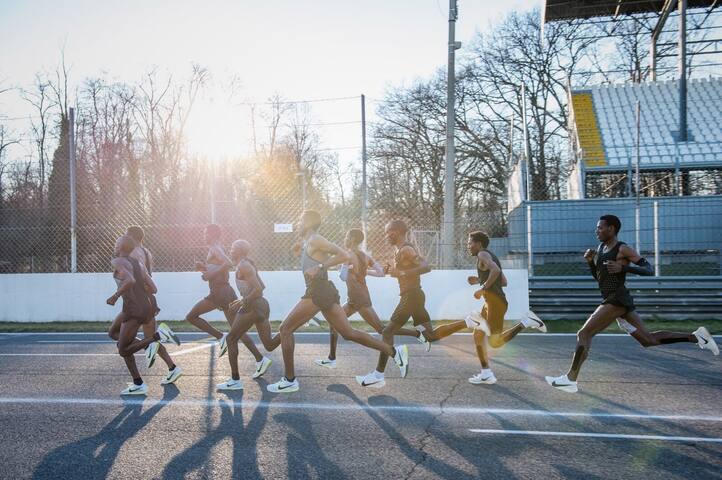 Shared room
1 Guest
2 Beds
About this listing
26.2 Miles. 3 athletes. And one chance to say you were there. This is Breaking2: Nike's quest to break the 2-hour marathon barrier in Monza, Italy, where elite distance runners Lelisa Desisa, Eliud Kipchoge, and Zersenay Tadese will attempt to etch their names into history.
---
Room type: Shared room
Accommodates: 1
Bedrooms: 1
Bathrooms: 1
Bed: 2
Check In: After 12:00 PM
Check Out: 12:00 PM
---
Amenities
Wifi
Continuous access in the listing
Breakfast
Breakfast is provided
Kitchen
Kitchen
Space where guests can cook their own meals
Internet
TV
Essentials
Essentials
Towels, bed sheets, soap, and toilet paper
Heating
Air conditioning
Washer
Dryer
Free parking on premises
Free street parking
Paid parking off premises
Wifi
Wifi
Continuous access in the listing
Cable TV
Breakfast
Breakfast
Breakfast is provided
Pets allowed
Pets allowed
Assistance animals are always allowed
Family/kid friendly
Suitable for events
Suitable for events
The listing can accommodate a gathering of 25 or more attendees
Smoking allowed
Wheelchair accessible
Wheelchair accessible
Easy access to the building and listing for guests in wheelchairs
Elevator
Elevator
The home or building has an elevator that's at least 52 inches deep and a doorway at least 32 inches wide.
Indoor fireplace
Buzzer/wireless intercom
Doorman
Pool
Hot tub
Gym
Hangers
Iron
Hair dryer
Laptop-friendly workspace
Laptop-friendly workspace
A table or desk with space for a laptop and a chair that's comfortable to work in
Private living room
Private entrance
Private entrance
Separate street or building entrance
24-hour check-in
24-hour check-in
Lockbox, keyless entry, buzzer, or someone available at any time
---
Description
The Space
Monza, Italy – Home to an icon of speed, the auto racing track at Autodromo Nazionale Monza. And soon-to-be home to an epic attempt in break the 2-hour marathon barrier. Want in?

Join us for a one-of-a-kind 4 day camping and running experience in Monza, Italy. Located 700 meters from the finish line of Monza's racetrack and 45 minutes from Milan, the Parco di Monza campsite will be your home for 4 days of the best of Nike Running. We love suspense, so we won't tell you the full program of weekend activities until you get here, but expect to meet and socialize with runners from all over the world, run with legendary Nike athletes, share goose-bumping moments with the team behind Breaking2, and—finally—witness an incredible attempt at marathon history.

The Breaking2 attempt in Monza will be closed to the public—this is your only chance to get a ticket to witness history in person.
(Official rules listed below)
Night at BREAKING2 on MAY 5 – MAY 8, 2017

NO PURCHASE OR PAYMENT NECESSARY TO ENTER OR WIN. A PURCHASE OR PAYMENT WILL NOT INCREASE YOUR CHANCES OF WINNING.

When you submit a submission for this Contest, you agree with the Official Rules below.

Sponsors. The Sponsors of this Contest ("Contest") are Airbnb Ireland, The Watermarque Building, South Lotts Road, Dublin 4, Ireland UC ("Airbnb") and Nike European Operations Netherlands B.V. , Colosseum 1, 1213NL Hilversum, The Netherlands ("Partner")[ML1] [Office2]

How to Enter. Participants who have reached the age of 21 at the time of participation, may enter the Contest from April 11th, 2017 at 10:00 am Central European Time until April 14th, 2017 at 11:59 pm Central European Time by following the process below. Submissions must be received through the below process by the close of the Contest to be eligible.

Process: To participate in the Contest and to try to win the prize described below, you have to:
1. Sign in with an Airbnb account
2. Go to the NIGHT AT BREAKING 2 competition listing page
3. Click on the "Enter to Win" button[KJ3]
4. In the form provided write an artistic and creative story of 550 characters[4] [5] maximum answering the question, "Why do you run?" Your story may be written in English or in the local language of eligible countries (the " Submission").

The Submission must be sent from the participant's Airbnb account to be verified and reviewed. Each participant can only participate once and you represent that you are more than 21 years old. In order to send your Submission, you must have a working Internet connection. To the maximum extent permitted by law, Airbnb is not responsible for computer or network problems, problems with servers, problems with email accounts or the failure to receive any Submission for any reason whatsoever. By entering the Contest, and subject to the Data Protection section below and the provision of Airbnb Privacy Policy, Participants agree that they may be contacted by Airbnb and Partner in relation to the Contest and agree to take part in any publicity that occurs as a result of the Contest and grant Airbnb and Partner and their group companies and agents the right to use their name and/or image and/or town/country of residence.

Eligibility. The Contest is only open to residents of the United States, Germany, France, Spain, Italy, United Kingdom, Ireland, Canada (excluding the Province of Quebec), China, Japan, South Korea, and Australia. By entering, participants agree that the individual winner[s] will be selected from all Submissions received from these eligible countries.
[6] Directors, officers, employees, independent contractors and agents of Partner and Airbnb, or their subsidiaries or affiliates, and the members of their immediate families or households, are not eligible. In addition, Partner sponsored athletes and their immediate families are not eligible.

NCAA/HIGH SCHOOL ELIGIBILITY[ML7] [Office8] . I understand and agree that if I am, or may become, a student-athlete in the United States, I am responsible for my own eligibility and/or amateur standing. I am aware of, and agree to comply with, all applicable rules, regulations, and bylaws of my state/territory/national association(s), the NCAA and of any other governing bodies that may be applicable to me ("the Rules"). I understand the consequences of any failure to comply with the Official Rules, including but not limited to, loss of my eligibility to participate in future athletic contests in any sport. Sponsor is not responsible or liable for your participation in this Contest resulting in your ineligibility as an amateur athlete in the United States.

Winner Selection. Ten (10) participants will be selected from the Submissions and will be nominated winner[s] and best story writer[s] of the Contest. The winner[s] will be chosen entirely on merit, based on the following criteria applied by a panel of judges:

● Originality and creativity of the submitted story. Does it surprise and delight us?
● Spirit of the Submission. How does running uniquely inspire or challenge you?

The panel of judges will be comprised of members of the marketing teams of Airbnb and Partner and an independent judge. The judges' decisions are final and binding. If substantially similar Submissions are submitted by different entrants, judges will select only the best version of that idea, as determined by the judges in their sole discretion. If in the opinion of the judges no suitable Submissions are received, or no winner can be contacted or responds as set out in these Official Rules, then the Sponsors may cancel, extend or repeat the Contest in their sole discretion.

Prohibited Content. Submissions/content must be the original work of the participant and not have been previously published, or entered in any other competition, and must not violate the rights of any other party, including but not limited to intellectual property rights or rights of privacy, publicity or other moral rights. Submissions must NOT contain: (a) logos, marks, advertising or commercial content for any party other than Airbnb or Partner; (b) content that endorses/promotes illegal or harmful activity; (c) violent, profane, vulgar, obscene, defamatory or otherwise objectionable material; (d) adult material; or (e) defamatory content. The Sponsors reserve the right to disqualify any participant who violates these prohibitions or any other provision of these Official Rules, or that the Sponsors deem inappropriate for any reason, in their sole discretion.

License. By submitting a Submission, participants grant each of Airbnb and Partner a perpetual (or for the term of the protection granted by the relevant intellectual property rights), worldwide, irrevocable, royalty-free, sub-licensable license to transform, edit, modify, reproduce, distribute, transmit, publish, communicate to the public, broadcast, publicly perform, publicly display, communicate to the public or otherwise use the submitted story in any manner they deem fit (a) the Submissions and all other information and material provided by the participant arising out of or in connection with this Contest at any time; and (b) the participant's name, likeness, photographs, personal information and all other personal attributes and forms of personality or publicity rights, in whole or in part, with or without modifications, in any form or medium (including but not limited to: internet, any printed medium distributed via press, billposting, point of sale advertising, flyers, leaflets…), whether now existing or later developed, for entertainment, promotional and/or advertising purposes and/or any other purpose. To the greatest extent permitted by law, participants agree to waive and not to assert or invoke and waive any so-called moral rights in relation to their Submissions (including without limitation the right to be identified as the creator of the work and the right to object to derogatory treatment of the work). The participants also waive any revisionary rights or any rights that have a similar effect. The participants further agree that non-use of the Submission by Airbnb and Partner shall not be grounds for revocation of such license. For the avoidance of doubt, the license referred to in this paragraph is a fully paid-up license and entry into the Contest is adequate consideration for such license. By entering, you guarantee that your Submission is original as referred to above, and that you have all necessary rights to provide the entry and to grant to Airbnb and the Partner as applicable the rights set out in these Official Rules, as well as the consent of any person identified, depicted or referred to in the Submission. You will indemnify and hold Airbnb and Partner harmless for any breach of these provisions. Only the winner[s]will receive a prize according to the next paragraph: 'Prize'.

Prize. Each winner will receive, in recognition of their personal writing talent and as full and comprehensive consideration for the License described above, the following trip
INCLUDED in the Prize:
● 1 economy-class, round-trip flight [ML9] to Milan, Italy from an airport within 50 miles or nearest to winner's home, whichever is less.[10]
● Ticket to free Nike "Fast&Furious event" in Milan, Italy on Friday, May 5, 2017
● Van transportation from Milan Duomo to Monza campsite located at Parco di Monza, Autodromo Nazionale Monza, Via Santa Maria delle Selve, 20853 Biassono MB, Italy.
● 3-day van transportation from park entrance to Monza campsite located at Parco di Monza, Autodromo Nazionale Monza, Via Santa Maria delle Selve, 20853 Biassono MB, Italy
● 3-night campsite shared accommodation (2 person, same sex occupancy in premium tent living space w/mattress, bathrooms, showers and shared social spaces at Monza campsite located at Parco di Monza, Autodromo Nazionale Monza, Via Santa Maria delle Selve, 20853 Biassono MB, Italy)
● 1 Ticket to Breaking 2 attempt event[11] , closed to the public.
● 3x breakfasts + 3x lunches + 2x dinners[12] served at the Breaking2 Monza campsite located at Parco di Monza, Autodromo Nazionale Monza, Via Santa Maria delle Selve, 20853 Biassono MB, Italy
● 1 Nike welcome kit which includes 2 tee shirts, 1 pair of running socks, 1 pair of Nike Pegasus 34, 1 coffee mug, 1 water bottle, 1 Breaking2 course map, 1 head lamp, 1 flashlight, 1 tote bag, 1 copy of Shoe Dog book by Phil Knight, and 1 pair of Beats by Dre headphones.[ML13]
● Van transportation from Milan airport to Milan Duomo on May 5, 2017 and from Monza campsite to Milan airport
NOT INCLUDED in the prize are: Visa fees, airport transfers from the winner's home to/from their airport, expenses, or any meals beyond those which are expressly included in the prize description above.

Participants represent that they are available to travel to Monza, Italy to be there on or around May 5, 2017. Participants must have a valid passport (or EU Identity Card, as applicable) to travel to Monza, Italy during the period of the trip to redeem the prize. It shall be the sole responsibility of the participants to avail of the necessary authorizations including visas for such trip. The total value of the prize is approximately $3,000 US dollars (or the equivalent in local currency). The Sponsors are allowed to ask for a written confirmation or proof of the place of residence and age of the winner[s] and any guest(s) they are permitted to share the prize with before awarding the prize. No substitution or transfer of the prize is permitted. The prize may not be redeemed for cash. If due to circumstances beyond Airbnb's or Partner's control, Airbnb or Partner are unable to provide the stated prize, Airbnb and Partner reserve the right to award, as substitute, a prize of equal or higher value.

Notification/Announcement of Winner.
The winner(s) will be selected on or about April 14, 2017 and will be notified by Partner via email, on the address associated with their Account and linked to the Submission. Each winner must confirm their acceptance of the Prize in writing within 48 hours of su[KJ14] ch notification. The Sponsors reserve the right to disqualify any winner who does not confirm acceptance of the Prize in accordance with these Official Rules or who is in breach of these Official Rules, and reserves the right to select an alternative winner in such event. In the event of a dispute about the identity of a winner, the Sponsors will award the prize to the authorized account holder of the Airbnb account from which the winning Submission was sent. The Sponsors may publicly announce the name of the winner within 30 days of the close of the Contest, including through social media channels such as Twitter (@airbnb) and Facebook

Prize Conditions. Save as may be required by any applicable mandatory laws, the prize will be referred to in these Official Rules and is provided as-is with no express or implied warranty or guarantee. Nothing in these terms and conditions operates to limit or exclude the application of relevant consumer protection laws or the liability of Sponsor under such laws. This Contest is subject to applicable local laws and regulations, including but not limited to tax laws. The winner is solely responsible for any taxes applicable to or resulting from the award of the prize, and the Sponsors will have no obligation for any taxes that may be payable. Sponsors may require the winner, and where applicable, the winner's guest, to sign and return an affidavit of eligibility, a liability release and a publicity release permitting the Sponsors to use the winner's name, image and winning Submission in promotional materials where permitted by law and subject to applicable rules. Refusal or inability to sign and return such forms within 72 hours of receipt may result in disqualification and awarding of prize to an alternate winner. The winner represents they will behave as good citizens during their stay at BREAKING 2 in Monza, Italy and that they will cooperate with the security personnel that will be present at Monza and Milan on MAY 5 – 8, 2017.

General Liability Release. By entering this Contest, participants release the Sponsors and their agents from any liability whatsoever, on any theory, and waive all claims and causes of action arising from or related to this Contest and/or fulfillment and/or use of the Prize, to the extent permitted by applicable law. However, nothing in these Official Rules limits or excludes any person's or entity's liability for death or personal injury caused by their negligence or any other liability which may not as a matter of law be limited.

Data Protection. By entering the Contest and submitting a Submission and any other personal information, participants are expressly consenting to the processing of their personal information by the Sponsors for the purpose of the Contest or any associated publicity by Airbnb or Partner. Airbnb's privacy policy will apply. Particularly, Personal Data of the Participants and, among them, the winners will be processed by Airbnb to fulfill its obligations under these Official Rules, including communication with the winners and assign the Prize. Airbnb may share the Submissions with Partner, the judges panel, and third party prize providers that may be located outside of your home jurisdiction, for Contest administration and prize fulfillment purposes. Participants who do not consent to the collection of their personal information for the above purposes will not be able to enter the Contest. For information on how to access or seek correction of your personal information, or how to make a complaint in relation to our handling of your personal information, please see our privacy policy at www.airbnb.com/terms/privacy_policy.
Interpretation and Disputes. Participants agree: (a) to be bound by these Official Rules and all decisions of the judges, which are final and binding; (b) that any disputes shall be governed by the laws of Ireland (or by mandatory local laws, if applicable), and shall be resolved only in the courts in Ireland (or in mandatory local jurisdiction, if applicable), without resort to any form of class action or other form of collective action, to the extent permitted by applicable law; and (c) that they consent and waive any objection to the jurisdiction of said courts for any such disputes.
Miscellaneous. The Contest is void where prohibited. If any provision or part-provision of these Official Rules is held by a court of competent jurisdiction to be invalid, illegal or unenforceable, it shall be deemed modified to the minimum extent necessary to make it valid, legal and enforceable. If such modification is not possible, the relevant provision or part-provision shall be deemed deleted. Any modification to or deletion of a provision or part-provision under this clause shall not affect the validity and enforceability of the rest of these Official Rules. To the extent permitted by applicable law, the Sponsors may suspend, modify or terminate the Contest if they believe, in their sole discretion, that malfunction, error, disruption or damage is impairing or will impair the administration, security, fairness, integrity or proper conduct of the Contest, in which case the prizes will be awarded among the eligible Submissions received that were unaffected by the problem, if possible. With reference to the Italian participants please note that this Contest does not constitute a "Manifestazione a Premio" under the provisions of D.P.R. 430/2001 because (i) both Sponsors are duly incorporated and established in an EU Country: therefore, prize competition rules of the Country of establishment apply as per applicable guidance from the Ministry of Economic Development; (ii) in any event, winners are selected and prizes are assigned to them on the basis of their personal writing talent and consequently the exception described under Article 6, par. 1, letter a) of the above mentioned decree shall apply. With reference to the Chinese, Japanese and Korean participants, please note that the local language version of these Official Rules is for reference only, and the English version shall prevail.
---
About the Host, Nike
Nike's mission is to bring innovation and inspiration to every athlete* in the world. The legendary University of Oregon track and field coach, and Nike co-founder, Bill Bowerman said, "If you have a body, you are an athlete."
--
La mission de Nike est d'apporter « inspiration et innovation à tous les athlètes du monde ». Bill Bowerman, légendaire entraîneur d'athlétisme de l'Université de l'Oregon et cofondateur de Nike, a déclaré : « dès lors que vous avez un corps, vous êtes un athlète. »
--
Das Leitbild von Nike: "Jeden Athleten* auf dieser Welt durch Innovation inspirieren".
*Der legendäre Cheftrainer für Leichtathletik an der Universität von Oregon und Nike Mitbegründer Bill Bowerman sagte einmal: "Jeder, der einen Körper hat, hat das Zeug zum Sportler."
--
Nike desidera "portare ispirazione e innovazione a ogni atleta al mondo". Come ha detto una volta il leggendario allenatore di atletica leggera (nonché cofondatore della Nike) Bill Bowerman, proveniente dall'Università dell'Oregon, "se hai un corpo, allora sei un atleta".
--
La misión de Nike es «brindar inspiración e innovación para cada atleta en el mundo». Bill Bowerman, el famoso entrenador de atletismo de la Universidad de Oregón y cofundador de Nike, dijo una vez: «Si tienes un cuerpo, eres un atleta».
--
Nike的使命宣言,是要带给全球所有运动员灵感和创新*。正如美国俄勒冈大学田径教练、Nike公司创始人比尔·鲍尔曼(Bill Bowerman)所言:"如果你有身体,你就是运动员。"
--
プロフィール:ナイキのミッションは、世界のあらゆるアスリートにイノベーションとインスピレーションをもたらすこと*。オレゴン大学陸上部伝説のコーチだったナイキ共同創業者ビル・バウワーマンはこう言っています。「体さえあれば、みんなアスリート」
--
나이키의 목표는 전 세계 모든 운동선수에게 영감을 불어넣고 혁신을 일으키는 것입니다. 오리건 대학교의 전설적인 육상 코치이자 나이키의 공동 창업자인 빌 보워먼(Bill Bowerman)은 "몸이 있다면 누구나 운동선수"라고 말했습니다.