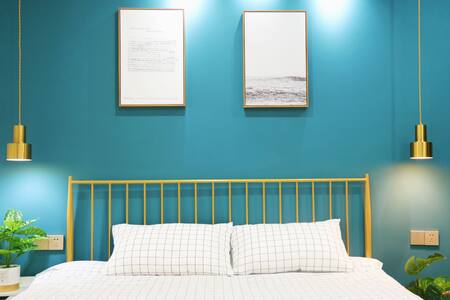 SUPERHOST
Entire apartment · 2 guests · 1 bed · 1 bath
〔亦见民宿〕打开灯看见花房子就变成了家 亦见民宿您汉中的家北欧ins风网红吊篮陕西理工大学盛世国际
The listing belongs to the entire house and is a non-smoking room, 47 square meters with a 1.8 * 2m large bed and comfortable natural latex mattresses, 2p large air conditioner, 50-inch millet TV, 100M broadband, free Wi-Fi, net red hanging basket , Scented candles, etc., the bathroom is equipped with washing machines, hair dryers, disposable toiletries, etc., which can provide hot water for 24 hours. The bedding supplies are changed for each guest, and the room is cleaned for each guest. Please stay at ease.
What guests are saying:
"A very happy trip, the rooms are clean and the facilities are complete. The point is that the landlord is also very good, because the time is a bit special, the landlord also helped me adjust it, and I will choose this place next time I come to Hanzhong."
您好,欢迎了解我的房源,我的房源是家庭式民宿。房间是三室一厅的普通家庭房,我居住在其中一间,另外两间房间及客厅改造成了民宿。详细可以看房间布局图。 此间房间是其中的一间卧室。房间整洁舒适,内有一张1.5米的双人床,配有舒适的床垫及被子、小桌子、衣架、坐椅。房间空气流畅、空气清新。寝具舒适美观。 公用部分的客厅和餐厅拥有35个平米的共享空间,配有沙发、茶几、电视及长型用餐桌椅,空气净化器。您可在此处用餐,休息。 洗漱间和浴室是由两间客人房间的人共同使用的,如果您居住当晚只有您一间则独立使用。 【近期活动】连续住两天及两天以上会为您免费提供一次早餐,以地方特色小吃(大米面皮、菜豆腐,黑米粥、核桃饼等)为主,可以体验到汉中的饮食文化。 高客站、汽车站、高铁站均可乘坐公交,打车10元左右即可到达。(在交通指南里有详细介绍) 房间提供 公共部分 *电视 *微波炉 *水壶 *洗发水和护发素 *沐浴露 *洗面奶 *一次性牙刷(最好自带牙刷)/牙膏 *肥皂/洗衣液 *吹风机 房间 *空调/暖气 *免费无线上网 *毛巾和浴巾
What guests are saying:
"The landlord is a very cute and kind aunt! It's really warm to us, take care of us, come back to us to cut apples in the evening, and buy breakfast early in the morning. I have to say that the hot rice in Hanzhong is really delicious! Although the house is small but very clean, it may be a little cold in the rainy room some time ago. The aunt knows that the next day, she will change the bedding for us, it is too warm! Auntie also has a blue cat who is very close to her family. The first time she meets, she can be a rude. It's really cute, hahahaha. If I have the chance to go to Hanzhong, I won't find a hotel. I'll go to the aunt's house to live hahahaha."
Hanzhong is named after Hanshui. Since ancient times, it has the reputation of "Tianhan". It is known as the "Hanren Hometown" (Light House·South Shore) Home Theater Suite ★100 inch 4K HD projection, comfortable experience for home theater; ★ Oversized viewing terrace, leisure and entertainment, overview of the beauty of the Han River; ★Close to the Hanshui River, the Tianhan Wetland Park, the beautiful scenery on both sides of the river; ★ Simple and stylish decoration in the house, equipped with comfortable big bed, fully automatic washing machine, refrigerator, air conditioner, free 100 mega Wifi and separate toilet, hot water is suitable all day; ★ If you want to cook, the kitchen is provided to you free of charge, kitchenware and tableware are complete, so that the journey is as comfortable as going home! As long as you come from afar, you will know... I believe that you and your family will have a wonderful night here! Light House Homestay welcomes you home!
What guests are saying:
"The room is particularly clean and basically the same as the picture. Some rooms look good in the picture. The actual situation is very far away. It is quiet. The terrace is quite large. It is particularly good to sit on the terrace at night. The facilities are particularly perfect. I like it. Use with confidence. Sleeping in the morning, it's also very convenient to cook here. I was very satisfied. My parents-in-law felt very good, because I took my 7-month-old baby, but I did n't think about bathing my baby. Because I did n't bring my baby 's shampoo, I was surprised to have a baby shampoo. I'm so satisfied. Great stay experience."