SUPERHOST
Entire apartment · 4 guests · 2 beds · 1.5 baths
【复古少女梦游记】市中心高端24小时服务酒店式公寓绝美丹东全景夜景|近安东老街|近江边|万达商圈
本人喜欢旅行,也喜欢住世界各地的民宿,但是中国的民宿很多已经发展成只是图片好看,舒适度并不高,所以一心想要打造一间属于自己的复古少女又有舒适度的民宿--复古少女梦游记就诞生了。 我的民宿位于丹东最新市中心,丹东唯一一家24小时高端公寓楼。 装修全部是环保材料,立邦的环保墙面漆,king size 的大床,五星酒店级别床品。同时坚持一客一洗,住户退房后全部酒精消毒,每天开窗通风,同时还有进口香薰,一进房间的感觉满满香香的少女氛围,特别温馨。窗边还有一个超大地台,上边有加热地炕,平时可以在上面喝喝茶看看书,欣赏一下高层的丹东全景,尤其落日的时候景色特别美,家庭出游的话地台还可以最多睡两人。厨房有简单厨具,可以去丹东当地市场买一些海鲜回来烹饪,感受一下丹东的烟火气。 提供包车日租和机场火车站接送服务,以及朝鲜旅行代办服务,如有需求都可以咨询房东。 因特殊时期,还预备了消毒防护用品,消毒酒精、免洗洗手液、创可贴、碘伏、一次性口罩等。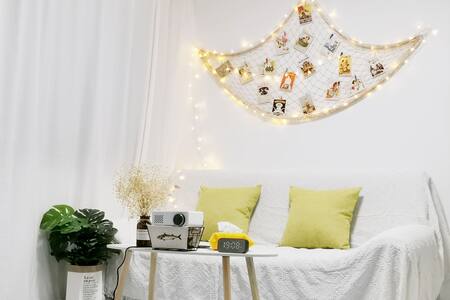 SUPERHOST
Entire apartment · 4 guests · 2 beds · 1 bath
【初心民宿】新装修/北欧INS风巨幕投影房/高丽街内鸭绿江断桥旁/紧邻火车站客运站/设施全/智能锁
NN reasons to choose Chuxin Homestay: 🤗【Location is superior】 Downstairs is Gaoli Street, only 300 meters away from Yalu River Park, 500 meters walk to Yalu River Broken Bridge and 800 meters from Railway Station Passenger Station. The location is good. 🤗【Convenient transportation】50 meters downstairs is the bus stop, there are more than ten lines nearby to meet your travel needs. Taxi, shared bicycles, and mopeds are also many, and it is convenient to go anywhere. 🤗[Fully equipped] equipped with automatic drum washing machine, refrigerator, fan, electric kettle, hair dryer, disposable toiletries and so on. A family-style kitchen that can cook, with a full set of kitchenware and spices to give you the warmth of home. Provide 24-hour hot water, 100 mega fiber, WIFI wireless network, LCD TV, millet TV box, 100-inch smart projector, aroma humidifier, game props, board games, childhood bully game console. 🤗[Breakfast around the house] There are two fruit fresh supermarkets downstairs, 150 meters down the stairs, morning market from 5 to 9 am. There is a China Resources Vanguard Supermarket within 300 meters of the neighborhood. There is a 24-hour convenience store on the 50th downstairs. There are pharmacies, bars, KTV, banks and so on within 100 meters. Downstairs, there is a red restaurant with all-season bibimbap, Changshou ginseng soup, and Machangdong barbecue. 🤗 [Safe and fast] The community is equipped with access control card, smart password lock, time-limited password, password, one customer and one change, intelligent security system allows you to rest assured. 🤗【洁癖控管理】Bed products and toiletries are all changed, professional washing and disinfection, let you live comfortably.
What guests are saying:
"First of all, the host service is very attentive and enthusiastic. If there is a problem, we will reply quickly. Whether it is Airbnb. Or WeChat, you can always ask him any questions. The location of the house is near the train station and it is very close. Get off and take two small roads. Many of the recommended restaurants are in the surrounding area, and there is no traffic or food. The room was clean with lots of small notes, projectors and games, bedrooms and humidifiers, very intimate. The only thing is that according to the previous comment, the room is hot and the windows need to be opened, so there is less clothes. The room is not cold but not too hot. Basic pajamas and a coat are enough. Overall, I saw so many homestays in Dandong at Airbnb, this one is the best!"
The new apartment in the style of the net red ins, the apartment building is newly built. The apartment is 40 square meters in size and has one bedroom and one living room. Downstairs is the famous Anton Old Street in Dandong, which is only 300 meters away from Wanda Plaza. A 5-minute walk will take you to the beautiful country border Yalu River. The bedroom has a 1.8m by 2m double bed with a comfortable mattress and a net-red four-piece kit. For those who love cleanliness, the apartment has four kits per day. The apartment offers free wifi and 24-hour hot water supply. And equipped with a 49-inch millet TV, TV purchased a video vip for the guests to watch. The apartment is very convenient to any attraction, and the taxi station is only a 10-minute drive away. The landlord will respond to your information at any time 24 times to provide the best service for guests coming from afar.
What guests are saying:
"Location 100 points! Downstairs is the old street of Anton, a lot of delicious! Check in for 100 points! It is super convenient to pick up the keys! Room 100 points! Renovated, clean and comfortable!"