Find places to stay in Grand Junction on Airbnb
Discover entire homes and private rooms perfect for any trip.
Discover Airbnb Categories
Discover
Airbnb Categories
Find homes you would never have known to search for.
Explore more
What guests are saying about homes in Grand Junction
Over 24,000 guest reviews with an average of 4.9 out of 5 stars
"Me and my fiancée were on a cross country trip and last minute decided to look for a place. Nothing seemed right for us until we came across this lovely little flat. Kate and Keith were wonderful host's and the place is amazing and very homey. They responded very quickly while we were on the road and in 1hr we were already at their place. We caught them just before they headed out and already had everything set up for us. The flat is located in their backyard and it's just perfect for any traveler. The use of the garage came in handy as well. They took a minute to show us around even tho we had well detailed instructions of the flat. We highly recommend this to anyone passing through. "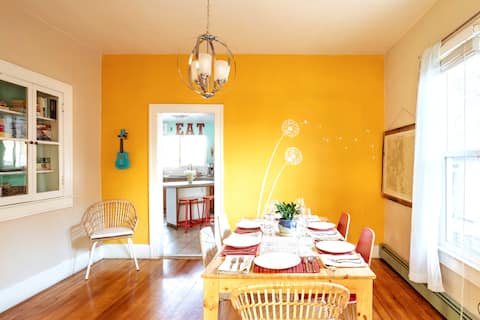 "This is a beautiful older home in a great neighborhood. All the little extra amenities and touches made this a convenient home away from home. I was most excited about the fresh peaches on the counter when I arrived as I LOVE Palisade Peaches! :) I also enjoyed the little yellow tomatoes from the veggie garden. My dog enjoyed having a yard to roam around in and the provided dog bed was helpful. I would not hesitate to stay here again! Amy & Mitch responded quickly to any communication and also have a great welcome book with all of the information needed, plus a collection of pamphlets about things to do in the area. "
"Merri and her roommate, Alex, are two of the nicest people on the planet. Their home is welcoming, comfortable, and convenient. The master suite is roomy and bright, with a terrific memory-foam king bed and an airbed for those who need more space (and FLANNEL SHEETS are available for those who want 'em!) The bathroom is well-stocked with amenities. The kitchen is spacious and fun to cook in. This is a great Airbnb, hosted by wonderful folks!"
24/7 customer support
Day or night, we're here for you. Talk to our support team from anywhere in the world, any hour of day.
Global hosting requirements
All hosts must meet hosting requirements and maintain a minimum rating to be on Airbnb.
All-star hosts
From fresh-pressed sheets to tips on where to get the best brunch, our hosts are full of local hospitality.
Add dates for updated pricing and availability