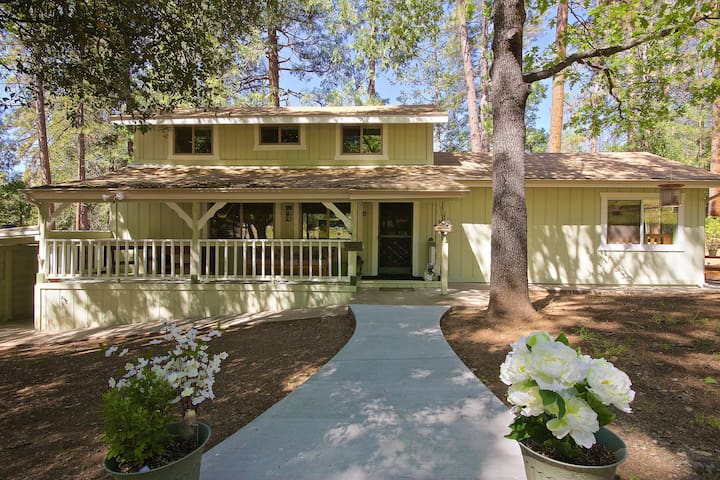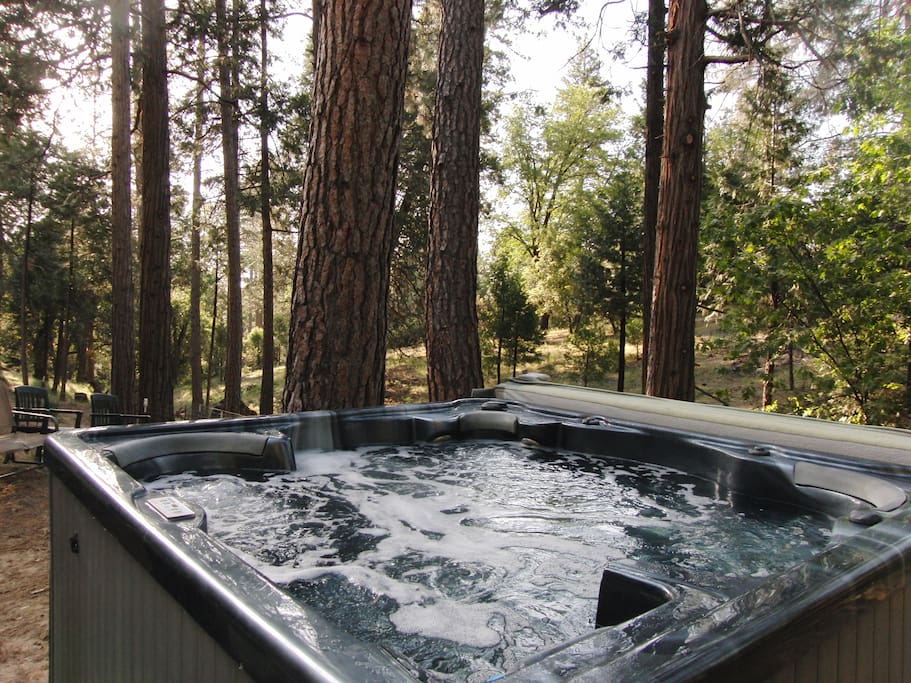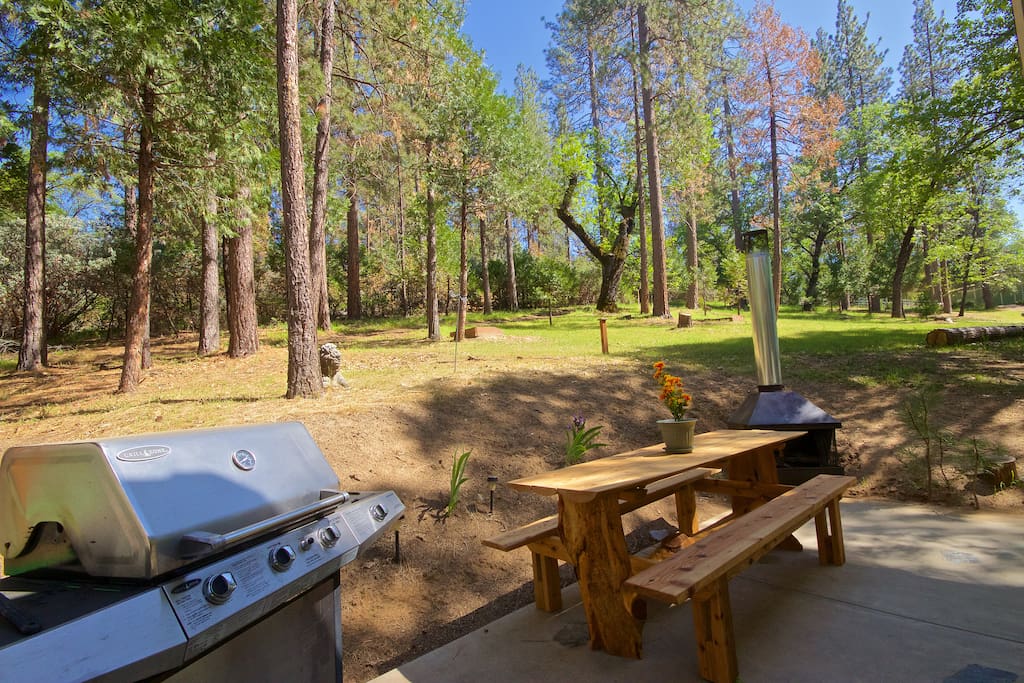 Entire home/apt
4 Guests
2 Bedrooms
2 Beds
About this listing
Come relax at our adorable cabin in the woods. Set back among the trees, with gated access and bordered on 2 sides by National Forest you will enjoy your peaceful stay and our fully stocked and comfortable cabin.. Hot Tub under the stars ...
---
Check In: Anytime after 4PM
Room type: Entire home/apt
---
---
---
The space
Lovely Natures Retreat is located in Oakhurst CA, surrounded by tall pines and lovely forest views. Retreat is 20 minutes to Southern gates of Yosemite, 1 mile from Bass Lake and 45 minutes from Badger Pass Ski Resort and 4 miles from the town of Oakhurst. Nature's Retreat is set at the back of our 7 acres that borders national forest on two sides while the host's house is on the front 3 acres, Retreat sets on the back 4 acres. Home also has gated access. We have many trails to Bass Lake and other sites right from Retreat. Bring the horses, bikes or hiking boots and explore! Large barn for your horse with fenced paddock, riding corral and tons of trails. Property has its own private Five person hot tub under a star filled sky, two person hammock to relax and listen to the birds sing, private washer/dryer for guest staying 3 nights or more, play set for kids, end of road privacy, Dedicated Wifi, Pandora, Netflix, Hula and full (but small) kitchen which will be stocked will all the necessities. Along with a private patio with large BBQ, covered deck with foosball and shuffle board tables along with two nice sized bedrooms and one bathroom. A horse shoe pit and a fire pit (season permitting) was also recently added. A wonderful, quite place to get away and relax yet close to so many wonderful areas to explore. Don't forget a good book, your bikes and your walking shoes. (although books, games, and videos are provided). Horses welcome. Thanks! :-)
Guest access
Guests staying 3 nights or more will have access to the washer and dryer on site. Please review rental agreement in Other things to note section.
Interaction with guests
As much or as little as guests desire. :-)
The neighborhood
Very quite neighborhood surrounded by National Forest.
Other things to note
A rental contract must be agreed to before confirming your reservation. by booking, you agree to the following:
Nature's Properties Rental Agreement

This agreement is hereby made between the Landlord, Owner, or manager of the vacation rental property (herewith "Landlord") and the traveling vacationer, hereafter called "Guest") and regards the Guest's stay at the Landlord's rental home, called the Property, for a short period of time defined here as the Rental Period.
Landlord is: Terri Worthington Pack, PO Box 2018, Oakhurst CA (PHONE NUMBER HIDDEN)
Guests Name:
Address:
Phone:
E-Mail Address:
Drivers License #:
Vehicle Make/Model:

• This Short Term Rental Agreement is made by and between The Landlord and Guest as of the date set forth on this page or via website and the signature page of this Agreement. For good and valuable consideration, the sufficiency of which is acknowledged, the parties hereby agree to all rules, regulations, limitations, and advisories that follow. Upon booking this property you are hereby agreeing to these terms and conditions.
• Guest agree to pay all reasonable costs, attorney's fees and expenses that shall be made or incurred by Landlord enforcing this agreement.
• Guest expressly acknowledge and agree that this Agreement is for transient occupancy of the Property, and that Guests do not intend to make the property a residence or household.
• Guest also agrees to abide by the Rental Rules at all times while at the property, and shall ensure all members of the rental party and anyone else Guest permits on the property must abide by all the same rules at all times while at the property although no none paying guests are allowed unless prior approval by landlord is given.
About These Rules
Please rest assured that the following rules we ask you to agree on are not due to arbitrary reasons. They are due to either insurance rules and qualifications, county regulations — or from past experiences.
Occupancy
The maximum occupancy of the Property is strictly limited.
Standard Guests rates/occupancy vary per property. If a reservation is accepted for a party of two it will be assumed that you are a couple sharing one room and taking advantage of our couples discounted rate. If so, any extra bedroom and bathroom will be locked off to help maintain this lower rate by reducing the cost to clean the home.
For Any additional people:
1. Extra Guests must first be approved by Landlord.
2. Additional charges of $30 per person will be paid before their arrival.
Once the rental period begins, additional people are not allowed on premises without prior approval, and is the sole responsibility of Guest.
As noted, People other than those in the registered Guest party may not stay overnight in the property unless previously agreed upon with the Landlord. If additional Guests are discovered, a fee of $75 per person will be charged, or deducted from the Security Deposit prior to refund.
Guests can not and shall not sublet the property.

Children -
Anyone under 18 years of age. Guest acknowledges being informed the Property is NOT a child-proofed property or dwelling. It is the Guest's responsibility to monitor the activities of all minor children in their care or otherwise allowed into the home or onto the Property. Children count towards number of guests on quote/contract.
Animals and Pets
No animals or pets of any kind will be brought onto the premises unless staying in one of the pet friendly homes and have been approved by manager and pet fee paid.
(The other homes are intended to be an allergen-free environment. Therefore this includes animals of all kinds, except for legally mandated service animals that landlord is made aware of.)

Check In time, Length of stay
• The Rental period begins at 4 pm on the Check-in date.
• The Rental period ends at 11am on the Check-Out date.
Exceptions or extensions must be approved in advance with possibility of small fee.
Call or e-mail us at least 2 days prior to your arrival to arranger earlier time.
• Minimum Stay: This property requires a 2-night minimum stay.
Longer minimum stays may be required during holiday periods.
• Guest agrees to comply with Check-Out Guidelines posted in house or in Binder.
• Guests shall vacate the premises at the date and expiration time stated in this agreement.
Fees, Payments, Rental Rates, Check-out, Refunds,
Cancellation, Contract Violation
• Rates
Rates Vary per home and season - your quote is the rate you are agreeing to
• Cleaning Fee
Each home has a set cleaning fee detailed in your agreement
• Security Deposit
A refundable security deposit must be paid prior to Check In.
The Security Deposit is refunded within 7 days of check-out if Property is completely left in its original condition, and provided no deductions are made due to damage to the property or furnishings, dirt or other mess requiring excessive cleaning, or any other cost incurred by Landlord due to Guest's stay. (this return is less the 2.5% credit card processing fee)
• Tax
The County requires collection and payment of an 11 percent transient occupancy tax.
• Payments
Make payment on the rental site with credit card unless other arraignments have been made. All funds must be received 15 days prior to your reservation date if possible.
If you are paying by check/money order/Pay Pal, a credit card number is still needed for security purposes (it will not be charged).

• Other Fees and Fines
Guest shall pay for any damage done to the premises over and above normal wear and tear (broken dishes, stained sheets etc by managers discretion)
Guest shall pay for any excessive cleaning due to abnormal use. (cleaning fee is to cover: putting home back into the condition you found it in, NOT stains on carpets, counters, sheets, towels or any excessive mess that takes housekeeping longer then the standard time to clean the home) Guest will be billed for that additional time.
Guests shall pay for maintenance and repairs should the premises be left in a lesser condition. (toilets/sinks clogged with improper use, please remember we are on septic)
Guest agrees Landlord shall deduct above fees and fines from the security deposit prior to refund, and may charge Guest's credit card for costs above that amount.
• Cancellations and Refunds
100% over 30 Days; 50% 10 - 30 days and 0% under 10 unless re-booked/rented.
(This does not include Security deposit or cleaning fees, which will be refunded in full.)
Security deposit refunds are returned via check by mail within one week of check-out.
There shall be no refunds of rents due to shortened or cancelled stays due to weather/terrain/natural conditions. (i.e.: rain, snow, fire) ((unless re-rented))
There shall be no refunds of rents because of shortened stays due to Guest's work and family emergencies or other commitments. We occasionally experience power outages and other shortages beyond our control. We report outages as each occurs. No refunds or compensation will be given for any outages, loss of wifi signal, cable signal etc.
• All Refunds are subject to transaction fees from credit card or other financial agencies, and we/you are not responsible for covering these transaction costs.
• Violation
Should Guests violate any of the terms of this agreement, the rental period shall be terminated immediately. No payments will be refunded. Guests waive all rights to due process if they fail to vacate the premises upon termination of the rental period.

Provisions and Accommodations
• Property manager or Landlord lives on the Property in a separate building or very near by and is available by phone/text for any questions or concerns you may have during the hours of 9am-9pm unless there is an emergency. Pleases Call # (PHONE NUMBER HIDDEN)
• Property comes complete with most everything you need: we provide reusable towels, pillows, bedding; kitchen utensils, plates, cooking wear; and other common items.
One-time use goods such as toilet paper, soap, dish detergent, laundry soap, and shampoos are also provided.
• Housekeeping
There is no daily housekeeping service. Linens and bath towels are included, (1 per guest) but daily maid service and fresh linens are not provided in the rental rate. Please do not take indoor towels for outdoor use. Thanks.
Rules, regulations, limitations
• Smoking
Smoking is NOT allowed anywhere on the property, inside or outside. (due to high fire danger) Neither is the use of any other tobacco products (cigars, chew, etc.) or smoking products or devices. No exceptions. Violation will cause a $200 credit card charge.
• Parking
Parking is limited to two vehicles. Vehicles are to be parked in designated parking areas only. Parking on the road is not permitted. Any illegally parked cars are subject to towing; applicable fines/towing fees are the sole responsibility of the vehicle owner.
• Trash
Please put all trash in bins provided, overflow can be placed in garage if one is attached, or any River Properties in the large green dumpster at corner of lower parking area.
• Firearms
Guns and all firearms (including Bows/Arrows) are expressly not permitted in the house or anywhere on the Property. Use of such automatically cancels reservation.
• Fireworks/Fires
Fireworks and other hazardous materials shall not be used in or around the property. All outdoor fire pits/chimineas etc. will be removed during Forest Fire Season.
• Abide by all Laws
Guest shall use the premises only in a careful and lawful manner.
Guest shall use the property for legal purposes only. Other use, such as but not limited to, illegal drug use, abuse of any person, harboring fugitives, making of videos, etc. ; shall cause termination of this agreement with no refund of rents or deposits.
• Parties are NOT ALLOWED! •
Violation of this section will trigger a $250 credit card charge.
• WiFi
Guests are provided with Internet access through password-restricted WiFi.
Do not provide password to non-guests. Do not download illegal content, Do not use Bit Torrent clients or any peer-to-peer networking tools. Guests are responsible for violations of copyright of other access/downloading of off-limits material on the Internet and all fees and penalties associated with any illegal activity during their stay.
Guest Responsibilities
• Good Neighbors
Guests shall be good Neighbors, and behave in a civilized manner and shall be good neighbors respecting the rights of the surrounding property. Guests shall not create noise or disturbances likely to disturb or annoy the surrounding neighbors. Creating a disturbance of the above nature shall be grounds for immediate termination of this agreement & Guests shall immediately vacate the premises. Quiet hour starts at 10 PM and continues to 8:00 am.
Guest will not cause or allow any undue noise, upon registration of a call or complaint of same to police department, agent or Landlord will automatically have the right to give the Guest notice to vacate without legal action.
• Security
Guest must close and lock all doors when away from the property for any amount of time.
• Cleanliness
Guest shall maintain the premises in a good condition.
Keep the property and all furnishings in good order.
Only use appliances for their intended uses. (if spills occur, please wipe up)
Do not cook fish or otherwise very spicy or pungent food indoors — nothing that the next tenant would regretfully notice! (Outdoor gas grill is provided.)
• Power Conservation
Utilities are included in the rental price. However: Guest agrees that Air Conditioning shall not be set below 74 degrees, heat shall not be set above 80, and the fan setting shall be "Auto." Please never leave window units on when not in residence due to extreme costs in running. Doors and windows shall be closed when either heat or air conditioning is in operation. Temperature must be further regulated when guest leaves property for the day. (Please Don't leave the house cooled to under 80 when gone all day. 80* is cool enough to be made comfortable again quickly when you return.)
• Water and Septic
***The property is on an effective septic system — however, it will clog if improper material is flushed or put down sink drains. Do not put grease/oil/skin peelings down drain or DO NOT FLUSH anything other than toilet paper. This specifically means no sanitary napkins, tampons, other feminine products, or baby wipes, etc. If it is found that such products have been flushed clogged the plumbing, you could be charged damages.
• Check Out Procedures
Individual rentals may have variations, but overall:
Do not strip beds; simply make it clear which were used by pulling down, if applicable.
Place all damp or wet towels either in bathtub or on washer (not on furniture). Please leave shower curtains open/extended so they can dry out and not mold. Leave the home much as you found it: no obvious dirt on the floors, food on the counters, dishes in sink et
Turn of Air Conditioning/heating before leaving.
Ensure all entry doors are locked behind you has you leave. Place key back in lock box.
Landlord Access and Inspections
• The Landlord or management and its agents have the right to enter and inspect the premises without prior notice at any time to enforce the terms of this agreement. This includes entering to turn of air conditioning or heating if left on high while guest is away.
• Guest shall also allow Landlord access to the property for purposes of repair. Landlord shall exercise this right of access in a reasonable manner and with prior communication to the Guest. • Hot Tub (if your rental has one) is maintained on a every other day basis, typically in late morning.

Advisories and indemnification
• Grills
Guest is advised that the property contains a gas grill,(not to be used as a fire pit) and will seek help from management if the proper operation of such item is not fully understood. Accidents from use of the gas grill are the responsibility of the guest, not the Landlord.
• Fire extinguisher, alarms
The property has a fire extinguisher installed by the kitchen. Fire extinguisher was fully charged at last inspection. It is the duty of the Guest to inform management immediately should the fire extinguisher become less than fully charged. Guest agrees to use fire extinguishers only for true emergencies. The property has fire alarms and Carbon Monoxide detectors installed and they are believed to function properly at the time of rental. Tennant will notify management without delay if a fire alarm "chirps" or has a low battery condition.
• Security
Guest shall see to their own security while in the property by locking doors, windows, etc. when it's prudent to do so. Valuable items left behind by Guest will be held for the Guest and every reasonable effort will be made to contact the Guest for return. Please notify us immediately if something is left behind by e-mail. If items are not claimed for longer than 1 month they shall become the property of the Landlord. The Landlord shall not be held liable for condition of said items. Guest responsible for mailing fees.
• Cable, Internet, etc.
There is Cable TV. No refund of rents shall be given for outages, content, lack of content, or personal preferences with regard to cable TV service. • Wireless internet is provided as a convenience only and is not integral to the agreement. No refund of rents shall be given for outages, content, lack of content, speed, access problems, lack of knowledge of use, or personal preferences with regard to internet service.
• Storms
If there is a storm, no refunds will be given. Mountain roads can be curvy and steep and there is limited snow removal in the neighborhood. However, the main roads are well maintained. We highly recommend four wheel drive and/or chains during the snow months. We do not refund due to road conditions.
Release of Responsibility and Liability, Legal Rights
• The Property is privately owned. The Landlord is not responsible for any accidents, injuries or illness that occurs while on the premises or its facilities. The Landlord is not responsible for the loss of personal belongings or valuables of the guest.
• By accepting this reservation, it is agreed that all Guests are expressly assuming the risk of any harm arising from their use of the premises or others whom they invite to use the premise. Guest releases Landlord of all responsibility for any negligence/accidence or there of that could be possibly incurred during Guest's stay, including Guest's friends, family, or other people allowed into the home or on the premises. Guest agrees to not file any claim, action or lawsuit against Landlord, its representatives or agents, for costs or damages arising from Guest use of the property.
• Guest hereby acknowledges using the Property for the purpose of short-term rental in "as is" condition, at Guest's own risk. All Guests, Guest's friends, family, or other people allowed into the home or on the premises, shall hereby indemnify and hold harmless the Landlord against any and all claims of personal injury or property damage or loss arising from use of the premises regardless of the nature of the accident, injury or loss. Guest agrees to indemnify and save harmless the Property, its Landlord, managers, representatives. Employees, and neighbors from any and all liability, negligence on the part of either party, loss, damage, injury or death resulting from the use of the property, its fixtures, contents, or surroundings. Guest agrees to be held liable for all actions of Guest, Guest's friends, family, or other people allowed into the home or on the premises, whether they be registered or unregistered occupants, at all times, and by doing so hold harmless Landlord, its managers, representatives or employees, from any and all claims arising from their guest's use of the property.
• Guests expressly recognize that any insurance for property damage or loss which the Landlord may maintain on the property does not cover the personal property of Guests, and that Guests should purchase their own insurance for themselves and other guests if such coverage is desired.
• In case suit shall be brought by Landlord for failure to vacate said premises, or for the recovery of the provisions of this agreement, or for any obligation of Guest arising under this agreement, the Landlord shall be entitled to recover all of the costs in connection there-with, including but not limited to reasonable attorney fees, whether or not the action proceeds to judgment.
• Guest agrees that legal conflicts will be handled by biding arbitration, and show be carried out in Mariposa County, California.
The lessee herby acknowledges that he/she accepts full responsibility for informing all registered Guests (as listed on the rental agreement) of the terms of these documents and waivers.
Swearing and Signing
Guest agrees to all above Terms and Conditions on the previous 8 pages: I agree to abide by the above conditions and hereby swear that the information provided above is true. By signing below, I agree to all terms and conditions of this agreement, and further agree that the Landlord and/or owner of any Property managed by Nature's Properties, Terri Worthington Pack and its representatives, will only be bound by the terms within these pages. I further state that I am at least twenty-one (21) years of age and will be the principle guest and, as such, will be completely responsible for the actions of other guests or occupants, if any, for whom I may be making these arrangements. I agree that all rental monies are refundable only per cancellation policy above. The parties agree to the terms of this Short Term Rental Agreement and Rental Rules, as evidenced by the Guest's physical or electronic acknowledgement thereof. Accepting and paying for this reservation also constitutes complete agreement to this rental contract.

____________________________________________
SIGNATUREDate
Guest agrees that legal conflicts will be handled by binding arbitration, and show be carried out in Madera County, California.
Many thanks, Terri
---
From Fall to Spring we offer our initial pricing at a Couples discounted rate. A pet fee of $25 per dog per night will be added to this rate. This is a rate for only one bedroom and the other will be locked off. There is an additional fee if other room is needed. We do this to keep our expenses such that we can offer this home at a rate that attracts the vast majority of travelers during this time. Guest also agree to our rental contract upon booking this home. :-) House is non-smoking and shoe free.. :-) . Drive 5 mph once inside gate. Please turn down Heat/cool when away for entire day and conserve water. Enjoy your stay! :-)
Please make sure to read Nature's Properties Rental Agreement located in the detailed description.
---
---
Oakhurst, California, United States
·
Joined in November 2011
Hello, I simply love living in the Yosemite area of California and adore hosting wonderful guests from all over the world. It is such a wonderful way to share this beautiful part of the world and ensuring a delightful place to call home while you do it.
Response rate:

99%(past 30 days)
Response time:
within a few hours
Exact location information is provided after a booking is confirmed.
Explore other options in and around Oakhurst
More places to stay in Oakhurst: