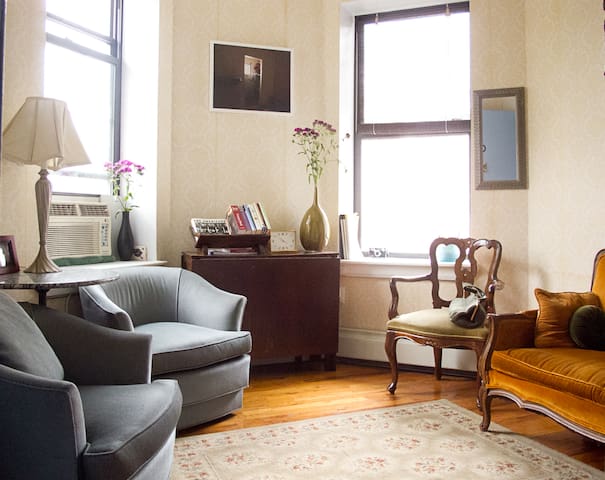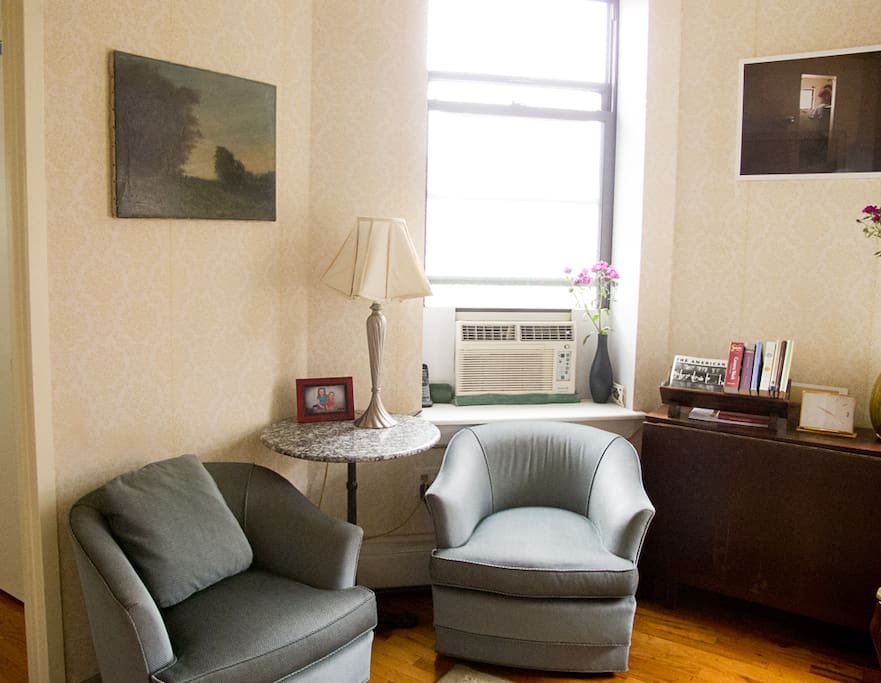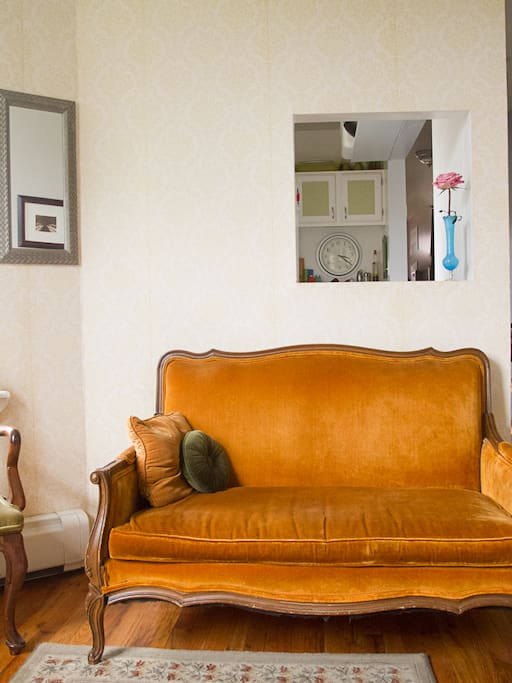 About this listing
Beautiful 2-bedroom apt on a lovely tree lined street that overlooks a community garden. Close walk to many museums, Central Park, & food. Buses right outside the front door & the subway is just a couple blocks away so you can get downtown quickly!
---
Bathrooms: 1 (Shared bathroom)
Check In: Anytime after 3PM
---
---
Extra people: $22 / night after the first guest
Weekend Price: $99 / night
---
The space
---
THE APARTMENT:
I have a beautiful 2-bedroom apartment that overlooks a community garden, in Lower East Harlem (I like to call it the Upper-Upper East Side or UUES). I live on a lovely tree lined street and am a close walk to many museums, Central Park, food, buses and Subway stations.
I occasionally rent out one room to responsible and sensible adults who'd like an incredible place to stay while visiting Manhattan. I'm located very close to midtown by subway (15 min) but live in a peaceful and relatively quiet NYC neighborhood. ...and you'll pay much less here than at a mediocre hotel in noisy Times Square! In contrast, my apartment is just off street level enough to be away from the street noise and get a birds eye view of a beautiful garden, all you'll have to do is walk up two flights of stairs when you come home for these benefits!
My place has two rooms, one on each end of the apartment, with the living room, kitchen, and bathroom in between. I airbnb one room (this listing) and live in the other room. The whole apartment is fully furnished and has an A/C in the common areas & each room (when the temp dips below 40F, generally Nov-April, I take the a/c out of the bedroom windows).  The apartment is decorated with vintage wallpaper, has fresh a paint job every 2-3 years and has had a kitchen makeover too.
I keep the apartment very clean and I would like guests that are clean as well. There is also plenty of natural light because each room has at least two windows that overlook the community garden.
Your stay includes...
- an air-conditioned/heated room
- use of the kitchen,
- one set of soft towels per guest and linens,
- FREE Wi-Fi, and...
- homemade English scones and tea service for your breakfast enjoyment*.
*NOTE: If I'm out-of-town I can't bake scones. You'll get the place to yourself however, and that will be the tradeoff!! ...the price will be the same (no discount for lack of scones or price increase because you have the apartment to yourself BUT NOT THE USE OF MY BEDROOM). ;-)
- There is free pick-up/ drop-off laundry service close by if you want to have anything washed during your stay (don't forget to tip, the laundry costs are super reasonable, the pick-up/drop-off is free)
- Great restaurants across the street where you can order takeout or dine-in.
- There is also a nearby nail salon where you can get a manicure AND a pedicure together for $25 total!! Why not, ech?  
ABOUT ME: I'm a really easy-going, professional, gal that loves to host visitors periodically and help them feel at home in NYC. I'm pretty busy, so a lot of time I will be working in the office (Close by) or in the 2nd room (my bedroom) or out on a shoot or teaching, ...but I'm available if you have questions. Feel free to do a web search if you want more info on me (search:LaNola Stone).

All I ask from you is that you're clean, polite and respectful. In turn, I guarantee you an extremely comfortable and clean space in which you will feel completely at home, safe and welcome. I also love to travel and I'm open to housing swaps.
ALSO IMPORTANT TO ME... I strive for "zero waste" and recycle or compost most things, I would appreciate that my guests put waste in the proper place so I can take "green" waste to the community garden to compost and everything else to the recycle leaving me a small amount of trash. Don't worry, I have the waste containers clearly marked!
NO SMOKERS, DRUNKS OR DRUG ADDICTS. Those are all the restrictions :O)  If you have more questions please contact me.
I live on the 3rd floor so if you can't carry your luggage up two flights of stairs, this room maynot work for you.
----------
Please note that ONE SET/guest of fresh and soft towels and linens are included for your use, as well as body wash and a hair dryer. No need to pack any of that!**
** Let me know if you would like a cleaner to come during your stay. The cleaners charge $65 for a cleaning visit but will change your linens and put out a fresh set of towels too. This can be a good option for longer stays and the cost can be added that to the charge for your stay.
-----------
Guest access
The guest(s) will have access to…
- kitchen for cooking if you'd like and clean up after yourself;
- living room/seating area (just outside the bedroom) for chatting - NOT EATING;
- ...and the bathroom for bathroom stuff.
- WiFi: The whole apartment has a wireless high-speed Internet connection (included), which will be useful if you have a laptop/tablet/phone.
- I have a land line phone in the living room for making local calls and so you can call my cell phone if I am not at home but you have a question or need to reach me quickly.
THE BEDROOM: The room has a cozy Full sized "real" mattress bed AND a small Single/Large Cot sized bed
COT SIZED BED-- NOTE: this bed is lofted 5 feet off the ground, without rails - NOT a "real bed" but a futon mattress. - This bed is handy in a pinch, 29" x 72" - (160lb weight limit if left on loft ...but it's okay to put the mattress on the floor if you prefer, abt 50% of my guests do this). PLEASE SEE THE PHOTOS FOR A DIAGRAM OF THE BED SIZES. -- The best situation is TWO people in the room BUT I allow a third if you are comfortable with that many in the small room.
The room is private with a lockable door. The bedroom has two closets (only the one under the loft bed is for your use—the other closet is locked and for my storage). The open closet also has hangers.
The room is small and cozy but there is room for two in the full bed and, if you need a place for a third, another person can sleep in the loft bed (160lbs limit - note the size of the mattress, and height of the loft to make sure this works for you).
The main bed has a VERY comfortable full-sized mattress with clean and fresh 800 thread count cotton sheets/pillows. Aside from washing the linens and mattress cover before each guest, I also steam the mattress and pillows.
The apartment does not have a TV, but why would you want to watch TV anyway? YOU'LL BE IN NEW YORK CITY, Yo!! ;-) …but the wiFi hot-spot is right in the room and is great for watching a program on the internet (if you have a tablet or laptop). This streaming speed will keep you happy if you must stay in and watch a show. ;-)
 
I prefer that guests NOT be in my sleeping area for any reason because that is just creepy. ;-)
Oh, and the guest will be able to come and go at their leisure. There is no curfew or anything like that. You'll have your own key.
Interaction with guests
---
INTERACTION: I am fine interacting as much or as little as is naturally warranted. I have made many friends through airbnb and generally have the most wonderful, cool guests. At the same time, I feel that since the guest is on holiday, it's their call. You don't need to entertain or worry about me, I am busy with my own things ...but excited for your visit and always willing to answer questions and help when I can and am needed! :-)
I'll bake scones for breakfast everyday and will set them out.* I will not join you for breakfast unless invited and I have the time. During breakfast time, however, is usually a good time to ask me about tips and information about your day on the town. I will help anyway I can!
*NOTE: If I'm out-of-town I can't bake scones. You'll get the place to yourself however, and that will be the tradeoff!! ...the price will be the same (no discount for lack of scones or price increase because you have the apartment to yourself, NOT MY ROOM).
The neighborhood
FROM THE "NOT FOR TOURISTS" GUIDE:
Whew, finally a break from the chaos. This part of the Upper Upper East Side is a place for families, young, old, black, white, Latino, rich, poor--it just depends what block you stumble upon. Head above 96th Street for some of the best Mexican food on the planet, or head west to Central Park, where you'll find kids and adults playing soccer, softball, and football (Not touristy Central Park). Get some culture at the neighborhoods museums, get some knowledge at a lecture at the 92nd Street Y, but most importantly, get ready to be somewhere where people can actually live, work, and shop. Nothing hip or cool here, this is just a good old-fashioned New York neighborhood.
Much of this part of the Upper East Side is known as Carnegie Hill, named for the Carnegie Mansion on 91st and Fifth Avenue (it's now the Cooper-Hewitt Design Museum).
---
THE NEIGHBORHOOD:
The "Museum Mile" is just 3 blocks away on Fifth Avenue, next to Central Park, a mere 5-7 minute walk away.
Museum Mile incorporates the Solomon R. Guggenheim Museum at 88th Street, The Met (Metropolitan Museum of Art) from 82nd to 86th Streets, as well as El Museo del Barrio (104th St), Museum of the City of New York (103rd St), Jewish Museum (92nd Street), Cooper-Hewitt National Museum of Design (91st St), National Academy Museum and School of Fine Arts (89th St), and Goethe House German Cultural Center (82nd St) ...all on or near Fifth Avenue (a short stroll away)!
The Central Park Conservatory Garden entrance is located: 105th Street and Fifth Avenue. The Conservatory Garden is SO close and beautiful, it's often overlooked but surely worth a visit.
There's a "gourmet" grocery three blocks south on Park Avenue if you want to eat like a king at home (great cheese selection), or plenty of cool restaurants in the neighborhood to eat at or order from (partially listed below so you can look them up ahead of time or I'll be happy to give you more suggestions on all this!) ...and a farmers markets a few blocks away on Thursdays (at 104th & 3rd) and Fridays (99th & 3rd) June-November.
---
Restaurants (w/in 2blocks): Joy Burger (American), Lexington Pizza Parlor (Italian), Mustache (Middle-Eastern), MY NY (Bakery, Café), Gong (Thai) …and more
...also refer to the guide book with this post and there will be a printed guidebook, with more details and menus, in the room as well.
Getting around
---
TRANSIT: The apartment is easy to get to from any airport by cab or subway/train and, since it's w/in a block of a gas station, catching a cab is remarkably easy.
I'm just 2.5 short blocks (220 meters) in one direction and 4 blocks in the other direction (350 meters) from the "6-train" subway line and there is an "express bus" right outside my front door (both on Lexington Avenue). Basically, that means 10-15 minutes to Grand Central Station by train ...and Grand Central Station is just 3 avenues from Times Square OR you can take a quick shuttle ride on the S-train. …or... cabs are easy to catch from here and they'll take you anywhere. ;-)
Unlimited metrocards are the way to go for the majority of your travel. They work for both the bus and the subway! To purchase them, every subway station in Manhattan has a metrocard machine.
I provide detailed instructions on how to get here from the airports/train stations/port authority and car (via bus, train, subway, cab, etc). Airbnb will send this with your booking confirmation.
Other things to note
NO SMOKERS, DRUNKS OR DRUG ADDICTS. Those are all the restrictions :O)  If you have more questions please contact me.
Also, Please note that ONE SET of fresh and soft linens and towels are included for your use, as well as body wash and a hair dryer. No need to pack any of that! ;-)
LASTLY, I just decided that if some need more space, I'm willing to book the WHOLE APARTMENT -- sometimes; especially if I am traveling for Christmas, etc. My room is currently being renovated and is almost done! It will be ready in October... The listing for that space is...
https://www.airbnb.com/rooms/6609871
---
Check in is anytime after 3PM
IN A NUTSHELL:
ABSOLUTELY NO SMOKING, OR DRUNKS & BE NICE/CONSIDERATE
...I'LL FOLLOW THE SAME RULES! ;-)
More Detail:
- Never hesitate to ask questions about the area and the apartment. I have lived here since 1999 and can be helpful! ;-)
- Not place to bring people to party (ONLY PAID GUESTS)
- If you smoke this is NOT the place for you.
- Do not leave dirty dishes in the sink after breakfast, or anytime. I won't either! Totally fine to leave clean dishes on a dish towel to dry. I'll put away what I get out and you put away what you get out. :-)
- Just be respectful to me and the neighbors.
- If you do not return keys, you will be charged $65 replacement fee (taken out of your security deposit)
- Check-Out is at 10am. Check-in is at 3pm. Remember, there may be someone checking in after you and someone checking out before you. I can be totally flexible if you COMMUNICATE YOUR NEEDS well in advance! IF NO ONE IS STAYING OR COMING AFTER/BEFORE YOU then I may accommodate a later check-out and earlier check-in.
- I strive for "zero waste" and recycle or compost most things, I would love my guests to support me in this and put waste in the proper place so I can take "green" waste to the community garden to compost and everything else to the garbage or recycle. Don't worry, I have the waste containers clearly marked!
-NOTE: The price is firm and Airbnb handles all the financial transactions, including their fee. Please note, If I'm out-of-town you will NOT get breakfast scones and tea, but the price is the same (no discount) and the trade off is that you get the place to yourself for a really great price)!! ;-)
THERE WILL BE A PRINTED "HOUSE MANUAL / NEIGHBORHOOD GUIDE"
IN THE BEDROOM AS WELL. Please read through it as has more specific details about the "House Rules" and it will answer a lot of questions about the apartment and be a great resource for detailed neighborhood information and amenities!
• I will send a PDF of it ahead of time if you 1) request it, 2) have an airbnb verified email, 3) have a confirmed booking with me.
---
Strict
Cancel up to 7 days before your trip and get a 50% refund plus service fees back.
---
---
LaNola's place was the perfect pad for us during our 4-night trip to NYC. We wanted to be away from the hustle and bustle of Downtown, but still have the option to walk to the Park and a selection of restaurants. The flat is just a few blocks from the Park and we enjoyed spending lots of time exploring it. It was very easy and inexpensive for us to get Downtown in Ubers, although the bus stops right outside the apartment too. We also walked down to Times Square and back one day. It took around an hour and was really a pleasure, especially in the sunshine. The flat looks just like the photos (cute and cosy!) and is VERY clean - we were so impressed with the cleanliness!! LaNola was present for part of our stay and was very pleasant, helpful and so kindly made us fresh scones in the mornings - as delicious as others have said. I'd not hesitate staying here again and would definitely recommend to others! Thanks for being a great host LaNola!
---
New York, New York, United States

·

Joined in May 2013
I'm a New York City-based professional photographer, artist, author, and educator. My commercial clients hire me to photograph interiors, portraits, and lifestyle, although I'm mostly know for my aptitude with children and childhood imagery.

In 2012, Focal Press published my first book, "Photographing Childhood: the Image & the Memory."

I received my master's degree in digital photography at the School of Visual Arts in New York City and have taught photography in both Salt Lake City (UT) and New York City.

Additionally, I am a 1st Class Petty Officer / Public Affairs Specialist (photojournalist / media liaison) for the United States Coast Guard Reserve, aunt to twenty-five and godparent to five.

You can find out more about me with a web search with my name (LaNola Stone). I'm usually one of the top hits for the first couple pages. ;-)
Response rate:
100%
Response time:
within a few hours
Exact location information is provided after a booking is confirmed.
Explore other options in and around New York
More places to stay in New York: