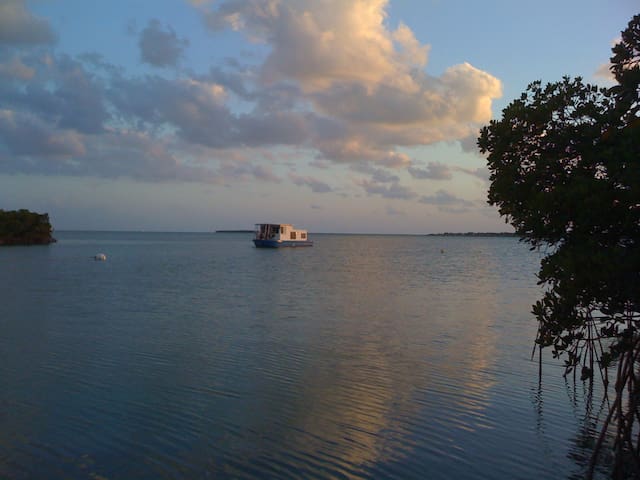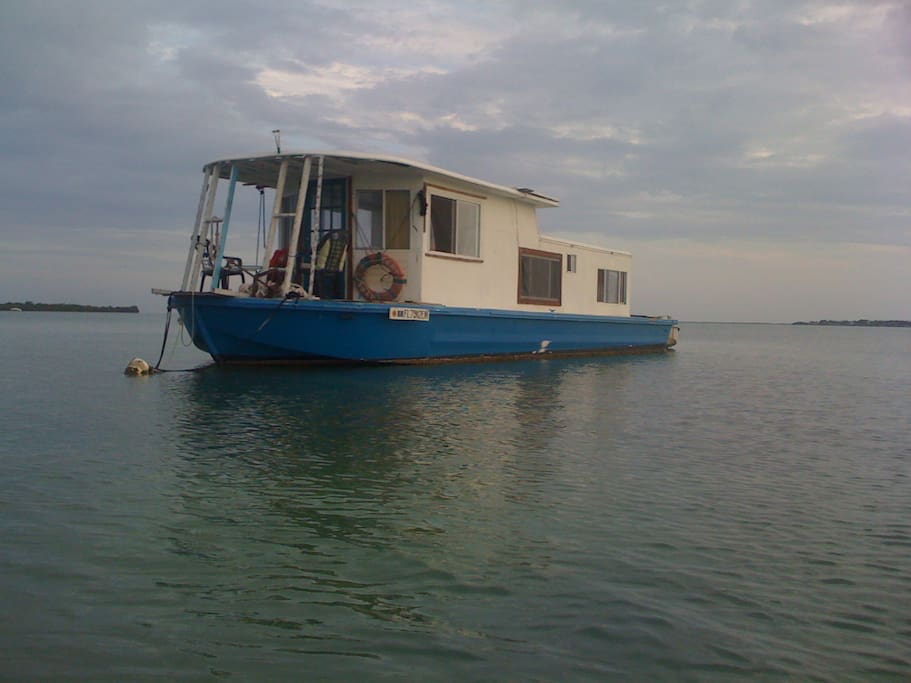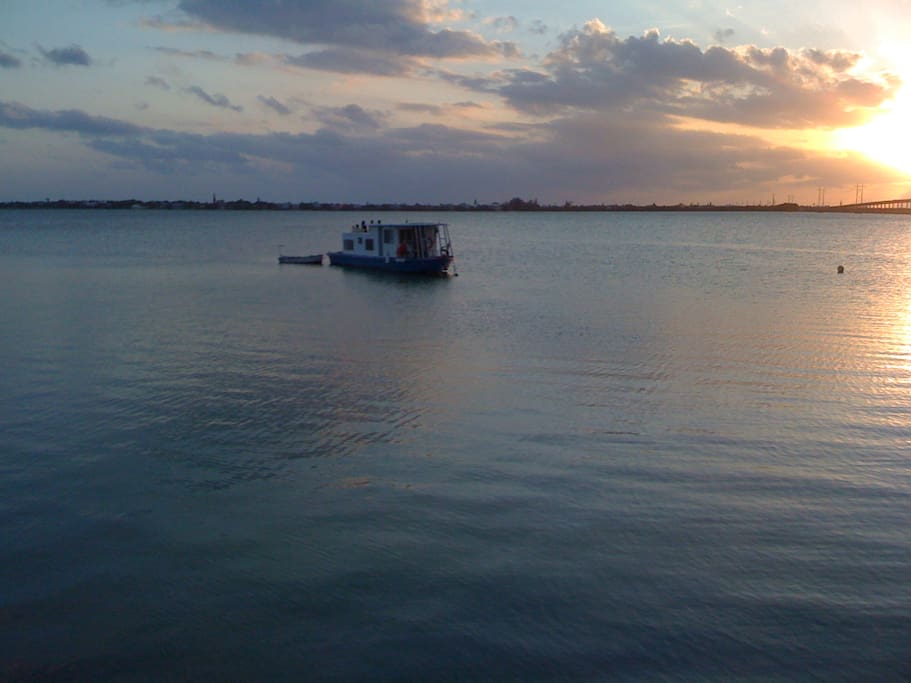 About this listing
---
Check In: Anytime after 2PM
Room type: Entire home/apt
---
---
Always communicate through Airbnb
To protect your payment, never transfer money or communicate outside of the Airbnb website or app.
Learn more
---
The space
You are not dreaming. No, this is not a scam:
"Cozy house on the water (literally) in the islands, amidst a 3,000-square-mile national marine sanctuary, in a private cove ringed by mangrove shoreline, gentle currents of the shallow water drifting past fish tank windows, tropical breeze blowing through shotgun rooms, dinghy parked two feet from the entrance door. No neighbors next door, full views of the daily sunset, frequent sightings of dolphin and manatee. $120/night, This price is for the ENTIRE houseboat, there is no per person charge."
But wait—it gets better:
"Fishing off your front AND back porch, in-house stereo, large chest freezer that keeps ice for days on end, free kayaks, snorkeling gear, and fishing rods and tackle, full kitchen on board with all the cookware so you can dine by candlelight ON the water and sip on a cold drink fixed at your private bar, and snack on hors d'ouvres during entertaining chat time, and when bed-time rolls around, if you haven't lost track of time by then, you can spread blankets and cushions out on the roof and lose yourself in the stars blazing across the night sky, stars that shine bright and thick due to the absence of city lights and the remoteness of these islands which stretch from the Florida mainland 200 miles into the ocean."
Could you get all this at the best hotel room in Key West, or at an RV campground? For $120/night?
My name is Mike, I have been an avid boater and resident of the Florida Keys for twenty years. I own and operate a licensed company called Florida Keys Yacht and Houseboat Rentals based out of Summerland Key, Florida.
This old wood and fiberglass houseboat, warmly remodeled by myself and my (interior decorator and sewing artist) sister Jo from Durham, N.C., is anchored in seven feet of water in a wide tidal channel a few hundred yards from shore. Access to the houseboat is made by the aforementioned dinghy with a trolling motor. Secure parking (on gated property) for your car is provided just a few steps from where the dinghy is tendered.
As this Airbnb listing specifies, this is an "entire house/apt" offering, not a "shared" rental or a "private room." The kayaks, the dinghy, the snorkeling gear, etc. are not shared with others either.
Before I get into the details about this rental package, I must include a very important caveat, which is frequently repeated in the customer reviews: Staying on a boat is not in any way like staying in a hotel. You will encounter a few challenges and inconveniences such as the extra effort it takes to load yourself and bags into a dinghy and motor out to the houseboat, if it is at anchor or on a mooring ball. There is no AC on the boat--only fans and the ocean breeze--because an AC unit would drain and deplete the 12-volt battery system. For the same reason, there is no refrigerator on board. Instead, you must keep your food and drinks cold by filling coolers with ice. While on shore, you probably will encounter mosquitoes and no-see-ums, especially at sunset and sunrise. When you are ferrying back and forth from shore to the houseboat--again, if it is on an anchor or on a mooring ball--you may have to do so in the rain and strong winds. While on the dinghy, the motor may break down and you will have to row to shore. If the winds are really strong, you may not be able to use the dinghy at all and must get to and from the houseboat by kayak--or we can plan ahead of inclement weather and choose to bring the houseboat to the safety of the docks. My point is, there is a little bit of roughing it. Some guests have likened staying on a boat to being in an RV on the water. There is a little bit more effort and work involved. If you do not like camping, you probably will not like staying on a boat. Having said all that, there usually is a payoff for the extra work and effort of staying on a boat: sights and experiences of the natural world (blazing stars at night, fish jumping, dolphins coming by to say hello, sipping margaritas while watching a red sun sink into the water), sights and experiences you will never get at a hotel.
Okay--if I haven't dropped you by now, on to the details about your rental package and the boats.
The houseboat, which is 45 feet long and twelve feet wide, has one large bedroom with a king-size bed, a full bathroom with a tiled shower and toilet (NOT a porta-potty) a complete kitchen with a dinette area, and a spacious living room with a sofa large enough to double as a bed. An air mattress is stored in the hold, meaning that, if two people share the bed in the main bedroom, then the houseboat sleeps four.
A twelve-volt battery system (charged by a solar panel on the roof) provides power for the lights and water pumps on the boat, and a small inverter is also available to charge your cell phones and plug in laptops, fans, and other (small) 110-volt appliances. Water pressure for the kitchen faucet and the shower is made possible by a 12-volt water pump that pumps water from two potable water tanks that hold a total of 90 gallons of water. The shower is fully functional with hot water heated by an automatic propane water heater.
As mentioned earlier, the houseboat does not have air-conditioning-- but fans, screened windows everywhere, and the shotgun layout of the houseboat (interior breeze flows from the front door to the rear door, since the bow of the houseboat always points into the wind) keeps the inside cool even during the hottest days of summer.
A large (unplugged) chest freezer at the rear deck of the houseboat is insulated enough and big enough to stock ten bags of ice that, in trial runs, I have found will keep food and drinks cold for a week or longer.
All the windows have screens for protection from mosquitoes and no-see-ums. If any mosquitoes get inside the houseboat, you can spray the interior (and the screens) with flying insect spray which is stored in the cabinets below the kitchen sink.
A full propane tank supplies all the gas guests require for cooking on a four-burner stove.
You can buy bulk 20 pounds of ice at a 24 hour automatic dispenser nearby for $2.00--which is a great price because ice at a convenience store normally goes for $2 or $3 for a TEN pound bag.
For the same reason that the houseboat does not have a refrigerator or AC on board, there is no electric coffee maker or a toaster on board. A French coffee press, however, is provided. (A French coffee press makes fresh-brewed coffee as good as any coffee maker, but you need to boil the water on the stove.)
There is no wi-fi out on the water, but I-Phone and Smart-phone signal/reception at Ramrod Key for internet access is generally pretty good. Keep in mind that using too many computers and other appliances at night will quickly deplete the houseboat batteries. Day-time battery consumption is not normally an issue because power is supplied directly from the solar panel rather than from the batteries.
Charters for day trips, overnight cruising, reef trips, and fishing trips can be arranged (for an additional fee) by the property manager. We can also assist you with transportation needs and very affordable car rentals.
Clean linen, blankets, fans, dishware, silverware, cookware, cooking utensils, etc are provided at no extra charge.
The water tanks, when full, should last the duration of your stay.If the tanks need to be replenished during your stay, this is an indication of over-usage or wasteful usage. Therefore, please try to be conscious of your water consumption (don't let the water run in the shower the whole time you are in the shower; don't let the kitchen faucet run while washing dishes). An additional fee of $25 for water tank refills will be required.
Guests who book this rental are required to leave a $50 cash deposit on arrival to cover potential out-of- the-ordinary cleaning expenses and damage. This deposit will be returned to you if you leave the yacht in reasonably good shape upon departure. The vast majority of guests are very responsible and leave the yacht in great condition, but every once in a while I get guests who leave the boats a total disaster--food all over the carpets and sofas, unwashed dishes in the sink, boat gear and equipment scattered all over the place or lost overboard.
If this boating retreat sounds like a fit for the getaway you are seeking, it would be my pleasure to help bring you and your friends and family members an awesome experience on your next visit to the Keys. Many people come to the Keys for their vacations, but only a small percentage of visitors get to see and experience up close and personal the Keys' magical natural wonder of its near shore waters.
(P.S. If the days you want are already booked by another guest, let me know and I can send you details on some other floating rentals that are the same price.)
Mike Bellows
Owner/Operator
Florida Keys Yacht and Houseboat Rentals
Summerland, Ramrod and Big Pine Key Florida
---
Check in is anytime after 2PM
---
Moderate
Cancel up to 5 days before your trip and get a full refund, including service fees.
---
---
---
Exact location information is provided after a booking is confirmed.
Mike's House Boat was great! Perfect for a couple or maybe a couple +1. Everything was clean and orderly with every thing we needed right on the boat. The parking area was good too as it is on a gated property. The dingy with a powerful trolling motor worked very well. We only booked 3 days because we were worried about the weather, but now wish we booked a longer stay! Thanks Mike!
---
Staying on Mike's off-grid floating guest house, you realize how little you actually need to live. One small solar panel for power, one small propane tank for cooking and hot water, a large cooler with ice, and a place that slowly revolves with the tide, so each time you wake up at night you get a completely different array of stars. Here it's all about the sound of the water, the views of a pristine mangrove shore, turquoise waters, the rising and setting sun enjoyed from the top deck. Stunning.
---
This is an adventure, not a hotel. You will likely have to walk though a bit of water to get to the runabout. There might be strong winds that blow the boat around all night. Your only power is solar, so be frugal with it. If you are up for that kind of adventure, then this is for you. Mike was a very responsive host and made sure that we had what we needed. The weather did not always cooperate while we were there, but when it did, watching the sunrise or sunset, watching the stars at night, or seeing dolphin play- all while floating offshore was pretty awesome.
---
We have just returned from our second trip to Mikes houseboat and it was equally as magical as the first. We already knew we were in for an adventure and we was not disappointed. We are a family with an 8 and 11 year old and spent 10 glorious days aboard. Mike makes sure everyone is well looked after. He makes our children feel special, he even made sure they had their own suitable kayaks and took the time to talk to and teach them how to steer the dinghy. For day trips we can recommend taking the time to visit Pigeon Key, the whole family enjoyed it, also snorkling on Looe Key was a big hit. Renting Mikes houseboat gives you everything you need to make an awesome, memorable holiday. Our only regret is that we live in England, so far away. Thank you Mike, both you and your houseboat are awesome.
---
Our stay on Mike's houseboat was the trip of a lifetime.If you want the ultimate off the grid vacation.Sort of like RV camping on the water.Your neighbors are dolphins,manatees, and a variety of fish.We fished from the boat and local waters with great results.Amenities are basic and no frills but sufficient for any one who is a camper.The boat is comfortable with plenty of room for two.Short drive to Key West and plenty of nearby quality restaurants.Highly recommend Boondocks ,Mangrove Mama's,and the Noname Pub.All have their own draws: music,awesome lobster reubens,and money walls.The sunsets and sunrises from the boat were totally awesome .If you like solitude and crave an off the grid experience this is for you.If you expect total luxury and personal service better check into the Ritz.This trip is for the independent adventure (URL HIDDEN) needy whiners need apply.
---
Key West, Florida, United States

·

Joined in February 2013
I have been an avid boater and sailor in Key West for 20 years and currently spend my time running my yacht and houseboat rental business in the Florida Keys. I also manage some land properties. I travel to Cuba a lot, Cuba is my second home. My wife is Cuban and currently lives in Santa Clara, Cuba. My dream is to buy an apartment in Havana and, with my wife, open a cafe where regular travelers from the U.S. and the Keys can congregate. I love to swim, and I love to explore by kayak the pristine natural areas of the cluster of mangroves and outer islands of the Keys. In 2009, I published a book about travel to Cuba, specifically for U.S. citizens who are confused about the legalities and illegalities of traveling there. The title of the book is Cuba: The Definitive Guide to Legal and Illegal Travel to Cuba. If you look it up on Amazon, you will find an author bio that will give you more background about me.
Response rate:
100%
Response time:
within a few hours
Explore other options in and around Ramrod Key
More places to stay in Ramrod Key: